The largest island in the Inner Hebrides, Skye is undoubtedly the most famous and touristed island on visitors' Scotland circuits. Skye's otherworldly beauty has captivated visitors for ages and it continues to be one of the top destinations in the UK for travelers headed to the region. I'd envisioned ruggedly beautiful landscapes, blankets of green, and picturesque towns, and Skye delivered in spades. During our two weeks in Scotland, we were fortunate with our weather, with mostly sunny (or at least not grey and cloudy) days and comfortable temps. Skye was the exception, living up to the old Scottish notion that you'll experience all four seasons in a day. In Skye, this was true as we'd wake to misty mornings and battle hurricane-force winds before the sun would peak through and shine brightly on the landscapes around us. With 3 days on the Isle of Skye, we left only scratching the surface but allowing ourselves a decent brush with Scotland's most famous island — and plenty of reasons to return in the future. Heading to northern Scotland? Keep reading for more on how we spent 3 days on the Isle of Skye.
Day 1 ✧ Exploring the Rugged Outdoors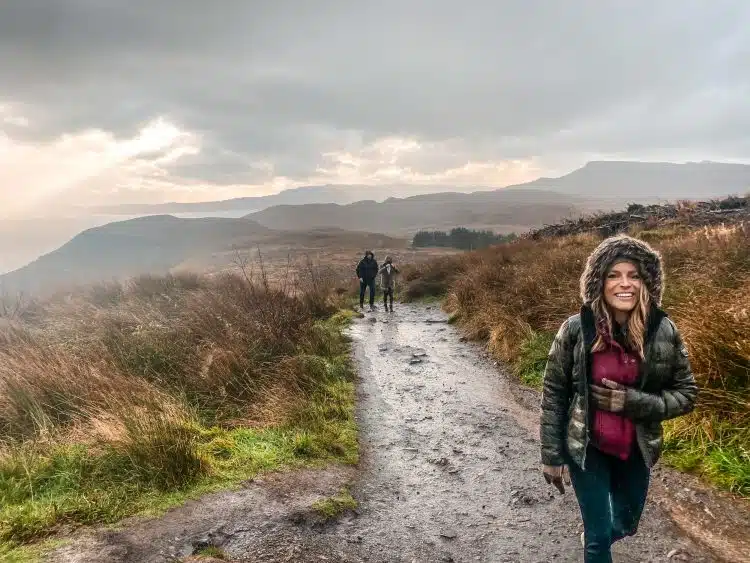 The Isle of Skye is a haven for hikers, with a number of the top sights and experiences on the island centered around scenic walks. In the northern part of Skye, you'll find hikes that are world-famous, delivering on spectacular landscapes, waterfalls, and more. Perhaps the most famous is The Old Man of Storr, a series of rocks jutting out of the earth like enormous stalagmites. The image has practically become synonymous with Skye but the heavily misty morning made it difficult for us to capture. If weather permits, you can do the full Old Man of Storr hike, which is around 4km and will take upwards of an hour and a half. It's not meant to be particularly difficult, but you'll want the weather working in your favor to fully enjoy it.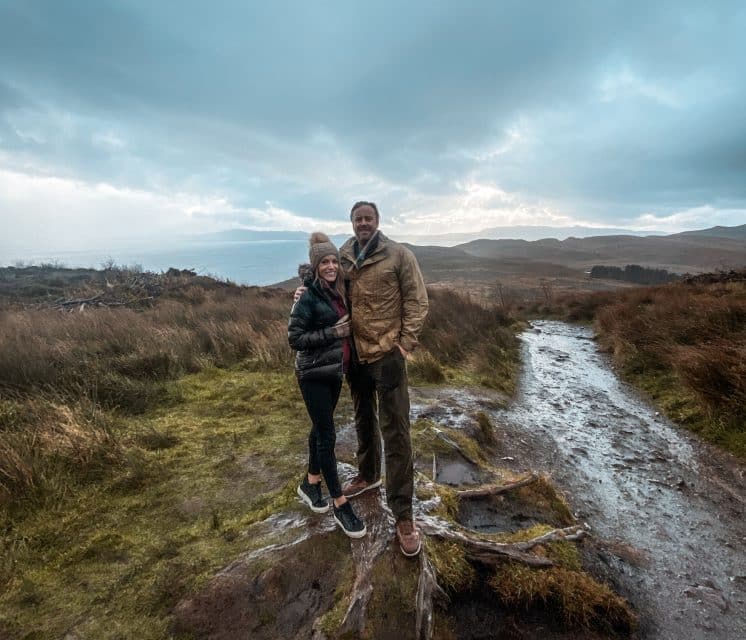 For context, the circuit is under 50 miles from Portree up and around the northern part of Skye (we actually took the road a bit further north as well due to some road construction). You'll want to allocate time for your stops though if the weather allows you to enjoy the scenery here: assume 1 – 2 hours at the Fairy Glen, at least an hour and a half for the Old Man of Storr, and even longer if you're planning on the Quiraing.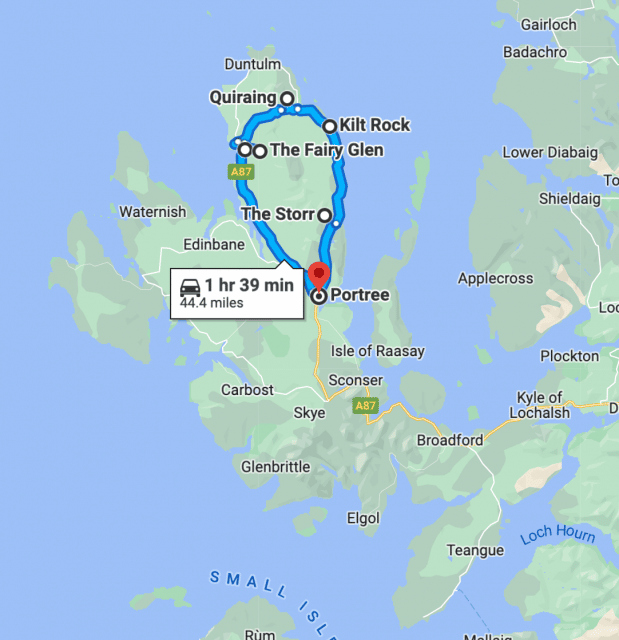 We continued on in that same loop, in the most northern parts of Skye where you'll find scenic backdrops for hikes in places like the Quiraing (a more difficult and longer hike) and the Fairy Glen, located inland from the town of Uig. For those on a similar circuit, Uig makes a great spot for lunch with a few hotels and outposts there to stop for a bowl of Cullin Skink, oysters, or fish and chips. Kilt Rock, just north of the Old Man of Storr, brings great waterfall views, but on windy days (like ours) it also brought scary hurricane-force winds that I thought might hurl me over the edge if I got too close (seriously, that strong).
If time permits in the afternoon, you can continue further west toward Dunvegan where you can visit the castle and gardens.
Day 2 ✧ Portree + Gin Making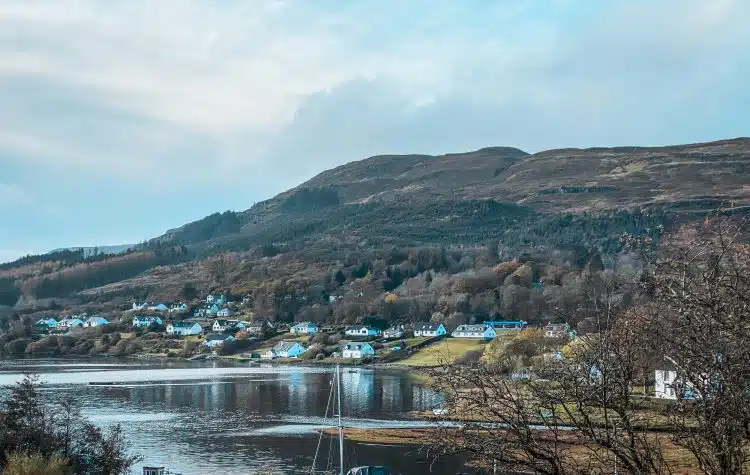 One of our favorite and most memorable experiences in Skye was our gin-making experience with Isle of Skye Distillers in Portree. We had a firm time set up for 2PM (allocate approximately 3 hours for the process) which was the anchor point in our day. Scotland produces a vast majority of the UK's spirits and while whisky is the first thing that comes to mind for most travelers, other spirits – prominently, gin – are also produced in Scotland.
The gin-making class is a multi-hour experience led by Alastair, a Portree native and the founder of Isle of Skye Distillers, which goes through some of the fundamentals of gin making with a whole laboratory of botanicals that can be used in making your own personalized bottle. We judiciously measured out our inputs – everything ranging from rose hips or kefir to cacao and cardamom – and worked through the process one step at a time until we concluded with the actual distillation into a 750ml bottle, which was ours to take home.
If you're traveling with a group or adult family, this is such a fun experience! At 30 weeks pregnant, I couldn't even actually taste my gin but the entire process was such a blast to participate in — and I have a bottle to dig into post-birth!
By the time we finished our class, the sun was going down and we were prepping for pre-dinner drinks and dinner out in town. The town of Portree has a number of options for dining and a few pubs for a pre-dinner pint. We dined at Cuchillin, which came highly rated and recommended and didn't disappoint. Worth noting: Cuchillin and a few other restaurants in Portree operate a similar (not very effective) system with no reservations accepted. Be prepared to wait in line with no actual waiting list; loitering until a table for your group size becomes available. If you're the type of traveler that gets impatient or frustrated in these situations without a semblance of order, choose a restaurant that does take reservations and get a reservation in advance as places do book up.
Day 3 ✧  The Fairy Pools + Scotch Tasting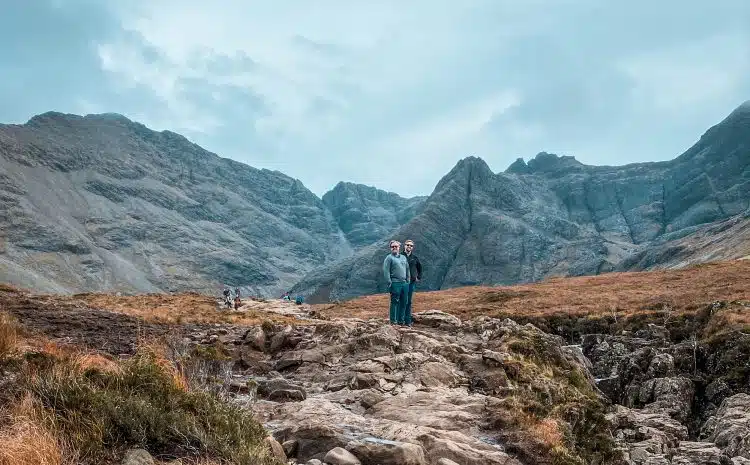 For our final day in Skye, our anchor activity was an afternoon tasting at Talisker, arguably the most famous producer on the Isle of Skye. For anyone that's planning on incorporating a Scotch tasting, also consider Torabhaig Distillery, a younger producer that locals raved about but a place we didn't learn about until actually arriving during our 3 days on the Isle of Skye. We had the day to explore prior to our tasting and made the area near Tallisker our core focus.
Nearby you'll find the Fairy Pools (not to be confused with the Fairy Glen, further north). The walk is doable for anyone without real mobility issues; we saw children and elderly people on the trail and at under 3km round trip, it's not overly strenuous. We took about an hour round trip on our journey, but in the summer months, it's also a place where visitors can swim or pop into the pools surrounded by waterfalls.The area captures the wild essence of Skye with its dramatic landscapes and vast openness. Given the ease of this walk, I'd highly recommend it as it's doable for most visitors.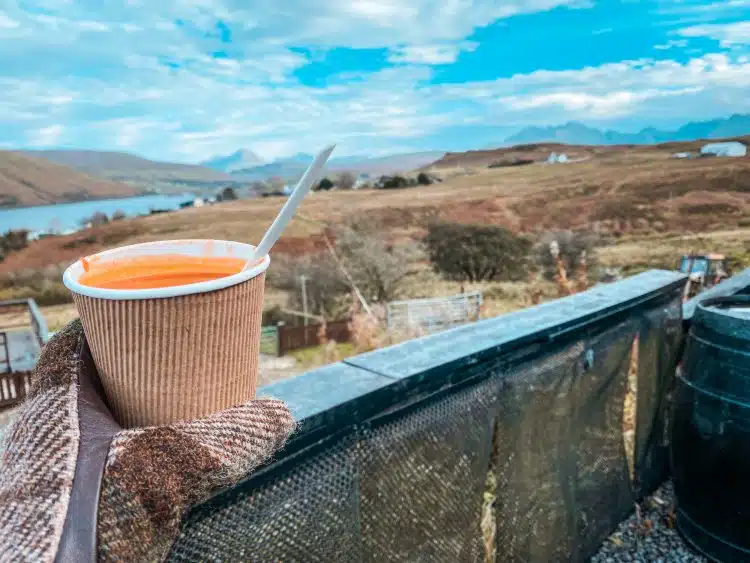 Following our walk, we made our way to lunch at The Oyster Shed, an aptly named outpost near Carbost serving up – you guessed it! – oysters! They also offer a range of soups, plus trout, salmon, and other seafood served with a hearty side of chips. Seating is casual either outside on benches or in a partially covered space with high tops. During our visit in late October, many restaurants and outposts were beginning to close down for the season. In high season, you can expect to find many more restaurants operational for lunch, though we found this a perfect casual outpost.
I'll share a post soon on whisky tasting in Scotland as we quickly learned that most 'tastings' that we booked included tours. Broadly speaking, it was more difficult to find places that simply did a tasting without it being a more guided approach during a scheduled group time slot. The majority of these tours + tastings were at least an hour, though some were more in the range of two hours. I think having the education and foundation for the first tour is an asset but after you've done one, doing multiple in-depth tours can feel a bit much. Talisker was a great choice for us for one of our final Scotch tastings of the trip as it's a compact 30-minute session that's well-executed with a guided tasting accompanied by some serious audio-visuals to set the tone. The tasting we chose highlighted three different whiskies produced by Talisker and the shop on site offered up plenty of options including some of the best distillery swag we'd seen along the way.
How Much Time Do You Need on the Isle of Skye?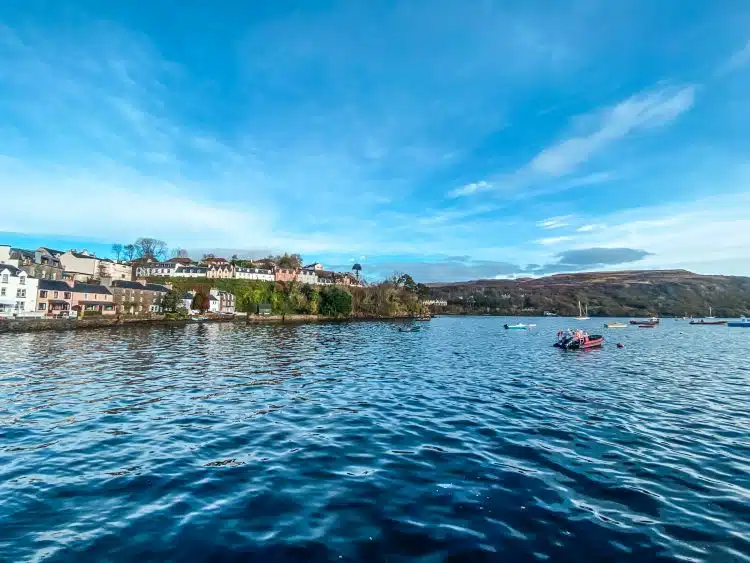 So, how much time do you really need on the Isle of Skye? I'll start by saying we took a very leisurely approach to sightseeing and planning our days and could have easily fit more into our days if we'd chosen that approach from the outset. Our timing at the end of October, also meant slightly shorter days and very mixed weather which made it a bit more difficult to engage with the nature-focused approach that makes Skye a standout for many. That all said, with 3 days on the Isle of Skye I felt like we barely scratched the surface; like we saw what was available but would have needed much more time to really dig in. How long you should allocate to the Isle of Skye also depends on your personal focus and activity level. The island is dotted with some amazing hikes that each require hours to really enjoy; if you're someone who likes being out in nature, allocate plenty of time to enjoy some of Skye's best hikes and trails.
Beyond hiking, you'll also find castles, historic churches and ruins, plus a huge history anchored in dinosaur fossils found on the island. 15% of all mid-Jurassic discoveries in the world have been made in Skye so for those that find prehistoric elements a draw, there's plenty in this realm, too. For anyone with additional time, there are boat trips and other islands in the Inner Hebrides accessible from Skye. In many ways, this part of Scotland reminded me of the Wild Atlantic Way in Ireland where we explored the Ring of Kerry, Ring of Beara, Dingle and Skellig Michael, amongst some other stunning spots along the coast.
👉🏼 Keen on this part of Scotland? Check out our travels to Ireland exploring the Ring of Beara and Skellig Michael.
At a minimum, you'd ideally have 3 days on the Isle of Skye but if your schedule permits a longer stay in the summer months would be ideal to soak up all that this area has to offer. A car is essential for exploring unless you're part of a scheduled tour so be sure to pre-arrange this.
---
From our two weeks in Scotland, Skye was one of the standout destinations on our list for natural beauty.  Scotland, in general, is a place that's famous for its landscape and vast expanses, and the Isle of Skye feels like a microcosm of Scotland — on steroids. For anyone considering a trip to Scotland, let's chat about itinerary creation for inspiration for your exploration!
For those that have been, what were your top draws on the Isle of Skye?