If there's a silver lining in our schedules being interrupted due to COVID, perhaps it's that many of us who would otherwise be hitting the road are home-bound and taking the time to explore nearby more than we usually would. You'd think that after 7+ years of calling Anguilla home, that we'd have explored every nook and cranny of this 32-square mile island, but that's far from reality. During our COVID shut down, we've explored far-flung (and extremely hard-to-reach) Captain's Bay, explored the Caves at Prickly Pear, and most recently visited Dog Island, one of Anguilla's oft-neglected off-island cays.
Dog Island ✧ Anguilla's Bird Sanctuary
Dog Island sits in the Atlantic, about 8 miles northwest of Anguilla, past Prickly Pear Cays. Departing from Meads Bay, it takes about 30 – 35 minutes on a smooth day and makes for a beautiful journey as Anguilla slips away in the distance, masked by St. Martin's mountainous profile. Unlike Prickly Pear, Sandy Island, or Scilly Cay, there's nothing on Dog Island; no restaurant, no bar, just flocks of birds that call the island home.
The Anguilla National Trust – who I've committed to exploring with in the future! – pioneered the Dog Island Restoration Project in 2012 which has focused on rat eradication to allow birds and populations of other native wildlife to recover. With the success of the project, it's thrived as a bird haven with 9 species and over 400,000 birds that nest on the island. We weren't there on a bird-watching mission this time though, and there's more to the island than its rocky topography and wildlife spotting renown for those seeking serenity and untouched beauty.
The beach on Dog Island is a stunning, wide stretch of bright white sand, and you're almost guaranteed to be alone on the island if you make your way out for a visit. No public boats visit, and without a restaurant on the island it largely steers clear of boat trips in search of a beachy lunch locale. If you plan in advance though you could easily bring a picnic lunch and set up on the swath of sand without anyone in sight. Is there a better place to cozy up with a bottle of rosé?
Beyond the beach, the vegetation is largely thorny cactus and shrubs, which means no tropical palms overhead to provide shade and lots of SPF required if you're planning on spending any length of time exploring. This time we stuck to the beach, but I'll be heading out again (this season hopefully) with the National Trust and/or Nature Explorers Anguilla to explore the island a bit more in-depth. Check out this video to get an idea of Dog Island's layout and scope out the beach from above. ??
Prickly Pear Cays ✧ The Ultimate Beach Lunch Locale
Prickly Pear has always been one of my favorite off-island destinations, and for the years we'd gone out to visit, it was the beach itself that I consistently found to be the biggest draw. The beach at Prickly is one of my favorites in all of Anguilla, a perfect palm-lined curve of white sand for the ultimate desert island escape. In the past year, the caves at Prickly Pear have become a point of interest for visitors to the off-island cay. Most locals and expats had no idea they existed and they were off the tourist radar until very recently. The current can move a bit near the cave, but confident swimmers can snorkel around the cave and swim inside to explore. Kayak tours are slated to be an option as well when visitors can return to the island post-COVID, and I am totally on board with that method of exploring!
In our past trips to Prickly, we occasionally dined there, but would mostly mosey on up to the thatched palapa bar for a frozen cocktail in the sand. ??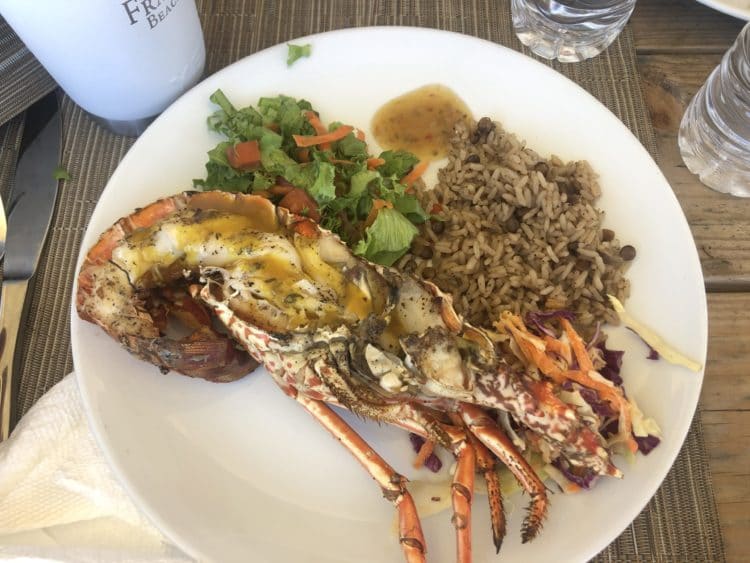 During this visit, we opted for their family-style lunch, which the restaurant at Prickly is graciously offering for a minimum of 9 guests (a la carte options exist in the regular season). It made perfect sense for our group: a spread of lobster, Mahi, chicken, ribs, and all of the classic Caribbean sides to accompany the mains. Plus, the family-style package ($65 per person) includes the bar where a full spread is available. While the majority of us opted for a classic rum punch or Carib, diners that prefer a simple G&T can go that way instead. For those of us living in Anguilla during the Coronavirus lockdown, the ability to have a mini-getaway is a cure for island fever. In the past week, boats in Anguilla were okayed to explore the island's northern side, and getting out has been a nice break in many of our normal routines.
We spent the rest of the afternoon vacillating between beach chairs and sea dips, which I'm pretty sure qualifies as the perfect island afternoon. Prickly Pear is about 6 miles from Anguilla's north shore; about a 25-minute journey by boat so getting back to Meads Bay was a breeze. Generally speaking, for those looking to visit Anguilla's Dog Island or Prickly Pear Cays, summer months (May through August) tend to be more of a sure-fire option when the seas are calmer. It's a less enjoyable ride when the seas are rolling so winters aren't as much of a sure bet.
For those looking to journey out to Dog Island* and/or Prickly Pear Cays, here are some options for exploring:
The Prickly Pear boat journeys to and from Prickly Pear from the Sandy Ground Pier (two journeys out in the morning + two journeys back in the afternoon) at a rate of $40 per person ($10 goes towards a drink credit)
Guests at Frangipani Beach Resort can explore aboard FrangiCat (featured here) on a charter basis to Dog Island and/or Prickly Pear Cays (the same itinerary shown above); guest-only beach hopping excursions occasionally visit Prickly Pear in the summer months
Tradition Sailing offers a Prickly Pear Lobster Lunch Sail for $305 per person, which is a full-day experience (9AM – 4PM) on a shared basis
Consider chartering a boat privately on the island for a customized experience: options include FrangiCat (available for non-guests on a charter basis only), Calypso, Gotcha! or Funtime Charters
* Bear in mind that Dog Island is rarely part of a standard boat trip in Anguilla and will generally require a boat charter to reach the island
---
??
As it turns out, I'm not alone in having gone so many years without visiting Dog Island. Our recent poll showed the vast majority of Anguilla visitors (and on-island residents) have missed it!
Have you been to Dog Island before? Is it on your list?