Itinerary + Stops for a Day Exploring by ATV in Mykonos
For most, an escape to Mykonos brings to mind a world of jet setters, bachelorette getaways, and glitzy beach parties, but that only scratches the surface of the island, both figurately and literally. The glitterati have inhabited Mykonos for a relatively short period, prior to which the island relished a more traditional lifestyle. With four days in Mykonos and five nights to explore, we wanted to discover the island beyond its most famous beaches to go beyond the traditional tourist circuit. Armed with a quad from OK Mykonos, we set off on our own ATV tour of the island. OK Mykonos provided a transfer from our hotel to their shop and we opted for an early 9AM pickup so we could head out and begin exploring before 10AM. There's quite a bit to see and if you're interested in following the itinerary I'm including below, you'll want all the daytime hours you can get to fit it all in without being rushed. From the local, less touristed beaches of northern Mykonos to an organic wine farm, we ventured to parts of the island that allowed us freedom away from the crowds. Keep reading for our ATV tour of Mykonos including stops to check out, some tips, plus a map for your next visit to the island.
Get a video sneak peek of our ATV Tour of Mykonos here ??
Stop 1 ✧ Take in the Views from Armenistis Lighthouse

North of Agios Stefanos, where we collected our ATV, lies Armenistis Lighthouse. Some visitors tout its sunset vistas but for daytime touring, it's the island views that will wow you. The lighthouse was our first stop on our ATV tour of Mykonos and we were the only people there during our morning visit. The drive up to the lighthouse takes you up steep elevation until you settle at what feels like the top of the island. From there, you'll have unparalleled views of neighboring Syros and Tinos. We wandered around to take in the view and snap some photos, but expect a relatively brief stop before moving on to explore other parts of the island.

TIME: Allot 20 minutes to explore and take in the views, longer if you have a particular photography aim. The highlight is the view of the neighboring Cycladic islands.
Stop 2 ✧ Explore Panormos Beach & Shop at Principote

The beaches that line Mykonos' south side are arguably the most famous, from Super Paradise's young party scene to Psarou's upscale day club vibes but the tiny island has some beautiful untouched beaches that get little international fanfare. If you're looking for beaches sans sunbeds with pristine stretches to lay out a beach towel and just take in the sand, sea, and sun, head to the beaches on the island's north side where you have a stretch to yourself for hours on end. Agios Sostis is a local favorite for beach time sans crowds, but our first beach stop was Panormos Beach.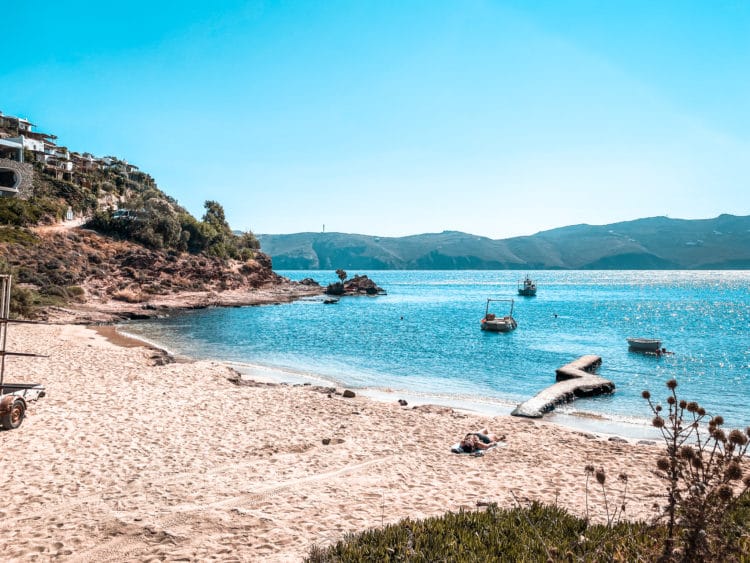 We experienced two different sides of Panormos, a small local stretch, contrasted with the longer main stretch of Panormos that's home to Principote, one of the island's most upscale day clubs. Following signs for Panormos during our ATV ride, we pulled into a small expanse of sand with one local sunbather, a fisherman, and a grandfather/granddaughter splashing around in the sea. The scene felt supremely local, like we were getting a glimpse into the private lives of Myocnians away from tourist crowds. A resident we met during our time on the island mentioned that Panormos was once their favorite beach before Principote made it a tourist hotspot, and I can absolutely see how it would have been the prized local expanse for a day at the beach.
That said, for visitors to the island who do want a bit of the scene in Mykonos, Principote is a great option for upscale day club vibes with a gorgeous bohemian feel. We walked through and did some shopping but didn't spend time dining or lounging since were on an exploratory mission. The shop on site, Agora, was one of the best-curated boutiques that I explored during our four days in Mykonos. While the collection isn't the most budget-friendly, it brings an incredible assortment of beach-friendly buys, from bathing suits and coverups to accessories and day wear. If you'd like to stay longer, ask the team about grabbing a drink at the lounge.
Timing: If you're a swimmer, plan your timing accordingly to take a dip in Panormos Beach. To take a swim without having to go through Principote, continue on the road past the day club to hit the tiny stretch of beach where you can cozy on up with a towel or cool off in the Aegean. If you'd like to shop at Principote, allocate time accordingly. The timing needed 100% depends on your shopping style; I spent about 30 minutes browsing items and trying on clothing.
Stop 3 ✧ Discover Mykonos' Second Town, Ano Mera
When we were devising our itinerary for a day of exploring Mykonos on ATV, Ano Mera was one of the first areas circled on my virtual map. The second largest town in Mykonos, it's famous for the Panagia Tourliani Monastery which sits alongside tavernas, cafés, and bakeries in town. Truth be told, Ano Mera is tiny. I expected something a bit bigger and more bustling for Mykonos' second city (perhaps more like Halki in Naxos), but our time in town brought a quiet contrast to Mykonos Chora, the main town. The 16th-century monastery, however, is a draw when visiting Ano Mera. For a suggested donation of €1 per person, you'll be granted access to the monastery including the museum on-site, which is nice to check out while you're in town.
Timing; In total, give yourself about 30 – 45 minutes to explore Ano Mera plus the Panagia Tourliani Monastery; longer if you'd like to stop for lunch in town.
Stop 4 ✧ Lunch at Fokos Beach & Taverna
Following a couple of beach stops and a shopping break, we continued on to Fokos Beach, a stretch of sand that looked far prettier in real life that I would have ever imagined based on photos. Fokos is one of the north shore beaches that I'd mentioned above; more of a local/in-the-know spot where you'll want to bring your own towel or beach chair. So much of what I found appealing was the lack of sunbeds taking over the beach. There's just one dining establishment on the beach, Fokos Taverna, a brilliant spot that offers up a fabulous beach lunch from 1PM – 6PM. Don't let its off-the-beaten-path locale fool you. We arrived at 12:45PM (aim for similar timing if you're following this itinerary) but there was a line forming at 1PM for diners wanting primo seating overlooking the sea.
Fokos' food is excellent, and a great option if this area appeals to you or works into your timing on your ATV tour of Mykonos. If you're still near Panormos Beach/Agios Sostis for lunch, you can also check out Kiki's Tavern on Agios Sostis which is a fan favorite for visitors (I had no less than 10 people mention it as the lunch locale of choice on the island). For Kiki's, no reservations are accepted and a line forms early for the first seating so be prepared!
Timing: Allocate about 45 minutes for lunch, plus time to hang on the beach if you're looking for a bit of R&R. We've found that almost universally food has come out extremely quickly in Greece. Usually, it's just minutes before receiving our first course, and mains take just a few minutes longer. If you intend to have a 'drawn-out meal', you'll want to be intentional about your ordering and your communication with your server… food generally is fast unless otherwise specified. Be in line for lunch at 1PM if you want to continue on with this itinerary though since the next stop requires a 2PM arrival!
Stop 5 ✧ Wine Taste at Vioma Organic Farm and Winery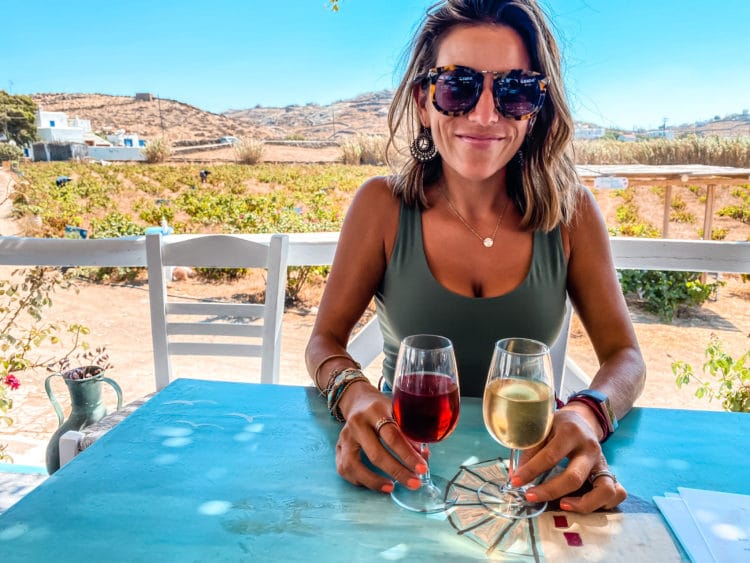 If you've been following along with our adventures on Instagram or with our recent foray into deeper wine education, you'll know that wine tasting in the Cyclades was something I'd been particularly interested in during our month in the region. Mykonos isn't exactly known for their vineyards or wine production but for those interested in seeking it out, the best opportunities for wine tasting and/or education are at Vioma, Mykonos' only commercial winery. The history of winemaking in Greece goes back millennia, an age-old tradition that's still a common practice in local homes where wine is produced for personal consumption. On a commercial scale (a very small scale), Vioma produces four wines: a dry white, a dry rosé, a dry red, and a dessert wine.
If you're timing works and wine tasting or an organic farm experience appeals to you, aim to be at Vioma at 2PM for their English-speaking tour. We pulled in a minute or so after 2PM and were able to jump on the tour of the garden, the vineyard, and the farm. The tour, which is about a half-hour long, is a great primer and I'd definitely recommend timing your day accordingly if you'd like to do the wine tasting. Vioma offers flights of wines (full pours) for €12 (the three dry wines) or €16 (all four wines) but it's more of a self-guided experience.
Stop 6 ✧ Dip in the Aegean at Kalo Livadi Beach
By about 3:30PM, we'd accomplished most of the musts on my list: a visit to Ano Mera, a stop at the lighthouse, a bit of shopping at Principote, and a wine tour and tasting at Vioma. Now, it's time to jump in the sea! We brought our bathing suits with us (your ATV will include a lockbox to keep your belongings) and switched into beach mode for the remainder of the afternoon. Being based in Platis Gialos in close proximity to the island's most famous (and well connected) beaches, we opted for a beach that we wouldn't as easily be able to access without wheels. Kalo Livadi was recommended by a few Myconians as a lovely stretch that's not quite as densely crowded, and it was the perfect option for our afternoon fix. There are some sunbeds on the beach but many people were lazing the afternoon away on a beach towel in the sand. If the idea of renting a sunbed appeals to you more than laying on the beach, options on Kalo Livadi include Lohan Beach House (yes, it's the brainchild of Lindsay Lohan) or Solymar.
Stop 7 ✧ Catch the Sunset at Agios Ioannis
We actually made a few other stops to check out Mykonos' hot spot beaches of Super Paradise and Paraga prior to our sunset adventure. The Super Paradise vibe made me feel ancient so we quickly departed for something more low key. When it comes to sunset views in Mykonos, Agios Ioannis gets the thumbs up from many with its views overlooking the island of Delos, the mythological birthplace of Apollo. Hippie Fish is the perfect place to post up for sunset views. If you're there early enough, there are cabanas on the waterfront to enjoy the last moments of sunshine. If, like us, you're there to take in the sunset views, aim to get there at around 7PM in the summer. Sunset in August is generally around 8PM or so, and you'll want time to enjoy a drink while the sun disappears.
We had the option of keeping our ATV for 24 hours or for the day only, and while we'd originally intended to return it the same day, the team at OK Mykonos was flexible in allowing us to keep it through the next morning so we could enjoy the sunset. It was the right choice! Depending on where you're staying on the island, you'll likely find yourself running in similar circuits (for us it was Platis Gialos to town and back) so having the opportunity to see the island from a different perspective makes the entire stay so much more memorable.
Interested in this route? Check out my map below with the spots included above, plus a few other lunch options depending on where you're at during the day!
Cyclades lovers, any off-the-beaten-path spots you'd add to an ATV Tour of Mykonos?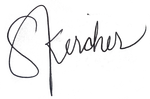 ?? A big thank you to OK Mykonos for sharing some highlights with us and igniting our new love for exploring by ATV!