Milos is all about the landscapes. Our boat captain started our tour by explaining that what Milos lacks in old town charm, it makes up for with a coast that's second to none. Milos has 125 kilometers of coastline, and while you're on the island a boat trip is practically a requirement to get the full picture of what makes the island such a fan favorite. As with all boat trips, they're weather dependent, and in the Cyclades that means the skippers are on wind patrol, adapting itineraries based on the Cycladic Meltemi winds, which can howl in the late summer months. During our time in Milos, we set out to see the island by water on a boat trip with Excellent Yachting. Boat trips can take many forms: a trip to nearby Kimolos and Poliegos, a beach hopping tour of some of Milos' most famous beaches, or a trip that includes Kleftiko, the otherworldly rock formations that surround the island's southwest coast. During our time on the island, the weather conditions meant we'd steer clear of the north coast and dedicate our time to the south with a day focused on Kleftiko. For anyone embarking on a boat trip with Excellent Yachting, your trip may include a different itinerary than what we experienced due to weather conditions. Our captain, Jean, and first mate Yiannis, worked with the conditions to make the most of our day at sea.
Generally speaking, you'll leave from Apollonia if weather permits, but with the winds blowing full force, we departed from the south coast beach of Provotas, about a 30-minute journey from Apollonia where Excellent Yachting has an office base. With COVID-19 measures in effect, we had a few extra precautions (temperature checks, for example) before the 12 of us boarded the boat for a day at sea. One thing to keep in mind is that windiness does not mean poor weather in Greece; you can have a brilliantly sunny day with winds blowing, which is what we experienced. Despite a bit of wind, we enjoyed plenty of sunshine the entire day and fairly warm seas in September.
Wondering who your fellow passengers will be? Well, our group ran the gamut in terms of nationalities (American, French, Moroccan, Romanian, Greek, Dutch) but most of the passengers were in our age bracket roughly (mostly 25 – 45 range) with a makeup of couples and singles. That said, the trip would easily be accessible for families or for older travelers who like being on the water! And, if you're going with a family or a group, I'd consider chartering the boat privately for a super customized and private day on the water.
If you're planning a trip to Milos or have started digging into the island highlights, you know that a boat trip is practically mandatory here, and Kleftiko is one of the highlights for many travelers. Imagine Cabo's famous arch…. now multiply that by dozens. Kleftiko is essentially an entire world of chalky white rock formations with large cliffs (think White Cliffs of Dover style) and of arches and caves popping up from the sea, and the only way to really discover the area is by water. The journey out to Kleftiko took about 30 minutes of slow scenic cruising while we got to meet other passengers on board.
Snorkeling Tour

Typically a south coast tour may include a few beaches or other stops on the way, but with wind working against us we settled into Kleftiko for the entire day, with a few additional activities to enjoy our home base at sea. To start with, Captain Jean took passengers on a 30-minute snorkeling tour of the caves. About a third of the passengers had their own snorkeling equipment, fins, etc., but for those that didn't, masks were provided. With COVID, snorkel equipment was a bit restricted (e.g. guests were provided with masks but no snorkels for safety reasons) which I found a bit difficult. I started the snorkeling trip but about 5 minutes in decided to turn around (with another guest who was feeling similarly). With the wind and seas moving, I just felt a bit out of my element. If you're a strong swimmer, you'll be totally fine – everyone else seemed to love it! – and if you bring your own equipment and fins, it's even more enjoyable. If you're at all uncomfortable in the water, there's no shame in staying on board. You'll get to bask in the sun with a glass of vino, which I think is a perfectly fair consolation. The snorkel tour will take you through the caves and the captain has a GoPro to take some photos while you're swimming!
After the snorkelers returned, everyone dried off on board with beer and wine in the sun. Since I didn't partake in the full snorkeling trip, we swam to a nearby cave to check out the inside. There are literally dozens (maybe more) small caves in this area, which made it a premier spot for pirates centuries ago. We often think of pirates in the Caribbean or the East African coast but there's a strong history of pirating in the Cyclades as well (you'll see homages to this in Paros and Antiparos down to Sifnos and Milos in particular). When you see the landscape and all of the potential places to hide out, it's not hard to understand how the area would be a go-to.
Lunch on Board
With 12 of us on board, we split into two groups in the afternoon: one group enjoyed lunch on board while the others headed out to explore caves by dinghy. Again, COVID changes the game for businesses on how they can handle food and serve guests, but Excellent Yachting's solution was perfect for us. They had pre-packaged lunches for each of us that kept them sterile along the way. And the food was plentiful on board: hummus, dolmas, plus moussaka for meat-eaters and a stuffed tomato + pepper dish for me accompanied by local beer and wine (be sure to advise of dietary restrictions in advance).
Dinghy Ride through the Caves
The caves in the area are the big draw so I wondered if my little snorkeling aversion had ruined my chances of seeing the caves close up during our trip. Luckily, we also had a tour by dinghy of the caves in the area. The half who weren't eating lunch set out with the captain to zip around the Aegean and pop in and out of caves to see them from the inside — this is a total highlight because you're up close and personal and can see the brilliant water color and the bright white chalky formations up close.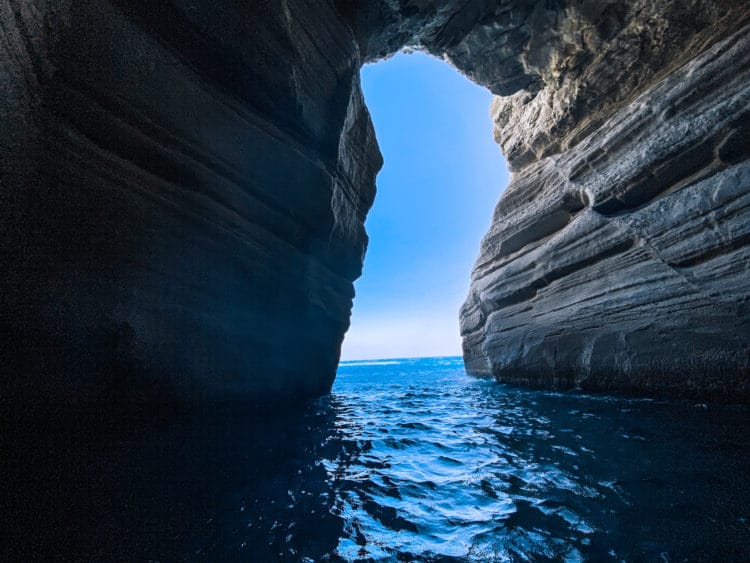 It's hard for pictures to fully capture the experience, so a video much better showcases the scenery plus our experience at sea! Check out the two-minute clip below to see our experience on our boat trip to Kleftiko:
Basic Information for your Boat Trip to Kleftiko
?? We departed at around 11AM and returned at around 7PM for an extremely full day! Our start time was pushed back slightly as we had to depart from the south vs. Apollonia, but our car transfer left the Excellent Yachting offices at around 10AM.
?? Shared boat excursions are €80 – €90 per person depending on the season. The rate includes the boat, lunch, and beer, wine and soft drinks, which is a great value!
?? If you're going with a group, I'd consider chartering the boat privately for a more customizable experience. Private charters are around €800 with different itineraries available.
?? Some snorkeling gear is provided but if snorkeling is your focus you may want to consider bringing your own. Don't forget your camera/phone, sunscreen, and a towel, plus I'd recommend a hat for added sun protection!
---
Have you been to Milos? It ended up being my favorite island during our month in the Cyclades! Stay tuned for more from this fabulous island!