Caelum et Terra, a true heaven on earth
After our brief 24 hours in Antigua, we said our goodbyes to our El Salvadoran family and made our way to Lake Atitlán. The region is home to a number of basic hotels and hostels that dot the perimeter in towns along the lake, plus a few more upscale properties.
With family in tow, we opted to rent a villa on the lake for a comfortable, luxe experience that would allow us private facilities for swimming, sunning, boating, playing games and bonding. Our home for the week, aptly named Caelum Et Terra, translates to 'heaven on earth', and we quickly discovered how the home earned the moniker. Every family is different in what they want in situations like this and while some may prefer a hotel experience, we've learned that a villa experience is best for us. In this case, it was the perfect blend of hotel and home; a stunning property complete with on-site staff for additional comfort.
We made our way up, up, up to Lake Atitlán where the air became cooler and crisper as we neared the lake. We continued past the main town of Panajachel to the quaint lakeside villa of Santa Catarina Palopo, where our villa was located. The lake is composed of a number of smaller towns each with their own distinct personalities, but Santa Catarina Palopo was the perfect tranquil retreat. The only nearby property is Casa Palopo, a luxury boutique property recently ranked the number one hotel in Central and South America. We knew we were in good company.
Arriving at the villa was love at first sight. A burnt siena colored ranch-style home perched over the lake, we entered through the front door to broad folding glass doors that opened up to the world beyond. The view of the lake and the famous volcanoes was jaw-dropping.
After we quickly claimed our rooms and unpacked, we sat down to ceviche (my favorite!) and sipped caipirinhas while we took in the view from the patio. Within a few hours, we'd settled in and began to enjoy a vibe that managed to blend luxury with a homey quality, a perfect balance that can be difficult to achieve.
Lake Atitlán isn't exactly famed for its world-class dining scene, so we loved having a private chef at the house where we could enjoy dinner every night. Normally dining out is a big part of immersion for us, but we were able to experience it in a different way in Guatemala: we went to local supermarkets and farmer's markets and stocked up to help the chef prepare a local meal for the night. For our final evening, my grandmother took the reigns and led us in making traditional El Salvadoran pupusas with a heap of accoutrements for our big sendoff.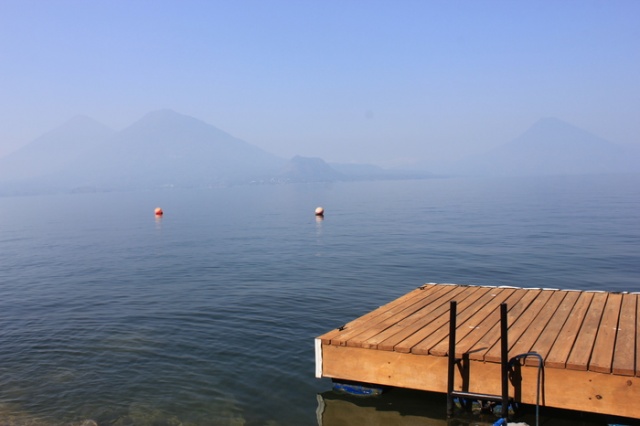 We enjoyed morning coffee and breakfast on the patio and marinated outside while the world woke up around us. This video is from our first morning on the lake: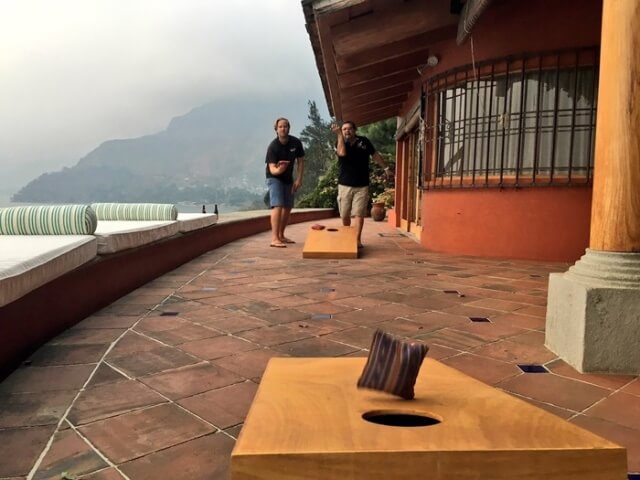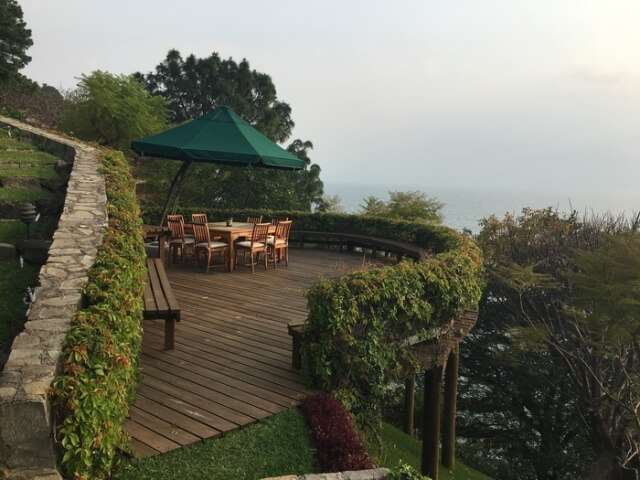 Spending a Week at Lake Atitlán
For many, Lake Atitlán is a day trip, or perhaps a couple of days, while exploring Guatemala. We made it our focus for nearly a week, and we couldn't have been happier. While I'd still like to return to Guatemala to explore deeper (more time in Antigua, plus Tikal and Semuc Champey), I don't think you can possibly do the area justice in a single day.
So, what do you do for a week in Lake Atitlán? Depending on your interests, you'll have plenty of options to keep you active for a weeklong escape. For us, it was all about blending sightseeing, cultural immersion and activity with a bit of rest and relaxation, but your journey could be all active or all zen relaxation depending on your focus.
Go paragliding over Lake Atitlán with Real World Paragliding, based in Panajachel
Shop for local Mayan textiles and specialties in Panajachel or in San Juan La Laguna, two of our favorite towns for crafts
Go horseback riding at Finca Xetuc in Santiago
Get super zen with yoga on the lake or try an extended experience with a yoga retreat on Lake Atitlán
Hike Volcan San Pedro for an extra active experience – remember the altitude, it makes running up stairs test your lungs!
Lake Atitlán is often referenced as a singular destination but the lake is huge and the towns can be a fair distance apart. For example, from Santa Catarina Palopo to San Juan La Laguna, it took us roughly 45 minutes by boat. Santiago is even further afield, so if you're looking at enjoying different activities based on different areas of the lake, it's worth factoring in the very real transport element which may play into what's feasible for your trip.
1
Budgeting for Lake Atitlán
Aldous Huxley famously compared stunning Atitlán to another world-famous lake,
"Lake Como, it seems to me, touches on the limit of permissibly picturesque, but Atitlán is Como with additional embellishments of several immense volcanoes. It really is too much of a good thing."
Add to the fact that this stunning locale is actually a wallet-friendly destination and it's hard to believe what incredible luxury experiences you can create without spending a fortune.
My mom has actually long talked of her desire to visit Lake Como, but it's quite possible that Atitlán (and Lake Tahoe from where we grew up) have jaded her now. Add to that the fact that Guatemala is a totally different beast than that of Northern Italy, or Northern California for that matter. We were enjoying this stunning landscape and seaside towns on a relative budget, zipping around in lanchas and taking tuk tuks through villages. Enjoying the same experiences in Lake Como – or really anywhere in North America or Europe – would be a much pricier proposition.
Accommodation ranges from budget hostels in San Pedro La Laguna (a few dollars per night) to the posh Casa Palopo and a range of luxury villas that line the lake. That being said, the villas available represent a great value when compared to many destinations around the globe. For example this stunning five-bedroom place in Santa Catarina Palopo is $395 night (click here for a $35 AirBnb credit for future travel!) If you're traveling with a group and splitting costs, it ends up being an exceptionally reasonable getaway with an extra-luxe feel that may not be as feasible elsewhere. Plus, with a villa property you can stock up on your favorite local foods and whip up dinners at home for a fun and cost-effective approach (again, not a ton of world-class dining options). And these views? Let's just say you're not compromising.
Plus, with the exceptional value available in Guatemala, things like chartering a boat for a day of sightseeing, indulging in gourmet lunches, and stocking up on locally crafted souvenirs becomes a much more viable option. Our boat charter cost us Q.800 for the day (we probably overpaid, but that's okay), which translated to a little over $100. For 5 people for an entire day, we were okay with that!
We also loved having staff at the villa to provide a home-meets-hotel experience. We're not typically used to having a team on hand like this so it takes a bit of getting used to, but we genuinely enjoyed getting to chat with the team, practice our Spanish, and have them assist with whipping up mid-day margaritas or afternoon ceviche. Plus, for inside knowledge it was great having guidance as to where to exchange money or where to pick up snacks for our stay.
All in all, I wouldn't have changed our experience for a minute. Having a home base, or possibly two home bases for a week on the lake is a great way to enjoy the scenery and really settle into the tranquility of the area. As I mentioned before, distances can be far from one town to the next so the option of splitting your stay at two villas on opposite sides of the lake could be a great way to see different towns without spending as much time in transit. One of the most apparent things about the lake is that it's a destination that lends itself to unwinding and reconnecting with yourself (and your loved ones). To do that, having the time to really enjoy and take in the simple beauty of sunrises, sunsets, sounds and smells is key. No need to rush a good thing.
Have you been to Lake Atitlán? How long did you spend exploring the lake region?