For most people, one day in Anegada is part of a larger British Virgin Islands itinerary, sailing through the chain that includes Anegada's more famous neighbors like Virgin Gorda and Jost Van Dyke. Anegada is the most northerly of the British Virgin Islands, set a fair distance away from the rest of its sister islands, which also makes it one of the less trafficked of the bunch. It's the second largest of the BVIs at 15 square miles but with only 250 inhabitants it's also one of the least populated. And unlike the rest of the British Virgin Islands, which are largely volcanic, mountainous, and lush, Anegada is a coral atoll which makes it flat and scrubby with salt ponds dotting the island, not unlike our home island of Anguilla. We had three full days in to enjoy the island but really took one day in Anegada to explore beyond our home beach.
For those that have one day in Anegada to explore, the best way to do it to rent a vehicle and hit the road for maximum flexibility. The island's small size makes it a breeze to discover and the lack of traffic makes the left hand driving proposition easy for many travelers who are used to driving in the US. My personal recommendation? Rent a Moke from L&H Rentals (based out of Anegada Reef Hotel) for breezy island driving (each Moke holds up to 4 people). If a scooter is more your speed, those are available through Anegada Amazing Rentals. Book in advance to avoid disappointment though! We arranged our Mokes a day in advance and were able to secure them in the summer months.
Mokes were $85 for the day during our visit, which allowed us 24 hours for our own island expedition. With our cars fueled up and a map in hand, we set off to uncover Anegada's beaches, beach bars, and nature. Before anyone mentions how we missed some key things (like the iguanas!), it's worth noting that we booked our trip and jetted there from Anguilla with just a few days' notice so our planning left a bit to be desired. That said, we enjoyed the beauty of spontaneity on an island that's really focused on simply unwinding.
Flamingo Viewing Point
Flamingos were reintroduced to the British Virgin Islands some 40 years ago and they're particularly alive and well in Anegada where a large flamboyance of flamingos draws in visitors at a viewing point. Here's the thing, though: you can't really see the flamingos with your naked eye because they're way out in the distance. Bring binoculars or use the telescope that the island has set up to view the birds from a distance. It's a quick stop, not anything to worry about 'carving out time' for by any means, but if you're traveling with children there's also some education and signage about the flamingos and their natural habitat.
Loblolly Bay
After our quick flamingo stop, we were off to Loblolly Bay for a bit of beach time at the famed stretch of sand. Before visiting Anegada I was familiar with two of their beaches: Loblolly and Cow Wreck, so we were determined to see both during our excursion.
We followed signs to Flash of Beauty, a bar located on the beach, and parked in front of the bright pink building set on the sand. For those seeking peace and tranquility, this beach is where it's at. We were virtually the only people there and ran back and forth to the restaurant to get our rounds of drinks while we lazed by the water. There are a few beach chairs, but no loungers that we saw. The real draw though is the snorkeling. For those seeking an underwater adventure, the group voted the snorkeling off of Loblolly Bay in front of Flash of Beauty their favorite spot. I took a dip when we were out there but the current was strong enough to make me a little anxious. Strong swimmers – and children with no fear – will have a ball exploring the reef. Bring your own masks and snorkels though (and fins if you can) as there aren't places to rent on the beach.
Fisherman's Wharf
After our time soaking up the sun and snorkeling on Loblolly Bay, we continued on our drive through Anegada's capital, The Settlement, and on to Fisherman's Wharf. Anegada is an island of 250 people so their capital is about as big as you'd imagine: there are houses, a couple of small shops and a school, and not much else.
At Fisherman's Wharf we pulled off to walk around and explore. If you've read about Anegada before or been interested in their main sights, you may have stumbled across the Amerindian Conch Shell Mounds on the islands east end, which were formed over a thousand years ago by the Arawak natives. At Fisherman's Wharf, you'll see some information about the conch shells and the mounds out in the distance. You'll also see conch shells littering the area as you walk around; brilliant, shiny pink interiors glistening in piles.
Bummer though if you want to actually visit the Amerindian Shell Mounds — they're accessible by boat as the road doesn't continue the entire way to the East End. You can pre-book a tour to explore though and get insight on the Arawak history.
Cow Wreck Beach Bar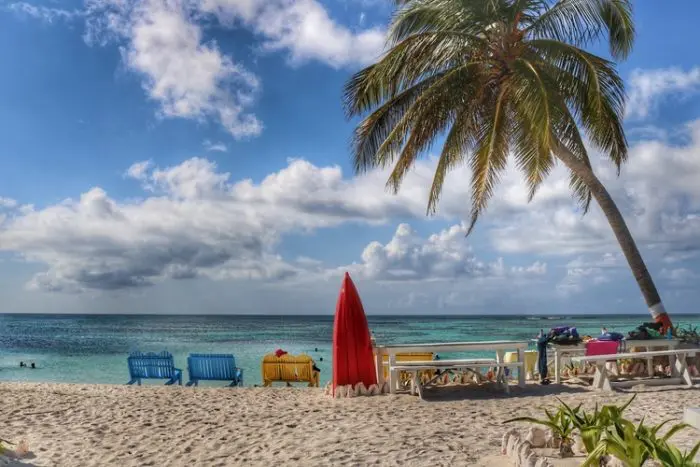 Cow Wreck Beach Bar is the island's most famous drinking establishment and it really, truly feels totally like the BVIs. When I think of the British Virgin Islands, those classic beach bars like Soggy Dollar Bar in Jost Van Dyke are what come to mind as part of the overall landscape and what make the BVIs what they are. Cow Wreck Beach Bar is this for Anegada. And just like with Soggy Dollar Bar, the painkiller is still the de facto national drink of the BVI so you'll see them flowing freely on Anegada.  Cow Wreck offers their own take on the famous concoction with their "Cow Killer".
We dined at The Big Bamboo for lunch (on Loblolly Bay) but Cow Wreck Beach Bar had a total rustic charm that really set the bar for that laid back beach bar vibe. Bring towels to enjoy the sun, sand and sea during the day.
Sunset at Anegada Beach Club + Dinner on the Island
Just like in the rest of the northern hemisphere, in summer the days are at their longest, which means sun set is close to 7PM in June. When you're making a dinner reservation, plan on allowing enough time to take in the daytime sunshine and the beautiful sunsets before having to head to dinner.
We had reservations around 7:30 – 7:45PM each night. One thing to note with dining in Anegada is this: you must pre-order your food. Not only are reservations required for dinner, you need to place your dinner order by around 4PM the day you're dining to ensure they have your order available.
We had a couple of dinners in Anegada: one at Anegada Beach Club and one at the Lobster Trap. While both were great, if you only have one day in Anegada, I'd suggest visiting the Lobster Trap, arguably Anegada's most famous dining establishment. As with everything on the island, the setting and vibe are casual but if you want to get a bit dressed up this would be the place to do it (e.g. summer dresses or cute rompers for ladies — nothing fancier than that). The food was excellent, and truthfully food on the island in general exceeded my expectations given the lack of locally sourced inputs and small resident population. Lobster is Anegada's most famous export so it's a must if you're able to eat shellfish. The Lobster Trap offers 1/2 portions or full portions with lobster either grilled or blackened. For vegans, they have an awesome tofu curry that would satisfy even the carnivorous in the bunch.
If you're visiting Anegada off of a boat, you'll likely be anchored right out from the restaurant making it a great finale for your day. If you're staying on island for the night, check out Anegada Beach Club (which we enjoyed!) for a Caribbean glamping vibe that brings little luxuries to a laid back rustic setting.
---
Is Anegada on your Caribbean bucketlist? If you've been, what would you add to
this if you had just one day in Anegada?