The after hours scene in St. Barths is an experience unto itself but for me, it's the stunning lunch scene that captures the essence of a St. Barths getaway: bursting sunshine, brilliant waters, powdery white beaches, and the ever-present salmony-pink glass of rosé. Get out your favorite beachwear and prepare for a day of people watching and dining in the sun. Below, I'm sharing five perfect places for lunch in St. Barths, plus a bonus option for an alternative to splurge-worthy beach bites.
Shellona 〰️ Shell Beach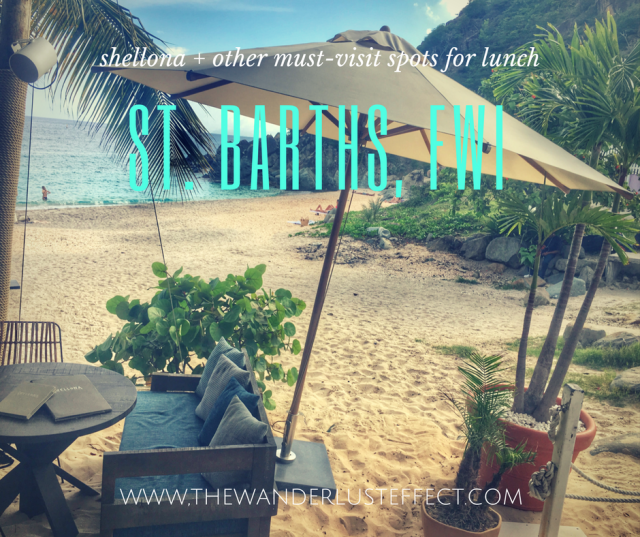 1Located on Shell Beach just steps away from Gustavia, Shellona now occupies the space that frequenters of St. Barths will remember as Do Brazil. We visited Do Brazil briefly last year when it occupied the same stretch and found that it left a bit to be desired as far as food and service went. Since taking over Shell Beach, Shellona has upped the ante big time. Large comfortable lounge spaces with the perfect amount of coverage, great Mediterranean-inspired food, plus beach chairs for post-lunch lazing. The portions are reasonably sized and great for sharing if you're dining with a group (the grilled calamari was a standout). Like most places in St. Barths, chaise lounges aren't thrown in with your meal (an annoying reality), so expect a €50 price tag per chair. If you're splurging on lunch during low season, don't be afraid to negotiate that pricing with the staff.
F I N D   I T //  Shell Beach, Gustavia 97133, St. Barthélemy
Nikki Beach 〰️ St. Jean Beach
2I realize that Nikki Beach's scene can be a bit polarizing. Some love the day club vibe that's perfectly positioned for the best in people watching on St. Jean Beach. Others avoid it altogether, especially on Sundays when the party vibe is at its peak. For those that know me, I'd never be considered a clubber. I'm not in possession of a trendy stringy monokini, and I'd opt for a glass of wine over a mid-day tequila shot. That being said, I love Nikki Beach. Scott and I have never been to St. Barths and not spent time at Nikki Beach. I even included it in my run down of a perfect day in St. Barths, and I still think that it captures the essence of the St. Barths scene so perfectly. I expected mediocre food and over-the-top pricing and to be fair, I think that it's reasonably priced on all fronts with good sushi and bikini-friendly bites. Plus, you can scoop up a beach chair and Nikki Beach towel to use during the day without having to fork over an extra fee (at least in low season). In the winter months during the island's high season, be prepared to meet a minimum to enjoy the loungy beach seats nestled right into the sand.
F I N D   I T //  Plage de St. Jean, FW1 97133, St Barthélemy
La Plage at Tom Beach 〰️ St. Jean Beach
3I visited La Plage at Tom Beach for the first time this past weekend, and let me say this: any menu that has frosé listed is a winner in my book. Their frozen rosé started us off on the right foot (if you're wondering, it's the raspberries that give it the darker hue), but everything else matched from there on out: friendly service, great food, plus a nice beach area to nurse a food coma. For those needing something carby after a late night out, their Asian-inspired noodle dishes fit the bill. Chair rentals are operated by a separate business on site and as I mentioned earlier, chairs are at a fee like they are at many places. Prepare to spend €20 per chair or €40 for an extra-wide lounger.
F I N D   I T //  Plage de St. Jean, FW1 97133, St Barthélemy
Sand Bar at Eden Rock 〰️ St. Jean Beach
4Eden Rock is an icon within the St. Barths hotel landscape. Perched idyllically on the cliff on St. Jean Beach, the red pops of color lining the beach boldly signal that you've arrived. Sand Bar at Eden Rock is perfectly situated beachfront and offers lunch views of the swath of sand and the dramatic cliff side where the hotel is located. And the restaurant is more than a pretty face; service and food are both excellent, with options to cater to a range of dietary restrictions. Vegetarians, the quinoa salad is a must. Chairs are available for rent, with pricing at around €50 per chair in low season.
F I N D   I T //  Baie de Saint Jean, 97133, St Barthélemy
La Cabane de L'Isle at Cheval Blanc 〰️ Anse de Flamands
5Anse de Flamands is reputed as one of the most stunning stretches of sand on St. Barths, and a previous anniversary trip based at Taïwana had us loving the sandy white crescent as our home base. On the same stretch of Flamands sits Cheval Blanc St-Barth Isle de France, which takes the cake as the perfect island chic setting in all the land. La Cabane de L'Isle offers a serious lunch with a view for those that want the tranquility of Flamands, away from the more populated stretch of St. Jean. Beach chairs are available but be prepared to fork over a few euros (like 50 of them) for a lounger if you're not staying at the hotel.
F I N D   I T // Baie des Flamands, 97133, France
With all of the places listed above, reservations are encouraged, especially if you're traveling with a group. In high season, reservations are practically mandatory if you're expecting to be seated on your timeframe, and even in low season lunch reservations are highly recommended.
Lastly, I think it's worth commenting that St. Barths has a reputation for glitz and glam and most of these spots capture a bit of that with splurge-worthy lunches in settings ideal for people watching. That being said, a trip to St. Barths doesn't have to cost a fortune (seriously though, there are plenty of opportunities to save if you know where to look), and for those wanting lunch with a view but without the expense, here's your secret sixth option: grab lunch from Maya's To Go (sandwiches between €3.50 and €8) or pick up a baguette, your favorite French cheeses and the necessary accoutrements from the market and create your own picnic. Beaches like Grand Saline and Gouverneur are favorites of many St. Barths lovers and provide the perfect opportunity to take in the stunning stretch of St. Barths without the expense.
St. Barths lovers, what are your favorite lunch spots on the island?