When we reminisce on our month in Southeast Asia, Siem Reap and Luang Prabang continue to stand out as the stars of our trip. Many lovers of the region liken Luang Prabang to Chiang Mai thirty years ago, a time before it was overrun with hostels, massage parlors, and pubs; when the spiritual aspect was perhaps more prominent within the Chiang Mai experience. With three days in Luang Prabang, we had a brief brush with the town but found it was enough time to get a sense of the spirituality that enshrines the city. For me, it felt like Luang Prabang had taken a cue from Chiang Mai and tried to evolve differently, with a more upscale approach that was noticeable. Streets in the city were lined with thoughtful boutiques, cute restaurants and cafés, and trendy coffee shops with nary a tattoo parlor in sight. Before I go too far, let me also say that we enjoyed Chiang Mai but it differed quite a bit from the descriptions we'd heard from people that fell in love with the city decades ago. Compared with bustling Southeast Asian cities, it probably feels serene, but compared with places like Luang Prabang, it feels a bit more gritty and more overrun. Our 4 days in Siem Reap aside (which brought some serious bucket list moments), Luang Prabang was my favorite stop in all of Southeast Asia.
Day 1: Explore Luang Prabang + Sunset at Phousi
We arrived in Luang Prabang in the afternoon after cruising to Laos aboard the Luang Say from Northern Thailand. I remember it vividly because it felt utterly serene as we exited the boat and headed up the stairwell into town. We hopped into the nearest tuk-tuk and journeyed to our home at the Belmond La Résidence Phou Vao, where we'd be based for the following three nights. Much of Luang Prabang's charm is the town itself, and getting your bearings on foot is the way to go. Your first evening brings two primary missions: 1) hike to the top of Mount Phousi, and 2) Take in Luang Prabang's night market. For me, there's absolutely nothing better or more orienting that visiting a local market and Luang Prabang's is wonderful.
Sunset at Phousi
One of the recommendations we heard across the board was to watch the sunset from Mount Phousi, a sacred hill visible within the Luang Prabang skyline. The trek to the top includes about 300 steps so while it's accessible for most able-bodied travelers, you'll be earning your dinner on the climb up. There's an entrance fee to begin the journey, which was payable in either Laotian Kip or US Dollars (possibly other currencies as well, but I didn't check); roughly $2 per adult, just be prepared with small bills for the payment. There are two paths to reach the top of the mountain where you'll have a lovely sunset viewing platform plus spectacular views over the verdant stretch below. We chose to climb up to the top using one routing, and down with another. You'll likely be behind other visitors during your hike, and most travelers we saw were climbing at a leisurely pace. It's not a race – unless you're trying to make it in a short time for sunset – and you'll see series of Buddhas along the way where you can stop to admire while giving your legs a brief rest.
I'll be honest with you though: climbing to the top is practically a rite of passage for visitors to Luang Prabang so everyone will be there. I was (perhaps naively) half-expecting a peaceful perch to take in the setting sun over the water. When we reached the top, I was navigating through a sea of tour groups and selfie sticks which took away quite a bit of the charm. We stayed at the top for fewer than 10 minutes; enough to watch the sun over the water and then exit before the mass exodus occurred. The views are lovely and it's arguably worth doing for the panoramas and the allure, but my biggest suggestion would be to either go early enough to scope out your seat before the crowds rush in or be prepared to be slightly sardined at the top. If your experience is different and you find yourself up there solo at sunset, count yourself fortunate. ✨
Take in Luang Prabang's Night Market
After a morning of travel and a sunset hike, I'd worked up an appetite for shopping + dinner. At Luang Prabang's beloved night market, you can make both of those things a reality. The night market in town takes place every evening, right in the center of the city at Sisavangvong Road. The market stretch is largely blocked off during market hours so your evening stroll will take place in a pedestrianized space where a slew of vendors (150+) set up under tents from 5PM – 11PM. I adored the market in Luang Prabang; it was bustling and vibrant though not abrasive, and you'll find a range of goods available for sale. This probably goes without saying, but be prepared with Laotian Kip for the night market + food stalls. Within our three days in Luang Prabang, we visited the market nightly and I left with a range of pieces: a handwoven bed runner, housemade Laotian whiskeys, handmade jewelry, and a few other pieces for family gifts. Markets are one of my favorite ways to interact with the local community in different destinations and to support individual artisans and this was hands-down one of my favorite for goods and overall vibe.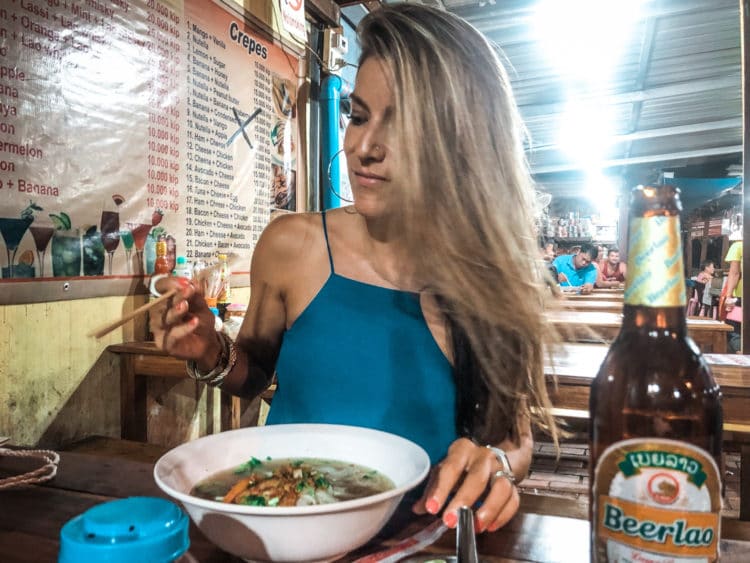 For dinner, we took the opportunity to delve into the local scene at a street stall. There's a smaller artery off of the main thoroughfare where food stalls abound and seating is available in picnic-style setups. After a few rough street food encounters over the years, we've become wise to what's generally okay and which foods may be a bit suspect for Western stomachs. I'm happy to say that neither of us had issues at all during our one month in Southeast Asia (hallelujah). I opted for a bowl of vegetarian soup while Scott noshed on some local specialties paired with the requisite Beerlao. Save some room after your meal for Kanom Krok, Laotian coconut pancakes that are delicious and ever-present on roadside stalls. You can usually get 5 for $1 on the street and they're 100% worth trying!
Day 2: Meditate with Former Monks + Shop in Town
Temple Tours + Meditation with Orange Robe Tours
We started our second day by delving into the spiritual aspect of Luang Prabang with a private temple tour and meditation tour with Orange Robe Tours, a tour organization based in town that employees ex-monks and novices who've begun their foray into civilian life. If you're considering a temple tour, I'd highly recommend doing it before the alms giving ceremony since it provides context to what you're seeing. Buddhists will tell you that Buddhism really isn't a religion as such (i.e. there is no 'God'); rather, it's a way of life and a path to enlightenment. For those of us that aren't as familiar with Buddhism as a practice and how integral the monastery is to local life, a tour (and time for Q&A) really helps shed some light for the uninitiated visitor.
Regardless of your personal religious affiliation, you'll be pretty wowed by how central the monastery is to daily life throughout the region, providing education for youth (including foreign language acquisition) plus a hearty dose of discipline. Novices who choose not to pursue monastery life long term can exit as they enter adulthood and take the education and knowledge they've garnered as they pursue life. Both tours offered by Orange Robe Tours (back-to-back) take a few hours and make for a perfect morning in town.
Read about our day exploring Luang Prabang with Orange Robe Tours for more.
Shopping in Luang Prabang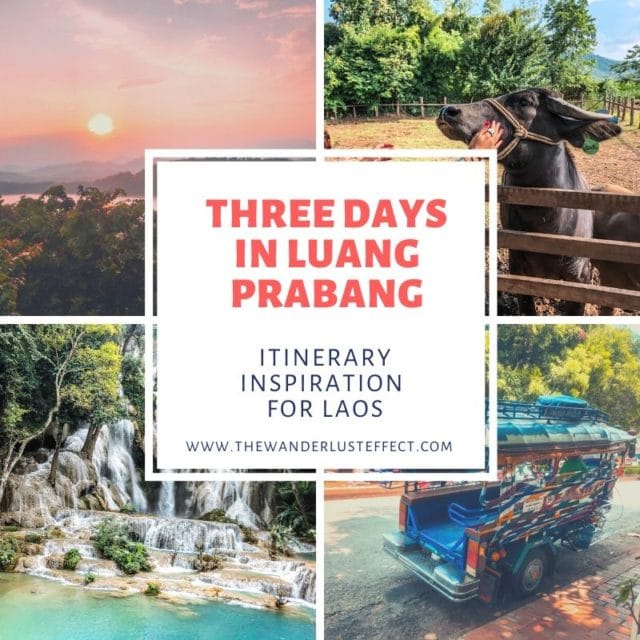 Luang Prabang was my absolute favorite shopping destination during our month in Southeast Asia and much of that was owed to the blend of casual night market gandering paired with more upmarket artisanal shops. The GDP per capita in Laos hovers around $2500 (which, by the way, represents a substantial increase recently), with many livelihoods centered around farming and agriculture. Tourism has represented a huge shift, bringing in foreign money to infuse into the local economy. As I mentioned above, I think Luang Prabang has been very thoughtful in its tourism development, seemingly focusing more on high-end tourism, sustainable offerings (a big focus on fair trade), and well-crafted local goods. You'll find an array of woven pieces, leather items, artwork, handcrafted jewelry, etc. in a range of boutiques around town.
?? For coffee enthusiasts, try Saffron Coffee (adjacent to Orange Robe Tours) where you can pick up some fair trade coffee from Laos
?? For gorgeous local jewelry and traditional pieces, try Hilltribe Heritage — I purchased a beautiful Hmong bracelet that I adore!
?? Explore the Traditional Arts & Ethnology Center shop (the satellite shop is in town) to find artisanal crafts where 50% of earnings go to local partners
?? For textiles, head to Ock Pop Tok where you'll watch weavers at work and find some stunning tapestries and accessories to take home with you
Drinks + Dinner Scene
Luang Prabang has a surprisingly cool dining scene and some great bars thrown in the mix. With just three days in Luang Prabang, we did a hearty bit of research prior to arriving knowing we'd have to miss out on some great establishments in town. We chose a range of restaurants to experience the diversity of dining in the city. A few spots to consider:
?? 525 Cocktails and Tapas for creative craft cocktails
?? Chez Matt for wine lovers looking for a glass of vino instead of a Beerlao
?? Tamarind Restaurant for traditional Laotian cuisine – we went for lunch but it was my favorite meal in Laos
?? Manda de Laos for a romantic upscale meal; the setting is the star and it's a beauty!
?? Khaiphaen for dinner with purpose; the food was good here (not my fave, but the concept is too good to miss) and this social enterprise helps provide restaurant training and jobs for street children
Day 3: Alms Giving + a Tuk Tuk Adventure Out of Town

Morning Alms Giving Ceremony
Luang Prabang's Alms Giving ceremony is world-famous and is one of the most memorable moments you'll have on your trip through Southeast Asia if you've never experienced it before. We chose to participate in the ceremony the day after our tour with Orange Robe Tours so we had a better understanding and appreciation for what we were seeing. We'd learned a bit about monk life during our 'Monk Chat' experience in our three days Chiang Mai but our time in Laos really layered onto the religious/spiritual side of the region. We started with an early wake-up call (you'll head out before sunrise) to get to town in time for the ceremony.
Alms giving is a daily early morning ceremony that involves monks and novices walking through the city streets collecting rice gifted by local residents. As you'll learn during your time in Southeast Asia, the rice collected during alms giving serves as the morning meal at the monastery. Monks aren't allowed to cook (there's no kitchen in the dormitory) so all food that's consumed is gifted by community members. It's an amazing and beautiful thing to watch the procession of elder monks and young novices (some as young as 8 or 9) walking barefoot through the streets of town during the early morning hours. Some hotels offer organized tours but you can easily walk (or take a tuk-tuk) to the central area to watch or participate. You can buy rice at the morning market, through your hotel, or through reputable vendors in town.
Tuk Tuk to Kuang Si Falls
With our early morning wake-up call, we chose to head out of town for the afternoon for a bit of exploration on the outskirts of Luang Prabang. We hired a tuk-tuk for the roundtrip journey (you can negotiate beforehand and explain where you're looking to go for an estimate). Our first stop: Kuang Si Waterfalls. If you arrive in Laos by boat as we did, one of the things you'll immediately notice is how green the country is; it's a land of rolling hills, rice terraces, wildlife, and waterfalls. It's a perfect destination for the nature-lover, and while Luang Prabang itself is a serene hub, getting out of town will bring you face-to-face with some gorgeous locales. There are a number of famed falls in Laos but Kuang Si is arguably the most visited by those that are based in Luang Prabang. The tuk-tuk journey takes about 40 minutes each way, and while you can probably negotiate it for just a few dollars each way, we offered a bit more for the roundtrip journey plus waiting time (it's also a nice way to infuse a few extra dollars into the local economy for services that are appreciated).
The falls are lovely, and during our visit we were able to find pockets where we were the only people taking a dip. And yes, you can go in! It's a bit slippery in spots but during a hot and humid day in Southeast Asia, a refreshing dip is a welcome reprieve. There are changing rooms within the park area so you can change into a swimsuit instead of wearing swim wear all day, if preferred. Within the Kuang Si area (before you arrive at the falls), there's the Bear Rescue Center, where bears, often sick or formerly trafficked, are cared for. The operation, which has 17 sanctuaries throughout Laos, has saved 80 bears thus far and is continuing to grow and expand as needs rise. The team provides education to tourists visiting the falls, plus provides employment opportunities for villagers and alternative income to farming or tourism.
Laos Buffalo Dairy
On your way back from Kuang Si, make it a point to stop at Laos Buffalo Dairy where you can tour the farm and grab a scoop of ice cream produced on site. Buffalo is a major source of protein in Laos (you'll see it as the meat in larb and other local dishes) but the farm brings the focus to buffalo for dairy production to use in cheese and ice cream. The buffalo are rented from the owners to provide them with a sustainable income, plus they provide animal husbandry skills to locals and education for the children. The cheese and ice cream that you buy when you make a pit stop helps support these initiatives… after a day at the falls, the ice cream will be heaven!
---
Have more than three days in Luang Prabang or want to add more to your schedule?
We balanced a few main sights and experiences with a bit of R&R in Laos. For those that want to pack in a few more things in town, here are a few items to add to your itinerary when brainstorming:
Finally, check out three days in Luang Prabang crammed into three minutes below.
For those that have been to Laos, what were your thoughts? Any other must-sees (or eats!) that you'd add into an itinerary for three days in Luang Prabang?