Journey from Northern Thailand to Laos
You may have already read about our spiritual journey through Luang Prabang with Orange Robe Tours, but let's backtrack a sec. How did we get to Luang Prabang? Well, that was the last piece in a major puzzle in the planning of our one month in Southeast Asia, and probably one of the more complicated components. With river cruises like this, service typically only operates a couple of times a week on specific days. When you're planning your trip logistics-wise you'll have to keep that in mind to ensure that your proposed travel day syncs up with the days the boat is in operation. To make matters even more complicated, most boats will not operate with fewer than 4 passengers. When we first started planning, about 8 – 9 months prior to our actual trip, Luang Say turned us away as we were just two passengers. Even when I offered to guarantee the fare for 4 people, they wouldn't accommodate. I continued to follow up and it wasn't until a few weeks prior to our departure that we finally were able to secure passage to Laos aboard the Luang Say (our back up plan was a flight, which would require a connection, and was overall less intriguing to us). All that to say: reach out early, continue to follow up if you're turned away, but also be prepared with a Plan B as you may need it! If your dates, times, and logistics all fit into place, there's hardly a better way to travel from Thailand to Laos than by boat, peacefully cruising down the Mekong. We avoided airports, ended up in the heart of Luang Prabang at the completion of our trip, and enjoyed some unique stops along the way.
Departure from Huay Xai (Houei Sai)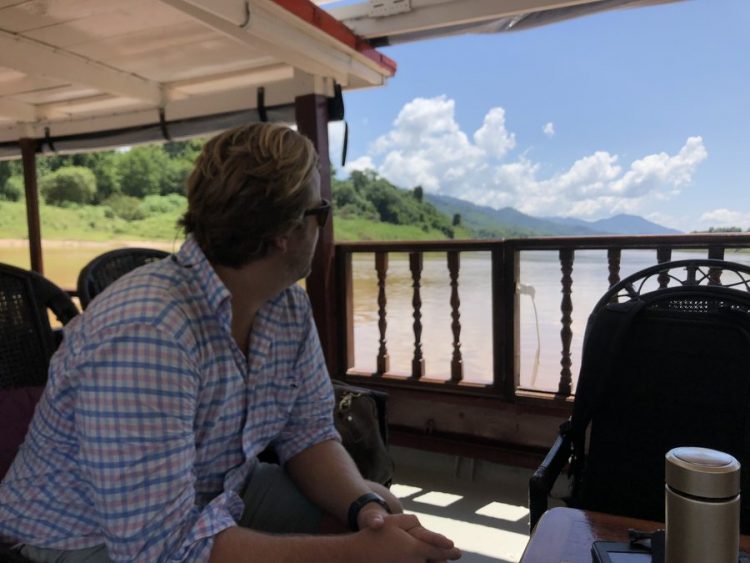 Our departure was at 9:30AM from Huay Xai, a Laotian town on the border of Thailand. The Luang Say team can help arrange pick-up from your hotel to deliver you to the border, and you'll work with Luang Say agents who help move you through the process. We had to go through customs and immigration to check out of Thailand and into Laos. The process of acquiring entry visas for Laos took longer than we expected, though it was relatively straight forward (there's no documentation to do in advance). Once our group had been stamped in and exchanged a bit of cash to have Laotian Kip on hand (you'll want cash for small village stops), we were on our way.
The boat is for transport, not for sleeping, so there are no cabins on board. We had a brief intro to our cruise while the staff served tea and coffee to get our day started. As far as river cruising goes, I most recently cruised down the Nile with Nour el Nil, which was a five-night experience with much more downtime. This cruise is much more compact – just a single night – and it packs a lot into what could conceivably just be a cruise used for transportation (e.g. to get from Northern Thailand to Luang Prabang). It's the perfect blend of exploration and R&R, with enough time to relax with a cup of coffee and a good book, plus time for taking in some small local villages along the Mekong.
First Stop: A Laotian Village
Our first stop was a small Laotian village centered along the Mekong River. For those curious about the physicality of this trip, I'd say that generally speaking the trip is suitable for most travelers but there are some steep hills (no steps) to walk up in a number of disembarkation areas. Mats are placed in the mud to provide a bit more traction but it can be tough if you have joint issues or stability problems. I was in sandals which made it a bit difficult, and a few other travelers had issues either scaling or descending from the towns. You'll want a hat and sunglasses as it can get sizzly during the heat of the day.
The town we visited was more or less representative of many of the small towns strung across the country. This particular town (whose name I will butcher), was home to about 500 people, a 'big village' by some accounts, and had electricity and water supply despite its rather rustic appearance. This first brush with a village served as an intro of sorts, not just into village life but into the makeup of the Laotian people as our guide explained the Lao, Khmu, and Hmong people that live in the country. Our guide explained it like this: Lao people are low land people and generally Buddhist; Khmu people are middle mountain people, who generally lean towards animism and beliefs in the spirits; the Hmong people are mountain people, living at the higher elevations. We'd continue hearing about these different ways of life throughout our time in Laos, and it laid the foundation for what was to come with areas we toured.
Lunch on Board
After our first village stop, we returned to the boat for lunch on board at around 12:30PM. When we boarded the Luang Say to start our journey to Laos, we had coffee, tea, and some snacks on board but weren't entirely sure what to expect on the food front. This was a glimpse, but food during our entire journey was excellent and far beyond what we expected. They catered for my dietary restrictions graciously, providing veg and fish alternatives for most everything. You'll have the ability to share any dietary restrictions or allergies prior to the trip and it's important to do so, to make sure the team on board can cater to your requests.
Arrive in Pakbeng, Laos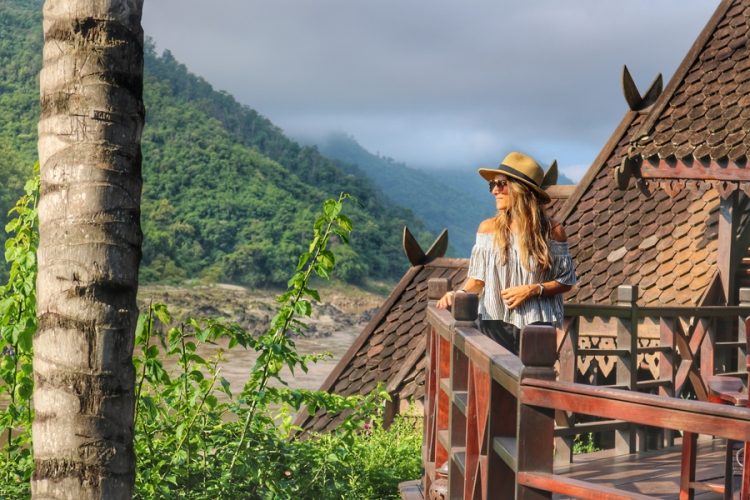 We continued our cruise down the Mekong, a chocolatey brown river weaving its way throughout the country, and arrived in the town of Pakbeng around 4PM. Pakbeng is roughly the halfway point for those traveling to Luang Prabang with Luang Say, and its home to the company's lodge outfitter situated on the river's edge.
The town of Pakbeng is rather small and the lodge is situated about a 20 to 30-minute walk from the heart of town. We went on an exploratory mission (joined by one of the Australians in our group) to see what the town had on offer. How dare we be in a tiny Laotian town and not take the opportunity to see what it was about? There's a market in town and a few shops, though nothing of huge interest to most visitors to the area. On the walk back we stopped by Happy Bar, one of the only bars we'd read about in Pakbeng, only to find it unmanned. No matter, it only encouraged us to find a new, perhaps more creative, outlet for an afternoon sip. We ended up cozying up in a makeshift bar (which I'm fairly certain was actually someone's home), shoes off, perched in plastic chairs overlooking the river with a Beer Lao in hand. Aren't those unexpected moments what travel is all about?
Overnight at the Luang Say Lodge
Back at the Luang Say Lodge, each couple (or single for solo travelers) received their own bungalow facing the flowing Mekong, with louvered windows to take in the views. Bathrooms had showers and toilets with running water, plus electricity throughout. There's no air conditioning in the bungalows but that wasn't an issue in the slightest for us. We happily slept under mosquito nets while the breeze flowed through. Plus, your room is mostly to sleep and shower, with main common spaces for congregating with other travelers and for dining in the evening.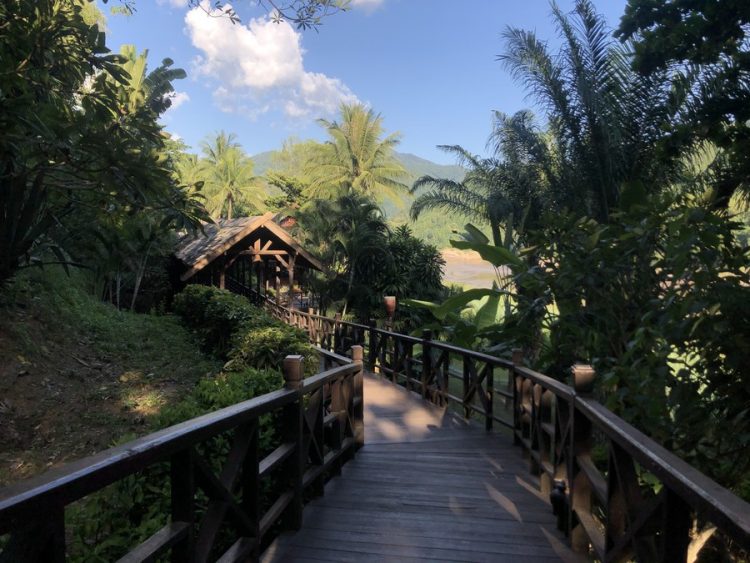 After our quick rinse, we met with our fellow passengers for a pre-dinner drink and conversation. I generally find in destinations like this with boutique offerings like Luang Say's boat journey, there's an interesting mix of passengers and usually at least one other couple that we totally vibe with. This particular crowd generally skewed a bit older than us (most people in their early 50s to early 70s), but we had great conversations with a few people that we linked up with for dinner. Dinner was wonderful and seemingly never-ending. Again, I was impressed with the team's consideration — they had a veg-friendly meal for me, and another meal option for another passenger on board with allergies. I always hope that dietary restrictions get passed along to the kitchen team, but I've also always prepared myself to nibble at sides when the request slips through the cracks. There were a lot of moving parts on this journey and they had each piece perfectly executed every step of the way.
Day 2 ✧ Journey to Luang Prabang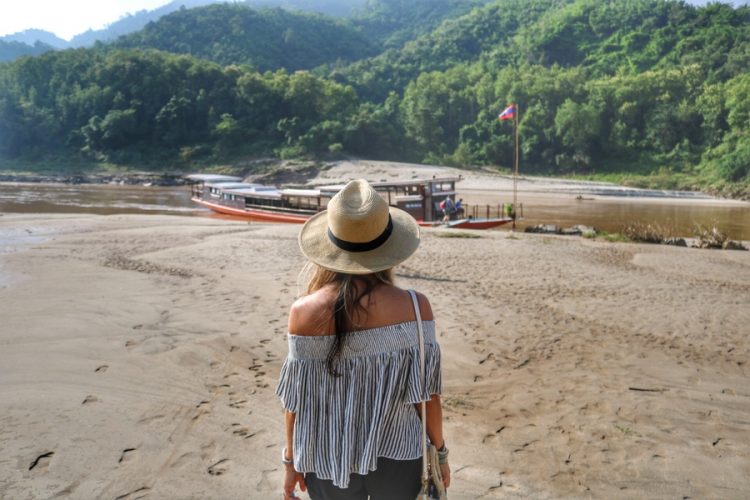 With a 7AM wake up call, we cleaned up, packed up, and made our way to the main lobby for breakfast before our departure. There's something about that middle-of-nowhere early morning start that's kind of invigorating. We awoke in the middle of the jungle overlooking the Mekong with just the sounds of nature around us so we enjoyed a few moments of reveling in that before we set off. By 8AM, we were on our way once again, sailing towards our final destination: Luang Prabang.
Morning Stop at a Laotian Village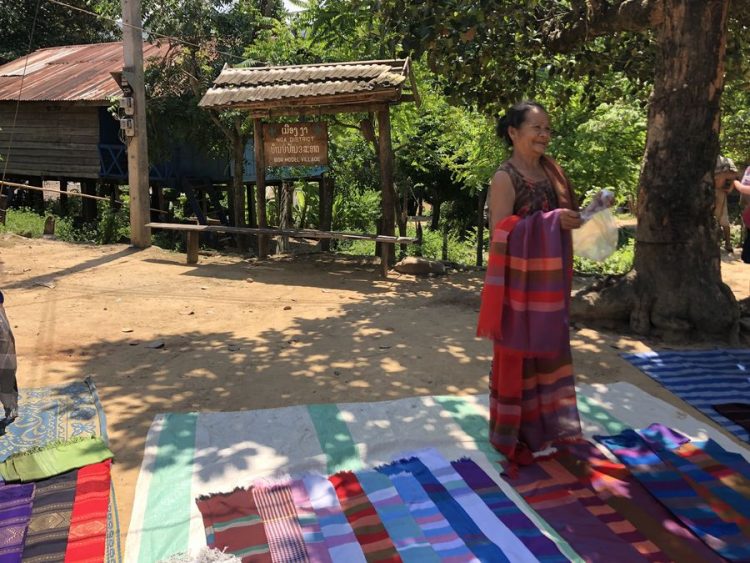 Our mid-morning stop involved a local Laotian village, this time with a few more entrepreneurial endeavors. For those embarking on this journey, be sure to take cash (Laotian Kip) and try to have a variety of denominations if you're interested in purchasing some local goods. Scarves are commonly found here, handmade by local women in the village. Scarves are lightweight versions mostly for modesty rather than warmth, but they come in a variety of colors and make a perfect gift! We ended up buying a few (expect to pay around $3 – $4 each) and found it a great way to contribute to the local economy. There's also a quick stop for a bit of 'whiskey' tasting (whiskey is a term used very loosely; it's essentially moonshine) but sadly there was none available for purchase. If Laotian whiskey intrigues you, you'll have plenty of opportunities to buy some at the night market in Luang Prabang.
Our Final Lunch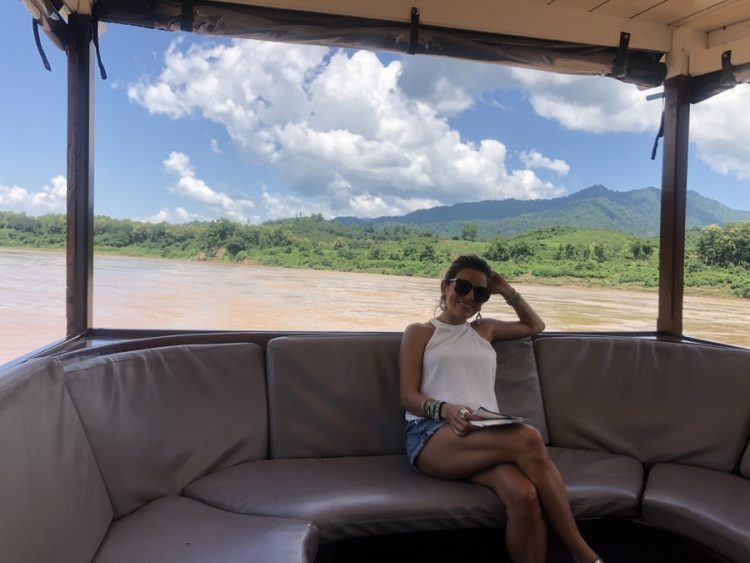 Back on board, we settled into our mid-day lunch and our last meal aboard the Luang Say. We prepped for our final stop at the Pak Ou Caves and took in the lush scenery along the way. Laos is naturally stunning; neverending mountains of green that seem to go on to infinity. This trip was a glimpse into Laos for us beyond Luang Prabang, and enough to make me think that we'd be encouraged to go back one day to revisit Luang Prabang and add on some smaller towns to the mix.
A Visit to the Pak Ou Caves
Our final stop during our journey to Luang Prabang aboard the Luang Say was a visit to the Pak Ou Caves, sometimes referred to as the Cave of a Thousand Buddhas. If you're planning a visit to Laos – Luang Prabang specifically – you'll see that many itineraries include a half-day trip to the Pak Ou Caves to see them first hand. We loved that the Luang Say cruise included this stop en route since it helped us with some additional sightseeing along the way! While I was glad we visited the caves, I'm not sure I would make it a trip unto itself from Luang Prabang unless you're inclined to for religious reasons.
There are two caves: a lower cave which you'll access almost immediately after disembarking on the pier; plus an upper cave accessed by a series of steps. We were fine with the stairs but some older travelers in our group weren't able to make the climb. If you have any slight mobility issues, you'll end up sticking with the lower cave.
En route to the upper cave, you'll want to be prepared to see women and children selling bracelets and tiny goods, or simply asking for money. This is one of the things I find emotionally tough… and a bit of an internal struggle. Just know you'll be passing quite a few people while walking the stairs to the top, and be prepared for that. We had a few young girls practically create a blockade to not allow Scott through when we were trying to descend, which was simultaneously heartbreaking and irritating. While we've made it a practice to not give to people who are begging for money – especially children since I think it can encourage that behavior long term – I often wish I could just find a way to help send these kids to school or provide them with food, books, or pencils instead of cash. It's something we've often thought about for future trips — bringing something useful or educational and giving that away instead. If any of you have done this, I'd love to hear your thoughts, experiences, etc. on the topic in the comments section.
We spent about 30 – 45 minutes at the caves before boarding the Luang Say once again for our final stretch to Luang Prabang.
Luang Prabang
The beauty of the river cruise is that it pops you out right in the center of Luang Prabang, just a short tuk tuk ride away from your hotel. We stayed at Belmond La Résidence Phou Vao, a lovely property set a bit outside of the main city center. Tuk tuks were readily available upon departure and we were whisked away quickly. Before departing, the Luang Say team will provide you with a survey to give feedback on your cruise and the staff, and you'll have an opportunity to leave tips for staff. We left a bulk tip for all the staff on board who helped make everything wonderfully seamless, plus set aside cash separately for our guide who took us every step of the way which we gave to him individually.
---
The final assessment of cruising to Laos aboard the Luang Say as your mode of transportation? Wonderful, if your timing and itinerary match up. As I mentioned at the start, our biggest challenge was actually booking this cruise. Dates are fairly specific and there's a minimum required number of passengers for them to approve the departure. I prefer to avoid airports when possible and this was the perfect way to get from Northern Thailand to Luang Prabang for us. I like to be active, and river cruises are generally about being disconnected so a two day/one-night journey was perfect. We were able to disconnect, enjoy our surroundings, meet new people, and see some off-the-beaten-path places. The team at Luang Say truly has it down to an art; the timing was perfect with just the right amount of time to relax, plus enough activities and destinations to keep us excited about the next stop. Further testament: I'd do this same cruise again if we revisited this area. Prices vary by season but in general, it proves to be an exceptional value for the experience provided.
Have you done a river cruise like this before? If so, what did you think? If not, would you?