An itinerary for Uganda, Rwanda, the DRC and South Africa
Not including transit time or a long layover in Qatar, we have slightly over three weeks in Africa this September and October. It's a dream trip for both Scott and I, and it ticks all of the boxes for a long journey: adventure, nature and wildlife, culture, a city fix, a dose of wine tasting, and a splash of beach. When we initially began conceptualizing the trip, we were overwhelmed by options, a typical sentiment in the initial planning phase with a region or destination that you're not overly familiar with.
Our trip was anchored in gorilla trekking and our focus was on Virunga National Park in the Democratic Republic of Congo. With roughly three weeks to play with, we knew we wanted to round out the experience in the DRC by visiting neighboring countries, and ideally head down to South Africa to spend a week exploring Cape Town and the Winelands. After digging, researching, playing with Google maps, and reading endlessly on sample itineraries in East Africa, we finally nailed down our itinerary for three weeks in Africa.
We begin our journey by flying from Doha into Kigali, Rwanda where we'll overnight at a hotel in the city. Our arrival time in the early afternoon will give us enough time to explore a bit of Kigali before beginning our journey further afield. On our radar: the Kigali Genocide Memorial, a brush with local markets in Kigali, and dinner in Rwanda's capital city.
From Kigali, we begin our journey East to Nyungwe Forest National Park, where we'll base ourselves for two nights while we explore the forest. Unlike our experience with a traditional safari in Kenya, this experience is more rainforest than grasslands and savannah, offering a wealth of biodiversity and a great landscape for chimpanzee tracking. We'll be spending one day focused on scouting out chimps in the forest with a local guide, and our second day exploring the park's other gems, including the iconic 60 meter high Canopy Walkway, the only such canopy in East Africa.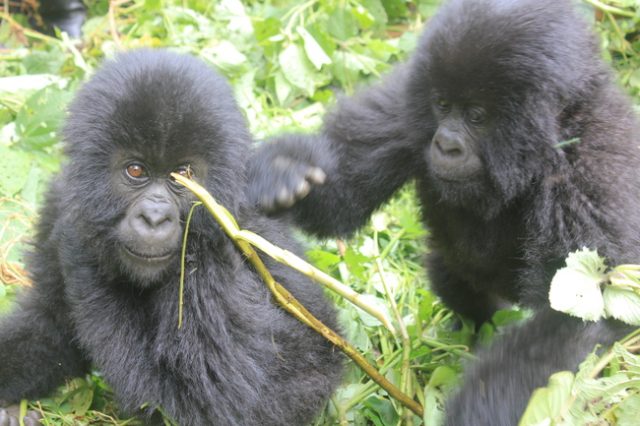 From Kigali, we'll make our way to the Democratic Republic of Congo by way of Lake Kivu where we'll cross the border and make our way to Goma. In total, we have five nights in the DRC, split between gorilla trekking, volcano climbing and some more low-key time learning about the Anti-Poaching Division and spending time at Virunga's gorilla orphanage. We'll begin at the Bukima Tented Camp, where we will start our journey with two days of gorilla trekking. Permits are relatively scarce and visitors are only allowed up to one hour with the gorillas once the interaction begins. Our focus was on being able to see endangered mountain gorillas so we had factored the costly permits into our budget. At $400 per person per permit (i.e. per day), it's a relatively costly endeavour but the funds go to conservation, park administration and community initiatives (plan on spending $600 per permit in Uganda and $750 per permit in Rwanda).
Following our two days of gorilla trekking, we'll be embarking on an entirely different adventure: an overnight hike to Nyiragongo Crater, an active volcano in the DRC, where we'll overnight at the Nyiragongo Volcano Summit Shelter. The hike takes us to an elevation of over 11,000 feet over the course of a day, and we'll be able to spend the night overlooking the crater before making the journey back down the following day. While I wouldn't classify us as hikers by any stretch (i.e. we don't seek out destinations for the ability to hike there), this was a must-have experience in the area. We couldn't embark on a once-in-a-lifetime trip to Virunga and not experience all it had to offer. By all accounts it's an incredibly strenuous and trying hike, but clearly doable for those that are reasonably fit and able bodied. I'm mentally preparing – and hoping – that it's comparable to our hike to the Boiling Lake in Dominica.
After our return from the volcano hike, we'll be based at the Mikeno Lodge for a couple of nights with a full day to decompress. We'll be taking our full day to visit the Senkwekwe Mountain Gorilla Center, where orphaned gorillas are being taken care of by human caregivers. Currently four orphans are in their care. For the other part of our day, we're going to meet the Congohounds, a group of bloodhounds (and their human counterparts) that are integrally involved in protecting Africa's wildlife.
From the DRC, we'll move on to Uganda, where we'll begin our stay in Queen Elizabeth National Park at Kasenyi Safari Lodge. With a few nights there, we'll be embarking on some more traditional game drives along with a boat ride and a chimpanzee trek in Kalinzo.
From QENP, we'll make our way to Lake Mburo where we'll base ourselves at Mihingo Lodge for the remainder of our time in Uganda before heading to Entebbe to depart East Africa. We had heavily debated about where to go in Uganda: we'd heard amazing things about Lake Bunyonyi, a lake bursting with little islets that produces a magically beautiful landscape. We'd also debated about spending any time in Kampala or heading to Murchison Falls during our time there. There were seemingly an overwhelming amount of options, but when we took our time frame into consideration along with the reputation of Mihingo Lodge, we decided that would be the best fit for us to maximize our time without having to waste too much in transit.
From Entebbe, we'll fly to Johannesburg where we'll begin our time in South Africa. We'll immediately be heading to Cape Town by train to see the countryside en route to our destination. With about a week in South Africa, we'll be spending four days based in Camps Bay to explore as much as Cape Town as possible. On our radar: abseiling at Table Mountain, paragliding, exploring the V&A Waterfront, heading to Robben Island, and journeying to Cape Point. From there, we'll finish out our stay in the Winelands, using the charming town of Franschhoek as a base for exploring and wine tasting.
---
Planning a Three Week Africa Itinerary
When we started the journey of planning this adventure, it took a lot of investigating and fine tuning to map out a plan that allowed us to explore a variety of landscapes without spreading ourselves too thin. One thing that I learned in this process was how critical working with a tour operator is when dealing with trips like this. We've never worked with a tour operator or travel agent before and generally pride ourselves on crafting our own itineraries independently. In this instance, we were a bit overwhelmed and recognized that we simply couldn't gather enough information to make decisions about where to stay, what to do, and what to see in East Africa given our time frame. We needed a professional that understood the conditions on the ground and knew how to point us in the right direction. We've ended up working with Inspired Journeys, a company that focuses on East Africa, including the DRC, a characteristic that was a bit difficult for us to find. I collaborated with Leonie, one of the reps, to create our itinerary and I couldn't be more thrilled with the outcome. For instances like this, I cannot speak highly enough about working with a tour operator to help with logistics (e.g. private guide and driver, transfers, etc.) – the whole process that seemed so daunting initially came together beautifully. Cannot wait to embark on the trip of a lifetime!
Have you worked with a tour operator before? What did you think?