A Step-by-Step to Getting Custom Clothing in Vietnam
Vietnam is the mecca of tailor-made clothing, and Hoi An, in particular, is the go-to destination for visitors looking for bespoke clothing or tailoring services. The options are plentiful – overwhelmingly so – but with a bit of research and a few days to spare, it's a fun opportunity to pick up some custom pieces designed specifically for you. Our hotel recommended Bebe Tailor to us, one of the most famous in town. While they run a renowned and reputable operation, their prices were well above some of the other tailors we visited. I'd recommend visiting Bebe Tailors if you're looking for a special occasion item like a formal dress or a men's suit. I sat down with their team to discuss getting a skirt made (I'd had my eye on it since adding it to my Pinterest board a couple of years back). When I was quoted "75", I wasn't sure if that was Vietnamese dong or in US dollars which led to me awkwardly asking, only to find out that the quote was, in fact, in US Dollars.
I was in search of more casual, everyday wear, not special occasion clothing, so the specialty fabrics (and pricing to match) didn't fit my needs. I continued on until I found a place with styles that intrigued me and a designer that was great to work with. Enter Golden Silk, a perfect little spot for tailor-made clothing in Hoi An done in a flash. In total, the process took about two days and involved a few visits. It was a breeze and a very fun process to be part of from start to finish! Below, I'm sharing a step-by-step on the process of getting tailor-made clothing in Hoi An, what to expect, and what to have prepared.
Go with Inspiration
1Most shops will have designs displayed for inspiration so you can use those as your starting point if something they've created interests you. The better way to do it, in my opinion, is to come prepared with designs that you've had your eye on. Get a Pinterest board of inspiration curated so you have direction for your designer. You'll be amazed by what they can create, but they'll need your direction plus some visual inspiration for creating their design. I had a few things on Pinterest that I shared with our designer but I was a bit ill-prepared since I wasn't really expecting to have anything done. I also took in a skort that I adored and wanted to replicate with a different fabric. I left them the piece as a template since it fit perfectly.
For a future trip, I'd have an entire board of designer items that interest me that I'd never pay top dollar for. They can replicate these designs for a fraction of the cost, tailor-made to your body. As I mentioned, if you walk in without any direction, they'll have designs displayed along with an entire book of designs to look through.
See Your Designs Come to Life
2After talking through your designs and ideas, you'll sit down with a designer who will sketch out your pieces with what you have in mind. For example, I took a few designs that were featured in the catalogue and tweaked them a bit to fit my body type better (different necklines, different lengths, etc.). The designer captured all of this in her sketches.
Choose Your Fabrics
3You have your designs down so the next step is picking your fabric. The shop will have a range of fabrics displayed for you to look at and touch, but it's a bit hard to get a real idea of what it will look like as a finished product. The quality of all of my items was excellent. You'll have to work within the confines of the fabrics they have on hand but they had a range of solid color fabrics not displayed that they were able to help with as well.
Talk Pricing
4The more items you get, the more bargaining power you'll have, but it's worth noting that custom-tailored clothing in Hoi An isn't cheap. It's reasonably priced considering you're looking at bespoke clothing done to your tastes, but don't expect skirts for $5. Most of my items were between $20 and $30 per piece, but pricing will vary depending on the intricacy of the design/work involved, fabric, etc. When you're done negotiating the prices and how many pieces fit into your budget, you'll end up providing a deposit for them to get started. While I can't remember the exact figure, I believe my deposit was in the neighborhood of 50%, with the rest paid upon collection.
Get Fitted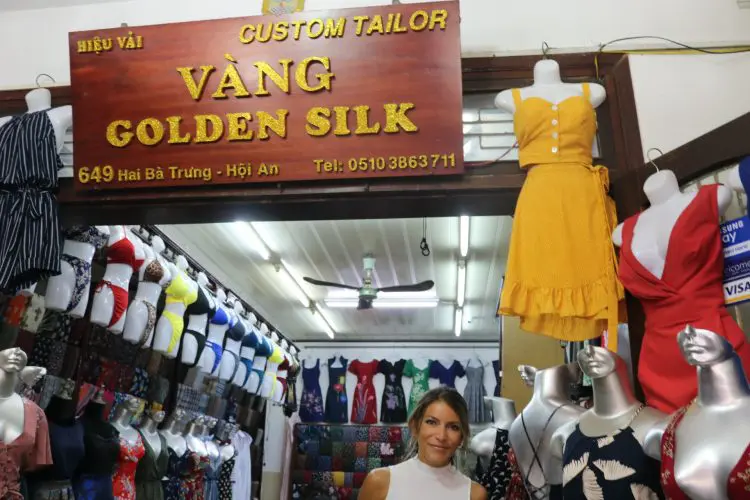 5Now it's time to get measured! They're pros so the measuring takes just a few minutes, with measurements around your bust, your shoulders, ribcage, waist, hips, and inseam. Armed with my measurements and a bit of information on the desired fit, they made a go of my clothing for my first fitting. I was there in the early afternoon and was told that they'd have a first run of my clothing available that night around 7PM for me to try on so they could make final tweaks. It's that fast.
We popped in that night before dinner to try on the first renditions of my outfits and you know what? They were pretty close already. Some of the pieces were already complete (no tweaks needed) and a few items just needed minor modifications to better suit my body. This first meeting is your time. If something doesn't fit quite right, if you want something a bit shorter or a bit more fitted somewhere, tell the designers so they can make the changes. We had a point person at Golden Silk who was great to work with, and I found that she was super receptive and helpful with pointing out ways that the clothing could fit me a bit better. They're considering this a first run so make sure to let them know what you're looking for so you aren't disappointed with the final product.
Pick Up Your Finished Pieces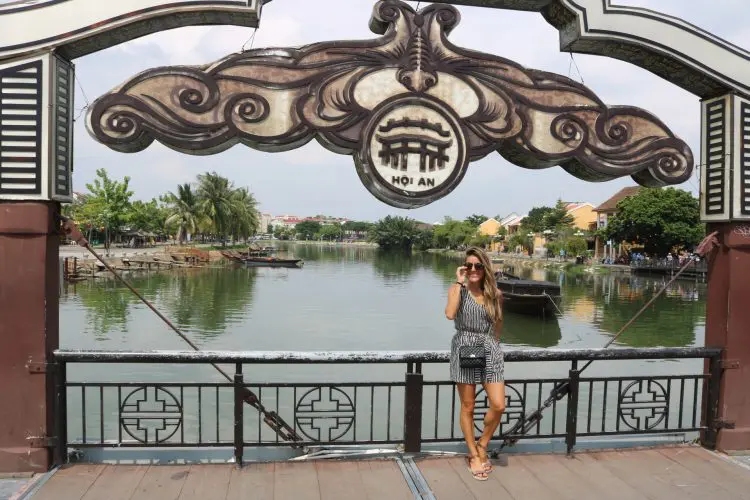 6You'll head back the next day to collect your pieces – that's it! If you need any final tiny tweaks, they'll be able to help. Otherwise, your clothes will likely be ready for collection and you'll be heading out in Hoi An with your new pieces. I ended up with a romper, three skorts, a long skirt, and a jumpsuit from our trip and wear most of the pieces regularly.
It's worth noting, too, that shoes can also be custom made in Hoi An. On our final morning, I spotted a pair of loafers that I thought would be perfect for Scott, only to find out that size 12s aren't a regular purchase in Vietnam. Not to worry, the shopkeeper eagerly told us, we can custom make them for you! Shoes take at least a couple of days though, so if you're planning on getting something tailor-made, give yourself the time and start scouting early on in your trip so they're done by your departure.
For visitors looking for custom designed everyday wear, Golden Silk was a great experience from start to finish! I hadn't gone in expected to have quite so many pieces designed but it's hard to reel yourself in once the juices are flowing and you have an idea of what can be done. My only regret is that I hadn't put more thought into it beforehand so I could have gone in with more designs in mind. That said, their team was fabulous to work with and helped provide direction every step of the way. The likelihood is that you'll end up taking something home from Hoi An anyway — why not something that you'll wear over and over?
Have you had (or would you have) clothes tailor-made in Hoi An?