Where + Wear: Winter in Estonia
As a female traveler, I constantly find myself searching for the same information prior to a trip: what do I wear? The crux is this: what's the appropriate travel style for the destination that I'm about to explore that will allow me to look decent in photos without being inappropriately dressed for the landscape and situation? There are cultural customs to keep in mind, climate, landscape and topography, general dressiness of a locale and practicality. Check out this guide – and other travel style guides in this series – for packing inspiration.
Join me in sharing your thoughts and tips for packing and travel fashion with a series of destinations around the globe. Download this quickie cheat sheet of travel style inspiration for Estonia, including some tips on where to stay, where to dine, and what to do. Pin this guide for a quick reference before your getaway to the Baltics!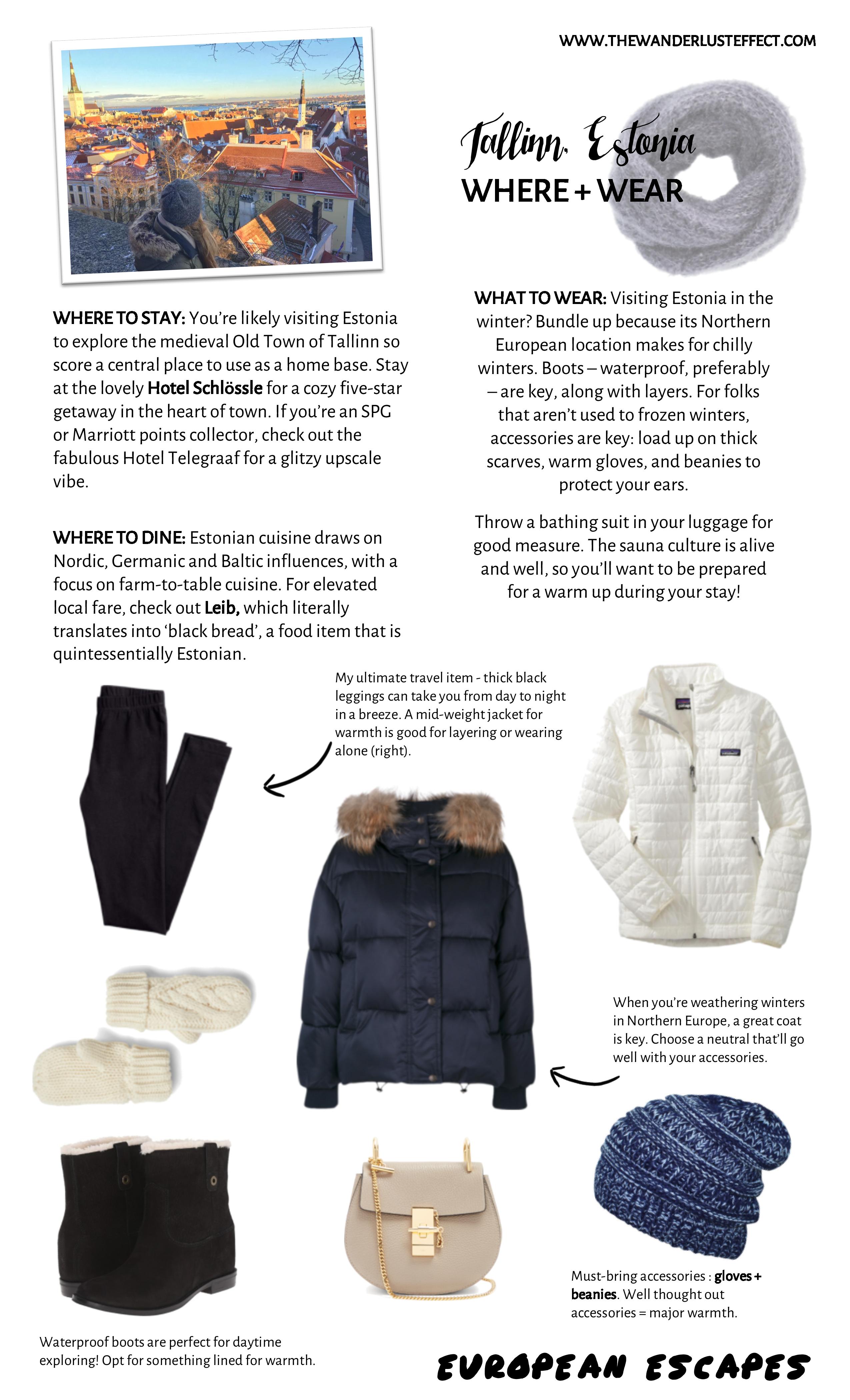 Download the EstoniaTravel Style Guide | The Wanderlust Effect for easy reading on iPad.
Vibe + Packing Tips
When it comes to holiday escapes, Tallinn ticks all of the boxes: charming Old Town with UNESCO World Heritage Status, a city center display with the first ever Christmas tree to be erected, ︎and a charming Christmas market serving up mulled wine and holiday treats to passersby. Bordered by Russia to the East, Latvia to the South, and Finland to the north (beyond the Baltic Sea), Estonia represents a confluence of cultures while embodying a vibe uniquely its own.
Estonia represents a confluence of cultures while embodying a vibe uniquely its own.
If you're headed to Estonia in the winter months, prepare for a major chill factor. Despite its position as the most northerly part of Estonia, Tallinn doesn't get as much snowfall as much of the rest of the country (its seaside locale creates an environment with more ice and sleet than blankety snow). Further into the heartland of Estonia expect thick layers of snow in the winter months. Snow or not, prepare with lots of layers to adapt to the temps. A thermal or sweater may suffice beneath a down jacket, but a mid-weight layer may be wise to provide extra warmth on particularly frigid days. Head protection is key; look for either earmuffs or a beanie to wear beneath a hood. A thick scarf is a plus and gloves are absolutely necessary so your hands don't freeze! You can pick up gloves and/or scarves at markets in the Old Town. For footwear, look for waterproof boots to pair with thick socks. If there's not snow, there will likely still be ice and sludge that'll sneak in.
In terms of overall vibe and style, Tallinn isn't an overly formal city, and you'll be fine with cozy classics in most instances. There are a few fine dining establishments where you can get extra dressed up if you feel so inclined but it never felt mandatory from our experience (dark leggings or denim, plus cozy sweaters seemed to be a fine uniform). If your itinerary includes something with a more polished slant, dress up your winter wear accordingly with accessories. By day, functionality is key in winter months so pack clothes that'll keep you comfortably warm and shoes that will allow you to navigate uneven stones and slick pavement. As an aside, I did bring a pair of heeled boots (about 4″) for nights out and got around fine with a bit of patience in some areas. The Old Town, at least between where you're likely staying and dining, is fairly compact so you'll never be trekking for miles on end. Uber is available very reasonably in the city for adventures further afield.
Shop The Look
Destination Inspiration
What are your recommendations when packing for getaway to Estonia in the winter months?
xo,