Highlights for Exploring Naxos by ATV — with a map!
After adventuring on our self-guided ATV tour of Mykonos, I was hooked on the idea of exploring by quad. I'd very quickly decided that ATV exploration was unequivocally the best way to explore in the Cyclades, and there was pretty much no foreseeable way that we were going to not rent an ATV on every island possible. In Naxos, after exploring the charming labyrinth of Naxos town on our first day, we opted to rent an ATV to explore further afield. What you choose to explore depends hugely on what you prioritize in your Greek getaways, but our day included a nice blend of beach time, village vibes, plus a dose of history along the way. Naxos' large size makes it critical that you prioritize what you want to see since you won't get to it all. Below, I'm sharing our itinerary for one day in Naxos with an ATV or car, with some tips and thoughts, a map, and a few other recommendations based on what we experienced during our 4 days in Naxos.
NOTE 👉🏼 Naxos is a layered island with a rich history and a lot to see and experience. I wouldn't suggest it as just a day trip as there's loads to uncover but if you do decide to make spend a day in Naxos as a day trip from neighboring Paros you could include the below spots in your itinerary along with time in Naxos Town, which is utterly charming. Alternatively, you could delve right into a private tour to explore the island with a guide, like the food & wine tour we did in Naxos with Philema (highly recommended). Also, check out my list of 10 things to do in Naxos for more inspiration!
Potamia + Agios Mamas
We started our journey in Potamia, a traditional Naxian town sub-divided into three regions: Kato Potamia (Lower), Mesi Potamia (Middle), and Ano Potamia (Upper). The area is well signed with walking trails but we were on a mission to see Agios Mamas, a 9th-century monastery tucked into the middle of the expanse. The walk takes about 15 minutes to make it from town down to the church. This is a pretty locale and a historic site, but if you're shorter on time and just spending one day in Naxos, you may prefer to spend this time in Apiranthos (shown below).
Apiranthos
We did not put Apiranthos on our ATV tour because we knew we'd visit the town with Philema Tours during our food and wine tour in Naxos. That said, Apiranthos is a super charming town that has a different feel and vibe than most other places we visited on the island. It's at the base of Mount Zas, where Zeus was rumored to have lived during his early childhood years. Apiranthos has a bit of that artsy vibe in common with Chalki (below) but it ups the ante on what Chalki offers in some ways. It's an intellectual enclave that's birthed many famous members of the Greek intelligentsia and it has a unique culture and cuisine due to its Cretan influences. The town is constructed almost entirely of white marble which gives it a pretty magical feel. If this is your first stop, you can grab a morning pick-me-up and a bite in town during your AM explorations.
Chalki, Naxos' Former Capital
Chalki (also spelled Halki sometimes) is situated in the heart of Naxos, the island's former capital and an overall charming and upmarket enclave. We knew that a visit to the Kitron Distillery in Chalki would be on our agenda for our food & wine tour so spent our time in Chalki meandering the picturesque streets on foot, exploring the boutiques, and taking a walk down to the Byzantine church located just on the periphery of town. The Kitron distillery 'tour' is pretty quick and you'll have a chance to dive into a small tasting, too, so it's worth doing while you're in Chalki as it's something unique to the island. To visit the church, head to the center of town where you'll find clear signage pointing you to Agios Giorgios – follow those signs to be delivered to a gorgeous old church that you can tour. The town itself is full of artsy spots to peruse, including textile shops and art galleries.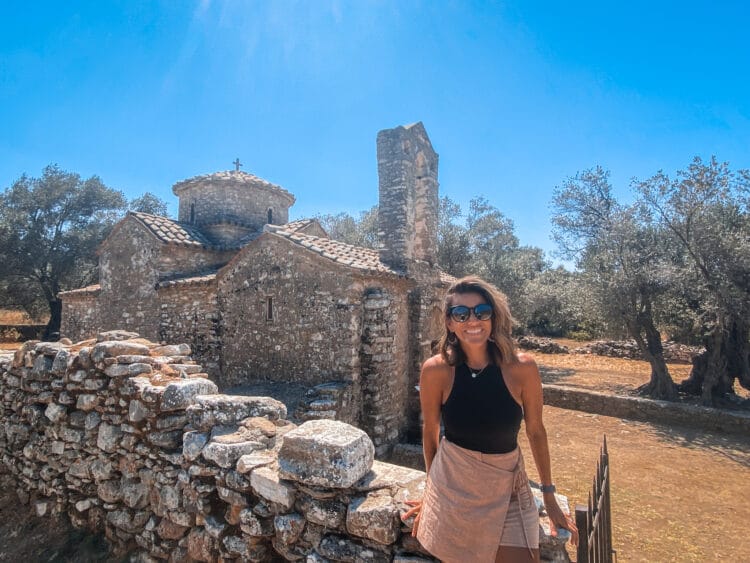 Temple of Demeter
Chalk it up to #COVID, not bad planning on this one! Our itinerary for a month in the Cyclades was put together amidst a pandemic where we really didn't know what each day would bring and planning felt largely fruitless given the day-to-day changes and uncertainty. The planner in me had to relinquish control and embrace spontaneity. The downside of spontaneity? You drive to places like the Temple of Demeter (which looked very cool, by the way) only to find out that it's closed on the one day that you're there. That all said, if you're touring by ATV during your day in Naxos and it's not a Tuesday, this may be worth checking out on your drive. It's a bit isolated in its locale, but it's a great stop for history buffs.
Lunch at Faros tou Alykou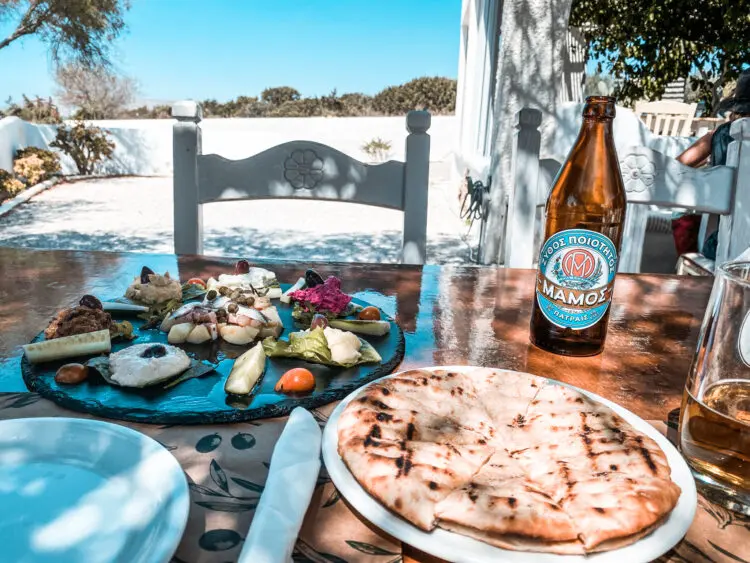 All of this ATVing will build up an appetite! We fell into the rhythm of Greek life immediately, which meant we were quickly on a dining schedule that involved 10PM dinners and mid-afternoon lunches. We typically found ourselves dining around 2 or 3PM for a mid-day pick-me-up. Based on our itinerary, we were in the southwest part of Naxos around lunchtime so headed to Faros tou Alykou, a great spot just steps from the beach. There are a number of other restaurants in the vicinity so you'll have plenty of options on the go. During our visit in August the island was quieter than normal due to COVID so we were okay without reservations. During typical summer months, be prepared to wait for a table or try calling in advance if you're set on a lunch spot.
Beach Break (Plus, Choosing the Best Beach for You)
Naxos is fairly famous within the Cyclades for its beaches but we were struggling to find a beach that really wowed us. We were based on Agios Giorgios which has a vibe, for sure, but it's far from what a beach lover would call 'pretty'. During our one day in Naxos exploring on ATV, we headed to Alyko Beach, Agios Prokopios, and Agia Anna on our exploration. The latter two beaches are home to day clubs so you'll find larger crowds and a scene if you're seeking out a higher energy vibe. The best beach we visited in Naxos was Plaka Beach, a beautiful long stretch of beach that felt more Caribbean than Mediterranean, with plenty of places to settle in with a beach chair for the day. Alyko Beach was one of my faves for a very Mediterranean feel. The cliffs are super dramatic and there are plenty of coves for a little private sunbathing. Side note: if you're traveling with kids, be warned that many of these coves are perfect little enclaves for sunbathing sans suits so you may want to take the lead when walking to make sure they don't get an eyeful.
Back to Town
It's time to head back! If you've followed this run down, you've checked out Naxos' former capital of Chalki, scoped out the marble town of Apiranthos, tasted Kitron at the island's distillery, visited some of Naxos' famous beaches, taken in the historic sites of the Temple of Demeter and/or Agios Mamas, and enjoyed a Greek lunch near the sea. When you're ready to return your ATV it's worth giving yourself a 2 – 3 hours to explore Naxos Town itself. You could spend days meandering the labyrinth of streets that makes up the old town but even with limited time, it's worth wandering around to enjoy some shopping there and the charm of the ancient city. Nearby you'll find the Temple of Apollo (aka the Portara) just steps away from the city center not far from the ferry port.
Your Map
Here's your rundown on your one day in Naxos, mapped! Take what you like, and leave what doesn't fit your vibe. Have anything you would add to this itinerary? Please leave your comments below to help those planning a trip to the island!
Logistics, Rental Information, Etc.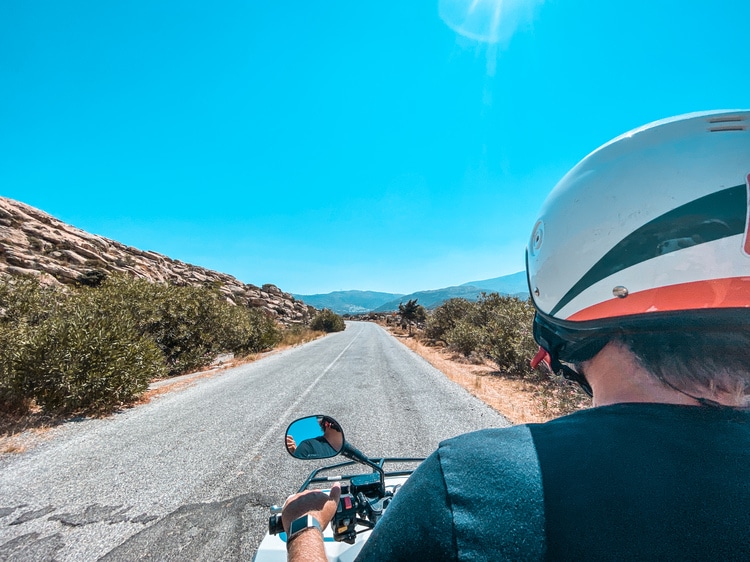 We rented our ATV from Tony's Bikes and Cars, which provides ATV rentals for about €40/day depending on the size. In the hilly Cyclades, I'd suggest veering away from the smallest varieties of quads as you'll want some power to zip around comfortably, especially if you're two people sharing. Keep in mind that an International Driving Permit is required for driving in Greece if you hold a non-EU license. This is non-negotiable and it was checked every single time we rented a license in Greece.
The rental we got through Tony's was given to us on empty and we were told to return it as such. Adding €10 will be perfectly sufficient for exploring for one day in Naxos without having to worry about topping up. The ATVs are super fuel-efficient! If you've never driven an ATV before, they're super easy to operate but there is a small learning curve to get comfortable with accelerating. Once you're out of the main towns, you'll find that driving is a breeze as we found very little traffic on country roads.
---
Have you been to Naxos? What were your highlights outside of the Old Town that you'd suggest adding to the list?