5 Things to Do in San Juan with a Few Hours to Spare
One of the worst things about traveling? The dreaded long layover. We've mastered the art of maximizing a long layover when we have sufficient time, and many times we approach it as an unexpected addition to a larger trip (you can read up on our layovers in London, Paris and Qatar for some inspo). It's those in-between layovers that are terrifying prospects: 4 – 7 hours where you somewhat resign yourself to sitting in the airport for the duration and hope there's a lounge available where you can pass the time. En route to Mexico, faced with a six-hour layover in San Juan, Puerto Rico, we opted to maximize. Going with just carry-ons (which make this prospect infinitely easier), we hopped in a cab and zipped out to take in the sun and sand (we opted for option #3 below!). For those wondering about Puerto Rico post-Maria, our recent trips to San Juan have shown recovery. Yes, I'm sure the island has a long way to go in many respects, but for tourists wondering if it's safe and worthwhile, the answer is yes. When we were there in mid-December with an overnight spent exploring Old San Juan (see #1 below), we enjoyed many of the places we had in previous years. Kudos the island for working hard on recovery and for helping to restore much-needed tourism to the island. Below, check out some inspiration for five ways to spend a long layover in Puerto Rico. ??
Explore Old San Juan
1First things first. If you're heading to San Juan and have never been before, head to Old San Juan. You could spend days exploring this well-preserved space, but if you're faced with a long layover in Puerto Rico, it's still worth making the journey to take it all in. A taxi will be $20 – $25 but you'll be transported to a historic haven and the beating heart of the island's tourism. In my opinion, you'll be more impressed with this island's rich history and Spanish colonial architecture than you will with the beach scene. The streets of Old San Juan bring major charm with candy-colored homes all in a row. Walk through the maze of streets to stumble upon fan-favorites along with hidden gems in the restaurant and bar scene. For the history buff, head to El Morro, a 16th century citadel loaded with history – and views! – just a quick walk away.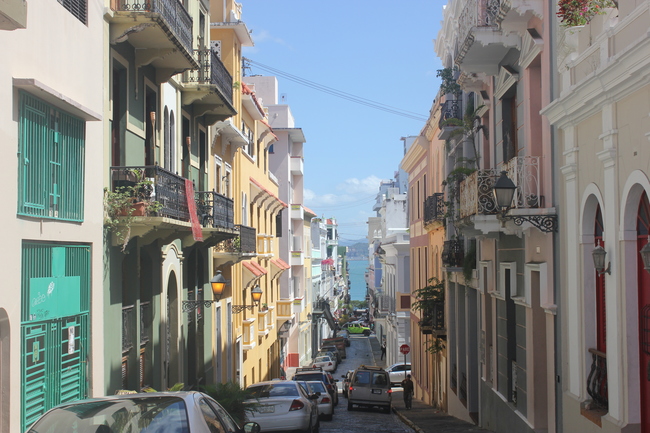 For more, read my post on San Juan for Beginners, from my first time in the city.
Get a Rainforest Fix at El Yunque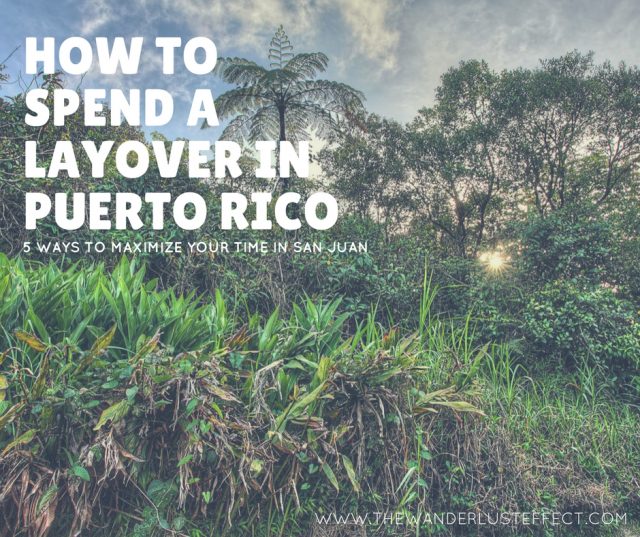 2Set about 25 miles from Luis Munoz Marin International Airport (SJU), is El Yunque Rainforest. For outdoors enthusiasts that prefer to eschew the buzzy vibe of the city and opt for forest over beach, here's your option. A number of tour companies offer half-day tours which may help you maximize your experience if the timing lines up properly. Alternatively, consider renting a car and zipping out to the forest to work on your own timeframe. If you're hiking and exploring waterfalls, there are showers available for a quick clean up before your flight (some charge a nominal fee for locker and shower usage).
Enjoy Sun + Sand with a Day Pass

3With a six-hour layover in Puerto Rico this go around, we wanted some sunshine and a pleasant option to while away the afternoon. The conversation around day passes in San Juan is a popular one; you'll see threads on TripAdvisor dedicated to the hunt for the perfect place to spend a day with access to pool, beach, chairs, etc. but many hotels are opting out of programs like this, making options scarce. The answer? San Juan Water Beach Club located in Isla Verde, just five minutes from the airport ($12 – $15 for your taxi fare). A day pass costs $50 and grants you access to two chairs, the pool (albeit, it's a tiny pool), and a $20 credit towards lunch.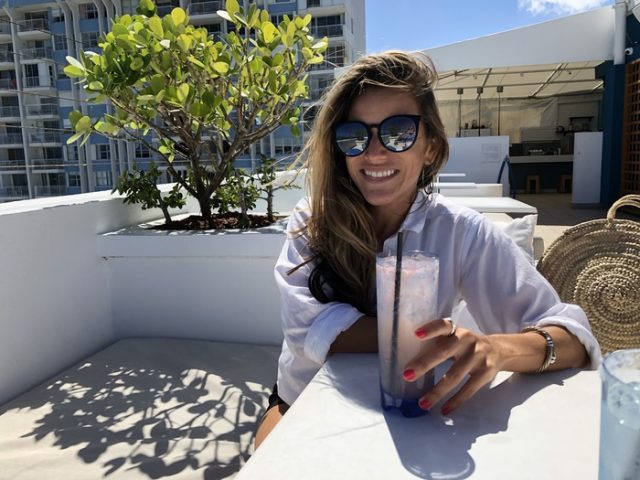 If you're not so keen on the prospect of taking a dip, another option it to merely head upstairs to Mist at San Juan Water Beach Club and enjoy rooftop cocktails with a view – it's one of the area's most famous beaches and you'll quickly see why it's such a draw. Plus, the rooftop vibe at Mist is all kinds of cool, with its white-washed setting and colorful pops of Caribbean hues. We enjoyed lunch at nearby El Alambique, a cool, casual Puerto Rican restaurant facing the beach, before heading over to Mist for the remainder of the afternoon.
Go Shopping at the Plaza Las Americas or at The Mall of San Juan
4Plaza Las Americas is the original (built in 1968) but The Mall of San Juan, built recently in 2015, brings upscale options just minutes away from the airport. It's a shopper's paradise, especially if your access is traditionally limited. If you're based in the United States, you're probably scrolling right past this option. Why would someone go to the mall on a layover, right? I'll tell you why: because they live on a tiny island where they don't have access to any shopping and enjoy the simple pleasure of having options. Can anyone else relate? ?
Go Rum Tasting at the Bacardi Factory
5Piña colada lovers will rejoice in knowing that the original piña colada was concocted right here in San Juan. To taste the original, head to Old San Juan's Barrachina Restaurant where they're still doling out the beloved frozen cocktail. Want to go a little deeper? Head to the Bacardi Rum Factory to get a taste of one of Puerto Rico's most famous exports. Bacardi runs a host of tours, but their Rum Tasting Tour will be a surefire hit for the rum lovers in your group. For $50, you'll get a taste of five premium rums, a historical tour and distillery visit, a welcome cocktail, and a cup to take home with you. Plus, you'll have free WiFi to document the entire thing.
---
Puerto Rico lovers, your turn to chime in! What's your favorite way to maximize a long layover in Puerto Rico?