At just 13.5 square miles with slightly over 1000 permanent residents, the tiny island of Antiparos punches above its weight. It's been dubbed one of the Cyclades' most up-and-coming locales with famous fans like Tom Hanks and Rita Wilson having a residence there. The main town of Antiparos has a gorgeous upmarket tilt with a selection of gorgeous shops, excellent restaurants, and cool bars. When it comes to exploring a tiny island — and believe me, I know lots about that! — there's rarely a better way to explore than by boat. With three days in Antiparos, we dedicated one of our full days to exploring Antiparos by boat with Captain Ben, the island's go-to operator for group outings. Much like our time exploring Symi by boat in the Dodecanese, we were originally unsure about the idea of a group boat trip — would it be kitschy? A total booze cruise for twenty-somethings on the loose? The owners at our hotel in Antiparos assured us that it would be a great day at sea, and they were right. No kitsch and just the perfect flow of Greek wine while exploring this picturesque little island by sea.
We spent a month in the Cyclades during COVID which meant tourism across the region had been slashed by upwards of 80% on some islands. In Antiparos, where tourism is still emerging, this meant that we had a super quiet island practically to ourselves. Captain Ben's boat holds around 100 passengers during a normal outing but with COVID regulations in place, the boat was legally maxed out at 50 passengers. On the day we cruised with them to explore Antiparos by boat, there were around 30 passengers, neatly distanced and spread out in the open-air vessel as we made our way through the Aegean. The boat departs Antiparos at 9:30AM and makes a stop in Paros (just 7 minutes across the channel) to pick up passengers from the neighboring island. The Cycladic islands in general are known for the high winds that roar in the late summer months, bringing blustery days and occasionally choppy seas. By pure luck we ventured out on a picture-perfect day, heading off to neighboring Despotiko for lunch, plus some gorgeous outcroppings for photo ops plus a float in the Aegean.
Agios Spiridon
If you explore Antiparos by car, you'll notice the rocky landscape as you venture to the south of the island, rugged terrain that adds to the Mediterranean beauty. Further out at sea, you'll find Agios Spiridon, a rocky enclave that gave me all sorts of Cabo vibes with the rugged terrain and archways sprouting up out of the sea. One of the rocks has a stairwell to a monastery at the top. The explorers in the bunch can swim the rock and scale it to see the views from the precariously perched religious site. For the floaters in the bunch, grab a noodle and a glass of vino to float in the Aegean, which is perfectly pleasant in the late summer and early fall months.
Monastiri Bay
Much of exploring Antiparos by boat is focused on settling into picturesque little coves where you can comfortably swim/float in the sea, plus it gives you an opportunity to see the dramatic landscape by water. The second stop on our journey after the jaw-dropping Agios Spiridon was Monastiri, a section on Antiparos' west coast with dramatic cliffs reminiscent of Skellig Michael. We spent about a half-hour here, with opportunities for swimmers to take a dip or to chill in the sun with a drink and a gorgeous view.
Despotiko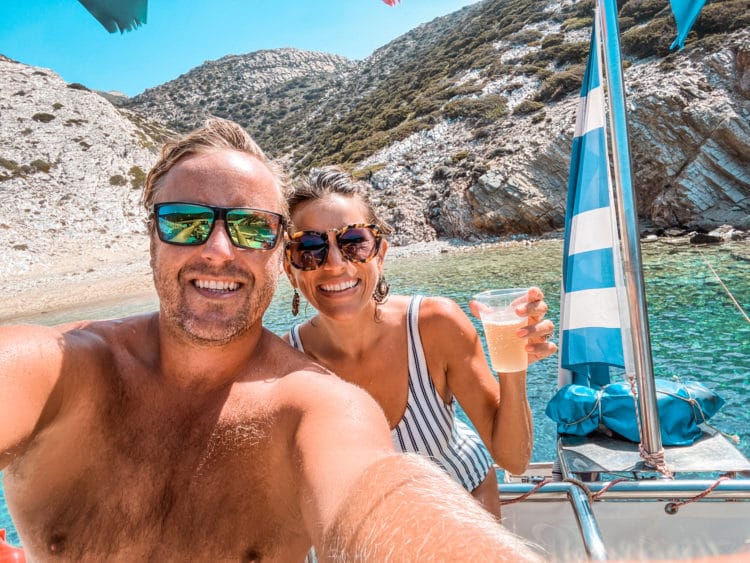 The thought of venturing to an even tinier island may seem comical but Antiparos' neighboring Despotiko island is a rather famous little spit of sand, known for its untouched beaches and for its recently excavated historic site which draws archeology lovers and history buffs. The island itself is uninhabited but is a popular go-to for boaters. You'll find boats available to take you to Despotiko from Antiparos but this would only be a worthwhile pursuit if Despotiko's historic sites are open. During COVID, many historic sites with indoor spaces were closed to the public in Greece, Despotiko's sanctuary site included. Going with Captain Ben was perfect for us – we were able to spend time on the beach there as part of a bigger day of exploring Antiparos by boat.
Despotiko is one of the core experiences of the day, where you'll have time to swim or get your Vitamin D fix on the beach (they have chairs and loungers available). Before lunch we were treated to octopus and ouzo on the beach while we chatted with other guests in the sun, a perfect little Greek interlude. For lunch, we boarded the boat where we were served a full spread of kebabs (veggie skewers for me!), Greek salad, and a slew of sides accompanied by wine or local beer. The general rule is that no one goes hungry in Greece – their portions are definitely generous!
Sea Caves
Salty and full from lunch, we headed out to our final stop of the day for a refreshing afternoon dip — with a water slide! Those who are inclined can swim or snorkel around the sea caves, plus the boat geared up an inflatable water slide which, as it turns out, people of all ages love! Parents and kids were zipping down, being propelled into the Aegean, before swimming up for a second go-around. I mean, shouldn't every boat have a water slide?
---
The journey home involves a stop in Paros first to drop off guests staying there before returning to its home port in Antiparos. We had a full day on board, departing at around 9:30AM and returning at around 5:30PM. For those heading out, plan accordingly! You'll have plenty of time to get cleaned up before sunset after returning to Antiparos. For those with two or three days in Antiparos, exploring the island by boat is definitely worth putting on your agenda to see the island by water.
LOGISTICS + DETAILS
👉🏼 A particularly windy day may change your itinerary slightly but the team has a Plan B for dealing with the frequent Cycladic winds! See Captain Ben's Antiparos itineraries.
👉🏼 Your boat fare includes 5+ stops around the island (including a stop at Despotiko), a great lunch spread, beer, and soft drinks at lunch, plus white wine flowing throughout the day.
👉🏼 While it likely varies from day to day (and year to year), we found the age range of passengers to be around 25 – 50, with a mix of singles, couples, families, and groups of friends on board. During our day the boat trip was far from anything resembling a booze cruise party boat; it was a low-key, relaxing day exploring Antiparos by sea.
👉🏼 The boat leaves from the main port in Antiparos Town. If you're staying in town, you can likely walk to the port without any issues. Be sure to bring a towel and sunscreen. You'll have shade on the boat for most of the day if you need a break from the sun.
---
Any Antiparos lovers out there? Multiple people throughout our trip kept raving about it being the up and coming star of the Cyclades!