Tips and thoughts for first-timers to Puerto Rico's capital
While Puerto Rico is far more than just San Juan, the capital city makes for a great introduction to the Caribbean island and US territory. With easy flights into SJU and a great selection of historical sites, bars and restaurants to keep you captivated, it's an easy getaway that appeals to shoppers, history buffs, and lovers of salt and sea. We got a healthy dose during an extended weekend getaway, and would have gladly rented a car to explore further afield had we had a few more days on the island.
For those of you visiting San Juan for the first time looking to get a decent feel for the city, here are a few tips and thoughts from our getaway layered with my perspective as a newbie.
Where to Stay + What to Do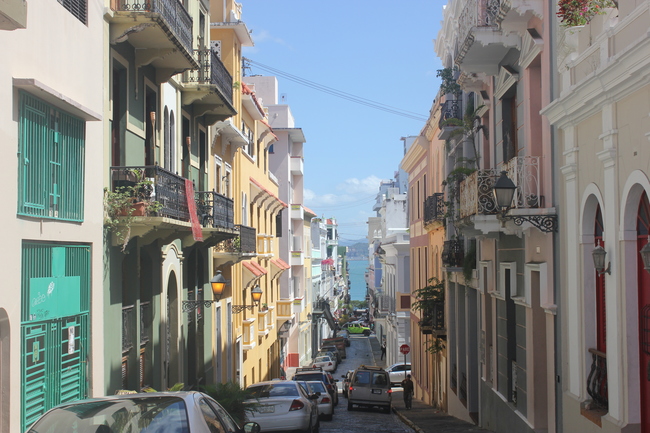 A return trip to San Juan may base us in a different part of the city, but for our first go around being centered in scenic Old San Juan was a must. I knew we'd be journeying beyond the borders of the old city during our brief stint, but for first-timers to the area Old San Juan truly captures so much of what you'll want to see as an introduction to Puerto Rico's capital. There's El Morro which is a must for history buffs, and for anyone with an appreciation for a great view (isn't that everyone? read about our experience at El Morro).
Beyond historic El Morro, there's a plenty of time that can be dedicated to strolling the streets of the picturesque old town. Old San Juan is the oldest settlement within Puerto Rico, and its cobblestone roads and Spanish colonial architecture bump up the city's charm factor hugely. There are quaint little eateries tucked into courtyards throughout the area, a perfect spot to grab a glass of sangria or the ever-present mojito while taking in the sights and sounds. You'll see local establishments doling out hearty portions of mofongo sitting adjacent to posh brunch spots serving up organic cuisine. I was actually surprised to see how many incredible restaurants and bars existed within Old San Juan. Prior to our trip I'd read about Condado, a beachy part of San Juan near the old city that was alleged to boast a Miami-esque vibe. I assumed that is where these cool restaurants and swanky bars would exist.
Nope.
Every place we wanted to go for a drink or for a bite (based on our research beforehand) was located in Old San Juan. Calle Fortaleza has bar after restaurant after shop lining the way, with options for a huge range of budgets and tastes. All of that in mind, Old San Juan is a great central spot for a first brush with the capital (though as I mentioned, I may stay in a different area next time for a different experience).
Where to stay exactly? Well, we stayed at El Convento, which is a rather iconic hotel within San Juan's landscape. Our experience overall was very good (I'd be hesitant to say we found it excellent), but the stellar location of the property and unique character of the hotel are undeniable. There are other options in the old town including lots of cute properties on Calle Fortaleza worth checking out.
Where to Eat & Drink
I'll be honest: it's unfair of me to write this section based on a measly three days and brushes with only a handful of restaurants. A site like preats.com alongside of TripAdvisor will probably be better suited for those in the research phase figuring out their shortlist. True to our characters, we did do a decent amount of searching beforehand to pinpoint a few restaurants and bars that we knew we needed to check out. Some standouts:
Marmalade, Calle Fortaleza, Old San Juan // No doubt, this is a foodie restaurant. People we didn't even really know referred to it as such when sharing their thoughts with us, and I'm in total agreement. You can order a la carte, but that seemed to be a bit taboo. It's a place for a tasting menu (the menu pricing is skewed that direction) and it's delicious and decadent. Scott opted for the wine pairing, too, which was actually a good value considering prices by the glass. The portions are  huge for a tasting menu, so men don't need to be concerned that they'll need a post-dinner burger. Menu items include things like truffle paparadelle, foie gras, lobster risotto, and a 'popcorn shrimp' which is maybe one of the best things I've ever eaten. Pricing starts at $65 for four courses.
Dragonfly, Calle Fortaleza, Old San Juan // I'm a sushi lover and I don't get my fix nearly enough. When we discovered Dragonfly, we knew it was a must based on the menu which reflects a fusion of Asian and Latin offerings. We walked into a fairly standard restaurant and then were escorted downstairs (where the magic happens) into a super dimly lit space which prepped us for an evening that was all kinds of cool. We opted mostly for sushi, but sampled a few of their bar bites. Their tuna toasts are to die for – definitely my favorite thing on their menu. Plus, they're cranking out super cool cocktails that are seriously intriguing, think wasabi-ginger martinis and lavender-infused G&Ts.
El Jibarito, Calle Sol // For a local bite, this place is open for lunch and dinner. We opted to pop in for lunch after a long morning shopping at Plaza las Americas (which, by the way, is a pretty remarkable shopping spot). We'd heard of El Jibarato, a well-loved and well-known establishment, and this seemed like a good way to get our Puerto Rican food fix while on the island. The mofongo is a must of course, and you'll have your choice of proteins to accompany it. Fairly average prices with many entrees falling in the $10 – $15 range. Very cute inside (if not a bit dark).
Don Pablo // Across from El Convento next to El Batey, a super dive bar, there's a cool spot called Don Pablo with an awesome cocktail menu and bacon donut holes. I don't even eat meat and I'm intrigued with the idea of bacon donut holes served with drinks. The bartender we met, originally from Oregon, doles out perfectly crafted cocktails with cool ingredients like apple shrub (?) and tumeric-infused simple syrups. Their famous, must-try concotion is the Papa Jac which patrons can get to go in a Big Gulp-style cup. Drinks are around $10.
Pinky's, Condado // We ventured out to Condado to explore and to have lunch at Pinky's. There are two Pinky's now (not sure how recent this is) but the original is on Avenida Ashford near Calle Washington. There was a line when we got there, which is generally a good sign. The food – super simple and super fresh – is superb. We shared a blender full of fresh papaya smoothie which was exceptional and affordable (they literally brought out an entire blender of it for us to have at the table and share). Their menu has a slew of vegetarian-friendly options so it took me a while to settle on a super fresh salad wrap with goat cheese. It's not overly atmospheric (think streetfront in a strip mall-type setting), but there's a reason you'll be waiting in line behind a horde of locals.
El Gato Flaco, El Fortaleza // Gato Flaco is the newest kid on the block, opened by the same guy that's behind Dragonfly (see above), Aguaviva, Parrot Club, et al. The first time we walked by, Scott commented on the vibe as an onlooker, a super cool New York-esque sense about it with a lit up sign that reads 'SOFO' above the bar ('South of Fortaleza'). When we finally made our way in, I was all about it. I had a blackberry gin cocktail, Scott opted for their San Juan Moscow Mule (a rum-based version) – great cocktails, awesome staff, and a cool menu which I'd be eager to try next time for a more casual bite.
---
Those who've been to San Juan before, share your thoughts in the comments below for newbies to the area. What are some can't miss sights and favorite bars and restaurants?