Last year I celebrated Valentine's Day by sharing a wanderlust-inducing post highlighting 15 Dream Destinations for Valentine's Day.  I mean, I'm a dreamer and I can't help but fantasize about a romantic getaway that takes us to some far-flung locale… can you blame me? With that being said, this year I'm taking a different approach with some first-hand insight and sharing some of my absolute favorite – and yes, romantic! – hotels around the world (in no particular order). These run the gamut from off-the-beaten path to classic luxury, and each holds a special place in my heart. Keep reading to see the 10 romantic hotels that top my list.
The Lodge at Sea Island
LOCATION: Sea Island, Georgia, USA
GOOD FOR: Luxury Travel, Southern Charm, Domestic Escapes
1For the ultimate Southern escape, Sea Island brings charm in spades. On my first trip I stayed at The Lodge at Sea Island(technically on St. Simons), and the second time I visited on a girls getaway to Sea Island where we stayed at The Cloister. Both experiences were epic, but The Lodge brings next-level personalization and charm that exemplifies Southern hospitality. Think dark wood, a butler, options for your cookies & milk at turn down, and bag pipe players on the green at sunset. It's utterly charming in every way and service will wow even the pickiest of guests.
Tambo del Inka

LOCATION: Sacred Valley, Peru
GOOD FOR: Luxury Travel, Off-the-Beaten Path, Points Spenders

2On our honeymoon in Peru we dedicated a couple of days to exploring Peru's Sacred Valley, a lovely and less trafficked area near Machu Picchu. One of our hotel highlights – and there were many – was Tambo del Inka, a luxury property that just seems to do it all right. There's a train to jet you to Machu Picchu if you're so inclined but you'll have a hard time dragging yourself away from the property with its plush common spaces, luxe rooms, and gorgeous facilities. For those wanting cultural immersion, the area is ripe for exploration. Plus, SPG points collectors will be happy to know that you can snag a stay for 12,000 points per night.
Birkenhead House
LOCATION: Hermanus, South Africa
GOOD FOR: Luxury Travel, All Inclusive, Boutique Vibes
3Can I have this list and not include my favorite hotel? When it comes to places that I truly dream of returning, Birkenhead House tops the list, and I recommend it to every person – especially honeymooners – headed to South Africa. Hermanus is a coastal area, not unlike what you'd experience in say Carmel, California. It brings a rugged coastal flair in a quaint and artsy community, excellent and highly personalized service, along with extraordinarily spectacular all-inclusive offerings (think local South Africa wines, craft cocktails, and some of the best food we had during our entire month in Africa).
L'Albereta Resort

LOCATION: Franciacorta, Italy
GOOD FOR: Boutique Vibes, Country Home Coziness, Wine Enthusiasts
4L'Albereta was a surprise for us. We had no intention of visiting this part of Italy when we were crafting our itinerary, and sometimes that's when you're lucky enough to stumble into these gems. When it comes to romance and R&R, L'Albereta Resort absolutely enchanted us. Tucked into the vineyards of Franciacorta, Northern Italy's sparkling wine-producing region, this Relais & Chateaux property is a haven for wellness and relaxation. They offer multi-day and weeklong health and wellness packages but have plenty of enticing options for those looking for a shorter, romantic getaway.
Belmond Hotel das Cataratas
LOCATION: Iguacu Falls, Brazil
GOOD FOR: Luxury Travel, Nature & Outdoors, Bar Scene
5If you've read through some of my previous posts, it's no secret that I adore Belmond properties. I can't find fault in a single of their hotels that we've personally experienced but their Iguaçu Falls location, Hotel das Cataratas, is dazzling. For outdoors enthusiasts, it doesn't hurt that it's the only property situated in the national park (which means early access to mind-blowing waterfalls), but the hotel itself brings an old world luxe vibe that allows real relaxation. The rooms are plush and their bar is arguably one of my favorite hotel bars in the world – grab a capirinha with your choice of cachaca for a fabulous Brazilian evening. Read up on how to spend 3 days at Iguaçu Falls for some inspiration.
Dromoland Castle
LOCATION: County Clare, Ireland
GOOD FOR: Old World Splendor, Luxury Experiences
6Okay, okay, I'm going to be honest here: we actually stayed at Dromoland Castle's sister property, Dromoland Inn, when we visited Ireland with my family in 2015. It was a magical trip that involved balancing a range of budgets and the inn fit the bill… but we weren't going to let an evening at the castle escape us. We dined at Dromoland Castle and it only took a walk through the castle to give us major royal vibes. I mean, you're in a castle (Ireland has many castle accommodation opportunities if that's your thing). The dinner scene – complete with harpist playing in the background – is superb, and the common spaces are as regal as you'd expect. Add to that the experiential opportunities when you stay there (think falconry, archery, horse back riding, and so much more), and it brings next-level romance.
Frangipani Beach Resort
LOCATION: Meads Bay, Anguilla
GOOD FOR: Beach Scene, Boutique Vibes, Foodies
7When I was dreaming of my perfect romantic escapes, my mind kept drifting to Anguilla. How could I not put our home island on this list? Sure, I'm a bit biased now but I remember the moment I first set foot at Frangipani Beach Resort years before I moved here; I was stunned by the beauty of Meads Bay and by the resort's infinity pool right on the sand. To be honest, I generally prefer boutique hotels to large properties and I find that they can be critical to the overall experience in smaller environments (island and towns), in particular. Since then we've explored a number of Caribbean islands, but when it comes to romance I still think that Anguilla is hard to beat. It was my first Caribbean getaway and it spoiled me for life. As far as beaches are concerned, it doesn't get better than Meads Bay, and with award-winning on-site dining, spa services and water sports, it's the perfect place to truly unwind.
Villa Caletas
LOCATION: Herradura, Costa Rica
GOOD FOR: Pool Scene, Relaxation, Nature
8I talked about our trip to Costa Rica with a bit of a mixed voice. I wasn't in love with the area that we stayed in (Herradura left a bit to be desired in my opinion) but our hotel was spectacular. Our junior suite had a private pool and stepped out to stunning forested views that brought an absolute sense of serenity. There's breakfast in the amphitheater with regionally sourced coffee and fresh fruit; and of course, there was the pool, an infinity setup overlooking the Pacific where you look out to eternity. To be honest, the hotel itself was the highlight of our time in Costa Rica!
Nyungwe Forest Lodge
LOCATION: Nyungwe Forest National Park, Rwanda
GOOD FOR: Off-the-Beaten-Path, Experiential Travel, Disconnecting 
9Looking for something off-the-beaten path? East Africa has loads of romantic options as far as tented camps are concerned (Kenya and Tanzania have incredible luxury options), but head to Southwest Rwanda to the Nyungwe Forest where you drive through lush blankets of tea plantations accompanied by crisp air. It's not what you think of as being 'Africa' in a photo snapshot sense, but the Nyungwe Forest Lodge is a luxurious haven within this breathtaking landscape. They celebrate what's local while elevating everything to five-star status. For the outdoorsy active type, spend a day chimpanzee trekking or walking through the forest before heading back to cozy up by the fireplace with a handcrafted tea-infused cocktail. Or enjoy couples spa services on site before sneaking back to your cottage. Wifi isn't great in the rooms, but some may see that as an asset; it's a great place to unplug and unwind in an atmosphere that feels absolutely authentic.
Hotel Danieli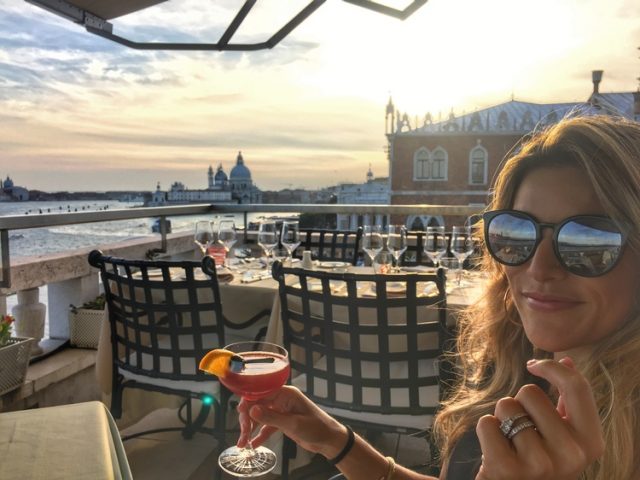 LOCATION: Venice, Italy
GOOD FOR: Classic Luxury, City Explorers, Points Spenders
10Dare I say I debated on this one? Our experience at the iconic Hotel Danieli was a bit mixed. We had some maintenance issues that tainted our stay but when I think back on cities that rank as being absolutely and utterly romantic, how can I neglect Venice? We spent two days in Venice and it was pure magic. The city is absolutely enchanting and Hotel Danieli is smack dab in the heart of everything. Head to the rooftop bar at sunset to enjoy Venetian views that'll make your heart melt.
---
This list isn't exhaustive by any means! We've been fortunate to stay at some wonderful hotels around the globe, and I could easily draft a top 20 list in the future to highlight some of my favorite getaways (Chateau Frontenac in Quebec City, Mikeno Lodge in the DRC, Hotel Castillo y Collado in La Rioja as a start!). One of the most interesting things in reflecting on some of my favorite stays is that they don't necessarily equate to my favorite places. Sometimes a hotel exceeds expectations so massively that the property itself becomes the highlight. As someone in the hotel industry, I'd say that's a true measure of a property's success.
Which romantic hotels would you add to this list? Where is your dream Valentine's Day escape?