Romantic Escapes Around the Globe
In honor of the upcoming holiday, I'm sharing 15 romantic escapes that have topped my list of dream destinations for Valentine's Day. If ever we have a free week to escape during the year, I begin brainstorming how to reasonably justify a weeklong getaway to Italy or Bali. For the record, I have yet to win that argument, but I figure there's no harm in trying, right?
Here are 15 stunning hotels in destinations that constantly have me daydreaming:
Chevre d'Or, Eze, France
1I visited the French Riviera in 2010 as a grad student on a budget. We based ourselves at a modestly priced hotel in Nice and still fell in love with the destination. Since then, I've often thought about returning and exploring more of the small towns that make up the area: Saint-Jean-Cap-Ferrat, Eze, Villefranche-sur-Mer. When a jet-setting guest of ours revealed that Chevre d'Or in Eze was in his top 3 favorite hotels in the world, we took notice and it quickly skyrocketed to the top of our list. Nestled in Eze Village between Nice and Monaco, it's a dreamy escape.
FIND IT: Rue du Barri, 06260 Eze Village, France
Hotel Cala di Volpe, Costa Smeralda, Sardinia
2Do you ever become obsessed with a place that you've never been before? It happens to me all the time and right now I'm super high on Sardinia. Italy is a favorite destination of mine generally speaking but there's something about Sardinia, with its own unique culture and its glamorous coast, Costa Smeralda, that I find utterly enchanting. The Luxury Collection has a foothold in the area with a few stunning properties that leave me drooling and Hotel Cala di Volpe has me scheming on how to use my Bonvoy (formerly Starwood) points for the ultimate escape. By contrast, there's the more rustic interior with quaint agriturismos that guests can stay at for a dive into a different side of Sardinia. The biggest downside for us is that it's a bit difficult to get to (planes, trains and automobiles to finally land at Olbia Airport), but sometimes the most precious discoveries take some work, right?
FIND IT: Costa Smeralda, 07020 Porto Cervo, OT, Italy
Birkenhead House, Hermanus, South Africa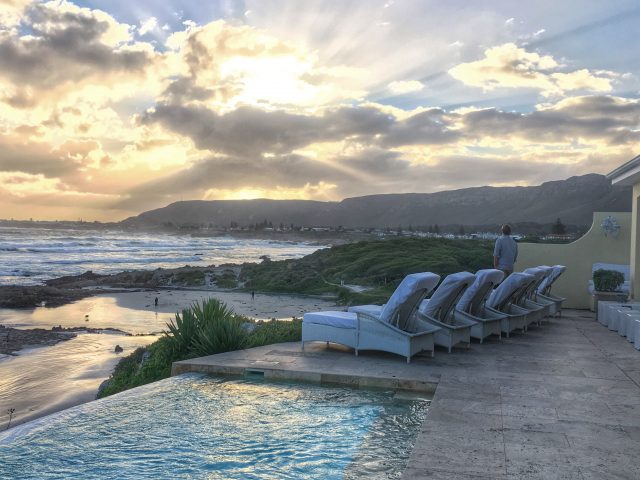 3Are you tired of me raving about this place yet? The Birkenhead House is legitimately my favorite hotel in the world thus far (though there are a few places that take a close second) with its incredible upscale boutiquey feel that's more luxe home than it is a hotel. This place captures what a stay at a boutique hotel is all about: staff that treat you like friends more than guests, with special touches and a location that's to die for. Read more about the Birkenhead House from our recent trip to South Africa.
FIND IT: 119 11th St, Hermanus, 7200, South Africa
Jade Mountain, St. Lucia
4When it comes to Caribbean hotels that scream romance, Jade Mountain in St. Lucia takes the cake for me. Coming from Anguilla, an island better known for its beaches than its jungle feels, St. Lucia puts off a vibe that's a great contrast to the island that we call home. Those stunning views of the Pitons from the open-faced rooms, plus the extra lush landscape is enough to make even those most seasoned of travelers drool.
FIND IT: Old French Road, St. Lucia
San Camp, Kalahari, Botswana
5I love me some Africa, and am intrigued by all of its parts: the wildlife-rich East Africa, the coastal vibes of South Africa, the markets and Middle Eastern culture dominant in North Africa. After our recent trip exploring East and South Africa, we vowed that a return trip would have us visiting Botswana and Namibia, neighboring countries that offer very different experiences. Botswana is ranked by many as the ultimate safari destination for its incredible wildlife and the country's commitment to sustainable safaris and conservation (safaris tend to be higher-priced in Botswana due to a concerted effort on the part of the tourism authority). I could pick many places in Botswana that draw me in but San Camp on the edge of the salt pans and surrounded by the Kalahari Desert, is at the top of the list.
FIND IT: Makgadikgadi Pans National Park, Botswana
Hotel Sirenuse, Positano, Italy
6I love the Amalfi Coast. Plain and simple, it was love at first sight for me with the cascade of colorful homes that have become Positano's signature shot. Blame it on my roots, but the Mediterranean has always had a special place in my heart and a special draw when I daydream about romantic destinations. There's a laid-back chic vibe that's effortless, casual and sexy all at once, and Positano captures that essence well. For fellow travelers that have had the same fantasies that I have, Le Sirenuse can't help but be noticed. Located in the heart of Positano, perched perfectly on the cliffside, it provides those jaw-dropping views of the coast with a peaceful aura. Perfection. 
FIND IT: Via Cristoforo Colombo, 30, 84017 Positano SA, Italy
Four Seasons Bali at Sayan, Bali, Indonesia
7Call it clichéd, but Bali has always been high on my list for an anniversary escape. Sure parts may be overrun with hard-partying tourists looking for an affordable escape, but there's also a side of Bali that seems utterly magical, tranquil and spiritual. Generally speaking, I'm more inclined to book an independently owned property, but the Four Seasons in Ubud has all the makings of a perfect escape. For US West Coasters with (relatively) easy flights to Bali, what are you waiting for?! 
🌟 As of 2022, Compass & Vine is a Four Seasons Preferred Partner which means perks when booking FS properties — including Bali!
FIND IT: Jl. Raya Sayan, Ubud, Sayan, Gianyar, Kabupaten Gianyar, Bali 80571
Cavas Wine Lodge, Mendoza, Argentina
8While it hasn't been a totally conscious decision for us, we've included a wine-focused escape during every year of travel. There was the recent wine tasting experience in Franschhoek, the wine tasting in La Rioja during our trip to Basque Country, and many a trip to Sonoma and Napa during our time living in Northern California. A place we've never wine tasted? Argentina. We had a brief and beautiful brush with Argentina on a trip to Iguazu Falls, but never made it further afield. We've vowed to return to South America to taste our fill of Malbecs in Argentina and a stay at the 18-room boutique Cavas Wine Lodge makes for the perfect home base.
FIND IT: Costaflores s/n, Cobos, 5507 Lujan de Cuyo, Mendoza
Kasbah Tamadot, Marrakesh, Morocco
9Ladies, tell me that scenes from Morocco don't immediately summon grand ideas of real life Princess Jasmine moments. The colorful markets, gorgeous riads, and the contrast of the coast with the rugged Atlas Mountains make for a world-class backdrop. Richard Branson's Virgin Limited Edition Collection features a handful of incredible properties around the world, including the stunning Kasbah Tamadot, located just outside Marrakesh near the Atlas Mountains. Gorgeous suites aside, the property offers ten luxury Berber Tents. How do you say no to that?
👉🏼 2022 Update: We made it to Morocco in late 2021! Read up on itinerary inspiration for one week in Morocco.
FIND IT: BP 67, Asni 42152, Morocco
Iconic Santorini, Santorini, Greece
10I've been to Greece on one occasion, taking in the historic sites of Athens and then hopping from Hydra to Mykonos and Paros. Two women wanting to see as much as we could, we traveled way too quickly to really be able to take in the island feels, and Santorini was notably left off of our agenda because of its romantic reputation. Fast forward seven years and it's one of the few destinations in Greece that still intrigues me for a romantic getaway. It's classic, with those oft-captured vistas of sunsets hitting the cobblestone streets and white-washed buildings. Oia is where those photos are often snapped, but a fellow boutique hotel owner mentioned that some of the greatest gems are set away from Oia where the true essence of the island can be felt. Iconic Santorini dubs itself a 'luxury boutique cave hotel' which is enough of a draw for me, plus its location, set just 20 minutes driving from Oia, makes it a draw for stunning vistas in a great location.
👉🏼 2022 Update: Check out the recap from our trip to Santorini in 2020.
FIND IT: Imerovigli 847 00, Greece
Al Maha Desert Resort, Dubai, UAE
11I've talked about Al Maha Desert Resort before and I'll probably continue to talk about it until we actually visit. It ties with Sardinia's hot spots for my best use of the Starwood points that we're tireless racking up for some grand future escape. Set in Dubai, it's the opposite of the Dubai experience that many envision. It's set in the Dubai Desert Conservation Reserve, and it captures the essence of Old Arabia in its offerings and activities. The property showcases local wildlife and Bedouin culture, an element often overshadowed by the glitz and glam many associate with a trip to Dubai. There's no two ways about it; it's a small fortune to visit but with morning and afternoon desert activities that include things like falconry, horse riding, a dune drive, archery and camel trekking, it appeals to the explorers in all of us.
🌟 As of 2022, Compass & Vine is a Marriott STARS & Luminous Partner which means perks when booking Marriott's luxury properties — including The Luxury Collection, my personal go-to. 
FIND IT: Dubai Desert Conservation Reserve – Dubai – United Arab Emirates
Four Seasons Tented Camp Golden Triangle, Chiang Rai, Thailand
12My husband sent me information about the Four Seasons in Thailand's Chiang Rai province and I just couldn't seem to close the tab. I've never visited and yet I always find myself with mixed thoughts on Thailand. It's a well-known stop on the Banana Pancake Trail, which means the highly trafficked areas may have lost a bit of their authenticity over the years. On the flip side, Thailand is a big country, and to generalize seems a bit of an injustice, especially when there are gems strewn around the country in unique destinations with memorable experiences to be had. A luxe tented camp in Northern Thailand bordering Myanmar and Laos, there's a wealth of wildlife opportunities for the conservation-minded traveler at the Four Seasons. Partnering with the Golden Triangle Asian Elephant Foundation, guests have a unique opportunity to help rescue elephants and to interact with them on outings and during bathing rituals. It's the perfect getaway for romantic explorers with a heart for conservation and wildlife.
FIND IT: Chiang Rai 57150, Thailand
Gritti Palace, Venice, Italy
13Y'all, I've never been to Venice. As I mentioned with my whole bit above about being high on Sardinia, I love Italy. I think Tuscany is stunning, Rome is a real-life museum that I find more captivating than chaotic, and the Amalfi Coast has me daydreaming for days, but I have never, ever been to Venice, and I can't leave it off of a list focused on romantic destinations for Valentine's Day. Isn't Venice the ultimate romantic escape with its gorgeous canals, gondola rides, and luxe hotels that make you feel like a Medici? There are a host of hotels that are eye-popping but the Gritti Palace is one that has long been on my wish list. From its location to the facade and the unabashedly luxe interiors, everything about this place is on fire.
👉🏼 2022 Update: Check out my recap on our stay at The Gritti Palace, one of my favorite properties in Italy!
FIND IT: Campo Santa Maria del Giglio, Venice, 30124, Italy
Six Senses Zighy Bay, Oman
14Oman has continued to gain traction in the travel sphere in the last few years, now much more top of mind as an actual destination than just a handful of years ago. About two hours driving from Dubai, Six Senses Zighy Bay sits between the mountains and the bay that shares its name. One of their standout features? The landing at the resort, where guests can paraglide in from the top of Zighy Mountain. With a luxe spa, and experiences like a dhow cruise, rock climbing, and scuba diving, it's a great destination for romantic adventurers.
FIND IT: Musandam Peninsula, Dibba-Musandam 800, Oman
The Chanler at Cliff Walk, Newport, Rhode Island
15I'm a West Coast girl born and raised so places like Napa, Sonoma, Big Sur and La Jolla don't have quite the luster as they do for many that picture California as a romantic escape. Instead, it's the East Coast, with its rugged coastline and maritime history that I find capture real American romance. Enter The Chanler at Cliff Walk, a historic mansion turned boutique hotel that captures the old-world elegance of a bygone era. Plus with a 'Design Your Own Stay' option, there are unique offerings to cater to a range of travel styles.
FIND IT: 117 Memorial Blvd, Newport, RI 02840, USA
---
Inspired yet? Any romantic destinations on your radar this year? Any
hotels that we should put on our must-visit list?