Okay, talk about long overdue! How in the world did I manage to keep my love for Budapest hidden for this long? The Estonia and Egypt legs of our trip in September 2018 were all we truly had planned (our day in Stockholm was a surprise escape), but our timing was such that we ended up with three days between Tallinn and Cairo and the world at our fingertips. Well, kind of the world… really any part of the world that made sense based on flights. Our one pre-req was that the destination had to be an easy flight from Tallinn and then an easy flight on to Cairo. Warsaw and Kiev were options and we legitimately considered a Ukranian visit but Budapest was calling, and it had been too high on my list for too long to skip over. In total, we spent three days in the city but I wanted to share an itinerary for two days in Budapest since I think I could reasonably cram all that we accomplished into two days for anyone with less time in the city.
Let me also say that my expectations were high for the Hungarian capital and it absolutely met my expectations. We had spent some time in Vienna in 2017 and while I enjoyed it, I found it a bit too polished (I mean, is anyone else with me in thinking that a city needs a bit of grit?). I think it's natural to compare and contrast Budapest and Vienna as they have some historic ties, but the cities are different largely in the ways you'd expect. The simplest way to say it is that Budapest seems to have more character than Vienna, at least in my opinion based on brief brushes with each. Vienna is a fabulous city for arts enthusiasts looking for a polished escape with a dose of grandeur, but I preferred Budapest's contrasts: their Champs-Elysees-inspired Andrassy Avenue juxtaposed with the ruin bars in the old Jewish Quarter. Budapest feels like Vienna's much cooler, hipper sister. So, for those with two days in Budapest looking forward to capturing as much of the city as possible in a short amount of time, here's my ideal itinerary for two days in Hungary's cool capital.
Day 1  Budapest on Foot + Bus
On a pleasant day, there's no better way to experience Budapest than on foot. The city is alive with beautiful buildings, a stunning and bustling waterway, and gorgeous views at every turn. We were there during three perfect days in September with temps hovering in the mid-70s, ideal for walking for hours on end. A free walking tour and a hop on hop off bus tour will help with getting around and exploring vast areas of both Buda and Pest, the two different areas lying on opposite sides of the Danube. The HOHO bus is a great way to cover more ground in limited time.
Breakfast in the City
First, fuel up with breakfast in Budapest. We actually had three mornings in the city and dined at three very different breakfast establishments: Mazel Tov (an Israeli-inspired menu), Cirkusz, and Central Café, shown here. Cirkusz and Mazel Tov were both hip destinations that draw a crowd. Central Café was where we had a quick breakfast our first day, mostly drawn in by its historic quality. Opened in 1887, it was the meeting ground for Hungarian minds in decades past. The setting is more of the draw than the food (food is okay, but nothing memorable). Alternatively, you can pop in for a morning dose of caffeine before heading on your way.
Walking Tour of Budapest
Caffeinated and ready to roll, it's time to set off on a free walking tour of Budapest. We opted for the original tour (you can also do a Communism Walk and a Jewish Quarter Walk), which set off at 10:30AM from a central point and visited some of the city's most iconic sites. If you've never done a free walking tour, the concept is simple: you'll end up with a certified guide who will take you on a 2 – 3 hour tour of the city for free. At the end, leave a tip to say thank you. If you think they've done a good job, tip generously as these guides generally do this for a living, not as a little feel good hobby. In our experiences, the guides have generally been young, exuberant, and educated, and our tour guide in Budapest was no exception. We learned a ton in our 2 – 3 hours, starting in Pest and making our way to hilly Buda where we finished near Fisherman's Bastion and St. Matthias Church. And you guys, Fisherman's Bastion is a stunner. If you decide to do a self-guided tour, by all means, grab a map and go but you must make your way to Fisherman's Bastion for epic views and a truly stunning space. Expect a healthy number of tourists or head there early to snap some epic pictures sans the crowds.
Hop On Hop Off Bus Tour
After soaring past our 10,000 daily step goal for the day, we were in debate about how to jet to other sites nearby… do we cab back? Walk back? Is Uber a thing? (By the way, it's not but Lyft is.) We bumped into a Hop On Hop Off ticket counter and felt compelled. There were other areas we wanted to see anyway, and for the cost of the HOHO Tour (we paid around $25 each), it made economic sense as well. We hopped on the first available bus and let it take us on a journey up to Gellért Hill where we had amazing Danube views, plus some options for snacks at stands along the stretch. Our ticket granted us 48 hours of access plus a Danube River cruise. We ended up riding around for a couple of hours until we made it back to Pest where we visited Great Market Hall before returning back to our hotel. Read more about the Hop On Hop Off Budapest routing and options.
Great Market Hall
We opted to disembark from the Hop On Hop Off Tour at Great Market Hall, a marketplace that gets rave reviews for its size and offerings. With our hotel about twenty minutes away on foot (we stayed at the Kempinski Hotel Corvinus), it seemed like the perfect afternoon fix before getting cleaned up for an evening out. The market is spread over three floors, each doling out different sorts of goods with a mix of household items, fresh fruits and vegetables plus spices and a few stalls for ready-to-eat food. If you're in the market for paprika as your Hungarian souvenir, you'll find it here plentifully. To me, the market was more geared towards a local audience with pantry items and a farmer's market feel (less of a craft/artisan market with souvenirs for tourists).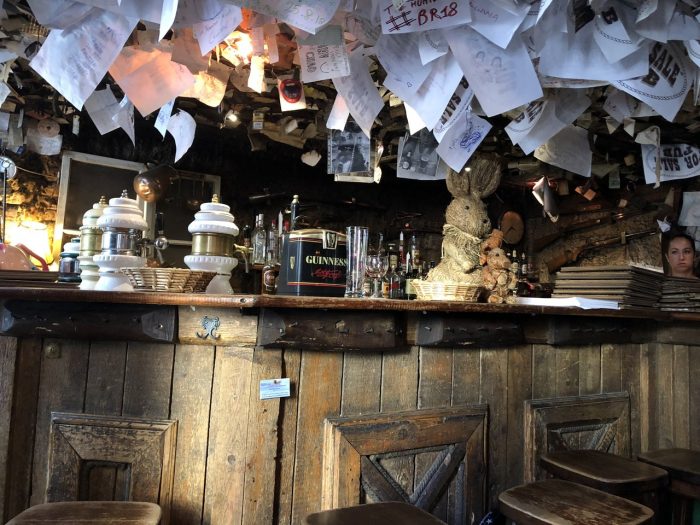 LUNCH: We were so focused on exploration that lunch was a bit of an afterthought for us. Plus, let's be honest, during our walk at Gellert Hill I'd pretty much made a meal out of Hungarian chimney cake (what they call Kürtőskalács, but I dare not attempt to say that). We ended up dining at the For Sale Pub, a quirky Hungarian restaurant right across the street from the market since our dining time ended up being on the later side. If you want to try a prix fixe lunch menu, check out Off Beat Budapest's Guide to the 10 best options.
Ruin Bar Exploration
Visiting one of Budapest's ruin bars is practically a requirement in the city. Scattered around the old Jewish Quarter, ruins have been converted into hip bars (some more makeshift than others) that can be visited by day or night (pre or post-dinner, though you'd probably be best to go after dinner if you want an extra lively experience). We opted to visit Anker't, an expansive and rather established space set not far from the buzziness of Andrassy Avenue. The most iconic of ruin bars is Szimpla Kert, which is referenced as being the original ruin bar. For those that like the idea of a ruin bar in theory but prefer more polish, Mazel Tov may fit the bill. We enjoyed brunch at Mazel Tov but it's beautifully lit by night for an evening meal or a drink.
Dinner in Budapest
Alright, let's talk dinner. You're in Budapest and you'll likely want to take a plunge into the Hungarian food scene. We opted for our first dinner in the historic Jewish Quarter at M Restaurant, a quirky hip spot serving up great food at reasonable prices. Generally speaking Hungarian food seemed to skew towards the heavy side (and meat-laden side) but I found plenty of wonderful options at M Restaurant for veg-friendly bites. Worth keeping in mind: this restaurant is cash only which can be a bit of a math game in Hungary. $1 is equivalent to about 280 Hungarian Forint so there's always a hefty amount of math involved. Look closely at those bills when you're leaving cash, too, because it's easy to get confused with such large denominations in your wallet!
Day 2  Budapest by Water
During the second of our two days in Budapest we opted for a fabulous brunch, a visit to St. Stephen's Basilica, some river based exploration, and a swanky night out exploring rooftop bars and enjoying a fine-dining experience.
Brunch in Budapest
Our dining decisions (yes, even breakfasts and brunches) are often premeditated when we travel, and we usually give just as much consideration to where we're going to dine as where we're going to stay in a given city. In Budapest we were excited to see that there's a bit of a restaurant renaissance that seems to be happening in the capital. While Hungarian food traditionally slants towards the heavier side, a range of restaurants from casual to fine-dining are offering lighter fare and dabbling in international cuisine. We headed to Mazel Tov Restaurant for brunch, where we sipped on frothy lattés and noshed on elevated Israel street food to start our day.
Enjoying breakfast or brunch is such a vacation luxury for me… it's the one meal that I never really savor in real life. Most of the time breakfast is a cup of coffee or a Greek yogurt to go, so being able to enjoy a leisurely morning meal is a major vacay moment. Anyone else feel like that? Want some more breakfast + brunch inspiration? Off Beat Budapest shares 10 best breakfast spots in Budapest.
Danube River Cruise
We knew that we wanted to include a Danube River cruise as part of our Budapest exploration so when the 48 hour HOHO tour ticket included this complimentary we knew it made sense. There's a specific boat and a specific pick up point outlined in the brochure, and we opted for one of the day's earlier departures at 11AM. I mentioned that we were fortunate enough to have stunningly perfect weather during our two days in Budapest, which made a river cruise an absolute must for us. The cruise was an hour-long journey past Margaret Island, enough time to see some of the gorgeous architecture that lines the river banks. The Parliament building is an absolute icon but there are other buildings that'll keep the photographers in the group snapping away.
We arrived about 20 minutes before our boat's departure and were the first people on board. If you're able, arrive early so you can get premier seats at the front in the open air. They sell beverages on board so have some cash prepared so you can enjoy a Hungarian beer during your cruise.
St. Stephen's Basilica
After our morning cruise, we made our way to St. Stephen's Basilica, a stunning Roman Catholic church in the heart of town. If you've been in grand European churches before, the inside here will be similar to what you've seen, not that it makes it any less beautiful to see first hand. The church is free to enter but you'll have to pay to access the stairwell that leads to the viewing platform. I'm all about the views so we made our way up the many stairs that led to the view points upstairs. For those with mobility issues, there's a small elevator as well. Nearby you'll have plenty of options for a mid-day bite with a lovely view of the square.
Pre-Dinner Bar Hopping
We're too fascinated with hotels and restaurants to miss out on the opportunity for a bar hopping excursion. For us it's a great way to have a brief brush with new spaces, concepts, and views during an otherwise short stint in a destination. For the evening we started out at the Aria Hotel in Budapest, a beautiful centrally located five-star property themed around music. The Aria is home to a gorgeous rooftop lounge and some fun craft cocktails, perfect to enjoy during sunset. Many of the seats were reserved when we popped up there so we were lucky to get a couple of chairs further from the railing. If you know you'd like to visit it may be worth calling in advance to see if you can reserve a table (there may be a F&B minimum for reservations).
Following our sunset cocktail at the Aria Hotel we headed down to Tuk Tuk Bar, a sexy cool cocktail bar inspired by 1920s Shanghai. Yes, it's as cool as it sounds and the cocktail list is incredibly creative. We moseyed on up to the bar and sat with the bartender, gazing at all of his fresh inputs as he crafted cocktails infused with green tea, Japanese whiskies, yuzu, chili and spices. Go after the sun has set though so you don't spend precious daylight hours in a dark space. It's perfect for a pre-dinner cocktail or a place to lounge post-dinner for a nightcap.
Gourmet Dining
With two days in Budapest and as many dinners, we wanted to mix up our experiences to try out a hip new Hungarian spot (M Restaurant, above), plus a restaurant steeped in tradition. When we think of Hungarian cuisine we often conjure up the down home classics like goulash, paprika-spiced meats, and hortobágyi, but Budapest also has a beautifully sophisticated side with Michelin-starred restaurants that are elevating classics and putting a new spin on Hungarian flavors. For our upscale evening we headed to Gundel Restaurant, a dining establishment with a long history and old world vibe. Expect a high-end dining experience with violinists playing for you table side. Based on our dinner there, I'd say that the experience is more of the draw than the food itself. If we make it back, I have my eye on Onyx, a two Michelin starred restaurant with a great tasting menu. It's a bit of a splurge compared with other restaurants in Budapest but compared to most international cities, pricing is competitive (about $120 per person for a dinner tasting menu).
Where to Stay in Budapest
Lastly, let's talk where to stay in Budapest. When you start researching, you'll have the option of narrowing down hotel properties by district. If you haven't been to Budapest before it seems a bit confusing and overwhelming initially but you'll quickly notice that many premier hotels are concentrated in District V, the main tourist area. We generally opt for boutique properties but in Budapest our most intriguing options were larger chain properties. We opted for the Kempinski Hotel Corvinus, which was extremely well located with wonderful service. Nearby options include the Four Seasons Gresham Palace, Ritz-Carlton, the Aria Hotel, the Intercontinental and the Sofitel. As first timers, we enjoyed being centrally located within walking distance of many of the city's main sights. While you'll pay a premium to be in the thick of it all, we found it was worth it to be within walking distance of the city's most iconic tourist draws. Check out The Culture Trip's guide to Budapest's Districts for a great overview on each area.
---
I know what you're thinking — the famous Széchenyi Thermal Baths are blatantly missing from this round up. Yes! During our visit I'd just gone through a few medical procedures that made pools – especially a shared thermal bath! – off limits. For many visitors to Budapest the thermal baths are part of the experience. Many of the Hop On Hop Off buses will include a stop here if you'd like to incorporate it into your itinerary.
Final thoughts on the Hungarian capital and our take after two days in Budapest? It exceeded expectations. When my sister began brainstorming her honeymoon destinations I was quick to suggest Budapest as part of their European itinerary. It's still relatively budget-friendly compared with much of Western Europe, it's visually stunning with its gorgeous architecture and riverside locale, and it's rich with history and activities. Would we return? Resounding yes.
Have you been to Hungary? What's on your itinerary for two days in Budapest?