One of Italy's most captivating coastal enclaves, the Amalfi Coast is one of the country's top destinations for travelers looking for seaside luxury during the sizzling summer months. When it comes to choosing a home base and sorting out your itinerary, drilling down a bit to understand the town layout and distances on the coast is critical. After having spent the past year in Italy off and on with a few visits to this stunning coastal region, I'm sharing some insight on how to examine the Amalfi Coast when you're planning travel, which towns may be right for you, how to get around, and more!
Understanding the Amalfi Coast – and Getting Around
The Amalfi Coast consists of 13 towns that hug the mountainous seaside region on Italy's west coast for 40 kilometers. Positano is the most northern town on the coast and you'll discover a number of towns along the seaside until you hit Vietri sul Mare in the south, about a two-hour drive depending on road conditions. I equate the winding cliffside with California's PCH; undoubtedly gorgeous and scenic, but definitely not driving conditions designed for people looking to get from Point A to Point B quickly. With two-way traffic, cars parked on the roadside, and buses in the summer months, driving is practically an Olympic sport on the coast and takes time to navigate and enjoy. While we rent cars often to explore, the Amalfi Coast was a place where we consciously chose to ditch our wheels to avoid parking woes and driving stresses. I'd suggest hiring a private driver if you want to explore by car for a day, knowing you can rely on local knowledge and save the headaches.
Beyond driving, you'll have the option of the SITA buses as well which work their way down the coast. The bus is an option but it's worth knowing that the bus gets crammed in the height of the season. If you're planning on using the bus, I'd stay in Positano or Amalfi so you can board at one of the two bigger stops. Staying somewhere in the middle – say Praiano or Atrani – means that by the time the bus hits your stop, half the world has already boarded leaving no room for more passengers.
Lastly, you'll have the option of water-based transport. There are scheduled ferries that visit different towns and there are private boats for hire to explore during the season if budget permits. Your concierge can help sort out options there — or say hello if Compass & Vine can help with planning your trip to the Amalfi Coast.
I've started with the logistics part to lay the groundwork a bit for why it's important to understand the towns and where you'd like to stay. Here's a visual from Sorrento to Salerno to showcase a few major coastal towns in relation to one another:
Coming from Naples, once you pass the Sorrentine Peninsula, you'll hit the coast beginning with Positano.
The Towns
I mentioned earlier that there are 13 towns that make up the Costiera Amalfitana: Amalfi, Atrani, Cetara, Conca de' Marini, Furore, Maiori, Minori, Positano, Praiano, Ravello, Scala, Tramonti, and Vietri sul Mare. Of those, most people have heard of maybe 3 – 5 of them, most notably Amalfi, Ravello, and Positano. Amalfi is the largest town on the coast, with a population of about 5000; while Atrani is the smallest coastal town. That said, all of the towns have a local population and accommodations and it can be hard to discern the differences when you're digging into where to stay, and tempted by lower price points in off-the-beaten-path towns.
For the sake of making this useful, I'm going to talk mostly about Positano, Amalfi, and Ravello here; the three primary towns, and then lump others together in case you're considering basing yourselves elsewhere.
Positano
Positano is widely considered the gem of the Amalfi Coast. Many of the scenes we often conjure when thinking about the coast are of Positano; a cluster of sun-bleached houses cascading down the hillside down to the black sand beach. Positano is home to some of the region's most beloved hotels, including Le Sirenuse and Il San Pietro, and offers a great range of luxury four-star options as well. During that first visit 10 years ago, I vowed that I would return and stay in Positano, and we did just that. We opted for Hotel Palazzo Murat, a great property in a wonderful location in the heart of Positano.
As far as beaches go, the ones you'll find in Positano are some of the best in the region (temper your expectations), and you'll also find great day clubs and seaside daytime restaurants to enjoy like Da Adolfo, Arienzo, and others. The section of town closest to the seaside is pedestrianized which makes wandering much more enjoyable.
Positano's popularity means two things though: 1) On the positive side, there are lots of cute boutiques and a slew of bars and restaurants available for sunset cocktails and great dining on the coast. To me, this is a key point given that you're not as likely to visit other towns for dinner, knowing you'll have to deal with logistics. 2) The downside, as to be expected, is that its popularity and charm draws crowds so you'll be dealing with premium prices and crowds during the summer months. If you want Positano access but a more peaceful reprieve, check out an alternative option like Casa Angelina in Praiano where they offer shuttle services to Positano.
Amalfi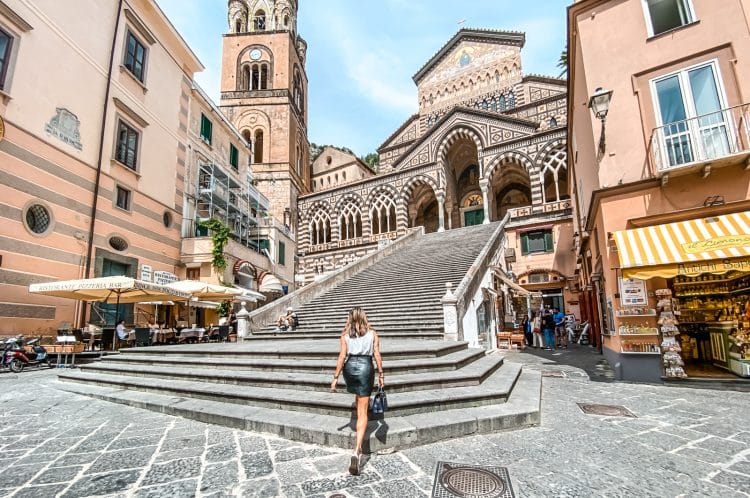 As the largest town on the coast, Amalfi lends the seaside stretch its name. Amalfi is a central point along the coast and makes a great hub for logistics: you're just down from Ravello for an easy visit and can hop on ferries or buses rather easily to explore other towns. That said, I'll shoot it to you straight: I don't find the town of Amalfi itself as charming of a home base. There are some iconic images in Amalfi and it's absolutely worth visiting, but I find it lacks a bit of the polish and prettiness that you'll find in Positano or Ravello. There are plenty of accommodation options, and the most luxe option is arguably the Hotel Santa Caterina, situated just outside of the main town for a blend of access and seclusion.   
Ravello
Beautiful Ravello sits up, up, up, on the coast with elevations that give it next-level views over the coast below. When crafting an itinerary, Ravello often gets brought into the conversation in conjunction with a seaside town. I would probably argue that Ravello is the most luxe of the towns on the coast, and I think it's slightly more isolated location allows it to remain that way. Ravello is home to a few of the region's most gorgeous five-star properties, Belmond Hotel Caruso and Palazzo Avino, plus is famous for its stunning gardens, Villa Rufolo and Villa Cimbrone. What you lose in seaside access, you make up for in spades with vistas. And, honestly, unless you're really set on going to the sea, a pool may be perfect to enjoy the sun and the beauty of the region without crowds.
Ravello is a bit of an artist's enclave, hosting a music festival, and historically home to many artisans which have given the town its feel. At the time of our visit (end of May during COVID), Ravello properties were about a week away from opening so we were unable to stay here as we had originally planned. On a future visit, I would incorporate Ravello or possibly exclusively stay here. While Ravello is set a bit away from the main beach area, it's worth keeping in mind most luxury accommodations will offer or include transfers in your rate.
Atrani and Praiano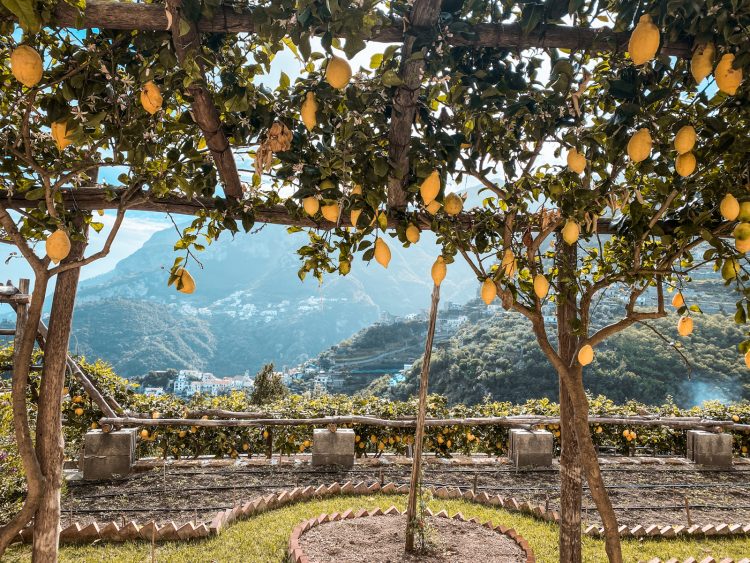 Atrani is the coast's smallest town and while there aren't any world-famous accommodations that call this town home, you can find hotels and Airbnbs here. Being a tiny town, there's less on offer so you'll likely want to access neighboring towns for activities and offerings.
Praiano, by contrast, is another lovely town that has a bit of a Positano feel without as many visitors to contend with. It's mid-sized and has more on offer than many of the other small towns listed. Beyond Positano, Amalfi, and Ravello listed above; Praiano could easily be woven into that conversation of another great option for a home base on the Amalfi Coast. Casa Angelina Lifestyle hotel is based here for those looking for 5*, but there are a number of great 4* options as well. I find Praiano a great middle-ground with good dining options, fewer crowds, and a good location adjacent to Positano. 
Minori, Maiori, and Further South
Technically the Amalfi Coast continues south past Amalfi toward Vietri sur Mare, but in the context of visiting for most travelers to the region, Amalfi is probably the furthest south you'd likely choose as a home base. We visited Minori, home to Sal de Riso's famous restaurant (featured in Stanley Tucci's Finding Italy), and while we found it charming, you'll likely want to position yourself further north, especially if it's your first time in the region.
Agerola and Bomerano
Lastly, we'll talk the hilltop towns of Agerola and Bomerano. During my last trip over 10 years ago, I was on a deep grad school budget visiting the Amalfi Coast in the height of the season. Needless to say, the hotspot coastal towns were out of our budget and we stayed in the hilltop area of Agerola and took the buses each day to explore. It was the best we could do and I still adored the region, but it was far from ideal as buses can take an hour to reach the coast, sucking up a lot of valuable time. For hikers, you may still visit this area as this is the start of the famous Sentiero degli Dei hike, the path of the gods, which takes you from the hilltop down to Positano with a grand finale of some 1700 steps.
What about Capri?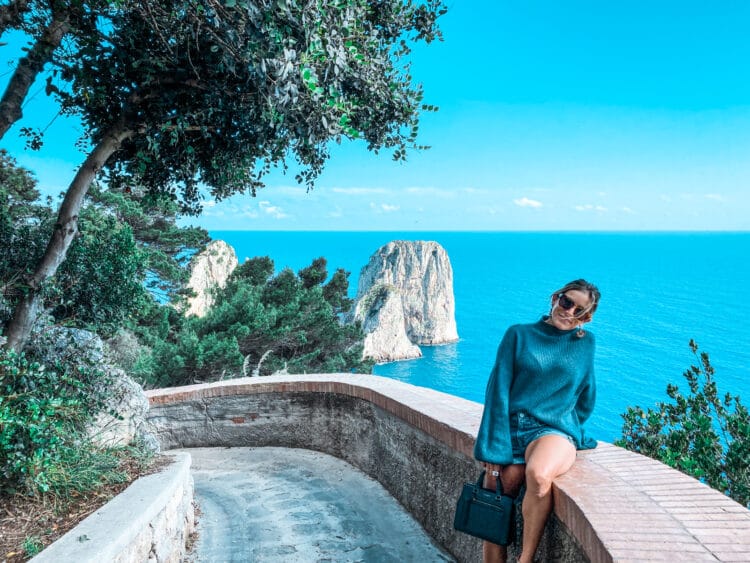 Capri is an island that sits off of the Amalfi Coast in the Bay of Naples. It's stunning and it's worthy of time dedicated to exploring the island on its own. If you're crunched for time and must do a day trip, that's an option (ferries transit from the coast to Capri in high season) but it's hard to get a full grasp and feel for the island with just a single day since there's a lot to enjoy and nighttime can feel more peaceful on the island. If you have a week on the Amalfi Coast, I'd suggest 3 nights in Capri + 4 nights on the coast.
Read my full post on 3 days in Capri for more inspiration!
Getting to the Amalfi Coast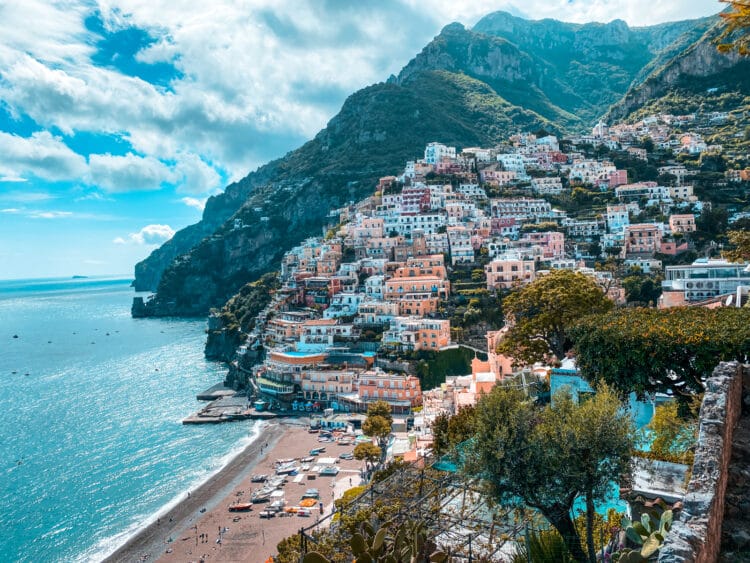 Naples Airport is the gateway to the region and is offering more international flights, including a direct flight from Newark (EWR) for American travelers coming from – or connecting through – the East Coast. If Rome is part of your itinerary as well, you can easily start there instead with a few extra logistical components. If you arrive in Naples, you can hire a driver for the journey from the airport to your hotel on the coast, or to the ferry terminal in Naples for ferries to Capri. If you're starting in Rome, take the highspeed train (Frecciarossa or Italo) from Rome Termini to Napoli Centrale (about 1 hr 15 min, usually €45 – €50pp), then cab to the ferry terminal (€20, about 15 minutes depending on traffic and how crazy your driver is) or to the coast.
On a separate note, a common question I get from first-timers to Italy is around the differences in Cinque Terre vs. the Amalfi Coast – how are they different? Which is better? While both share colorful cascading landscapes and seaside vibes, Cinque Terre and the Amalfi Coast are very different in many ways, from location and accommodation options to overall vibe and experiences. Read my piece on Cinque Terre vs. the Amalfi Coast for more insight and guidance and reach out to me for help with planning!
---
Is the Amalfi Coast on your list for this summer or fall? If so, say hello if you need planning help or leave a comment for any questions or favorites that I missed out on!