I'll admit it, I've pondered this same question on previous trips to Italy: do I incorporate Cinque Terre or the Amalfi Coast into my itinerary? It's often an either/or conversation because both destinations seem to have similar draws: beachy locales, colorfully cascading buildings, good hiking, and a predilection for lemons, but for as many similarities that the two regions have, they're also notably different and offer different experiences for travelers. Below, I'm sharing a rundown on an overview of Cinque Terre vs. the Amalfi Coast for those deciding between the two for an upcoming trip to Italy.
👉🏼 Want some help with the planning? Let me help craft your Italian itinerary so we can figure out which regions and places in Italy are best for you!
Getting to Cinque Terre vs. the Amalfi Coast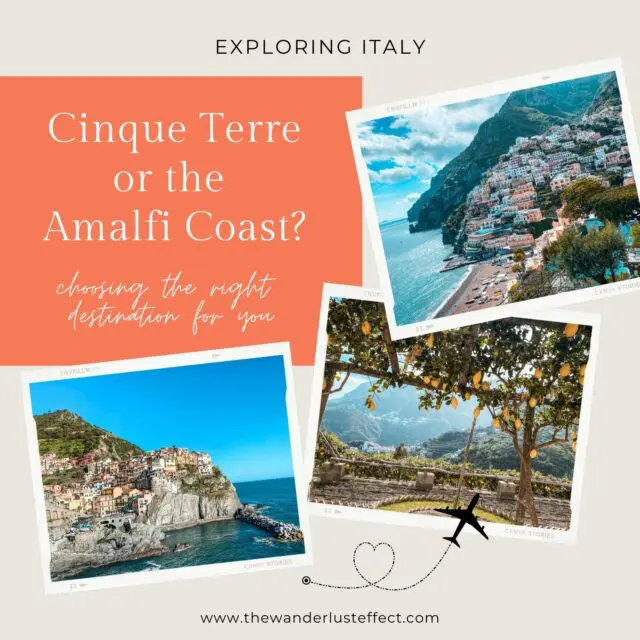 Typically either Cinque Terre or the Amalfi Coast will be part of a larger Italian itinerary, but your overall circuit and flow may dictate which coastal destination works best for you.
For Cinque Terre: Cinque Terre is in Liguria, the coastal province that hugs the coast just north of Tuscany. Milan (MXP) will be your closest major international airport (about 3 hours driving), while Florence and Pisa are alternative options if you're traveling within the region. Cinque Terre would most reasonably be combined with travel in Northern Italy, easily mixed with Milan, Lake Como, Portofino, Emilia-Romagna, the region of Piemonte or northern Tuscany.
For the Amalfi Coast: The Amalfi Coast sits further south along Italy's western coast. International travelers will ideally fly into Naples but Rome is a reasonable alternative depending on flight access. From Naples, you're close. A private transfer, a ferry, or a bus will deliver you to the heart of the coast. From Rome, you'll need to take the train to Naples (about an hour and a half with the high-speed train) and then continue on to the coast. The Amalfi Coast would most easily be combined with the isle of Capri, Rome and possibly Tuscany for a longer trip.
Let me also note that Italy is the size of Arizona which means getting around on a broader scale is absolutely feasible but with too much transit time, you'll lose time on the ground enjoying la dolce vita. If you're dealing with 7 – 10 days, as typical with many travelers on fixed schedules, you're better off trying to find a tighter circuit where less time is wasted in transit.
Cinque Terre vs. Amalfi Coast Vibes
When I wrote a similar post once upon a time about Anguilla vs. St Barths, I noted that the vibe was probably the best way to describe the difference between the two. For many travelers, the atmosphere itself is a make-it-or-break-it component and understanding the differences in the overall feel can be helpful in your decision making. Let me also note that vibe and experience is a bit subjective and will differ depending on the season in which you travel so take this as a general sentiment.
While both regions are composed of a collection of picturesque seaside towns, Cinque Terre feels more like a low-key fishing area in my opinion. That's not to say it's not crowded and touristed, but it feels overall more approachable in terms of luxury and caters more to a backpacking crowds than the Amalfi Coast does. You'll find a range of quaint hotels and B&Bs plus some hostels further afield in La Spezia. In Cinque Terre, local celebrated fare is low-key; hunks of fresh focaccia, locally sourced pesto, and fried anchovies served up in paper cones to take as you wander. There are some luxury hotels, but they're not as pervasive as they are on the Amalfi Coast.
The Amalfi Coast, by contrast, really celebrates luxe living. That's not to say that you can't visit on a more moderate budget, but it's much tougher to find reasonably priced accommodations in the prime towns (Positano, Ravello, and Amalfi). Some of Italy's finest hotels are situated on the Amalfi Coast with properties like Belmond Hotel Caruso, Le Sirenuse, Hotel il San Pietro, Palazzo Avino, Casa Angelina, and so many more dotting the seaside. There are a range of restaurants but generally, you'll find the more touristed towns offer spendier options.
If your vibe is a bit more low-key and you are more interested in a shorts and t-shirt night vs. a dressed-up evening, Cinque Terre may be a better fit for you. If you're a fan of fancy cocktails and a dressed up scene, head to the Amalfi Coast.
Cinque Terre vs. Amalfi Coast Landscape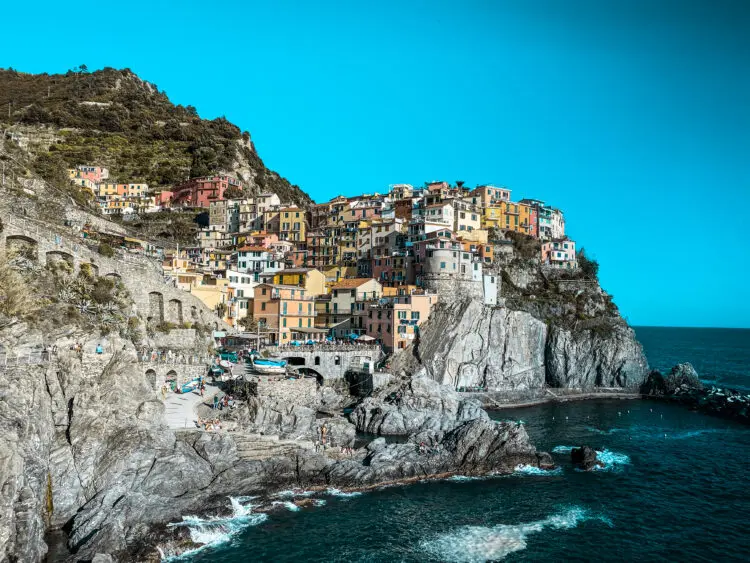 While the photos will project similar feels and landscapes in Cinque Terre and the Amalfi Coast, there's one primary difference: beaches. Let me preface this all by saying that beach expectations should be tempered in Italy in general. There are some exceptions but if you're looking for Caribbean-esque beaches, Italy is probably not your place. That said, the Amalfi Coast's beaches actually exist, which gives them a firm upper hand over Cinque Terre.
In Cinque Terre, the only real beach – and the one you've likely seen photographed – is in Monterosso, where colorful umbrellas line the stretch. You'll find people in Riomaggiore and Manarola perched on rocky outcroppings getting sun but there's little that resembles a beach in Cinque Terre beyond Monterosso. By contrast, you'll find beaches on the Amalfi Coast from Marina Grande and Arienzo Beach in Positano to the beaches in Praiano, Amalfi, Maiori, and beyond. While they're not white, powdery sandy beaches, they're a place to perch by the water while soaking up the summer sun… and the views don't hurt!
Also worth noting, Cinque Terre is a more compact region, which makes it lovely for hiking from town to town, and train journeys are a breeze, usually just five minutes to go from one town to the next. By contrast, the Amalfi Coast includes 14 towns stretching down 40 kilometers from Positano at the north to Vietri sul Mare in the south. There is no train that connects the towns, though the SITA bus is available for some public transportation-based journeys.
Highlights and Must-Have Experiences
Besides being seaside, one common thread you'll notice between Cinque Terre and the Amalfi Coast is their love for lemons! Lemons are life-sized here and you'll find restaurants in lemon groves, roadside carts serving up lemon granitas, limoncello served after dinner, and pottery adorned with lemon prints. Don't miss your fix – it's fresh, delicious, and embodies Italian summer. While lemons are arguably more synonymous with the Amalfi Coast, there just as prevalent in Cinque Terre.
In Cinque Terre: Cinque Terre quite literally translates to 'Five Towns', representing the five fishing villages that make up the region: Riomaggiore, Manarola, Corniglia, Vernazza, and Monterosso. Each town has a bit of its own personality and for any visitor seeing all the villages is must in order to get a better sense of the area. For active travelers, this likely means breaking a sweat on a hike between the towns (helps burn off those lemon granitas!), which is practically a rite of passage for visitors to the area. For less mobile travelers or for anyone short on time, taking the train between each town is a simple and cost-effective way to get around. Ferries also run between towns but schedules can vary.
On the Amalfi Coast: Depending on your time and overall itinerary, a few things to consider: a day trip to Capri (though I'd suggest at least 3 days in Capri if you can swing it!), a beachy lunch at a beloved locale like Da Adolfo's or Arienzo Beach Club, a glitzy pre-dinner drink at one of the region's premier restaurants or hotels (consider Franco's Bar at Le Sirenuse for something central), and a journey down the Amalfi Coast to explore the seaside towns. You'll likely be based in one town for your entire time unless you choose to split a longer stay between a beach town and the hilltop town of Ravello. Consider a driver for exploring the coastal towns and some of their hotspots stress-free.
Pricing in Cinque Terre vs. the Amalfi Coast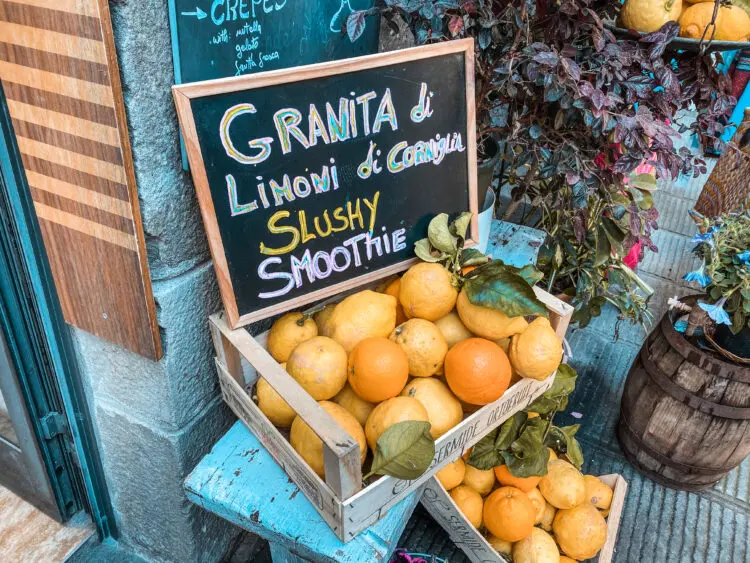 Pricing in Italy can vary quite a bit from the countryside to the coast to the islands, and from north to south. Here, I'll talk about pricing in a few ways that  will impact you: pricing as far as accommodations go, pricing as far as dining is concerned, and overall pricing for experiences.
In Cinque Terre: Generally speaking, all around pricing in Cinque Terre comes in quite a bit lower than the Amalfi Coast in high season. Accommodations in Cinque Terre are generally more affordable and you're likely to see more backpackers in this region due to the availability of hostels in La Spezia, the gateway to Cinque Terre. While there are some lovely restaurants in the region – including Trattoria Dal Billy in Manarola which was a favorite of ours! – many options are a bit more casual and offer more budget-friendly meal items than you'll see on the Amalfi Coast. You'll want to factor in the cost of hiking in the region or train tickets to get from town to town, plus possibly a boat trip along the coast if you're inclined.
On the Amalfi Coast: The Amalfi Coast will general come in quite a bit higher than Cinque Terre, particularly in high season when the contrast is notably significant. The Amalfi Coast is virtually at capacity in the summer and with demand at its peak, pricing follows suit. The coast's premium hotel properties' prices soar into the €1000s per night for accommodations. If you're keen on luxury accommodations but don't want to splurge quite that much, consider the shoulder season months of May and early June, or September when pricing will be more reasonable. Dining can always be a mixed bag depending on your preferences, but the AC offers up some exceptional and renowned outposts with spectacular views and splurgy pricing to match. Activity wise, ferries to the coastal towns are reasonably priced (around €9 from Amalfi to Positano for example) but if you're keen on private boats, private drivers, etc., budget accordingly as private experiences can be a notable premium.
---
A natural follow up question is whether integrating both regions into a single itinerary is a worthwhile exercise. If you have ample time in Italy with lots of extra time to explore the coast and you've done other key cities in the country you may enjoy seeing both regions. That said, I wouldn't necessarily advise incorporating both regions into a single trip. Italy is hugely diverse from foodie Piemonte to the Dolomites in the north, down to the scenic panoramas of the Tuscan and Umbrian countrysides, and city fixes like Rome, Florence, and Venice. While Cinque Terre and the Amalfi Coast are unique, they're similar enough that I would choose one and then incorporate different Italian experiences into a broader trip. I'll share a handful of sample two-week itineraries for Italy in a forthcoming post for some inspiration!
Now, your turn to share. Have you been to Cinque Terre or the Amalfi Coast? Which area is your favorite?