After spending a day in Nairobi, a couple of days getting settled into Kenyan Coast life and a couple of days on safari (here), we were off for another adventure on Wednesday: deep sea fishing with Mtwapa-based fishing operator, Big Fish. In truth, I've never really been fishing before. I remember one time, about 20 or so years ago, when my dad and I sat on a dock somewhere near-ish to where we lived, put worms on a hook (he handled this gruesome task for me), and waited patiently to catch fish. We waited for hours and I was bored to tears. From that moment on, I decided that I hated fishing.
Fast forward to Anguilla life when a guest caught a 40-pound tuna and generously gave us a fresh slab, from which we created the freshest most delicious sashimi, drizzled with a bit of soy sauce and sesame oil and served with a generous helping of ginger and wasabi. It was perfection and I was intrigued. This whole notion of a) catching fish and b) eating what you catch actually sounded like something I may like.
Now, here was the second issue of concern when it came to fishing: I'm a pescetarian. I don't eat meat (chicken, pork, beef, etc.), but I do eat fish and shellfish. Scott was afraid that a deep sea fishing encounter may push me back to a full on vegetarian lifestyle after seeing fish meet their demise. I rather naively thought that fish sort of automatically died when they were caught. I never gave it much thought and preferred not to give it much thought. In my mind, the fish bit the hook and immediately fell into a deep sleep from which never to return. This is apparently not the case.
In any case, I wanted to go deep sea fishing in a place that's famed for its great sport fishing. People were out there catching marlin, sailfish, tuna and the like. We were going to take home our catch (if, fingers crossed, there was a catch), and cook it up for dinner. Fresh, fresh, fresh.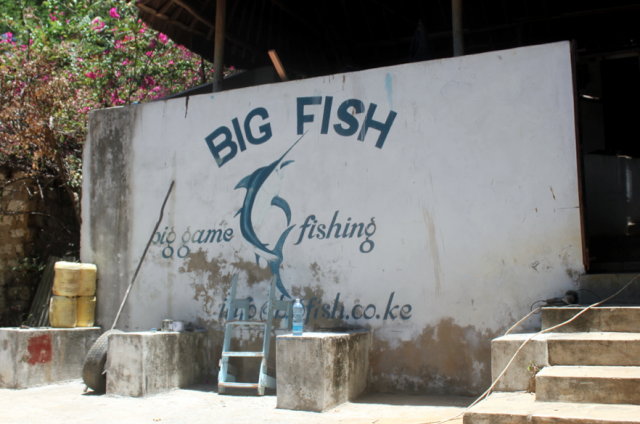 We headed south from Takaungu to Mtwapa where we hopped on board with the fishermen at Big Fish. We opted for a half-day charter which included four hours at sea, all of the equipment (of course), two fishermen, a captain and the ability to keep what we caught.
The fishermen, Francis and Marta, expertly trained us on how we were going to use the equipment when a fish bit. There were seven (yes, SEVEN) rods affixed to this boat sitting at different depths with the hope that we catch a range of fish. Again, as someone who had never been deep sea fishing, I'd envisioned us sitting off the boat, each holding a rod for four hours. Now knowing what it's like to reel in one of these bad boys, the thought of that is pretty laughable.
Within 30 or so minutes, a fish was clearly on the line and  I was first up to reel it in (Scott's family generously let me go first as I'd never experienced this before). I sat in the fancy chair, set the rod in the opening and began reeling; lifting and reeling on repeat for what felt like minutes. My arms were burning from the motion but I kept on keeping on until I finally had to ask Scott for help. He jumped in the chair to get his arm workout and pulled in a dorado, big — about 25 pounds, maybe more — and brightly colored. I'm not sure how it actually died but I didn't see it (nor did I want to). We laid him to rest on ice in the cooler/fish box (I'm sure this has a real name, but I have no idea what it is) until the end of our journey.
It was a while, over an hour perhaps, before another fish caught. My brother-in-law was up next and reeled in the biggest catch of the day, another dorado just slightly larger in size than the one I had caught earlier. Soon after, two lines caught simultaneously, calling Scott and his dad to the helm to each reel in their catches. While Scott's got loose, his dad pulled in another dorado. Our tally was up to three and we were content. We had plenty of fish to make ceviche, have a great fish dinner and have fish sandwiches for lunch to come.
Beyond the fishing, it was a pleasure just being out on the Indian Ocean and seeing the Kenyan Coast from a different perspective. We sailed by stunning homes and tucked away properties, we chatted with the fishermen in a meager attempt to learn Swahili, we marveled at the sapphire-like hue of the Indian Ocean (I personally marveled at the fact that I was even on the Indian Ocean), and we sipped on rosé and Tuskers (for the boys) while taking in the sunshine and sea breeze.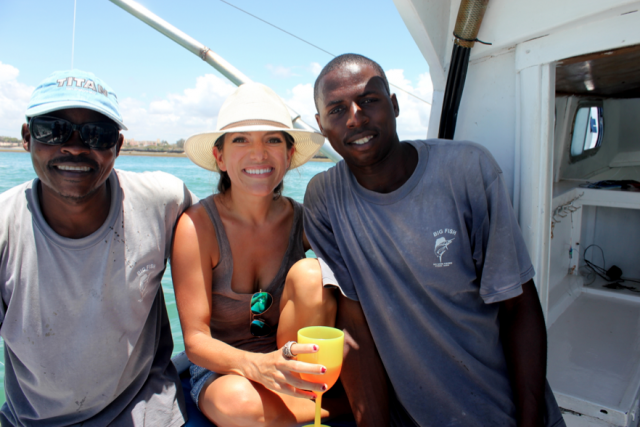 Had we not caught any fish, the day would have still been spectacular. The fact that we did catch fish just made the whole experience a bit sweeter. We disembarked shortly after 12PM and headed north past Takaungu back to the Kilifi Boat Yard for lunch before heading back home. We spent a bit of time in the pool during the early evening, chatting about our day and talking about what was in store for the rest of the trip, which was slowly coming to a close. There were two things on our agenda that we firmly set in stone: snorkeling at the marine park in Malindi and another meal at Monsoon in Mtwapa.
Oh, and that fish we caught? Apparently the chef knew how to make a killer ceviche:
Yeah, it's as good as it looks.
Stay tuned for the recap from the rest of our time in Kenya!
xo,