After our stint in the Sacred Valley, we loaded up, departed Cusco, and headed to Iquitos by way of Lima. Our Amazon river cruise on the Aria (Aqua Expeditions) was slated to leave on Friday from Iquitos so we decided to spend our extra night in the small town to explore and experience a different side of Peru.
Iquitos is the largest city that's not accessible by road. The name 'Iquitos' quite literally means 'isolated by water', and tourists are only able to reach it by plane or by boat. We arrived late on Thursday night after a delayed LAN flight (yet again). We arrived in time to grab some dinner at Dawn on the Amazon Cafe and enjoy a decent night's sleep before exploring on Friday.
After doing a bit of research on the jungle town, we had some ideas of what we wanted to do and see while we were in the area. The primary mode of transportation in the region is the ever-present motocarro, tuk-tuks that act as cabs for most visitors. 'Cabs' are extremely affordable (we didn't pay more than S./ 7 to get anywhere in Iquitos) and make it extremely easy to get around the area. Many drivers don't speak English so a decent knowledge of Spanish will help you from Point A to Point B.
Belen, an area in Iquitos that houses about 40% of the population, is one of the main tourist areas and is home to a local market that draws tourists. We had heard that the market wasn't for the faint of heart with locals serving up larvae, turtle and homemade potions. Since we weren't overly familiar with the region, we asked the receptionist at our hotel, Casa Morey, to help us enlist a tour guide for the day. One of the other employees who had a great grasp of English and of Iquitos' history, helped show us around for the morning.
We left around 8:30AM for the market to explore. For anyone going, wear close-toed shoes. The ground is muddy and the covering is composed of tarp strewn about to protect from heat and rain. The market is lined with vendors doling out local food from soups, rice and larvae skewers (seriously) to raw meats, fruits and vegetables to be used at home. The air was still and hot when we were there and the meat attracted lots of flies that perched themselves all over the food; food that would be purchased by locals or restaurants and consumed. I wasn't repulsed by any of it, actually. Not the chopped up turtle (though it was saddening), not the larvae, not the 'juices' that were being brewed in the sun and not the boa blood that would act as some sort of healing agent for the sick. I was a bit put off by the smell, though. I found myself having to discreetly cover my face with a scarf to not inhale the fumes of the fish and meat that were marinating in the sun.
Belen is an interesting little area. The homes are built on stilts, enough to elevate the homes during rainy season. During low season you can walk in the mud; during high season, residents get around by canoe with water coming up to the entry points to their house. Our guide explained that Belen is a rather unregulated part of town: people can build without permission, permits or taxation. For anyone that can build and survive: it's theirs.
After our stint at Belen Market, we jumped in a cab to the waterfront where we grabbed a water taxi (S/. 50) to the Pilpintuwasi Animal Orphanage and Butterfly Farm (post on that here). By boat, the ride took around 30 minutes; about 10 minutes in I was a bit skeptical about where the driver was actually taking us, but we turned up at the doorstep of the orphanage where we were able to take a tour led by the volunteers.
After our tour, the guide suggested a stop at a boa farm. Now, call me crazy, but a snake farm isn't exactly on the top of my list of things to do and see, but Scott quickly said yes to the offer and the boat driver made a pit stop at a home-turned-zoo-like establishment. We paid S/. 20 each for entry and were greeted by a toucan and a baby monkey that were delivered to us to hold. Super cute, but I've seen Outbreak one too many times to comfortably hold a baby monkey from the jungle.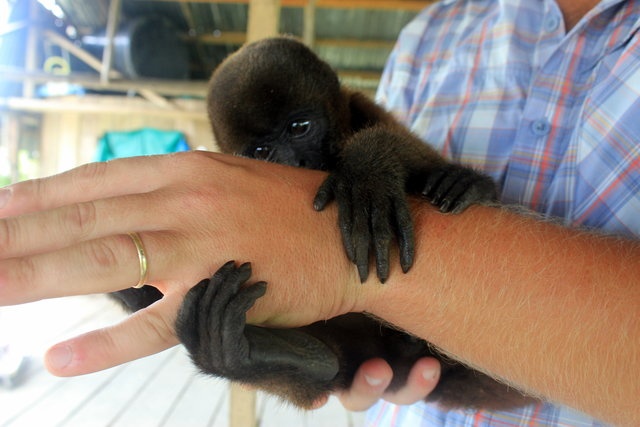 After our entrance, a resident (or employee?) took us to a number of elevated houses/cages with different animals that the shelter housed. Our first stop was a sloth den, followed by turtles and ultimately the boas. I'm not uploading photos of the boas, but here are some cute snapshots from our run-in with the sloths:
After the boa farm, we headed back to the mainland of Iquitos where we spent the rest of the afternoon exploring the main square on foot and having lunch at Dawn on the Amazon (again). We like sticking to places we know to be sanitary, so this was our go-to for our time in the area.
Later that night, we were picked up from Casa Morey and took a tuk-tuk to the embarkation point for Aqua Expeditions' Aria cruiseboat. The experience was an incredible one to be sure and I'll be sharing photos and experiences from each day + our daily excursions!
Stay tuned for more,