Lessons and realizations from self-isolation
Day one is the worst, isn't it? Day 1 on our self-imposed quarantine after returning from the US felt like an eternity. We whipped out every game in our house and slowly busied ourselves with one thing after another starting with a 1000-piece puzzle, followed by selecting books on our shelf that we would systematically devour. I sorted out some podcasts to queue up and headed to Pinterest to find a few new recipes that I'd finally have time to test out. As most of us did, I felt like I was preparing myself for the impending apocalypse. Our refrigerator was stocked, our pantry was loaded up with a whole heap of easy-to-cook basics that we've used virtually never before, and our wine fridges were ready to be tapped into. The first day felt like 10 days as we watched the clock tick away, unfamiliar with the sensation of simply being at home. What does one do with oneself at home all. day. long? Nursing a recovering foot fresh out of a hard cast, I used my downtime to walk laps (seriously) in my house to practice with my new walking boot.
Each day got progressively simpler though, and compared with my sister who's quarantined in a hotel room in China for 14 days (a single room, no living room, no kitchen), I began feeling very fortunate. I'm isolated at home in Anguilla in a recently refurbished house (thanks, Hurricane Irma) with sea views, plenty of sunshine, a pool deck, my husband, an endless supply of entertainment courtesy of Apple TV, solid WiFi to work from home, and a dog who seemingly loves quarantine because it means mom and dad get to spend heaps of time with him. Day 1 was spent focusing on what we couldn't do being at home, but each day brought a noticeable shift with less of a focus on what I couldn't do, and more of a focus on the small things I was grateful for while at home. I'll tell you something: that mental shift does wonders for well being.
If there's a silver lining at all in the chaos of COVID, it's that it seems that we've collectively begun enjoying these seemingly small things. For those of us that are focused on the next adventure, the next jet setting opportunity, or the next big goal that's been set to accomplish, there's a transition that comes with that downshift happening overnight. Some of us just feel like we're wired to constantly be doing things so when the world forcibly slows us down, there's some initial grief and anxiety that comes with that. Perhaps there's a bit of comfort in knowing that the entire world is in this together that relieves the worry a bit. Never in my life (or my parents' life) has the world seemingly been so united in one global effort. I've begun taking stock each day of the small things that bring me joy. While the resort is closed to guests we've been fortunate enough to work from home, something that's usually not a possibility for us. Thanks to internet access (and TeamViewer, hello), we've been able to stay up-to-speed with resort happenings from our living room and have been finding new ways to integrate our daily life into our new normal. Today, Scott and I celebrate 9 years together (what we dub Founders' Day) and despite the current challenges, I can't help but feel thankful for the ways our lives have been enriched during our time at home.
Your Home Becomes an Oasis
1This mental shift has been all over social media: 'You're not stuck at home, you're safe at home.'  It's true – for any of us that are lucky enough to have a place to call home, that's something to be hugely thankful for. Our lives have always been lived at a very go-go-go pace that hasn't allowed us to fully enjoy our home. When the resort is open we're at work 7 days a week, and if we have more than a day or two off, we'd undoubtedly be setting off somewhere off the island to explore someplace new. This has been a major shift for us. We've now had nearly two weeks on the island without going to work and have spent that time enjoying our home. For many of us, there's some beauty in this. We've taken the time to clean up, reorganize a bit, and just marinate in the home we've built together.
Nature Has Renewed Beauty
2Do you remember laying outside as a kid and watching the clouds go by? I have vivid memories of laying in the grass in the summer and watching as the breeze would slowly push the clouds around, making out shapes in the sky with the sun shining. Those simple pleasures of childhood get slowly stripped away as we emerge into adulthood because really, who has time to lay outside and look at clouds? I mean, do we even notice clouds anymore? What about stars? When the world forces you to slow down though, we begin to rediscover the beauty of those seemingly simple things: clear blue skies, puffy white clouds, bright flowers blooming, the sounds and smells of the outdoors. Our major silver lining: we planted a garden earlier this year that's bearing fruit! I never fancied myself much of a gardener (I'm still pretty terrible) but I've started recognizing the joy of walking through the garden and picking fresh vegetables and herbs for dinner. Maybe my grandparents were on to something all of those years ago. Besides the local experiences of appreciating nature, there have been many positive articles coming out about how nature has been renewing itself while humans have backed off a bit. Pollution is down in many major cities, waters are running clear in places like Venice, and we're seeing other positive rebounds in nature as a small beacon of hope amidst the chaos and sadness with lives lost.
Cooking In – More Creatively – Becomes a Focus
3We've always preferred cooking in to eating out, but our quarantine time has been an exercise in cooking creativity. Like most people, we stocked our pantries and fridge to avoid too many store runs. Our grocery store avoidance means we have nights playing our own version of Chopped, putting together miscellaneous inputs to make a creative new dish. I have a husband who loves to cook (#score) but I've found a bit of my love for being in the kitchen, too. Plus, cooking in means control over our food, which in turn means healthy eating the majority of the time. With extra time to discover new recipes, we've been branching out whipping up new dishes that historically would take too much time for us to make. Plus with dishes like Georgian khinkali and homemade gnocchi we can mentally travel from home through food.
Time for Enrichment and Personal Development
4Scott walked up as I was vigorously taking notes from an intense podcast and commented on how I just love being a student. It's true — I'll take courses for the rest of my existence in one way or another because it fuels me, and I know there are lots of others out there that feel the same way. Learning about things that interest you feels empowering, but often times when faced with real-world commitments and responsibilities we simply don't have the time to carve out for the other things that form our passions. For me, this has been an opportunity to continue with our WSET Wine & Spirits education which has been a really fun educational pursuit over the past year. We both completed WSET Level 2 late last year and are beginning our Level 3 course next week now that we have the time to commit to the 85+ hour program. I've always loved wine education and we've made it a goal to visit at least one new one region per year for tastings (you can read more about our wine tasting trips). It's been enriching adding theory – and some certifications! – to that to make our wine travels more meaningful.
A few other things that I have loved doing from an enrichment standpoint:
Listening to one LSE podcast per day – I'm biased but I think their lectures are amazing and the breadth of coverage means you'll likely find something that appeals to you.
Taking a course through EdX, my go-to for online learning. I'm currently taking a class on Epidemics through Harvard, Hong Kong University and the London School of Hygiene and Tropical Medicine. You can audit courses or pay to really engage and get a certificate at the end.
That 90 Minutes of Exercise Becomes a Treat
5In Anguilla, we're house-bound with the exception of essential needs like grocery shopping, hospital visits and essential work. Beyond that, people are allowed up to 90 minutes per day to leave their home for exercise, which has become such a treat. I see photos daily of people heading to the beach with their families for swims and strolls, taking walks in their community, going for runs outdoors; things we didn't always prioritize before this. We are fortunate to have a sea-facing balcony so we get our dose of fresh air regularly, but even the simple act of going outside for a stroll feels renewing somehow. With fitness studios being a strict no-no right now, at home-workouts have become a savior for many of us. I've been prioritizing 5 – 6 days of exercise each week (no excuses) while my broken foot is on the mend and it's been a wonderful way to keep some motivation each day. So many fitness instructors are graciously providing at-home workout options. My go-tos for a heart-pumping strength training workout:
?? Let's start local! Sara from Anguilla's Retreat barre studio is providing online barre workouts through YouTube for anyone interested in breaking a sweat at home! Her style of barre is super athletic, which I love, and these are broken into 30-minute workouts vs. her traditional 50 to 60-minute sessions (pair two together for an hour-long burn). She's not charging for these at the moment so head over, subscribe, and thank me later! ??
??Fitness Blender has long been a YouTube go-to for free videos covering everything from cardio kickboxing to Pilates-style workouts. The workouts are completely free and a great resource for anyone wanting to mix up their cardio!
??PopSugar Fitness has a great range of fitness videos as well. My absolute favorite (on repeat when my foot is in regular form) is their cardio kickboxing from The Cut's Christa DiPaolo who is major fitness inspo.
?? For barre lovers who want a range of videos that range from more of a flow to 60-minute cardio-intensive sessions, Barre3 (?use that link for $10 off your subscription) has long been one of my favorites for their diversity of programs and their instructors.
Bonding Time with Your Family
6Speaking of family, have we ever had more time together with our significant others, children, parents, etc.? Scott and I are used to working together/living together/traveling together/basically spending every waking moment together but that's not the reality for most couples or most families. There's undoubtedly a bit of a shift there when it comes to spending days on end together during this WFH period, but there's some beauty in there. For families that means times with children (or maybe aging parents) that we didn't previously have as abundantly. For fellow animal parents out there, I'm sure you're with me in noticing that your pets are kind of loving quarantine life because they finally get hours on end to play. For those that aren't able to physically be with our families, there's still this lingering sentiment that comes to the fore about their health and well being. I adore my family and I always have, but I've never been so truly grateful for their health and safety as I am now. We've been checking in with each other daily by text, calls or video chat (see point #8 below), and find ourselves grateful for the seemingly simple aspect of health. We've all begun realizing that something we've largely taken for granted for so long has become the thing we're most aware of in the current climate.
Those Reading Goals Become a Reality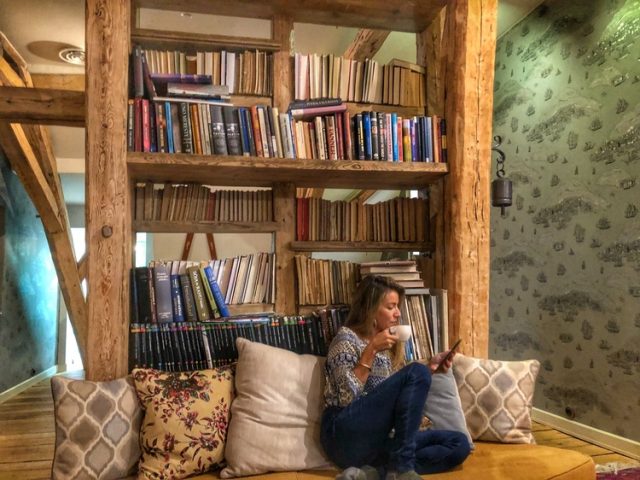 7I've set a reading goal for the past few years through GoodReads, where I generally aim for 20 – 25 books per year. It's enough to keep me motivated with a couple of books per month but isn't so aggressive that it feels unachievable. At the end of last year, I found myself cramming four books into December as I worked to reach my goal. This year I've been gifted some time that I hadn't expected which means that reading goal is definitely going to happen (I'll be kicking myself if not), and I've found a more enjoyable pace for it. Pair that with the fact that I can read while getting some sun on our balcony, and it's a pretty good combo.
A few of my top reads from the past couple of years: Becoming by Michelle Obama, Where the Crawdad's Sing by Delia Owens, the Pillars of the Earth series by Ken Follett, I Am Pilgrim by Terry Hayes, and pretty much anything by Alafair Burke, who I'm lucky enough to call a friend.
Video Chats with Family and Friends are a Thing
8Don't we all wish we would have purchased some stock in Zoom about 6 weeks ago? Group chats on Zoom are a thing now, and not for just for business calls, but for family and friend get-togethers. My mother is far from tech-savvy and managed to figure out how to log into a Zoom chat which was a source of major pride for her a few days ago (don't think we weren't celebrating, too — we were wowed). My sister popped in from Shanghai, I joined from Anguilla, and my parents joined from their separate homes in California for a Zoom chat that was long overdue. In the many years that we've lived scattered about the globe (I've been in the Caribbean for 7+ years and in Europe prior to that; my sister has been in Asia for nearly 4 years) we've never done this, but all of a sudden it's become part of our family communication. We have another Zoom sesh scheduled for tonight and it's become a highlight. With friends we've done the same thing, logging in with a glass of vino for a shared happy hour to catch up on each other's lives. We have to socially distance but we don't have to cut off our social connections. We live in a time that's made it easier than ever to connect from afar.
We're Brainstorming How to Support Small Businesses
9All businesses – big and small – are taking a huge hit right now but our collective hearts have gone out to small businesses who are struggling with cash flow, trying to figure out how to stay afloat and provide their staff with some small opportunities for income. We had to shut our resort down temporarily, and there's no doubt that others in hospitality are feeling the squeeze. The same is true for our hairdressers, massage therapists, fitness instructors, etc. Everyone that I personally support in those areas are sole proprietors and right now when social distancing means we are absolutely under no circumstances going in to get our hair done or going in for a fitness session, that means zero income for people who had expected regular cash flow. There's been a wonderful focus on digging into how we can continue to support these people in a way that makes sense: buying gift cards in advance, purchasing merchandise, or simply paying your monthly payment as you normally would (if your financial situation permits) even without services rendered. For restaurants, this means to-go dinners vs. dining in, but helps provide establishments with a bit of income to support a few employees during a really tough time.
Travel Dreaming Gives Us Hope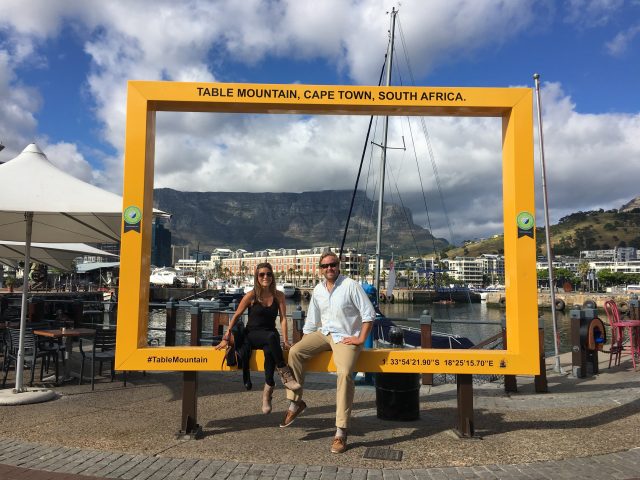 10Finally, finally, let's talk travel. We can't go anywhere at the moment but this will be past us in time, and right now we have more time to daydream, research, and plan than we've ever had before. For us, that's delving into our three major upcoming trips including our fall getaway to South Africa and Zanzibar. We've surprised my parents with this trip (a major dream for me!) so we're so thrilled to be sharing some of our favorite South Africa experiences (including the Birkenhead House, yes) with them this fall. I always made time to plan but now I have time to put even more effort into making it a trip to remember. Now, perhaps more than ever, I feel so immensely grateful for the ability to travel and our freedom of movement. Let's make a pact never to take that for granted again, shall we?
---
The reality is that most of us will be locked down for the coming month, and while it's not an ideal situation for any of us, our collective hope should be that we're contributing to the effort to flatten the curve and make the world a safer place for the people that we love and for those out there that are higher-risk populations. In the meanwhile, maybe it's best we flip the script and think of this as a unique opportunity with some extra time on our hands to recognize and celebrate the small things that we've taken for granted for too long.
Stay safe and healthy, friends. If you have any favorite new discoveries from quarantine, please share them below!