It's a bit disorienting returning to a place and finding it so much different from when you left it. We're fortunate in that we were mentally prepared for our return to Anguilla. We had seen photos of the hotel, of the villa, and of our house, all of which were hit pretty hard by the storm. Our house in particular sustained a lot of damage.
We'd prepared ourselves for the absolute worst. The roof largely came off of our house from what we'd heard and seen, so we arrived back on island assuming we had nothing except for the clothing and items that we'd packed into a few small suitcases for our month-long journey through Europe. I've never cursed myself so much for packing light. I'm always so proud of my carry-on only prowess, and it really came back to bite me this time. Couldn't I have just packed a nice 50-pound suitcase full of extra clothing this one time?!
On the flip side, I've never been happier about our focus on spending our money on experiences versus things. Honestly, I have nothing that's particularly valuable. We've spent most of the money that we've made in our marriage on travel, on making memories together and with our families. Most of my clothing comes from department store markdowns and Express end-of-summer sales. I've never been one to spend on designer shoes or name-brand bags, and quite honestly have never really understood the appeal of doing that. Of the nice things we owned in our house, nearly all of it was given as a gift for our wedding (those beautiful Nambé bowls, Kitchen Aid mixer and food processor, Le Creuset pans, etc.). I've always felt money was better spent on life, and told myself that one day maybe that would change. Maybe I'd start diverting money towards things and building out our home a bit more with little luxuries. When someone or something comes and strips away nearly everything you own, you feel pretty grateful that you really didn't own a ton of significant financial value. When we evaluated our house yesterday morning, our assessment was that maybe 5 -10% of our things were salvageable.
Seeing our house for the first time was pretty devastating. There's a limit to the mental preparation. Seeing everything you own broken down to bits and pieces is hard. Our team at the hotel had gone over the house to cover everything with plastic after Hurricane Irma. With no roof, we were susceptible to the other hurricanes passing (Jose and Maria) and hoped that some covering would spare whatever was left from the onslaught of rain. The plastic now held pools of muddy water, with mosquitos circling everywhere. If I let myself stop moving for a moment, a small contingent of a dozen or so would settle on my leg. The downstairs was our welcome home, all the fencing and screening mangled like it was made of floss. I found my laptop case down there, saturated and contorted. I reached inside for a couple of my most valuable items: my external hard drives loaded up with seven years of digital photos and documents that had been compiled. They were gone, strewn somewhere in our house, I hoped.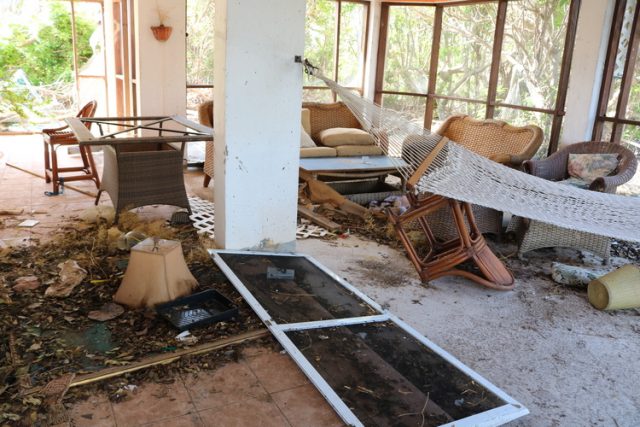 We moved room by room, seeing the devastation. We started with what was once our den, books on the floor soaked with muddy water, and the door broken into pieces like it was a ripped piece of paper. The guest room stood next to it with no roof, all of the leftover items huddled up in the back like they themselves were hiding from something.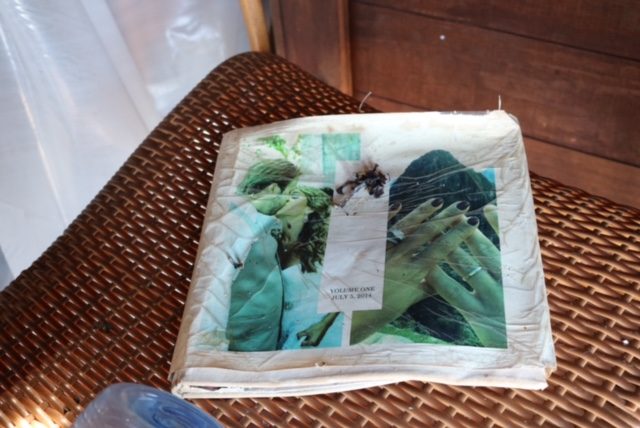 The kitchen was a war zone. The cabinets were ripped right off of the walls, and all the contents were scattered about on the floor, smatterings of teriyaki sauce and canned goods mixed in with broken glass and a sea of plastic cups. The whole area was covered with plastic. It now filled with inches of water, which was sitting, looking for an exit.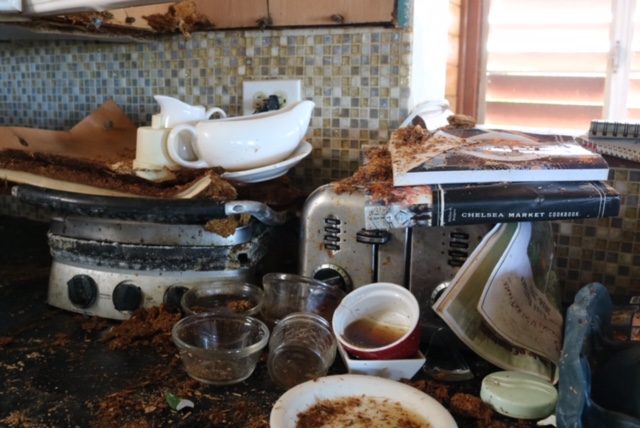 Then there was our bedroom; our poor, poor bedroom that Irma clearly hated, too. We walked in with the sun shining clear into the space, the roof ripped right off over our closets and entry space. Bits of jewelry were scattered on the floor mixed with wet clothing, pieces of wood, and blocks of cement that were once part of the walls of our home. The bathroom was a mess but the vanity – the one we just bought a few months ago – withstood the hurricane well and the drawers were a little haven for some of our items. Scott will tell you that if I own anything of financial value, it's my skin care products. It's true – I probably spend more on that than on anything else that I own, and those things that I'd left behind were safely tucked into their drawers. Small blessings.
We'd assessed. We had come to terms with the fact that our house really was pretty bad. It wasn't just the photos making it look like a scary place. In fact, the photos didn't tell the full story – there was more damage and mess than we could have imagined. Now, it was time to begin clean up, and I'll tell you that when you're entire house is torn to bits like this it's difficult to know where to start. The key is starting, though; moving step by step, piece by piece from one corner to the next, saving what you can and then throwing away what clearly is unsalvageable.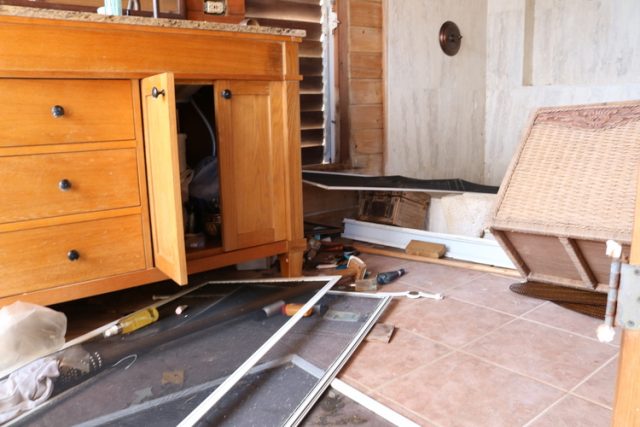 We had the help of a few of our team members at Frangipani who made our clean up substantially easier and more manageable. We removed the hurricane shutters that were keeping in the steam and mosquitos. We removed the tarps bit by bit and drained as much water as we could outside. We threw chunks of furniture out through open windows so we could begin clearing the inside before we make the time to look at the outside (that's still a bit down the road). We walked through our house and swept up broken bits of ceramic from fallen plates. We picked up shattered crystal from our champagne flutes, the pair we had from our wedding day. I threw away an entire bag containing all of my shoes, now covered in a thick layer of green, slimy mold. I sifted through our clothes, wet with muddy water, smelling of mildew with black spots everywhere. I felt pangs of sadness here and there – saying goodbye to a nice dress or to pairs of shoes that had been with me forever; throwing out shirts and shorts en masse, as if they were nothing but dirty rags. Yet I also felt so grateful that none of these things were really that important to me in the big scheme of things. They were really just things, most were easily replaceable, and yet so many people put such a value on physical items. I mean, I'd probably be crying, too if I realized that I had spent a portion of my life's savings on a handbag or shoe collection that was gone overnight. Fortunately I have nothing of the sort.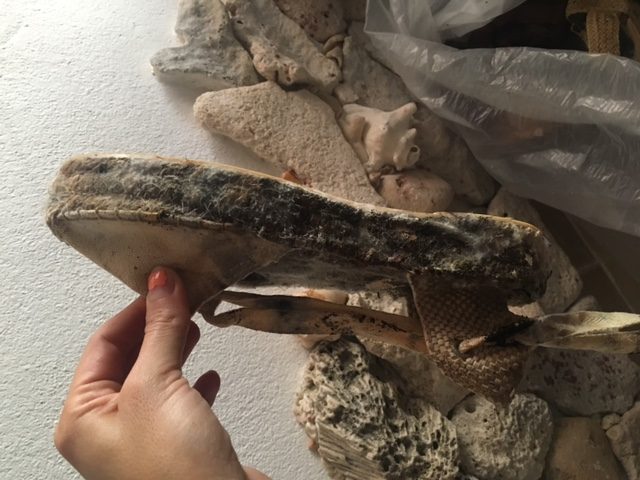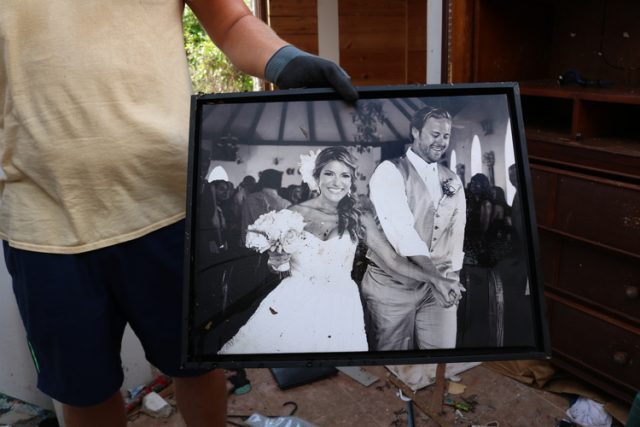 The things that hit particularly hard were the things that are irreplaceable. As the guys helped us clean, they'd pull out bits to check with us. I sifted through a bag – it once contained a wedding gift and now contained all of the cards given to us on our wedding day. Covered in water, they were nothing anymore but a glob of paper that once had memories and notes from people we love. My wedding dress was covered with a thick layer of mud at the bottom, soaking up the residue from Irma (on the bright side, I wasn't planning on wearing it again any time soon). Then there was our wedding guest book, still alive, slick with water and salt, pages stuck together so we could no longer read the messages that our wedding guests had left us. I can count on one hand the number of financially valuable pieces of jewelry that I own, and all of them were with me while we were away. One piece that I didn't bring was a gold bracelet that my grandma gave me last year, a piece that her mother-in-law had given her, purchased in Malta decades back. It was a piece crafted of gold links and I wore it rarely but kept it in a place where I could see it because for whatever financial value it had, its sentimental value was exponentially higher. I've accepted that it was swallowed up by Irma and thrown somewhere into an abyss with a hodge podge of belongings from other people somewhere.
During our clean up, Scott spotted my hard drive sitting in the middle of our bedroom under a pile of rubble. It was there, and seemed to be okay from what I could tell. I can't tell you the excitement when I got home and realized that it did work after all of that. We still have so much work to be done. Rooms yet to be cleaned out and much more to be thrown away. The process to making our place inhabitable again is a long one. To make it feel like home again feels quite a while away. Yet there's still some hope in all of it. As we go through, bit by bit, piece by piece, there are some shreds left over that seem extra valuable now. What's left of our belongings fit into the backseat and trunk of our tiny Yaris, and we escorted them to a room at the hotel where we're staying until our house can be repaired.
I'll tell you one of the hardest/most frustrating things to contend with are the questions asking how our 'vacation' was. "Did you guys have fun?"
Umm… did we have fun? I mean, we saw gorgeous places and we're so grateful for the time that we were able to spend away, and we're very grateful for the people who helped make our trip special, but September was maybe the most stressful and anxiety-ridden month of my life… and it continues. Nearly every conversation we had revolved around Anguilla, there were days that I spent responding to emails for 5 or 6 hours a night until I could no longer type without nodding off. I woke up in the morning, anxious about what we were going to learn that day or what emails were piling up. We were on the phone multiple times a day trying to learn as much as we could about the situation in Anguilla with the hopes that we could relay that to people inquiring. We had learned that our the roof of our home was ripped off and we had likely lost everything. We had learned that our hotel – our place of business and really our life – was severely damaged and that we'd be going home to a place very different from where we left it. We worried about our staff, and worked on fundraising for them to help get everyone back on their feet. I mean, yes – we were stressed and anxiety-ridden in new and pretty places, but I'm not sure if I'd qualify what we did in September as a 'vacation' by any stretch. We worked day in and day out, doing some of the jobs of people in Anguilla when they couldn't, and experiencing more stress in that month than we did for most of our working year. I try to respond in the positive when people ask but it's a question that irks a bit; a supposition that we were able to disconnect our brains from reality and be gallivanting, oblivious to what was happening at home. Who can really do that when your life has been altered so dramatically?
It's good to be home. Despite the hot and sweaty nights without power and the mess still waiting to be cleaned up, we're home. Even if it's a home that's far different from the way we left it, we're trudging forward day by day, excited to rebuild and regain some normalcy.