I'm currently in San Diego, mentally making notes of all of the adventures I want to recap from our incredible trip home. We started our adventures in San Francisco, made our way to Napa, headed back to SF, made our way up to Sacramento and spent a day in Tahoe. Since my grandmother's birthday took place during our trip, I thought that a worthy place to begin with sharing our tales. If you've been reading my misadventures for any length of time, you may recall our trip to Apple Hill for wine tasting last year. Clearly this is our go-to for my grandmother's birthday when we don't know what else to do.
On the bright side, it seems to go over well.
In addition to the typical cast of family members, we had two other guests from Anguilla in tow to share in the experience. We started out the day at Jack Russell Brewery where we spent time in their tasting room as well as their new tasting cave towards the back of the property. I'm not much of a beer drinker, but the setup of this place is tough to beat. They brew a number of beers and have them all listed behind the bar, showing a given beer's strength, hoppiness/maltiness, etc. You can get a standard 16 oz. beer ($4) or opt for the 4 oz. beer shooters for $1 each to try a range. Naturally, we opted for the latter.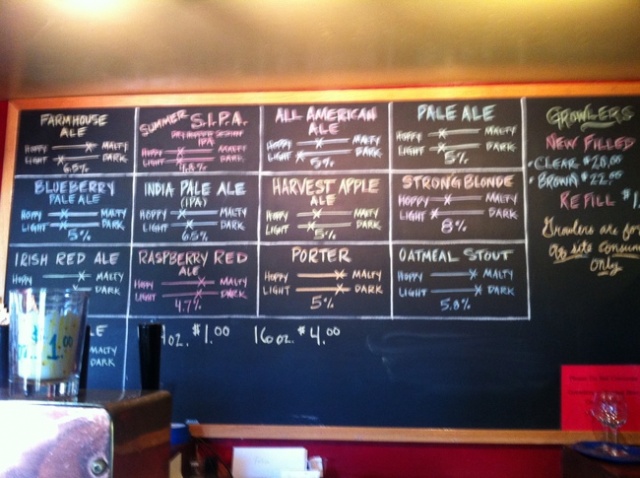 Their 'cave', for lack of a better word, housed a different set of tastings: ciders, meads and wines. My time at pubs in the UK rendered me a cider fan (always a good alternative for a non-beer drinker), so I was happy to see some tastings that were up my alley. The cyser was definitely a hit!
 After our time at Jack Russell, we made our way to a number of apple orchards before heading to Madroña Vineyards. Now, when you're wine tasting in El Dorado County, you're not faced with the endless options that you find in Napa or Sonoma. There are 8 – 10 wineries in the Apple Hill region and we've been to all of them (not a hard feat). That being said, we picked our top few to revisit based on location and previous experiences. We knew the drill at Madroña but were happy to re-visit the spot with new guests in tow.
After a solid tasting at Madrona, we escaped with 4 bottles amongst our group and made our way to Jodar Winery. Jodar has always ranked as a favorite spot for our family. On the weekends, their tastings are great; wines are paired with all kinds of complementary bites (think bruschetta, chocolate, dates & goat cheese). Our weekday tasting didn't offer the same snacks, but I left daydreaming about homemade port fro-yo after taking a sip of their syrupy grand finale (still on my must-try list).
Our final stop was another tried and true favorite: Boeger. The first time I ever went wine tasting was with Scott in Apple Hill, which is perhaps why it holds a special place in my heart. Boeger, with their famed Barbera, was one that I specifically remember since it was our first stop. I knew nothing about wine (I know only slightly more now), and distinctly remember the staff encouraging me to taste the apple, the berries and the peppers in different wines as we went through the tasting menu. I left loving the concept of wine tasting and hating that my palate couldn't distinguish between peppers, plums, and 'earth' (whatever that means).
Let's be honest, can anyone actually pick up these things without reading the tasting menu? Maybe they can. Maybe that's why people actually get away with selling $200+ bottles of wine.
After our day of wine tasting, apple buying and pie baking, we headed back to Scott's family's home where his mother hosted an incredible dinner to wish nana a happy birthday.
I may be biased, but my favorite little nugget looks pretty darn good for 88. Happy belated birthday, nana!
xoxo from California,