When people think about wine tasting in California, thoughts typically drift to vineyard-drenched Napa Valley where the wineries are plentiful and the wine is famously good. Far less attention is paid to El Dorado County where wineries are intermixed with Apple Hill's apple farms and You Pick orchards.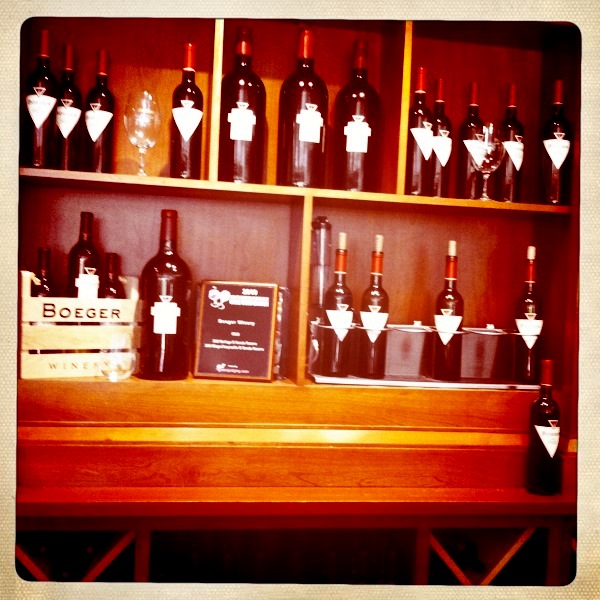 After Scott introduced me to El Dorado County's hidden gem earlier this year, I was in love. Free tasting and a fun community feel within a doable day trip timeframe. With a three-day weekend, the fam and I decided to head back up to Apple Hill for a wine tasting excursion and a visit to the newly opened Apple Farms! A girl friend of mine who's practically part of the family joined in on the fun.
We made our rounds and started at Madroña Vineyards near the main Apple Hill drag. Like the other El Dorado wineries, Madrona offers free tastings for the majority of their wines, plus $5 for their reserve wines (you get $3 off a bottle if you go that route). Per my grandma's suggestion, we ended up leaving with a bottle of the Merlot in hand (and an already borderline-tipsy grandma).
We followed the map's loop of wineries and made our second stop at Jodar. Jodar is now officially my favorite spot in the area — amazing wines, wonderful staff and the (free) mini pairings they offer really put them over the top, in my book. A+ for effort! Typically, I'm not a huge red wine drinker but I was loving all of the reds that they were pouring at Jodar. We ended up leaving with a bottle of their port, which was unbelievably delicious, and a few accompaniments that we couldn't pass up.
I'm impressed that my grandmother made it through the second round of wine tastings in one piece!
We made a quick stop at Jack Russell Brewery after Jodar so the carnivores could grab a quick Labor Day-inspired All-American bite (burgers and hot dogs with chili). After refueling, we made our way to Lava Cap for a quick stop.
Lava Cap is not one of my favorite wineries. The wine might be great (I'm not 100% sure), but I've been there three times now and have never been impressed with the service. It's not that they're not friendly — they are, to an extent — but they always just seem so busy; too busy. It's not like there are more bodies in there than at the other wineries, but I have yet to experience the same friendly environment that we have at Jodar or Wofford Acres. Next time I'm back in the area, I probably will just skip Lava Cap altogether.
After our quick stop at Lava Cap, we headed to one of our most favorite spots in the area, Wofford Acres. This is definitely my second favorite spot and it's neck-in-neck with Jodar for my #1 pick. The views are great, the staff is incredibly knowledgable and you can tell that they really like educating people about wine. Gotta love the passion!
After Wofford, we made one last stop at Boeger Winery. The last time I went to Boeger was with Scott back in April. It was our first stop so it brought back lots of fun memories! Their tasting room definitely takes the cake… it's incredibly spacious and has a great rustic luxe feel. In addition to wines, they also have a slew of goodies for sale on the floor: BBQ sauces, dips, cheeses, olives, crackers, etc. To top it off, they have an awesome little picnic area that looks entirely too inviting. It's the perfect place to settle in for the afternoon with a picnic lunch and a bottle of wine.
 After a fair share of wine tasting, we made one last pit stop before heading home. A stop in Apple Hill isn't complete without stopping at an apple shop!
It was opening weekend so the offerings weren't quite what they are during high season, but it was definitely enough to get me excited for another trip during the fall. The scent of Apple Hill during high season brings back so many memories of childhood, from field trips to family excursions getting our annual pumpkins and gnawing on caramel and chocolate-covered apples. How do you beat apples + wine tasting for a quick fall getaway?
xoxo,