"Architecture is a visual art, and the buildings speak for themselves." – Julia Morgan
I'm no architecture buff and I'm okay with admitting that. I can appreciate a beautiful building as much as the next girl, but I've never really taken the time to understand architecture and its role in any cityscape. During our recent visit to Chicago, there was one thing that was recommended above everything in the city by Chicagoans and visitors alike: an architecture tour by boat along the Chicago River. In our three days in the city, we had one sunny day that lent itself perfectly to a river tour and we knew we couldn't pass it up.
With the departure point positioned on the Riverwalk, just a short walk from our home base at the Aqua Towers, we opted for the first outing of the day at 9AM for our 90-minute tour to maximize our day and avoid the crowds. We hopped aboard Chicago's First Lady Cruises with the Chicago Architecture Foundation and chose a few seats upstairs to take advantage of the newfound sunshine. There are a few operators of similar tours, but CAF was highly recommended and from our experience, provided incredible insight and an amazing amount of knowledge in a mere hour and a half. For those wondering about facilities on board, there is a bathroom available for guest use and a bar downstairs that serves up everything from mimosas to adult lemonades. Guests have the ability to pop down at any point for their choice of libations (anywhere between $8 and $12 each).
For those, like me, who aren't sure that an 'architecture tour' is really their cup of tea, let me tell you that the tour is far more than just architecture, though architecture is used to anchor the dialogue. A docent from the Chicago Architecture Foundation is on board to guide the tour, pointing out key points along the skyline like the iconic Wrigley Building with its clock tower and French-inspired details; the Sears Tower (now Willis Tower), which was the tallest building in the world when it was first designed; the Trump Tower with its in-your-face lettering, plus lesser-known buildings that may otherwise blend into the skyline for the average observer.
The docent on our tour had been leading tours such as this since 1993 along with a host of other volunteers who help keep these tours alive. For those passionate about architecture, Chicago is a rich city for a tour, and our docent did an excellent job of explaining the timeline of architecture in Chicago, and the importance of each building within the cityscape. The tour inevitably delved into Chicago's history, with each architectural style, from the early warehouses and historic revival period to contemporary architecture representing a distinct period in the city's history.
The river is an integral element of Chicago's evolution, so cruising down and taking in the continued growth of the city and gentrifying areas helps with providing context to Chicago's changing landscape and role in the US. We passed by an area known to be the starting point of the Chicago Fire of 1871, cruised through an up-and-coming area that would have been neglected just a decade back, and discussed the engineering feat of reversing the flow of the river to help improve the water pollution, which had become toxic with population growth.
At the Michigan Avenue Bridge, the bridge's anchor points and the views of European-inspired Wrigley Building and the Tribune Building nearby give a total sophisticated French feel to the space, an homage to key architects' hope of making Chicago 'Paris on the prairie.' Yet surrounding those sophisticated and ornate buildings are super modern high rises that sit in stark contrast. It was something that I had noticed – I'm sure most visitors notice the differing architecture of the buildings that dot the skyline – but never really considered or appreciated. Our discussion of the changing architecture reflected in the cityscape was really of a discussion of the city's changing role. The old post office and major warehouses that were key buildings when Chicago was home of a booming mail-order business are no longer relevant as times change and technology advances. Those buildings are relatively obsolete now, with architects vying to repurpose old buildings for something greater. More modern and LEED-certified buildings are making their way into the cityscape with a focus on sustainability at the fore.
I had to include the photo below, which is not standard for the tour. We had to make a pit stop at the La Salle bridge as a helicopter swooped in overhead for 15 or so minutes to handle construction work. I've never seen anything like this, so was pretty amazed by the process of the helicopter flying in low overhead, picking up supplies, and then transporting them to the roof of a neighboring building. You'll see a mini clip of this in the video below, too!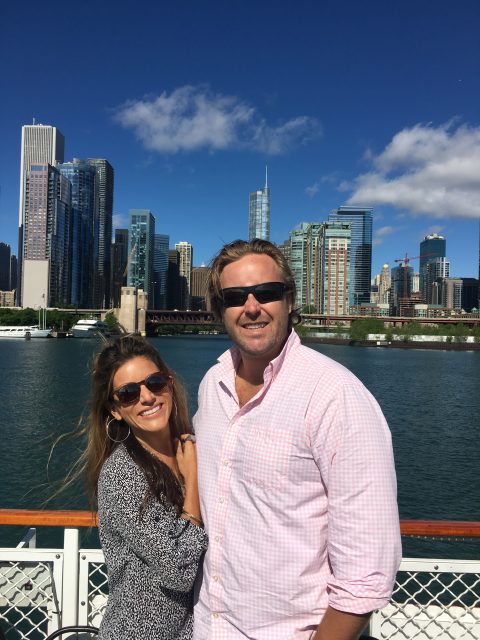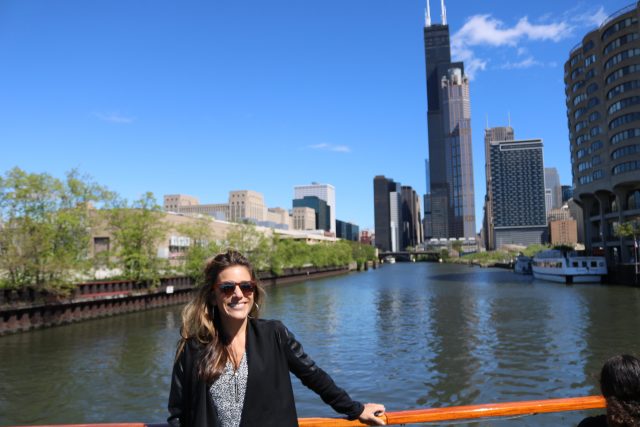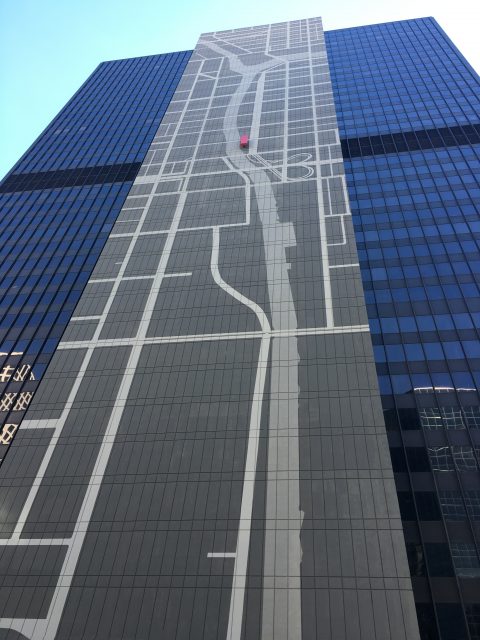 For first time visitors to Chicago, this tour (or their photo tour option) is a great way to get your bearings, learn a bit about Chicago's history through its architecture, and to just take in the city by water.
Take a glimpse into a minute's worth of our tour, for some gorgeous glimpses of the Chicago skyline:

Tour Notes: The tour is $46 per person, and tickets are available for purchase in advance, but can be purchased day of at the departure point of the tour near the Michigan Bridge. Night tours are also available for $49 each. A docent, a volunteer from the Chicago Architecture Foundation, will be on board but tips are not accepted. If you're able to depart on the first tour out and the weather is working in your favor, do it. We found our tour to be relatively sparse but a line was forming for later tours by 10:30AM.
Have you done an Architecture Tour in Chicago? What was your take?