When it comes to wine in the Cyclades, Santorini gets all the love, but wine tasting goes far beyond Santorini when it comes to Cycladic varietals and opportunities to delve into Greece's wine scene. I have a full post on wine tasting in the Cyclades (with all the nitty-gritty details of where, how, and why) but to start, let's take a peek at wine bars in the Cyclades that are worth putting on your list as you make your way down the island chain. Have more favorites to include? Leave a comment below with any wine bars in Greece that you've enjoyed!
Oinohoros, Naxos
1If you read about our food and wine tour in Naxos with Philema Tours, then you'll already know the serendipitous story about how we first met Konstantinos at his wine bar, Oinohoros, in Naxos. We were headed home, ready to hit the hay before our morning food and wine tour, only to stumble upon to a perfect little wine shop and bar tucked into a side street that was calling our name. Konstantinos' shop celebrates Greek wines from all over the country. If you're interested in wine but know nothing about Greek wines, he's the perfect guide for the task. Tell him which international varietals you do enjoy (or what you like in a wine in general) and he'll pair you up with some Greek wines that you'll love. He knocked it out of the park with our reds and helped us fall in love with Greek winemaking.
📍 FIND IT: Odos Komiakis, Naxos Town 84300 Greece (Located between Naxos Old Town and Agios Giorgios)
Koukos, Paros
2Koukos is a little wine gem in Paros, situated just across the bridge from the main heart of Naousa. I'm not sure that I would have discovered it left to my own devices but the wine gods – which are definitely alive and well in Greece – had bigger plans for us. In search of wine bars whilst walking the streets of Paros, a local wine shop pointed us to Koukos, which offers a broad selection of wines, with a number available by the glass. Now, what if you want a tasting vs. a whole glass? I asked our server if we could maybe, just possibly, split our wines into 75ml pours vs. one 150ml pour and she happily participated! We opted for two whites, two rosés, and two reds which ended up being perfect for us to try a variety. They also offer dessert wines and sparklings depending on what interests you most.
📍 FIND IT: Perched above Naousa's historic harbor across the bridge from the main heart of Naousa.
Moraitis Wine Bar, Paros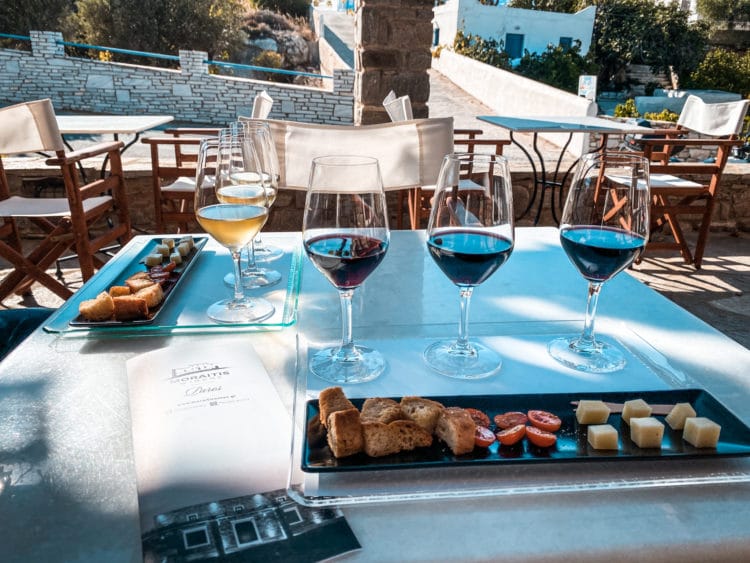 3Moraitis is the big dog in Paros as far as wine is concerned. They're the primary winery on the island producing some of the region's standouts, and both their winery and satellite wine bar are lovely, chic spaces. The winery itself is perfect for a full-blown tasting experience with a series of options on offer (more on that in my post about wine tasting in the Cyclades). In Naousa itself at the edge of town they also offer their wine bar and shop which occupies a smaller space in an absolutely perfect location. If you're interested in trying some of Moraitis' wines but don't want to venture to the winery this is a perfect pre or post-dinner stop for a glass of vino!
📍 FIND IT: Epar. Od. Naoussas-Marpissas, Naousa 844 01 (The winery is at the edge of town of Naousa)
La Vigne, Naxos
4Oh, charming La Vigne. Naxos Old Town is a labyrinth and finding anything here can feel impossible at times but it really does add to the charm of this picture-perfect area. There are a number of wine bars in Naxos Town but a few of them failed to deliver when we actually popped in. La Vigne is tiny but it's a great spot for a glass or two of wine if you're looking for something unique while you wander around in the evenings. Their by the glass list isn't huge (just 3 or so of each varietal) but the offerings were thoughtful when we were there. We each had a glass of wine that we hadn't seen on any other wine lists, and they set us back just €5 – 7 per glass (one of the beauties of Greece).
📍 FIND IT: Old Town, Naxos 843 00 (follow the signs!)
Kastro's, Mykonos
5When it came to finding places offering Greek-focused wines in Mykonos, we were struggling a bit. Mykonos is a very international island and as such it caters to a more jetset audience in search of offerings beyond a good Xinomavro or Agiorgitiko. You'll find lots of menus that have great wines from Italy, France, the US and beyond, but many fail to highlight Greek wines. Kastro's, a fabulous restaurant located in Little Venice, is making wine a major focus. They have a great by-the-glass selection including a bunch of high-end wines available with a Coravin. We constructed our own tasting by trying a few Xinomavros side-by-side with the help of their somm. The somm was doing the WSET on the same timeframe and same level as us so we had a great time chatting with him and he was so helpful and engaged with helping us try a variety of wines that were new-to-us. My lesson here? If you're a wine lover, wear it loud and proud with the somm (not in an obnoxious way) so they know you'll appreciate their insight. They're passionate about wine and excited to find people who are interested in Greek wines, too. Let them show you their favorites and take it as an opportunity to learn from the pros!
📍 FIND IT: Agion Anargyron 1 Paraportiani Church, Little Venice, Mikonos 846 00
Omega3, Sifnos
6Okay, okay, this isn't actually a wine bar, either, but it's a great restaurant in Sifnos with an amazing wine list and a somm who made our meal utterly spectacular with our pairings. Sifnos is a tough island on the wine front as they don't really have any major wine bars or any wineries worth putting your agenda. Upscale restaurants end up being a wonderful way to incorporate great Greek wines into the mix. The beauty here is that the wines aren't solely Cycladic focused; they really embrace Greek wines from a variety of regions with some really unique offerings available. Talk to the somm about helping craft a pairing with your meal — he graciously created an amazing menu for us that was out of this world. 
📍FIND IT: Πλατύς Γιαλός Sifnos, 840 03
Armenaki, Milos
7Lastly, for wine tasting in Milos, head to Armenaki. There's actually a winery nearby in Apollonia but the breadth of wine options at Armenaki gives a better sampling of Greek wines. Armenaki offers a wine tasting option during happy hour (from about 5 – 7PM) for €35 per couple. The tasting includes six wines plus a cheese and charcuterie platter, and they'll cater the tasting based on your preferences. We opted for a tasting that included whites, reds, rosé and a retsina, but you could skew more towards whites or reds depending on your preferences. They'll arm you with a map of Greece to explain where each wine is from to give you better context and a bit of insight into different wine making regions in the country. Overall, very fun and affordable experience!
---
Do you have any wine bars in the Cyclades or in Greece broadly that have wowed you?