So, there's this thing about living in a great city: You take it for granted at times. Mind you, I tried to relish every moment during the time that I lived in San Francisco (and in London for that matter); walking to a local coffee shop in the morning, taking public transportation, walking into random street festivals in Japantown or North Beach, celebrating people's individuality and the abundance of craft cocktails.
Being back in the city, though? Well, that was even sweeter. As soon as we arrived in SF, it strangely felt like we had never left. Weird how that happens; how you fall into your natural rhythm. Despite the nearly nine months that we've lived in Anguilla, that time away felt like a brief vacation from reality.
We spent our first weekend back in California in Napa, celebrating the wedding of two of our best friends. After our time there, we made our way to San Francisco to enjoy a full 24 hours touring our previous home. So, what do you do with 24 hours in San Francisco? We did a mix of things: a little bit of touristy greatness with our Anguillan friend in tow, plus a bit of retracing our footsteps from our previous life.
Dim Sum at the Great Eastern
1So, here's the thing about Anguillans' perception of Chinese food (I'm not making this up): locals classify Chinese food as being made by a Chinese person. Folks will bring in fried chicken and fries for lunch and say that they're eating 'Chinese food' (because a Chinese person owns, operates and makes said food). I think many of them know what Chinese food actually is, but there aren't many places on the island that serve anything close to authentic Chinese (they serve up greasy Americanized versions at best).
So, with our friend Iquan in town for his first ever time in the United States, we shared something shockingly San Franciscan: delicious, authentic Chinese food. In Chinatown. After leaving Napa, we popped into our favorite dim sum spot, the Great Eastern, for brunch. After rounds of dumplings, pot stickers, chow mein, sesame balls, spring rolls, etc., he'd had his first real run in with Chinese food… surrounded by a large Chinese contingency at that!
There was also the Autumn Moon Festival taking place in Chinatown, so we had to take a gander:
 49ers game at The Republic
2There's little that's more American than football. Being in SF during a major game day (49ers vs. Seahawks… let's not talk about it), we had to hit up one of our favorite sports bars for the experience. We headed down to The Republic in the Marina to catch the game before heading out to dinner at Delarosa.
The entire experience: sports bar, football, wings, locally-brewed beer, the energy of San Francisco — it was a perfect way to share the essence a great city while enjoying the comfort of our old stomping grounds. The game? Not so great.
A morning fix
3After the game on Sunday night, we spent the night at Scott's old apartment in Nob Hill. On Monday morning, I had an appointment with the local passport agency to renew my passport before we headed back to the Caribbean.
Now, I'm not one to start a day without a caffeine fix and I have desperately missed my Starbucks visits while living in Anguilla. I love their coffee but it's those spinach feta wraps that have nabbed my heart for years. If I was playing it like a real San Franciscan, I would have opted for Blue Bottle or Philz.
If you're looking for a solid morning fix, check out some of my favorite brunch spots in the 'hood:
Ghiradelli Square, Fisherman's Wharf & Pier 39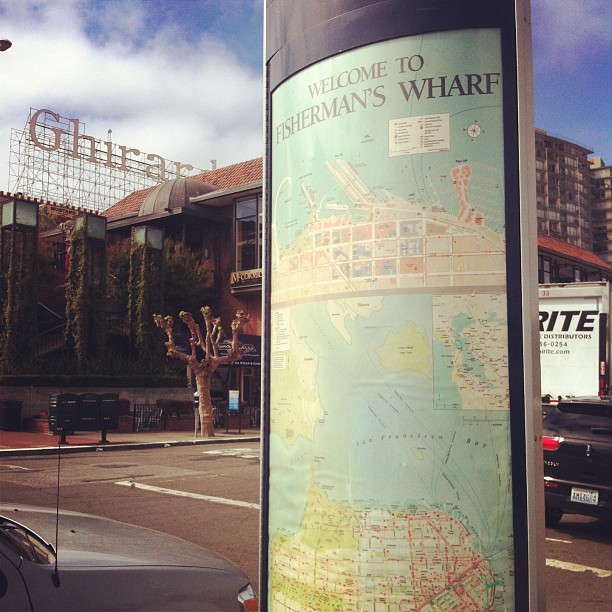 4After my morning appointments, I met Scott in Russian Hill and we walked down to Ghiradelli Square to begin our Fisherman's Wharf excursion. We were lucky in that the day was stunningly clear and while it was a bit brisk earlier on, the sun came out in full force as the day went on.
Once we made it to the hub of Fisherman's Wharf, we popped into a little shop for a quick snack where we ate and watch the overfed seagulls flock to visitors. Despite the fact that Fisherman's Wharf can be overwhelmingly overcrowded on the weekends (or on sunshiney days), there's still something about it that I love. We didn't go often while we were living there, but it's a great area to walk around and soak in the sights, sounds and smells of San Francisco.
After Fisherman's Wharf, we made our way down to Pier 39 where we were to meet up with Iquan and Scott's brother. Unlike Fisherman's Wharf, Pier 39 isn't my favorite spot. I suppose it's a place to put on your radar if you haven't been to San Francisco before, but it's super touristy and not in a way that's very justified. Yes, there are sea lions but there are also tons of kitschy over-priced shops and mediocre food. The one thing that pulls everyone in? The view of Alcatraz is pretty incredible, especially on a clear day:
Since our fellow visitors were running late, we decided to grab lunch a deux at a great sunshiny lunch spot.
5We made our way down the Embarcadero, popped into the America's Cup hub to take a peek, and continued on to grab lunch. With a single day for lunch in San Francisco we were torn on what to do. Our original plan was to nosh on clam chowder and seafood in Fisherman's Wharf. With the sun out in full force though (a rarity, as most will attest), we wanted an outdoor space with great people watching, plenty of Vitamin D and great food. One place came to mind immediately: Pier 23.
Scott introduced me to Pier 23 a few years ago and it's forever ranked supreme amongst the top sunshiny brunch spots in the city. There are a lot of great eateries to be sure, but the zesty Bloody Marys, stellar fish tacos, and deck dining always score some serious points.
Our plan was to head home at a reasonable hour so we met up with the rest of the group after lunch and said goodbye to our dearly beloved city. In roughly 24 hours, we'd experienced a fair bit. For being a mere 7 miles by 7 miles, there is an insane amount to experience and an incredibly diverse selection of neighborhoods to peruse. We stuck to our old stomping grounds, but if you'd prefer something outside of the realm of Nob Hill/Russian Hill/Fisherman's Wharf/North Beach/Chinatown, check out some insights from TIME Travel, Lonely Planet and Frommers for NBC.
If you had just 24 hours in San Francisco, what would be on your list?
xoxo,