Where + Wear: Sightseeing in the Middle East
As a female traveler, I constantly find myself searching for the same information prior to a trip: what do I wear? The crux is this: what's the appropriate travel style for the destination that I'm about to explore that will allow me to look decent in photos without being inappropriately dressed for the landscape and situation? There are cultural customs to keep in mind, climate, landscape and topography, general dressiness of a locale and practicality. Check out this guide – and other guides in this series – for packing inspiration.
Join me in sharing your thoughts and tips for packing and travel fashion with a series of destinations around the globe. Download this quickie cheat sheet of travel style inspiration for Jerusalem, including some tips on highlights, where to dine, and what to do. Pin this guide for a quick reference on what to wear in the Middle East!
Download the Jerusalem Travel Fashion Guide | The Wanderlust Effect for easy reading on iPad.
Vibe + Packing Tips
Jerusalem is a city of contrasts, and a place of historical, religious and cultural significance that's unparalleled. While you're likely to see some liberal Jerusalemites slinging cocktails in hip bars across town, it's better to err on the conservative side with garb to be courteous of local customs.
If you're like me, you're questioning what's appropriate. Are skinny jeans okay or should you don maxi dresses and cardigans for your entire trip? Pants are generally fine anywhere in Jerusalem, and I found harem pants to be particularly comfortable in light of the heat. Lightweight long sleeved blouses or tees are great for day as they cover your shoulders and provided a breathable, but conservative option. And if ever there's a practical, must-have accessory in the Middle East, it's the humble scarf.
If there's ever a practical, must-have accessory in the Middle East, it's the humble scarf.
In a city that's famed for its religious history, visiting churches and mosques is a likely agenda point for many visitors. Ladies, bring a scarf in your purse so you can easily cover your head or shoulders if needed. You will see many shops selling gorgeously vibrant scarves in the Old City – it's a great place to stock up on unique and practical pieces. For footwear, the best option is a simple pair of comfortable, cushioned flip flops with a bit of grip for day. Some of the cobblestoned pedestrianized streets in the Old City have stones made extra slick with heavy foot traffic, so a bit of grip on the soles will make long jaunts around the city extra doable. For a bag, I prefer a mid-sized tote big enough to hold a camera and a scarf. Lastly, don't be deceived by warmer daytime temps – even in the fall Jerusalem will cool down noticeably at night so a lightweight cardigan or jacket is a smart addition to your packing list.
Shop The Look
Destination Inspiration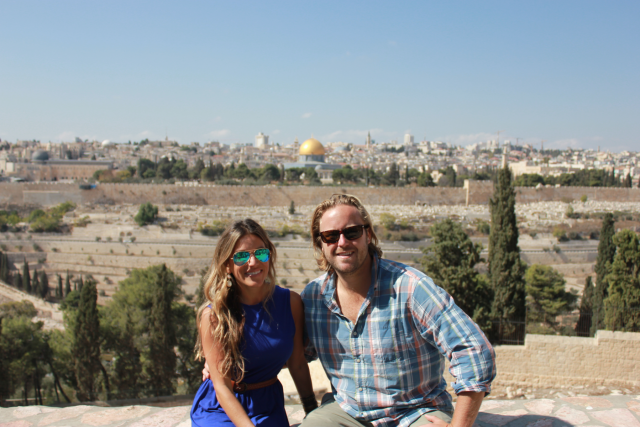 Have you been to Jerusalem? What are your recommendations when packing for what to wear in the Middle East?
xo,