When we booked our Nile River Cruise aboard Nour el Nil, I originally wrote off Luxor a bit. Naive, yes, but as much as I had dreamed about Egypt growing up, I suppose I never really understood Ancient Egypt in its modern-day constructs. We all know about the great pyramids, so there's a tendency to think of Cairo as the hub of history before you dig deeper.
I've said this before but when it comes to exploring the Ancient Egypt that you've been conjuring up in your mind, it's all in Luxor. Guide books often refer to Luxor as one of the world's greatest open air museums, and that's not an exaggeration. Between the temples on Luxor's East Bank and the astounding tombs on the West Bank, you'll be overwhelmed with how much there is to uncover. To me, three days in Luxor is a minimum, and you could easily spend five days or more in this city and see exciting new sights every day. Below I'm sharing our itinerary for three days in Luxor, with a couple of thoughts on other sites that you'd add to your itinerary with an additional day or two.
Day 1: Luxor Temple + Luxor Museum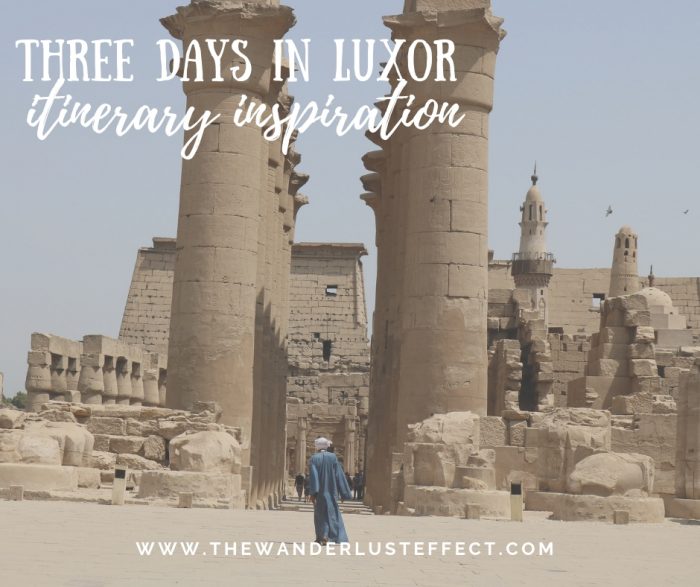 In an ideal world you'll be up bright and early to take in Luxor Temple with as few visitors as possible around you. The temple opens at 6AM so arriving by 7AM is a peaceful introduction to the scene at hand.Tour buses typically come a bit later in the morning so if you arrive as soon as the temple opens, you'll quite literally have the place to yourself. While not as famous as its sister, Karnak Temple, Luxor Temple is a gorgeous compound that wows in a major way. It's not quite as big as Karnak so if you're trying to piece your itinerary together in a way where you're constantly awe-struck at each turn, I'd say start with Luxor before graduating on to Karnak (though either way, you'll be astonished by both).
The temple was built in 1390BC as an expansive temple to the god, Amun, and a walk through will have you face to face with colossal sculptures and enormous pillars that will make your head spin. That's not to mention the parts that are the true treasures for many of us visiting Egypt after many years of daydreaming: carved facades and hieroglyphics highlighting the history that took place within these walls. Allot a few hours to explore the temple. If we're talking just space, you could walk through in a half hour, but there's so much rich history tucked between the walls, you'll want at least a couple of hours to admire your surroundings.
I should note that we woke up late after a delayed flight and arrival into Luxor and even at 11AM had very few crowds to contend with. You'll see people largely moving in groups as parts of tours and these can easily be avoided.
After visiting the Luxor Temple, head down to the Luxor Museum. You can walk from the temple to the museum in 15 – 20 minutes along the waterfront, but you'll have many taxis and horse-drawn carriages asking to give you a lift. We opted for a kalesh for the ride, which took around 5 – 10 minutes. While the Luxor Museum isn't huge, it's nicely done; arguably more so than the Egyptian Museum in Cairo in terms of pizzazz and modernity. The museum is air conditioned as well, which actually means a lot in Egypt when the mid-day sun is beating down with a fury. It's the perfect place to spend 45 minutes to an hour wandering, taking it all in, learning a bit about what you're seeing, and escaping the heat.
What do you do for the rest of the day? Relax. You're not wasting time if you're not constantly cramming your day with sightseeing, and it's perfectly acceptable to spend a few hours taking in the sun and lazing by the pool. We stayed at the Winter Palace in Luxor, which had a gorgeous pool and garden space. After some early wake-up calls and steamy days of sightseeing, it felt nice to have a couple of hours to relax and read, as well.
Dinner in Luxor
Let's talk dinner really quickly because while I will like have many who disagree, I found the food at Winter Palace very meh. We ate there one of our nights and it left quite a bit to be desired in my opinion, especially when you consider the fact that there are some great options at incredible prices in Luxor. I think setting out into the town at night can make some visitors a bit uneasy, but if you have the desire to get out and explore, you'll be rewarded with some decent options nearby. My favorite of the spots we tried? Sofra Restaurant, which serves up Middle Eastern specialties like the beloved koshari, plus fresh-squeezed fruit juices that are practically a staple in the Egyptian diet. Don't be surprised to see it's a total expat and tourist hangout. Prices are reasonable when compared with what we're used to paying (e.g. my soup – delicious, by the way – was around $1.50), though pricing is still relatively expensive for Egyptians.
Read more about our experiences exploring the Temples in Luxor. 
Day 2: Journey to the Valley of the Kings
Morning Tour of the Valley of the Kings
For me, this was the most wow-worthy day of them all in Luxor. The Valley of the Kings is the real deal, and it's so jam-packed with awe-inspiring elements that you can't help but be overwhelmed by it all.
We toured Valley of the Kings with Emo Tours but there are many operators in the area that offer tour options that are similar. You'll want to block out your entire morning for the experience, with a 40 minute car ride from the East Bank to the West Bank, a stop at the Temple of Hatshepsut, plus time to explore three tombs of your choosing.
Read about our day exploring the Valley of the Kings for more insight. 
Once you make it to Luxor's West Bank, you'll have upwards of an hour to explore the Temple of Hatshepsut before moving onto the Valley of the Kings. There your ticket grants you access to three tombs of your choosing (there are generally seven open at any given time). The tombs range in size but even with a smaller tomb, you'll find yourself wanting to linger and just take it all in… there are some that are mesmerizing with the quality of color and carvings that are still perfectly intact after thousands of years.
Lunch in Luxor + Market Shopping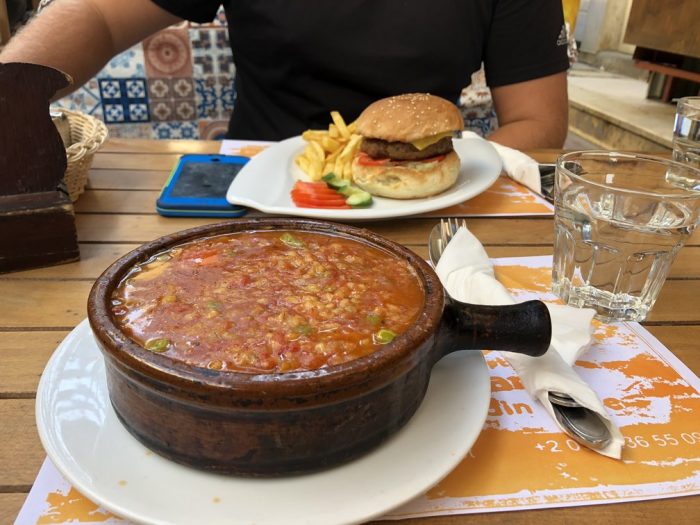 We decided to have lunch at Al-Sahaby Lane, the restaurant at Nefertiti Hotel on the East Bank (not far from our hotel). They've designed a menu that appeals to the masses (read: burgers and salads) but also highlight a great range of local cuisine including mezze, the beloved Egyptian fateer, and tagines. Our guide was kind enough to drop us off at the restaurant instead of our hotel so we could avoid having the walk or cab. After, if you have energy to explore, check out the local markets in Luxor.
There are a few markets in Luxor, including a tourist market and the 'local market' (I suspect there's a true local market, too, which wasn't what we saw). What we actually wanted was the tourist market, but got a bit scammed by someone who instead took us to the 'local market' which felt anything but local (think camel figurines, papyrus with Nefertiti's head, toy pyramids, etc.) With any markets, be prepared to haggle. Our guides often told us to start around 50% max and then move up from there.
Dinner in Luxor + Nightcap at Winter Palace
For dinner, head out into Luxor for dinner – maybe try Aisha Restaurant, which we missed out on! – before cozying up in the bar with a nightcap at the Winter Palace. The hotel brings major old world charm, and that's most felt in the bar and lounge, with leather furniture and a space for smoking cigars. International wines are marked up quite a bit and domestic wines will be met with mixed emotions so cocktails are the way to go here.
Day 3: Karnak Temple + Pool Day + Shisha Lounge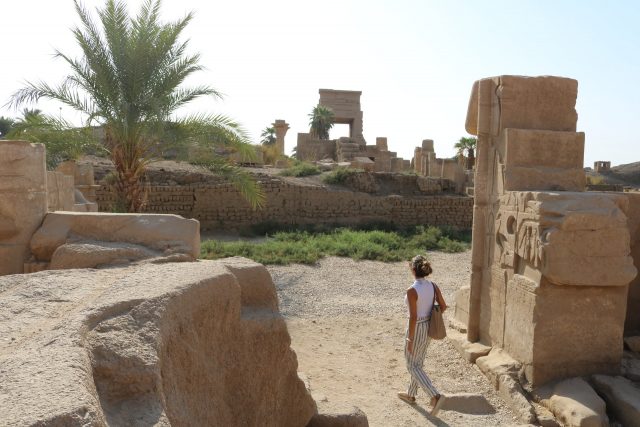 Morning Visit to Karnak Temple
Time for an early morning wake-up call, and believe me – it's worth it! Karnak Temple opens early (6 or 7AM) so be there as early as you're able to be able to enjoy the colossal expanse without any tourists in sight. It's rather remarkable really to walk into this space – one of Egypt's most famous temples – and be wandering through history practically on your own. Take that in, and relish it because other tourists will start filtering in shortly. No exaggeration: we saw one other person when we first arrived. That's it!
Karnak Temple is actually an expansive complex composed of 22 temples over 60 acres. It's massive and you'll feel like Indiana Jones exploring the temples and taking in the grand statues around every turn. I'd say allocate at least two to three hours. We were amazed at how quickly time went by when we were exploring.
If you're staying at the Winter Palace, that means you'll be able to make it back to have breakfast after your exploration. Breakfast was a highlight for us at the hotel, so a mid-morning bite with hot coffee and Middle Eastern specialties was the perfect way to return from our morning excursion.
Afternoon Pool Day and/or Mummification Museum
For the afternoon if you're interested in continued exploration during your three days in Luxor you can check out the Mummification Museum, which is within walking distance from the Winter Palace and many other major hotels on the East Bank. Our guide didn't seem overly enchanted with the museum, and to be fair, we'd seen quite a few mummies at that point, so we opted out. For a few dollars, it's something that you may want to add on while you're in the city.
Alternatively, or perhaps in addition, spend a few hours relaxing and taking in Luxor's ever-present sun (don't forget the SPF – it's the real deal here!). We took some time to have an afternoon snack by the pool, take in the sun, and wander the gardens at the palace, which seem to go on for days.
Shisha Bar + Dinner
Cleaned up and ready for your final night in Luxor? Start your evening by heading down to the Shisha Bar at the Winter Palace to start your night. It's a gorgeous place to watch the sunset and take in the surroundings as day turns into night. From there, enjoy your final night in Luxor with dinner in the city. We capped off our three days in Luxor with dinner at the Lantern Room, a restaurant with a British slant. After a week of eating Middle Eastern cuisine (which I love!), sometimes you just want to mix it up.
---
Have more than three days in Luxor or want to jam more into your schedule?
We hit the main highlights but there is so much more to be seen in this incredible and historic city. A few things to add to your itinerary when brainstorming:
Visit the Tomb of Seti I ($50 entrance fee) ・ If you're wowed by the tombs you've seen at Valley of the Kings, Seti I is said to be the best preserved tomb of the whole lot in terms of size, color, and more. The entrance fee is hefty and photos are not allowed inside (you can't even purchase a pass for photos).
Visit the Valley of the Queens ・So you've heard of the Valley of the Kings, but that's just the beginning of the tombs that have been uncovered in Luxor's West Bank. The lesser-visited Valley of the Queens is where the wives of the pharaohs were built, and is home to Nefertari's tomb, which rivals Seti I's in terms of fame and quality of preservation ($50 entrance fee for Nefertari's tomb).
Visit the Valley of the Nobles and/or Artisans ・Yes, there are more! The royal tombs are awe-inspiring, but often what is depicted in a royal tomb showcases the afterlife. You'll see gods and goddesses alongside of the pharaoh, guiding him into the next world. With nobles and artisans, the scenes are different: they depict real life scenes, and day-to-day-life in Egypt. Tombs of Nobles are obviously grander than a common tomb, but still provide an interesting contrast to what's seen in royal burials.
You could add on the Valley of the Queens on the day you visit the Valley of the Kings as well but some of that depends on how much you believe you can genuinely absorb in a single day. Historically I've had a tendency to over pack my schedule – who am I kidding, I still do that often times! – but I've found that there's a bit of what I might call traveler fatigue that happens in these instances. You've spent a morning seeing tombs at the Valley of the Kings and you'll be in utter awe… but once you've seen three, they start becoming a bit less wow-worthy, not because they're any less magnificent but because you've become accustomed to seeing them. For me to go from the Valley of the Kings directly to Valley of the Queens would probably be a bit of that… sometimes it simply feels like too much in a single day to truly appreciate everything you're taking in.
Finally, check out three days in Luxor crammed into three minutes below. ??
For those that have been to Luxor, what were your thoughts? Any other must-sees that you'd add into an itinerary for three days in Luxor?