On the East Bank of Ancient Thebes, the former capital of Egypt's Middle Kingdom sits the Winter Palace, now part of Sofitel's collection of properties. Harkening back to the golden era of travel, the Luxor hotel oozes old-world charm and has ties to Agatha Christie's Death on the Nile and Howard Carter of King Tut fame. The gardens are a dream and service is delightful; a peaceful oasis in modern-day Luxor.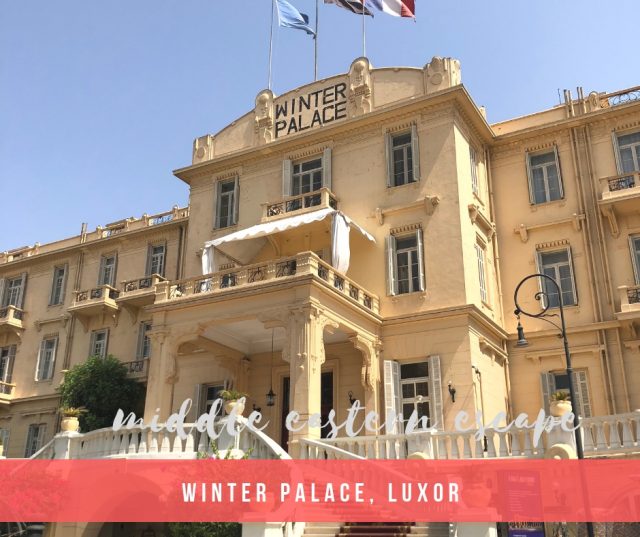 DESTINATION: LUXOR ??
Luxor, formerly Thebes, is the heart of Ancient Egypt, and it's a city worth many days to really explore properly. From the range of temples in Luxor, the awe-inspiring Valley of the Kings, plus the opportunity to hop on board a felucca for a whimsical ride, Luxor is truly Egypt's gem as far as national treasures go. Modern Luxor brings a bit of chaos though, so a peaceful hotel creates a perfect balance. Give yourself at least three full days to explore; more if you're able.
Built in 1886, the Sofitel Winter Palace in Luxor brings history and old-world glam to the forefront during a stay. Agatha Christie is rumored to have written Death on the Nile here, at least in part, and Howard Carter of King Tut fame (the archaeologist in charge of the excavation) has a link with the property. For a five-star property it feels a bit dated in places but its the character that really draws you in… along with gorgeous gardens and a wonderful pool for afternoon relaxation. There are plenty of lovely common spaces including a library/lounge and a cozy bar perfect for an evening tipple or a cigar. We stayed in a standard room which was very spacious and well-appointed, and had breakfast included daily which was a treat. Service was friendly, notably in the dining room during morning service! One issue I did have was with communication. I never received a confirmation letter for my stay, and often found that I'd have to follow up at least twice to get a response on queries.

I mentioned when talking about our experience at the Nile Ritz-Carlton in Cairo that dining wasn't a highlight for us anywhere in Egypt and for the most part that was true. The highlights for food and beverage at the Winter Palace were breakfast and evenings in the bar. Breakfast is included and is a buffet which is done wonderfully. Coffee or tea (don't be afraid to ask for speciality coffees!) along with hot and cold items abound, with many Middle Eastern specialties available. At the bar opt for cocktails as local wine leaves a bit to be desired and international wines are at a major premium. Dinner was lackluster in my opinion. Food was fine (not great), service was good, and the ambiance put me half to sleep. As one reviewer mentioned (I couldn't help but laugh at this), there's more atmosphere in King Tut's tomb. 
Planning your getaway to Egypt? Here's some inspiration for your trip:
Book a stay at Sofitel's Winter Palace Hotel in Luxor ✨

Number of Rooms: 92 rooms and suites
Cost Per Night: From $80 – $400 for rooms
Must-Try Eats & Drinks: Enjoy the breakfast spread and don't forget to have an evening cocktail in the bar for a dose of old-school glam.
Hotel Highlights: History + amazing gardens and inviting pool – very necessary in hot summer months!
Worth the Investment? Maybe. There are other high-end properties that could be a better fit (for better value), but the history and character here makes it a draw.
Points Perks: Accor Hotel's Le Club has perks for joining from discounted rates, free internet, etc.
〰️ Find more inspiration in my Hotel Insider series 〰️