Lessons from a Nonagenarian Traveler
I rarely shut off fully but for our first two weeks of 2022 traveling through Italy with my family, I got as close as possible. When my husband proposed that my family join us in Italy to ring in 2022 together, we all jumped at the thought… including my 96–year–old grandmother. A trip to Vatican City had been on her bucket list since she was a young child growing up in a convent in El Salvador. Time, finances, and finally advanced age made it seem impossible. When my grandfather passed 10+ years ago, we were just thankful to see her resilience and desire to engage with family. Joining us for our wedding in Anguilla, plus subsequent trips to the Caribbean and Guatemala, felt like major moments (and they were!). The thought of embarking on a European trip with a nonagenarian traveler seemed a tall task though. Italy is hardly handicap accessible, the flight from California is tiresome for even young and frequent travelers, and the on-the-go pace of traveling and sightseeing would be a challenge. Yet, seemingly against all odds, she was excited about the prospect of traveling for the first time in a long while. I put together an itinerary that had us celebrating New Year's Day in Venice before moving down to Florence, the Tuscan countryside, and then finally to Rome and Vatican City where our trip would culminate by seeing the Pope at his Angelus on Sunday. When the Pope is in residence, he delivers a prayer in St. Peter's Square where any onlookers can take in the prayer outdoors. We were amongst the pilgrims during the second Sunday of January looking on as the Pope emerged from his window and delivered his comments in Italian.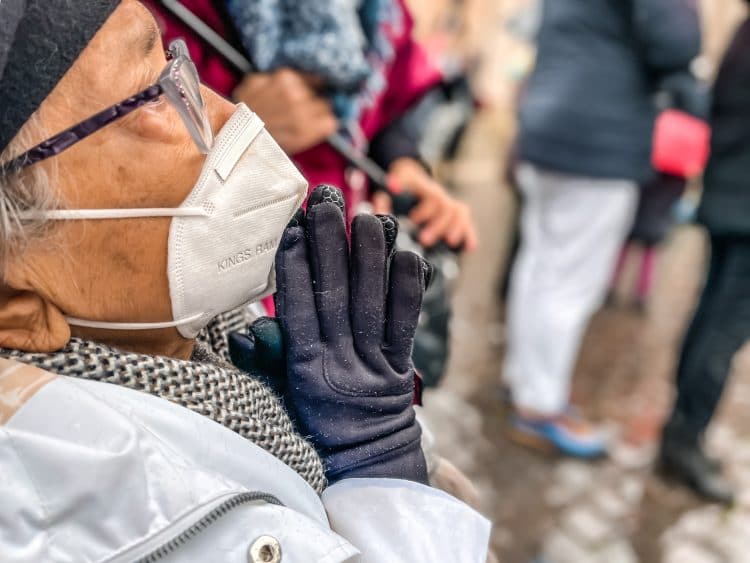 This photo of my grandmother in Vatican City is one of my favorites because it captures so many emotions and layers in a single, simple image. Sunday was a wet day in Rome, with rain sprinkling down in a constant stream as the Pope emerged from his window. My grandmother has lived a long life; one that has seen her through eight Popes, many wars, huge global transformations and now one global pandemic (she was born 7 years after the Spanish Flu). At 96, she sat in her wheelchair, masked up with an umbrella overhead, eagerly awaiting the Pope's comments. She had waited for this moment for 90 years after all, so a bit of rain and a pandemic wasn't going to stop her.
When we began brainstorming this trip, we collectively agreed to make it possible for her. Her motivation and desire to travel was enough to encourage us to make it a reality. And let's not sugarcoat it for anyone looking to do something similar with an elderly traveler: it wasn't easy. The four of us became masters at carrying her in her wheelchair over Venetian bridges, Scott took the lead on pushing her up and down the steep hills in Assisi, Montepulciano, and Cortona (not for the faint of heart), and we learned to quickly identify which situations, restaurants, etc. would work for us — and which wouldn't. On the flip side, she pushed herself as well. She walked more than she has in many years, pushing through in areas where a wheelchair was simply not an option. With our assistance, she climbed down flights of stairs to reach the tomb of St. Francis of Assisi, an experience she didn't want to miss while visiting Italy. She joined us for late-night dinners and enjoyed an aperitivo of her own from time to time.
The Duality of Lessons Learned from a Nonagenarian Traveler
This trip allowed her to live an experience she could have only ever dreamed of, and we're lucky enough to now have these memories of her for the rest of our lives. She's a good reminder to us: if you think your time for an experience is in the rearview mirror, give it a second thought. It's never too late; it's just about adapting, being resourceful, exercising patience, and pushing yourself beyond your comfort zone a bit. And let's not gloss over the fact that having a good support system undoubtedly made this possible for her. Even at 35, I have moments of asking if I'm 'too old' to pursue something (e.g. starting a Ph.D. program or pivoting career-wise). This trip was a bit of a wake-up call for us; a reminder that if you really want to make something happen, you can find a way.
That all said, there was another message in this experience; the other side of this same lesson. While my grandmother finally got to live out her dream of visiting Italy and seeing the Pope in St. Peter's Square, her vision, her hearing and her mobility were all challenges. She had difficulties hearing the prayer, she struggled with seeing him from his window in the distance, and at her advanced age, she had to be in a wheelchair the majority of the time during our journey in order to get around. Those are not challenges that can't be overcome, particularly with support, but there's no doubt she would have been able to enjoy this trip more 10 or 15 years ago when she could better see, hear, and walk. It made me extra thankful that we've prioritized our family trips over the past decade while my parents, now in their late 60s, can enjoy our moments and memory-making to the fullest.
I think it's normal to put travel off. Traveling often feels like a luxury; something indulgent that deserves to be on the back burner in exchange for more practical expenses. Yet our lives are really a culmination of our experiences and memories – our own and the ones that we share with others that live on – and what better thing for us to save for than memory making with people that we love? My lessons learned from this trip helped shape my mentality for the year ahead: take on challenges, don't miss the opportunities to enjoy and experience life when giving the opportunity, and know that as we evolve and grow, it's never too late to make dreams a reality for ourselves and for others. ✨
Despite the challenging world we're living in, I'm wishing everyone a wonderful 2022 ahead filled with optimism!