A morning on mystical Skellig Michael
Our alarms went off early on the morning we ventured to Skellig Michael. Based in the town of Kenmare, we had to be in Portmagee by 9:40AM to get on the boat with Brendan Casey and crew. By our calculations, the journey could take upwards of 2 hours with the narrow roads, unpredictable weather and factoring in the fact that we were dealing with unchartered territory. I had preliminarily booked our Skellig Michael experience months in advance but nothing was firmed up until that morning at around 7:30AM when I called Brendan to double-check if the boat would be going out. It was a yes.
The boats to Skellig Michael run for a brief period during the year, basically May through September in conjunction with the summer season. Even then, there are no guarantees that boats will venture the 8 miles off shore to the rugged karst islands sitting in the distance. During the week we visited, we managed to head out on the one day that operators were making the journey that week. Boats didn't go during the two days prior and they weren't going the following day either. In truth, we lucked out in a major way.
Skellig Michael flies under the radar, but the likelihood that it stays that way is pretty slim with its new breakout role as the set location for the upcoming Star Wars flick. It's rugged otherworldly location fits the bill.
Our timing worked out and we arrived at Portmagee with time to spare before our 10AM departure. We were sharing the boat with seven other passengers who were also venturing out for this unique experience. At €60 each it represented a once-in-a-lifetime experience for us and one that was praised by every local we talked with. Reviews from other visitors to Ireland dubbed it one of the best – if not the best – all around experience in the whole of Ireland. Could it really be that great?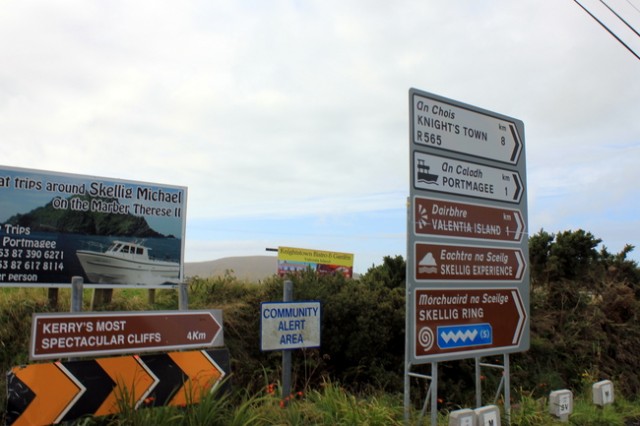 The journey out to Skellig Michael takes about 50 minutes, and the seas can be rough. The crew provided rain gear for the passengers – pants and heavy duty jackets – to help with the large amounts of water that would come in during the ride. Many people got wet on the journey over, and two people had to take the staff up on their sea sick bags halfway through the ride. My mom, who is prone to seasickness, fared like a champ. She opted out of breakfast that morning to keep her stomach from acting up and she ended up making it to the island in one piece. For those that do get seasick, be aware that it's a relatively rough ride and seasickness bracelets or pills may be in order.
About 45 minutes in, we were ready to arrive at the one small dock that welcomes fishing boats. How anyone ever landed on this rugged island with an old boat is mind blowing to me. The fact that they built a monastery at the top is mind blowing.  If I've learned anything during my last 12 months of travel, it's that monks seriously value solitude and will go to any lengths to preserve what they value (you can read about the monasteries we saw in the West Bank here.)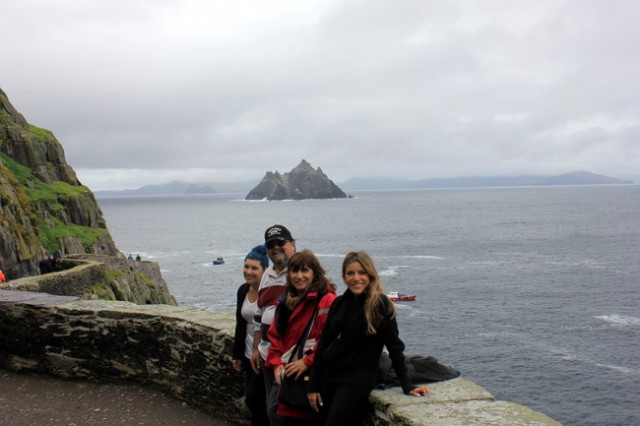 Upon arriving we were briefed by one of the island's caretakers, Catherine, who has lived on Skellig Michael along with a handful of others for the past fifteen summers. She emphasized that the climb to the top of mountain wasn't for everyone. The path is steep (that was apparent), the steps were wet after the rain, and the stark drop offs – paired with a lack of guard rails – weren't necessarily for the faint of heart. Naturally, visitors are advised to stay on the paths and while this seems like a fairly obvious bit of advise, I'm constantly amazed by how many people want to be the adventurers to forge their own path.The last thing I wanted to be was a sad statistic so I heeded Catherine's advice.
After our briefing, we set off on the climb, estimated to take roughly 20 – 30 minutes; nothing overly intensive, but a climb that requires care to be sure you don't slip on the narrow rock steps. We were about seven steps in when my mom declared that she couldn't make the climb. She's not great with heights and the fact that there were no guard rails on the steep mountain face had clearly made her uncomfortable. She bowed out of the experience and was content to sit at the base, admire the views, and chat with Catherine for the hours ahead. I'll pause there to say that I'm very proud of my mom for making that decision in that moment. I wish she had climbed just a couple of sets of stairs to be able to glimpse a bit of a view, but it was great that she recognized her limits and chose to not do something that didn't feel right for her (despite making the rough journey over).
She left our band of merry travelers, and then there were four.
My dad was attempting the journey, partly to satisfy his interest and partly due to peer pressure from us. Between being steeped in history and soon-to-be Star Wars fame, I thought Skellig Michael would be my dad's dream experience. We continued on, one narrow rocky step at a time, until we reached a few grassy plateaus offering gorgeous vistas of Little Skellig in the distance. The sun was finally peeking its head out and illuminating the landscape and the waters surrounding Skellig Michael for a seriously stunning moment. My dad made it about two-thirds of the way before I could tell that he's reached his limits physically. Beyond the real-life stair master component, my dad has back issues that were not being helped by hopping along one step at a time. When he was ready to pause, we had reached a stunning vista point offering stark views of the mountain side ahead and the vibrant green mountainous landscapes around us. He sat peacefully at the top of a staircase and let the us continue on.
And then there were three.
The Monastery at Skellig Michael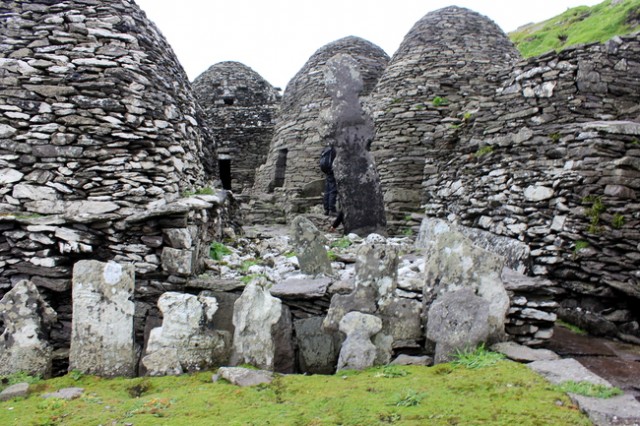 The three of us were left (fairly young and mostly capable), and despite a few moments of worry and breathlessness, we were generally okay to complete the climb to the top. For me, the key was not to look down too often, lest I see the vast drops surrounding us.
Finally, we had arrived.
The top is a flattened area that was home to the monastic buildings built between the 6th and 8th centuries. A caretaker sat in the middle of the compound, telling stories of the island and of its history. Five beehive shaped buildings formed the focal point at the top of the mountain. Each structure stood strong, having withstood centuries of harsh weather and no mortar to keep the stones in place. One of the structures was the place of worship; a cross still sits in front of it, with a small burial ground on the backside. The other structures, all built the same, were the monks' living quarters; essentially old-fashioned dorms where three or so monks would bunk together. At most, they believed that 12 – 15 people may have resided on Skellig Michael at any given time. Beyond the place of worship, they had a garden (a shocking fact to nearly everyone after looking at the landscape), and allegedly had a small library with special texts that they would have wanted to conserve. Looking at the site now, standing in remarkably well-kept condition, it's a wonder that it was built – or even seen as a viable livable space – in the first place.
We wandered around the grounds and listened to a bit of the caretakers' narrative. The views from the top are impressive and seeing the monastery itself is definitely a highlight if your body is able to carry you to the top.
Skellig Michael: What to Know
The hike isn't strenuous as such, but it could best be described as challenging when taking all of the environmental components into play. I would wager that most moderately fit people could complete this hike, even if it has to be done at a slower pace. Catherine, the caretaker, suggested that the hike may take 20 – 30 minutes to reach the top and that seemed like a fair estimate for us. There are resting/vista points throughout the hike where you can pause, take in the views and gather your breath if need be. The boats typically give you between 2  and 2 1/2 hours to explore, providing ample time to get up, explore, and get back down. Going up I was fine but I was a bit anxious when we reached the top: would going down be much harder? I was afraid of slipping and losing my balance going this direction (going down generally makes me more nervous than going up). Going down was totally fine, even with the slightly damp steps. We ended up making it down more quickly than we made it up; in part because it was less physically strenuous, but mostly because we weren't stopping as frequently to take in the views.
For visitors that are extremely out of shape or for smokers, the steps may prove to be a bit of a challenge (there are around 600 steps).
As you can tell in the images, the hike is steep and the steps are narrow so anyone who finds those components nerve-wracking may have some issues with the climb. When we went in September, Skellig Michael was fairly calm in the sense that it wasn't overrun with tourists. In general, there are a limited amount of boats going out to the island but I imagine that summer months bring a great many more visitors to scope out the Skelligs. That being said, I didn't feel rushed at all during the hike, and if we wanted to pause we simply stepped to the side to make way for others. During our hike the traffic was slow enough where hikers going either direction could position themselves close to the mountain (vs. the cliffside) for extra peace of mind.
I think it's worth noting that not everyone will be able to do this hike, but that doesn't mean it's not worth the journey. My mom stopped after a few steps purely because she wasn't comfortable enough with the steep steps and the height. If you find yourself too scared to make the journey, don't. As Catherine mentioned to us, there's a healthy amount of fear that we should all have in places like this; anything beyond that – fear that's debilitating – is not right for this. If you're able, hike at least to the first vista point and enjoy the views from there.
For my dad, the climb didn't work well with his back issues. He's had disc problems for a long time and the tense focused stair master-like climb was hard on him. He was able to make it a fair bit of the way which was impressive, but also knew his limits and stopped there to enjoy the moment.
For my mom, this was a nice experience but wasn't a highlight. She enjoyed seeing the island, knowing its history and the infrequency of visits to the Skelligs, and I think she's grateful for having made it out to Skellig Michael. Being that she's prone to seasickness and that she wasn't up for the hike, the Skellig experience was overall a bit lackluster for her as compared with some of our other activities in Ireland. I had initially thought that my dad would be head over heels for this place and while I think he enjoyed the experience overall, it was a bit uncomfortable for him physically which may have overshadowed the high points a bit.
For my sister, Scott and I (those who made it to the monastery), Skellig Michael was definitely a highlight and a once-in-a-lifetime experience. The space itself is certainly awe-inspiring but layered with the fact that its home to a centuries-old monastic site that's still intact is jaw droppingly amazing. The caretakers on the island do a lovely job of sharing the history and key elements of the site so you leave with a fair understanding of the Skelligs' uniqueness.
If you have the opportunity to visit Skellig Michael and are able to enjoy the climb, I would highly recommend it. Give yourself the majority of the day (you'll leave around 10AM and return around 2PM). It's an incredibly interesting site steeped in centuries of history with a mystical quality about it.
Also note: There are no bathroom facilities or dining options on the island and nothing that resembles either of these things. Take a snack if you want to enjoy a picnic on the island and make sure you use the restrooms before you head out!
---
Who to go with: Casey's Skelligs Island Tours
In addition to the normal journey to Skellig Michael, Brendan and his team will take you around Little Skellig to show you the dramatic scenery on this uninhabited plot, plus the history of the birds that call Little Skellig home. The guys that run this boat are incredibly kind and very knowledgable. Also worth noting: there's a toilet on board the boat for an emergency situations to and from the island.
Where to dine afterwards: The Moorings/The Bridge Bar in Portmagee
When you disembark, it'll be somewhere around 2PM and you'll likely be ready for lunch. The Moorings and The Bridge Bar are located right across the street from the dock in Portmagee. There's a great selection of local ciders worth trying, plus a number of seafood options including traditional fish and chips.
Have you been to Skellig Michael? What's your take on the journey
and the Skellig Experience?