Hermanus to Cape Town Drive
A friend of ours advised that if were going to visit Hermanus, that we must rent a car to fully immerse ourselves in the experience. We took that advice and splurged on a fun set of wheels to get us around during the early part of our journey through South Africa. After a few stunning days in Hermanus, we pried ourselves away to set off on the next leg of our journey in South Africa: a drive via the Cape of Good Hope to Cape Town and Cape Point.
For those interested in self driving, it's worth knowing that renting a car in South Africa is relatively affordable, the process is more painless than some (e.g. renting a car in Ireland was a bit of a hassle for us) and self driving will provide you the flexibility of stopping to admire the views along the way.
Muizenberg, Kalk Bay & Simon's Town
The drive from Hermanus to Cape Town can take a few formats, but we opted for the shorter route for the sake of time. Our main stop on our way to Cape Point was Kalk Bay, passing through Muizenberg and St James Beach. For those that are as awe-struck as I am by the brightly colored bathing boxes that can be spotted around the globe, you'll love the pretty cluster of huts that grace St. James Beach. I had secretly been on the look out for them during our drive and was ecstatic to spot them and have a place to pull over and get a quick snapshot. The day was a bit overcast at the time, but even with the sun in hiding, the boxes were a postcard-worthy photo.
When we reached Kalk Bay, we knew we had to stop. We didn't have a set time frame for our drive, but knew we wanted to allocate enough time to exploring the Cape of Good Hope and Cape Point. Kalk Bay is too charming to pass up though, so we allowed ourselves an hour to peruse the main street's boutiques and book stores. The town has a serious bohemian feel to it, with quaint antique stores and earthy shops where you can buy incense and tarot cards. In hindsight, our time in Kalk Bay inspired us a bit when it comes to planning future trips to South Africa. Cape Town is an amazing city – you can read about my perfect day in Cape Town for some itinerary ideas! – but a lot of the real charm comes from smaller towns. Kalk Bay and Hermanus are  perfect examples of this, and we also heard great things about places like Plettenberg Bay and the towns that dot the Garden Route. For anyone planning a trip to South Africa, I think it's definitely worth investigating some of the quaint areas that have unique characteristics that are all their own.
Simon's Town is the Annapolis of South Africa, a charming town that's home to South Africa's Naval Academy. The town sits on the shore of False Bay on the eastern side of the Cape Peninsula. We drove through and were immediately enchanted with cute shops and with watching cadets walking the streets. The iconic Boulders Beach  is nearby, and while I am mortally embarrassed to admit this, I'm telling you anyway: we missed it. We missed Boulders Beach! If you want to see the penguin colony that's practically synonymous with this area, put Boulders Beach in your GPS.
Cape Point + The Cape of Good Hope
Our real mission was to drive to the Cape of Good Hope and Cape Point on our way to Cape Town (major bucketlist experience for me!), and we made it by the early afternoon to explore. Let me start by saying this: the park area is much bigger than I anticipated. The Cape of Good Hope is part of Table Mountain National Park, and you'll pay an entry fee per person to be granted access to the park area. With all of the planning that went into our time in Rwanda, Uganda and the DRC, we admittedly put South Africa on the back burner a bit, knowing that it would be a bit easier to get around and be spontaneous. I had no idea how expansive the area is, or how much there is to do and explore. For outdoors enthusiasts, a day dedicated to Cape Point is hardly enough! You could spend multiple days biking, hiking and exploring the nooks and crannies, and there are actually campsite options for travelers wanting to dedicate more than a few hours to exploring the park.
No surprise here: the drive through the park is gorgeous, with its rugged edge-of-the-earth landscape and wildflowers cropping up everywhere. We decided to head to Cape Point first to kick off our time in the park (this is a separate stop from the Cape of Good Hope). A map will lead you to the parking lot at Cape Point, where you'll have access to Two Oceans Restaurant (awesome food and stunning views), a gift shop, plus the entry point to the Flying Dutchman Funicular that takes you to the old lighthouse.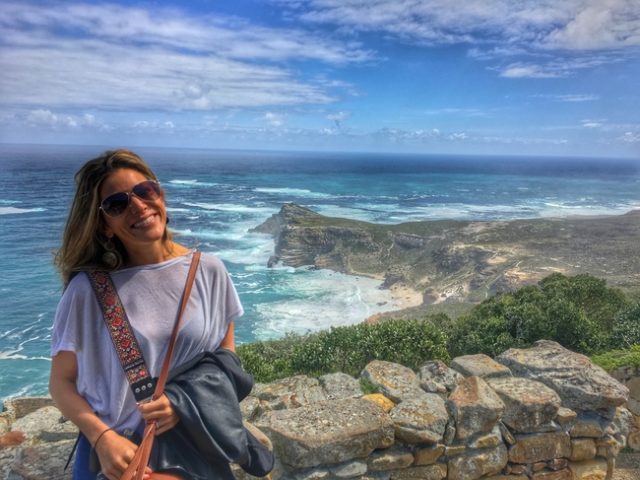 Cape Point is stunning. The views while you're riding the cable car are gorgeous, but if you don't have a great view from inside your bubble, don't worry. The vistas from the top will blow you away from every angle. One you've landed at the top, there's a set of stairs that will take you up to the old lighthouse, where you can get a classic snapshot with signage pointing to some of the world's great cities. To be honest, the best view for me wasn't from the lighthouse; it was from the point where you could see the lighthouse above, the sea below with birds floating around, vibrant green and rugged rock surroundings, and ocean for as far as the eye can see (like the snapshot below).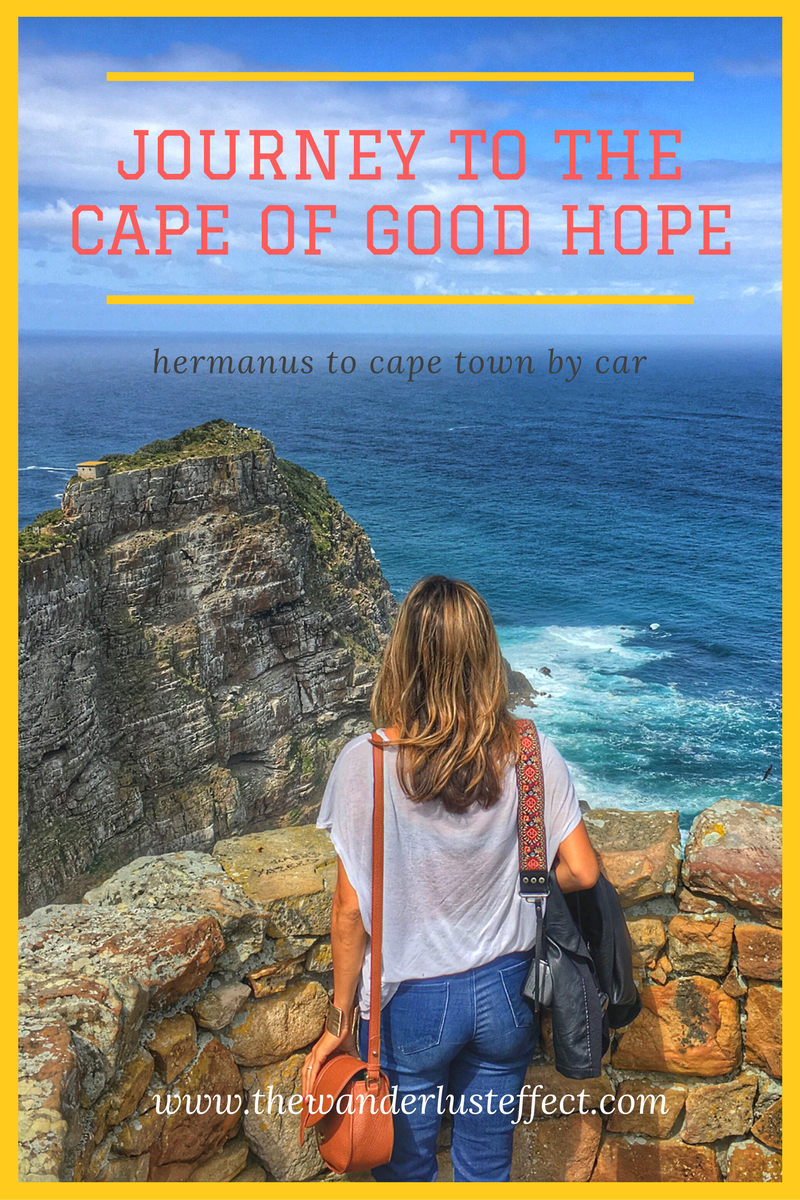 Remember how I said that you could easily spend a full day exploring the Cape of Good Hope and Cape Point? The Lighthouse Keepers Trail is the perfect example of something that I hadn't factored in. In 1 1/2 hours, you can walk the trail to explore historical bunkers and fynbos at Cape Point. You'll still get gorgeous views without venturing down the trail, but for those wanting to dedicate more time to exploring the outdoors, these smaller hikes are great add-ons to the overall experience.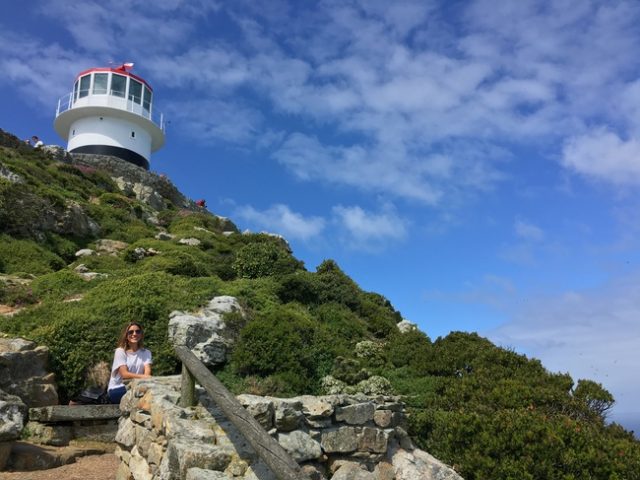 After exploring Cape Point and having lunch at Two Oceans Restaurant (great sushi!), we headed down for the grand finale at the Cape of Good Hope, the most south-western point of the African continent. I've been fascinated with Africa for as long as I can remember (honestly, when I reach back into the depths of my childhood memory, I remember dreams of Africa), and a visit to the Cape of Good Hope has always been a bucket list experience for me. The snapshot in front of the iconic sign is mandatory of course, and you'll queue up to get your quick moment with the signage before other travelers push their way through.
My advice? Don't worry about that quintessential snapshot when you first arrive. Take in your surroundings. Walk across the rocky boulders and sand to what seems like the edge of the world, where the water crashes repeatedly into the rock face. Despite being surrounded by other tourists, you'll be mesmerized by the natural beauty. I could have stood there for hours taking it all in. (Side note: comfy walking shoes are best here; I was wearing low boots but even then was having to play a bit of a balancing game traversing the rocks.)
On your way out, get that snapshot because it really is a must!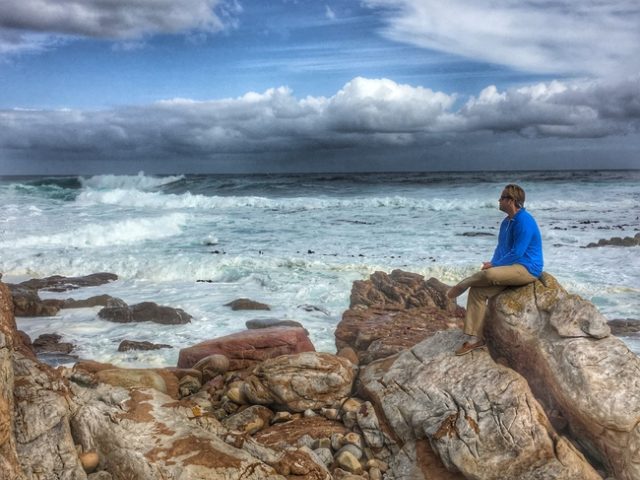 After the Cape of Good Hope, we begun our journey to Cape Town where we settled in for four nights in Camps Bay. There are so many amazing must-sees in South Africa but the journey to Cape Point is certainly a must. If you have the time to build in to your itinerary, give yourself a full day for the Cape Point experience. You'll want time to soak in the natural beauty and to explore at leisure. With scenery this stunning, you'll have a hard time pulling yourself away.
Have you been to the Cape of Good Hope?