It's hard to believe that in a country with 7000 years of history I'd comment on the fact that I've seen a change in Malta in just a decade that's passed since I last visited. I recently shared a recap of my heritage trip to Malta, my journey trying to explore the island and re-learn what I thought I'd known about the country. One of my key takeaways was shifting my perspective on Malta, moving away from seeing it as a typical Mediterranean summer destination for sun, sand, and sea, and instead seeing it as a city break; a place brimming with a unique history and a culture unto its own. Below, I'm sharing a round-up of 10 things to do in Malta for a blend of history, city vibes, gastronomy, and of course, a touch of sea. 🐚
Tour Valletta, Malta's Revived Capital City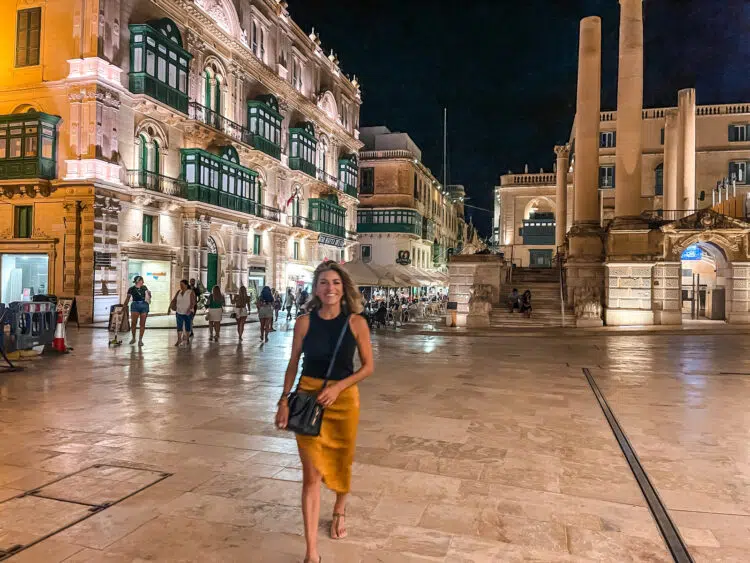 1Valletta has experienced a renaissance and has quickly become the coolest place to be on the island. Mdina always captured my heart on previous trips with its charm and quaint vibes, but Valletta has really helped change the face of Malta and catapult it into conversations surrounding city breaks in Europe. Malta's capital city, voted the European Capital of Culture in 2018, blends old and new with its unique history (hello Knights Templar) and uber-cool restaurants and bars. For anyone interested in really learning about Maltese history and Valletta's modern-day incarnation, a half-day tour of the city with a private guide is a fabulous way to get more out of your trip.
Take a Boat Trip
2A boat day in Malta can take a couple of different forms and what you choose to do will largely hinge on weather/sea conditions in addition to your personal preferences. Option 1: Explore Gozo + Comino by boat. For practical purposes, Malta consists of three islands*: Malta, Gozo, and Comino, and while most visitors stay on Malta, the other islands are worth exploring  (see point #6 below about Gozo). The main island has experienced a lot of development throughout the past two to three decades but the smaller neighboring islands have avoided the building frenzy. You'll see some of the landscape by boat, but you'll also get to visit places like the Blue Lagoon and quieter coves off of Comino. Alternatively, explore Malta's beaches. You can visit premier spots like St. Peter's Pool, along with the south coast beaches which are some of the island's finest.
*In actuality, there are other islands in the archipelago (e.g. Filfla) but these smaller, uninhabited islets aren't places you'd likely venture on a trip to Malta. 
Try Maltese Cuisine
3Most people assume that Maltese cuisine is just an extension of Italian cuisine given its proximity to Italy. But Malta's unique location at the nexus of the Middle East, North Africa, and Europe means that it's been hugely influenced over the years as a key stop on the trade routes. Try pastizzi at pastizzerias on the side of the road (about 40c per pastizzi), or sit down for a full meal with local specialties like stuffat tal-fenek (rabbit stew), lampuki pie (mahi pie), timpana (basically a baked macaroni pie), qarnit (octopus), or gbeijnet (local sheep's cheese) on ftira (Maltese bread). For exceptional local food, try Legligin in Valletta which offers a Maltese tasting menu and local wines that will blow you away, or Beati Paoli in Valletta which offers some fabulous Maltese options a la carte.
Explore Mdina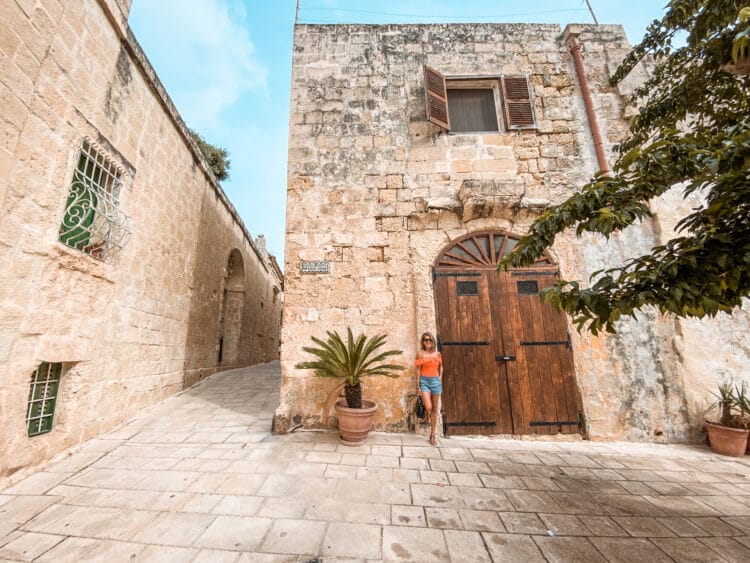 4Malta's former capital, Mdina, is referred to as the 'Silent City', a beautiful hilltop fortification that's home to only a few hundred residents, one luxury boutique hotel, and a Michelin-starred restaurant. Mdina is charm personified. Walking through the narrow alleys you'll feel like you fell into a scene from Game of Thrones, a sand-colored city dotted with colorful flowers and a beautiful central church. We chose to spend two nights in Mdina at the Xara Palace to get a feel for the pace of life there. For anyone in search of a quiet refuge, it's a nice option in a peaceful enclave on the island. If you're not staying in Mdina, you can combine a day trip to this area with visits to Rabat, Mosta, and nearby wineries.
Try Your Hand at Watersports
5For water sports enthusiasts, there are plenty of options in Malta for kite surfing, parasailing, jet skiing, and more. Head to Golden Bay, the island's premier sandy beach, for operators offering a range of water sports. For those that love spending time at sea, see point #2 above! For divers, there's also exceptional diving on the island for PADI certified divers, and certification courses for those interested in delving into the underwater world.
Explore Gozo
6Oh, Gozo, my favorite little gem. I mentioned above that the Maltese archipelago is comprised of three inhabited islands: Malta (pop: 450,000+), Comino (pop: 3), and Gozo (pop: 40,000). In this Goldilocks scenario, Gozo is definitely where it's at. People often talk about Gozo being what Malta was 40 years ago: historic and quaint with low-density development and a heap of character. It's a gem, and it's a must-see. We've gone on day trips previously but it's a place where I'd absolutely spend 2 – 3 nights or more in a great boutique hotel or renting a farmhouse with friends. Say hello if I can help with planning a Malta + Gozo combo trip!
Go Wine Tasting on the Island 
7I know what you're thinking: wine made in Malta? Ummmm… no thanks. Lest we miss an opportunity to try wine at the source, we ordered wine at Trabuxu, a local wine bar in Valletta, as our starting point. It was love at first taste. After having spent a week in Bordeaux we'd been spoiled with some objectively fabulous wines but I found myself surprised with how good Malta's Bordeaux blends were. The general sentiment with grape growing is that vines need to struggle a bit to produce the best wines. There's no doubt that vines struggle in Malta with super sizzly summer days and rocky soils. If you're keen on just sampling a few local wines without too much commitment, you'll find wine bars in town and local wines on many restaurant menus, too. Alternatively, if you're a wine lover wanting to dedicate some time to wine tasting in Malta, you can book wine tastings at local wineries like Marsovin and Meridiana, amongst others.
Visit St. John's Co-Cathedral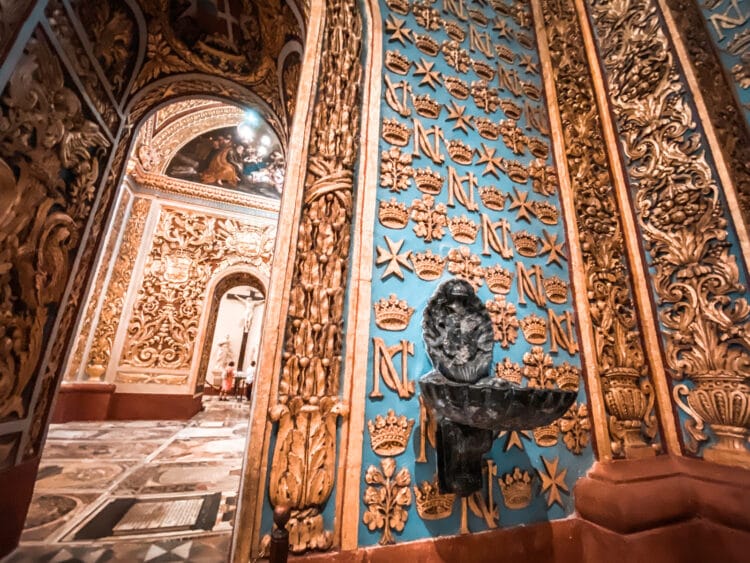 8Tie this in with point #1 but don't let it go unnoticed– do not neglect St. John's Co-Cathedral. I'm embarrassed: I've been to the island multiple times and this was my first-ever visit to St. John's (this ties in with my conversation about wanting to see Malta as a true visitor) and it was one of the highlights of our week in Malta. From the outside the church is rather simple, typical Maltese limestone without any indication of what's inside. You'd be forgiven for walking by it without giving it a second glance but inside it's utterly jaw-dropping. It's best experienced with a local guide to give you true insight into the art and treasures inside the cathedral. There's the burial places of the Grand Masters of the Order of St. John, artwork by Caravaggio, and some of the most incredible architecture and aesthetic design that you'll see in any church. The Vatican and St. Mark's aside (read more about St. Mark's in my post on two days in Venice), this could be one of the most impressive churches that I've visited in Europe.
 Explore the Island's Colorful Villages
9After this rather enlightening trip, I no longer really think of Malta as a beach destination and I would easily tell people to choose visiting places like Valletta and Mdina over some of the beach locales on the island. That said, Marsaxlokk and some other colorful seaside towns are utterly charming. Here it's more about the scene and the atmosphere than it is about the sea itself. Marsaxlokk is Malta's key fishing village. It's still home to colorful bobbing boats, waterfront seafood restaurants, and a local market on Sundays. Beyond Marsaxlokk, 'Popeye's Village' in Mellieha is a photogenic stop located not far from Ċirkewwa, where the ferry goes from Malta to Gozo regularly.
Take in the Island's (Pre-)History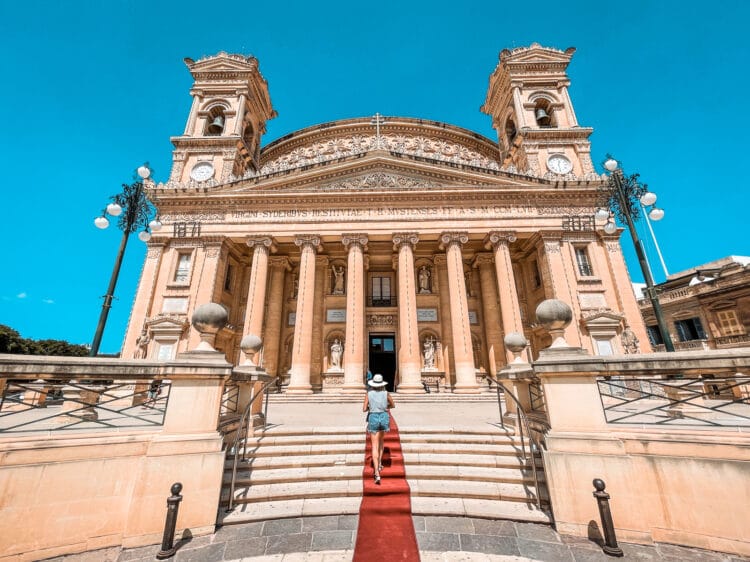 10Malta's history is insanely layered and textured. In recent history, they dealt with WWII where the island was the most bombed place in the world.  You'll find air raid shelters around the island – the ones in Mosta are particularly interesting to visit – where families would hunker down to avoid the onslaught. Yet Malta's history goes back millennia and there are still remnants of prehistoric construction that dot the island.
The prehistoric temples of Malta are unique in the world with the island being home to three of the world's oldest temples. The megalithic temples are the oldest standing stone structures that remain from ancient times. Between Malta and Gozo, you'll find seven megalithic temples, each constructed independently. In Gozo, you'll find the Ggantija Temples which are famed for their gigantic Bronze Age structures. In Malta itself, the Megalithic Temples (Ġgantija, Ħaġar Qim, Mnajdra, Skorba, Ta' Ħaġrat, and Tarxien) are prehistoric monuments constructed during the 3rd and 4th millennium BC. They're considered some of the earliest free-standing stone buildings in the world and are remarkable for their diversity and independent creation. If the prehistoric temples intrigue you, check out UNESCO's site for more.
---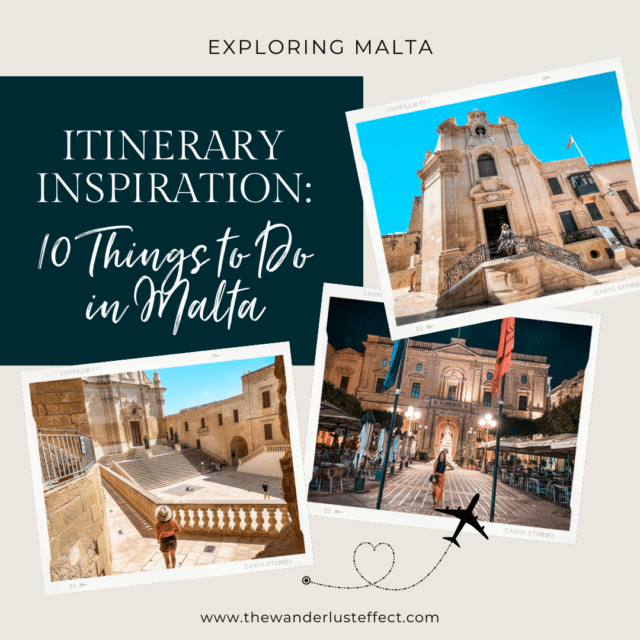 I've left off a world of experiences when it comes to things to do in Malta: visiting Casa Rocca Piccola in Valletta, cooking classes with local chefs, exploring smaller towns on the island, shopping at the Craft Village in Ta' Qali, taking a traditional boat from Valletta to the Three Cities, enjoying the nightlife in St. Julian's, or experiencing a local Festa. Soon I'll be sharing an ideal itinerary for one week in Malta with a day-to-day itinerary plus some inspiration on where to stay. Stay tuned!
Have you been to the Maltese islands? What were your favorite things to do in Malta?