Everything we'd read about D&D Brewery was glowing. It was touted as an affordable lodge near Lago de Yojoa that serves up a wide selection of microbrews and helps travelers delve into the region through activities and adventures. By all accounts, this was one of the cooler hostels on earth and we were about to experience it.
Quite honestly, D&D exceeded my high expectations. It was perfect. I could go back to Honduras and stay there for 5+ days in utter comfort. It's a traveler's paradise: affordable and comfortable accommodations, a pool (that didn't get much use), inexpensive high-quality brews, inexpensive – and shockingly delicious – food, and a series of activities with qualified local guides. Naturally, there were some travelers griping about price a bit, but by most standards this place is a steal.
For $35/night, my sister and I had a private cabin (the boys had their own as well), which, with two queen-sized beds, is actually big enough for four. The room was incredibly spacious, with freshly cut flowers in a vase and a couple of pieces of art on the walls. We had a private bathroom with a shower and a small closet to hang a few items. All for under $20 per person.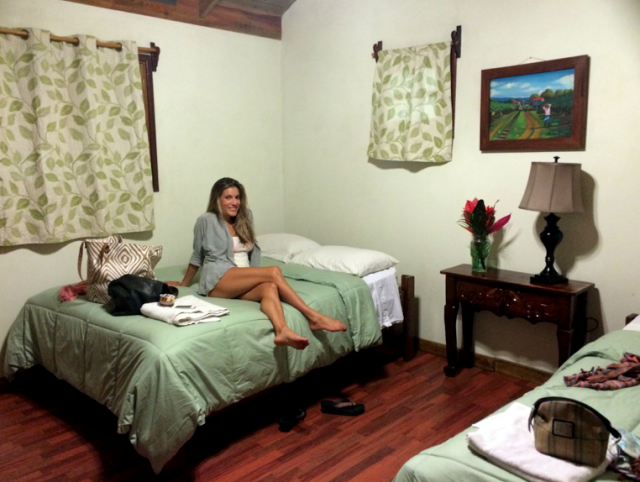 We had breakfast, lunch and dinner at D&D and every single meal was great. It was some of the best food we ate, in fact (think $7 for a big bowl of fresh ceviche, about the same for burritos big enough for two). We quickly discovered that the portions here – and throughout Honduras – were huge. Appetizer portions were big enough to be entrees, so be prepared if you're a light eater!
Another great discovery? Massages in the garden for 275 lps for 60 minutes (about $12). Seriously. Naturally, we had to schedule two massages – one for my sister and one for myself – after our day at Pulhapanzak. It was a nice way to unwind and chill after an action-packed day.
The evenings brought us time with fellow travelers from around the globe – Canada, Wales, Ireland, England – while we sat around the fire, drinking out of pitchers and listening to stories. No, it wasn't Indura, but it doesn't try to be. To me, the vibe of places like this are often times more intriguing, with opportunities to connect with other people and build connections organically. It was a vastly different experience from our luxury escape in Tela, and it was much-needed in order for us to delve a bit deeper and see a different side of Honduras.
We had one more day near the lake and nothing set in stone. Walter, the D&D Adventures point person, helped us maximize our second day so we would be able to see everything we wanted within our limited time. The morning would bring a tranquil boat ride on the lake, and the afternoon would take us south to Taulabe Caves for an 'extreme' spelunking adventure (remember what I said about anything dubbed 'extreme' in Honduras?).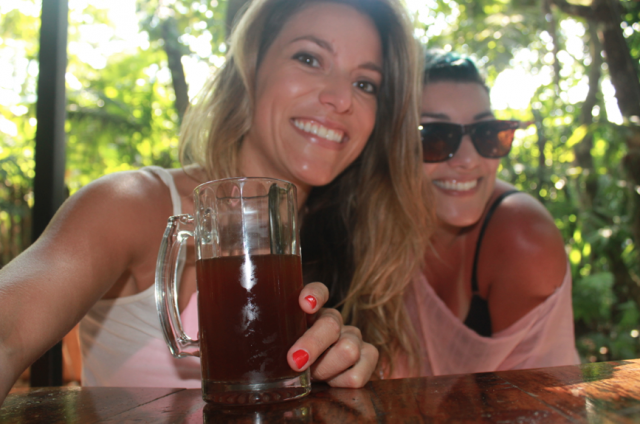 Stay tuned to see photos and read the recap of our second day of adventures. Have you been to Honduras? Stayed at D&D Brewery? What are your thoughts on hostel experiences?
xo from Central America,