We learned one key thing after our adventures in Honduras: the majority of the 'extreme' adventures that you're allowed to enjoy in the country would be heavily regulated in other countries. Not just developed nations, but even developing nations with a burgeoning tourism industry. Most places have some rules and regulations when it comes to activities. In Honduras, this wasn't the case. There are no release forms to sign and very little oversight for many adventures. From what I can tell, the onus is truly on the adventurer – the traveler – to know their limits, their comfort level and to be in charge of one's own safety.
Our adventure at Pulhapanzak Waterfall fell into this category.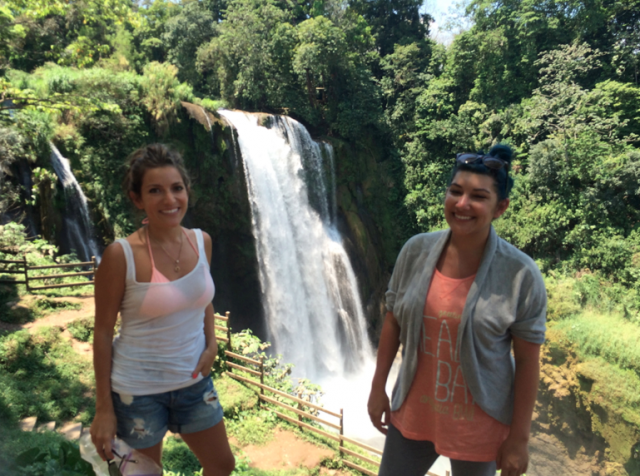 Check out this video of the falls, below – gorgeous!
Pulhapanzak Waterfall, Honduras from Shannon Falzon on Vimeo.
Zip Lining at Pulhapanzak
Before we embarked on this trip, my sister mentioned to me her undying desire to go zip lining. After doing our research, we found the zip lines at Pulhapanzak to be the best opportunity for this. We were headed to Lago de Yojoa for two days and Pulhapanzak was a quick 15-minute drive from our home base at D&D Brewery ($15 cab ride). Many people online dubbed the course as fairly novice, but for us – as newbies – it was perfect. We had two staff members with us during the entire experience, one leading the way (to guide and catch us) and one following behind us to help attach us to the lines and get us going. Truthfully, the zip line didn't seem too dubious. The entire operation was very organized, far more than I expected, with guides who spoke better English than many people we had encountered up to this point.
The zip line started small, making us comfortable with the strength of the lines, and the feeling of soaring over land.  We gradually traversed the park until we hit stunning Pulhapanzak and soared over the falls, rainbows vibrant in the water below. We finished totally exhilarated. For $25 each (500lps), we found the experience more than worth it.
Check out this amazing clip of my sister zip lining over Pulhapanzak, the grand finale of the course:
Ziplining at Pulhpanazak from Shannon Falzon on Vimeo.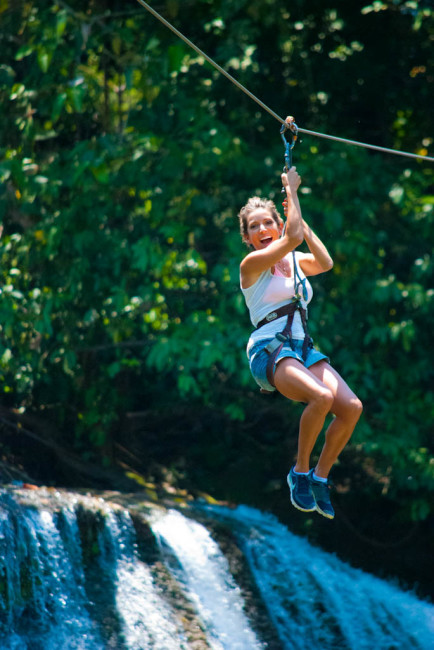 Behind the Waterfall Tour
Now, it's the next adventure that left us realizing the extremeness of anything labeled 'extreme' in Honduras. We had the entire morning at Pulhpanzak and there were a range of activities to choose from: ziplining (check!), tubing in the river (about three hours including drive time), and the behind-the-waterfall tour. People had talked about the latter and we were intrigued. We can go behind the waterfall? Sign me up!
I had seen video footage of this tour before and had a vague idea of what to expect but more or less thought we'd be descending to the base of the waterfall and then walking behind the sheets of water flowing from above. We would get a bit wet, of course, but it would be a fairly simple venture that would allow us an incredibly cool adventure. I even brought a ziplock bag so I could keep my phone safe and carry it with me to snap a couple of pics. Reasonable, right?
No. Absolutely not. Not reasonable at all.
You don't get a 'little wet' and there's nothing simple about this. This is not just walking behind a waterfall, this is an adventure traversing through pools and mist, being pummeled with powerful water from the falls above.  The first two minutes involved us jumping from a 15' rock into a pool of water below us. Anything but a GoPro will be totally ruined from the saturation so a note to anyone embarking on this journey: don't even think about bringing anything electronic or anything valuable. After the initial jump into the pool (with tennis shoes on, yes!), we climbed up slick rocks, gripping each other's hands to help everyone walk in sync with the guide.
We climbed through the water, nestled into caves, and pulled ourselves up ropes while the water rushed into our faces, blurring our vision. We were anxiously catching our breath, trying not to drown (I had a couple of moments where I almost had to ask our guide to head back), all the while trying to make sure that the person behind us was safe as well. I kept looking behind me to make sure that my sister was breathing and alive – there was no way I was going to let her be eaten by the waterfall. Not in Honduras, and not on my watch.
Finally, we hit the end. We entered a dark cave barely wide enough for the boys to crawl into, and sat inside, listening to the falls outside and catching our breath. We'd survived. Rather anxious and embarrassed I asked the guide, 'esta vez es mas facil?' He assured us that going back was easier since the falls would be bounding towards our backs, not our faces, and he was 100% correct. Going back was a breeze by comparison, though I did get a bit scraped up by the rocks that lined the way. We finally felt safe and comfortable enough to be able to step out and look up. We were under the waterfall now, being gently misted while we watched the falls pour of the rocks' edge 43 meters above us.
Waterfalls have always mesmerized me. I think they're utterly stunning in every way. Seeing a waterfall of this size from below was pretty mind-blowing. Back we ventured, slip sliding around before we reached another rock with the pool below. Off we went again, jumping into the water one at a time while pulling ourselves to the rocks leading out.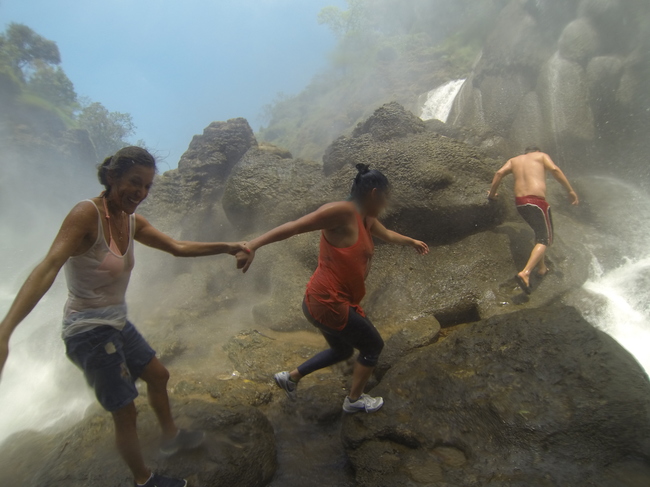 We did it. It was only about forty minutes in total, but it was a major adrenaline rush, and something that I genuinely don't think would ever be allowed as an organized activity in most other places in the world. We joked a number of times that the dangers involved in some of these activities would have had us signing every waiver under the sun if this were the US. There would be guard rails and protective gear to ensure that people were safe. Here, at Pulhapanzak, it was just us in tennis shoes and shorts, no masks or goggles, no helmets, no special equipment. The only thing we brought with us was our GoPro (thank goodness!) to help capture the experience.
Without a doubt, I would highly recommend this tour to anyone who's lucky enough to be visiting Honduras and venturing to Pulhapanzak. Lorenzo, the guide, has been doing this tour for 13 years and takes guests behind the falls multiples times per day. He knows his way around the waterfall, and helped make us feel safe even when we were questioning our sanity. I will say that I would not recommend taking children on this excursion (I would most definitely not take a child under 16 or so) – it's cool, but as I've thoroughly described, there aren't many safety precautions in place. I know how I felt as a big sister (my sister's nearly 25, so she's old enough to take care of herself) and I can't imagine the anxiety I'd feel as a parent on this excursion.
We finished our morning at Pulhapanzak, having spent only 3 or so hours and feeling like we'd conquered the world. We jumped in our taxi and headed back to our new home for the night, D&D Brewery, a brewery/lodge/restaurant/adventure provider. Stay tuned to hear about our time at D&D and our second day of adventures at Lago de Yojoa.
xo from Central America,