If there was a theme for our trip to Haiti – a single word that captured the essence of our week volunteering with Mission of Grace – it was joy. It seems at odds that the poorest country in the Western hemisphere with low literacy and education rates, lacking access to basic necessities, would be equated with joy. Yet somehow, rather inexplicably, joy radiated.
During a dinner conversation with Ms Lynn, the pioneer behind Mission of Grace, we commented about the laugher, joy, and happiness that we felt in the orphanage and in the elderly care facility. It surprised us not only because we don't often associate happiness with places like orphanages, but also because Haiti in general is a place that makes it difficult for hope to thrive. She gently probed us with the question we all internalized, why would they smile? I suppose I secretly wondered the same. How can they feel joy in light of their environment? How can you smile when hope is such a distant and difficult concept in your country? How can people who have so little (including lacking physical health in many instances) have the courage to be happy in the face of adversity? Well, as it turns out, so much about understanding joy is about understanding where you started and how far you've come, not in comparing yourself with others.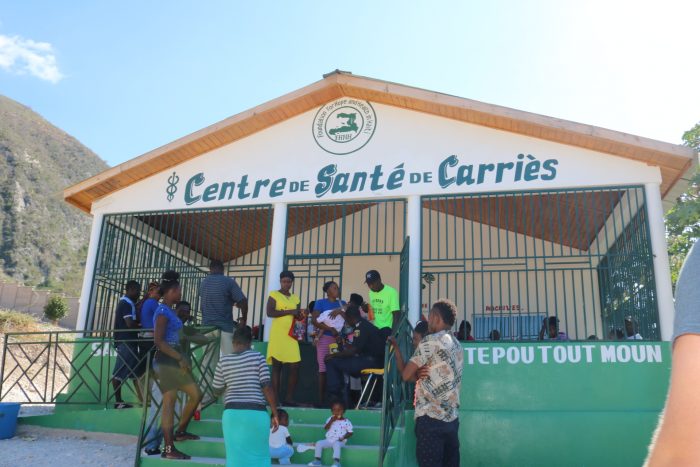 Life in Haiti is difficult and it only takes a few days there to understand the very real and very dire situation that the majority are faced with. Keep in mind that our experience was in a small village about an hour outside of Port-au-Prince, but I'd wager that there are many similar villages facing the same realities. There are few economic opportunities, the government doesn't provide basic offerings like health care and education, the terrain is physically difficult and trying, and in many ways it feels like a country where everything exists to create an obstacle. Honestly, Haiti made me feel anxious. I felt uncomfortable in my own body at times because I found it emotionally difficult to absorb what I was seeing in the context of our reality. When you're able to see life through local eyes, you're faced with a situation that's worlds different from anything most of us could imagine. We're raised with the ability to hope and the ability to dream. For many people in these Haitian villages, it takes audacity and courage to simply foster hope for the future; to hope for more than existence. Life is merely about survival and taking each day as it comes with the hope of seeing another day and doing it all again.
Process that for a moment.
Add in a very human face (well, many human faces in this very real situation), and you quickly understand that uneasy feeling as well. Yet it was in that conversation with Ms. Lynn, hearing her stories and the narratives of individuals that had come into the mission's custody, that challenged me to think differently about the people we were serving.
Mission of Grace is a multi-faceted program with an orphanage, a medical clinic (open to the community and sadly recently burned down in the unrest following our departure), an elderly care facility (which includes housing for younger people with disabilities), a soup kitchen, a church, and more. It's grown and evolved as needs have arisen and the mission that exists now is astounding and utterly inspiring. Many villagers are positively impacted each and every day through all of the individuals that make this operation run, and the joy that radiates from the beneficiaries is a happy byproduct. Ms. Lynn recounted one man, a Haitian living with severe disabilities who had been brought into their care. He now resides at the 'Grandma's House', the colloquial name given to the elderly care facility, and I was touched by his smile when we walked in.
That brings me back to the concept of joy and the ability to smile despite trying circumstances. I immediately loved the energy that exuded from the Grandma's House but when I met this man I couldn't help but notice his circumstances: wheelchair bound, unable to speak, living in this assisted facility in a small village in Haiti. There's an internal challenge sometimes in these situations because there can be a sense of sadness (to be honest, sometimes I process it as guilt) that we feel taking in someone else's reality. My talk with the Mission of Grace team made me think about this man so differently, though. The way that I was seeing him wasn't necessarily the way that he was seeing himself and his own state. This particular person had come from the streets, where people with disabilities are often relegated without anyone to care for them or assist them with basics. When he was brought to the mission his life began in many ways. He was washed, given a wheelchair, provided with meals and a warm bed, and possibly most importantly provided with love, care, and dignity to live out his life in a safe space with people who care about him on a personal level. When we think about it that way, I suppose our real question then is how could he not feel joy knowing how much better his life is now than it could have been without intervention? What if we took that example and that ability to find joy in the small things as an inspiration for our own lives to give us a better grasp on what's truly important and what can truly ignite happiness in us? It sounds deep, and it is. It's a powerful thing when an experience can encourage you to think more meaningfully about your own life.
Then there's the orphanage, Children of Grace. The genuine sound of children's laughter, clear and loud, is what will always stick with me when I think about the orphanage at Mission of Grace. There are about 70 children of all ages who call the facility home. They're provided with daily meals, nannies in charge of each facility, a playground, and an opportunity for education. In many ways, they are fortunate when compared with other children in the community who lack access to those basics. I was warned that I'd fall in love with these children and sure enough having to say goodbye was hard.
I had never worked with an orphanage before and I have always had mixed feelings about the idea of it. I was excited about this opportunity because it allowed us an entire week to spend with the children and hours to get to know them. There is a big discussion internationally around 'orphanage tourism' and the negative impacts that this can have on certain communities. In seeing the work of Mission of Grace and its volunteers first hand, it's pretty remarkable to see the wonderful ways that these children are impacted. Not only do they have the basics, but they have some really special social interaction with volunteers that are working on an extended basis with the mission. We were there for a week, many other volunteers were there for longer, and some dedicated months at a time. If I could figure out how to be dropped into this community and bypass Port-au-Prince entirely I would be here weekly to spend time in this place!
Despite the circumstances and despite the very heated situation that the country is currently facing, it's pretty amazing to see the ability for joy to thrive.
"We cannot cure the world of sorrows, but we can choose to live in joy." —Joseph Campbell
If volunteering in Haiti is something that interests you, please feel free to email me directly (I'd be happy to connect you with the Mission of Grace team) or head to their website to learn more.
Have any of you been to Haiti? I'd love to hear your thoughts on your experience!