Is the Douro Valley the World's Most Beautiful Wine Region?
Over a decade ago, my husband spent part of a summer working in the Douro Valley as part of the culmination of his Masters program. They focused on developing wine tourism in the region, at the time a destination somewhat under the radar for travelers. Portugal in general for that matter felt weirdly 'emerging' as a real contender in the European tourism landscape. At that same time, I was living in London daydreaming about Portugal, a place that I'd wanted to visit and somehow never actually made a reality. Flash forward 12 years with us now splitting our time between our island home in Anguilla and Italy and we've made it a mission to explore pockets of Europe that we can easily get to that have evaded us in the past. Enter the Douro Valley.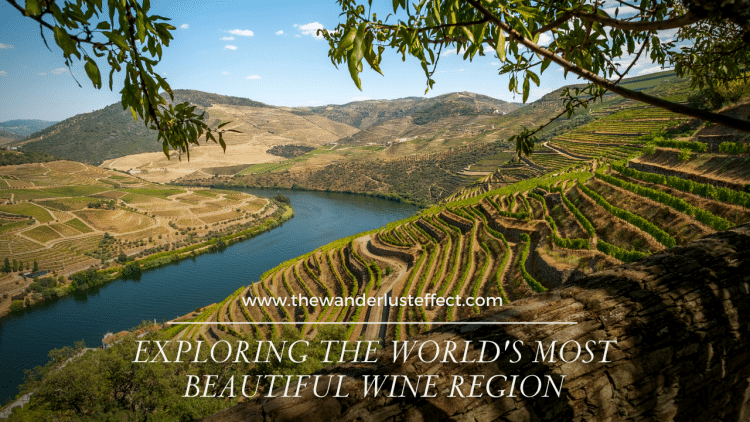 I'd seen the photos and had heard people recount how stunning the region was but WOW. When places exceed your high bar in the off-season in the midst of a pandemic, you know it's something super special. We've prioritized visiting at least one new wine region each year –  South Africa's Cape Winelands, Croatia's Peljesac Peninsula, La Rioja in Spain, exploring Bordeaux's iconic sub-regions, and forging our way on a wine tasting journey in the Cyclades, to name a few (more here, wine lovers!). Every region has its draw, unique qualities, and appeal but the Douro Valley may very well top the list in terms of the world's most beautiful wine regions. Alsace is up there, no doubt, but Alsace's charm really lies largely in its man-made beauty: fairytale facades and gingerbread houses that line the wine trails. In the Douro Valley, the beauty lies in its topography and makeup. Seeing the vines situated on the steep cliffside makes you wonder at what point grape-growing pioneers decided it was a good idea to begin with (kind of like how I feel about people choosing to build Venice).
The Douro is the world's largest mountain vineyard, and it's a UNESCO World Heritage site and is known as being the oldest demarcated wine region in the world. Given the steep terraces of the hills, the majority of harvest has to be done by hand which is a feat that makes you appreciate the value of what you're drinking even more. Is anyone else still mind-blown that you can buy a good bottle of red for under $25 when it's hand-harvested in places like this?!
For me, the magic of this area is that it almost seems neverending in its vastness. When you leave Porto and migrate east towards the Douro Valley where the grape growing happens, the jaw-dropping vistas emerge and magically continue on and on with river views and small towns dotting the way. The region itself remains authentic in its feel, and while we went in winter when crowds were thin and wine hosts were uber-attentive even at large production houses, I suspect that feeling of authenticity still exists in smaller quintas even during peak season. Porto itself seems to have had a renaissance: lively and energized with cool shops, wineries, and restaurants, but the Douro still feels like a string of villages tied together by the river. The moral of the story? Go now, and don't discount shoulder seasons for a visit!
For those that are brainstorming their trip and considering just staying in Porto and doing a day trip to the Douro Valley for Port tastings, scrap that. The region really deserves time on its own, particularly if you're keen on diving into wines of the region. And because the region is seeking to set the record straight: the Douro, which is most famous for its Port, does a lot more than fortified wines, though those are undoubtedly the hallmark. We tasted some exceptional reds (Douro DOC) and often found ourselves wondering how dry reds from Portugal haven't yet made a splash internationally. A word of advice? Pack an extra suitcase and lots of wineskins to haul some vino home.
Have you been to the Douro Valley? What were your thoughts on the region?