Takeaways from three years of Caribbean expat life
Somehow three years have passed since the day that we arrived in Anguilla as newbie islanders. I'd visited the island a few times, enthralled by the Carnival festivities with a rum punch in hand, but I'd never really experienced life on an island. When guests ask us how life in Anguilla has treated us and how the transition was, we have the same answer: it's been great, but the transition took me longer than it took him.
That's the truth. And it's a truth that many would-be corporate escapees gloss over. For me the transition happened in a few phases, and the happiness and contentedness that I now feel with island living took years to achieve. I get emails from people – and connect with people on island – who share their hope of leaving behind the rat race in the US and beginning a life in Anguilla. Some people have never been to the island before, some have been a couple of times, some have visited regularly for years and are ready to take the plunge. Much of that aspiration is predicated on a) previous vacations to the island, or b) seeing photos of island expats baking in the sun or wading in turquoise waters with a Heineken in hand. Pictures like this: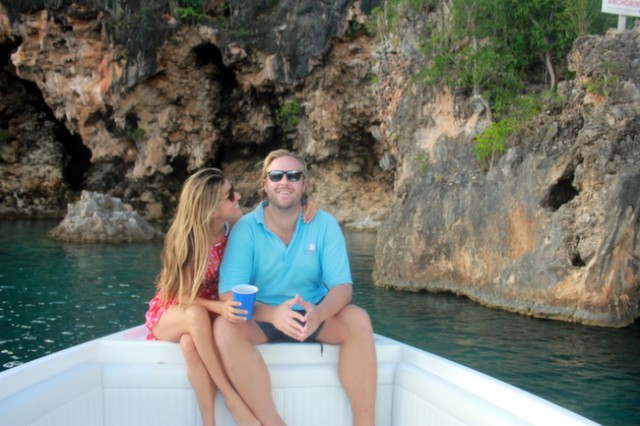 In my first year here, I expected that too. At least to an extent. I knew that we would be working (a piece of the equation many people leave out when they talk about moving here), but I suppose in my mind it would be a relatively easy transition from San Francisco to Anguilla. We would move into a house, make friends, establish a routine, etc., etc. I had done this in London a few years prior and had made friends that are now some of my closest confidantes. The first few months were a haze; reality hadn't fully set in and it felt more like a long vacation with work thrown in. It was all new, so the quirks were charming and concerns were brushed under the rug.
I can vividly remember around month four or five on the island, sitting in the car with my face in my hands, crying. I'd left behind my friends, but their lives were continuing on. I was in a new role professionally, and there was fear behind the excitement: what if I failed at this?  Beyond Scott, I didn't have anyone that I could really confide in as a friend to share my thoughts or concerns or questions. I had made friends on the island, but we were working a lot of hours and it was a bit difficult finding my tribe: I wasn't – and am still not – a mom so I didn't fit into that group (I swear being a mom automatically grants you entry into a whole group of people you may not otherwise connect with). I work, so I couldn't do the mid-morning brunch and coffee with the group of women who had the flexibility to do that. I had a few close friends on island who were also working women and they were all great sounding boards and incredibly helpful in making me feel like I had at least a few real people who I could call friends. In hindsight, for the first year, I simply felt very alone.
I had an epiphany at the one year mark, and it was a specific moment that I can pinpoint: we were crossing the Caribbean on our boat en route to St. Maarten to pick up supplies for the resort. It was a sunny day in the middle of winter, and I had a notable moment of clarity watching our boat captain navigate the sea while Jimmy Buffet was playing in the background. There was a time in my life that I would have never imagined even visiting the Caribbean. Growing up, it was a magical land of perfect beaches, turquoise seas, freshly cut coconuts and tanning oil that only a few wealthy friends had ever experienced. Now I was living it, and I while I had been grateful I hadn't really taken the time to pause and soak it all in. Most people have to work, most people have moments of loneliness and frustration, but I was lucky to be able to grapple with those emotions in a beautiful location. Plus, I had a built-in support system being on the island with a spouse. Even on my worst days, I had a partner to talk to or spend a quiet evening with.
Over the next two years, I became more confident being on the island. We transitioned from newbies to real residents. We learned to navigate the fickle waters of customs and government obstacles, and found friend groups that were real and long-lasting, something that can be difficult in an environment that's inherently transient. Three years after I first stepped foot on the island, I'm at a point where I can genuinely say that I love where we live and I love the work/life balance that we're able to achieve through island living. During the year we're always on the go, but in September and October when the island reaches its sleepy lull, we can escape and embark on adventures that wouldn't be possible in a stringent corporate environment. It's not a schedule that's for everyone, but for us, at this point in life, it's perfect for our preferences and personalities.
Learning to love island life was a process for me, something I think we're tempted to sugar coat, but I've reached a point where I feel that more than any other place in the world this is home. For Scott and I, it's the only home we've had as a married couple, and it's the place we've spent the majority of our relationship. It's not a home I would have ever imagined for myself while growing up, but that's the beauty of growing and evolving: you adapt, you find your stride, and you learn to embrace new facets of yourself. I'm glad I made it past the first year of internal struggles. It allowed me to reach a point where I can honestly look around and say that I can't imagine living a different life at this point in time. For us childless adventurers, it's the ultimate place to call home.
Thank you, Anguilla, for letting us share three years of our lives with you. Cheers to many more!