How to Spend Three Days Exploring the Red City
Morocco is a destination that has long captivated, and in some ways seems like an entry-level point into the Middle East and North Africa for visitors intrigued with the region, wanting to dip their toes in. It's a sensory experience, in every sense of the word; it feels authentic but it still has a well-hewn traveler path that makes it accessible. Add to the fact that Moroccans could be the most multi-lingual bunch of people I've encountered (Arabic, French, English, and often Berber, German, and Spanish) are spoken widely including with shop owners in the souqs. I'll be sharing a full itinerary for one week in Morocco, covering our time in Marrakech, the Atlas Mountains, and in the Agafay Desert, but first I wanted to take a more bite-sized approach, much like I did when sharing my itinerary for two weeks in Egypt. To start, I'm sharing our itinerary for three days in Marrakech with some insight and information on general Morocco travel that I hope is helpful. As a traveler and a travel planner, I find that the details – for those that want them – can help hugely with the planning process.
Let me start by saying that I adored Marrakech for its vibrancy and congeniality. We opted to spend three nights (3+ full days) in the city as a starting point. When booking, look for flights into Marrakech and the medina is a quick 20-minute drive away. If you're coming from Europe, you'll likely have some direct flights. If you're coming from the US, you'll likely connect in Casablanca en route.
Day 1: Marrakech Life + Souq Scouting
9AM – 1PM // Settling into Marrakech Life
It's your first of three days in Marrakech and if you're fresh off an international flight you'll be wanting to take in the simple pleasures of the sights, sounds, and smells of this city. There's no doubt about it: you're in North Africa and even the walk to your hotel from the taxi stand will be filled with gorgeous architecture, sounds from the mosque or souqs, and colorful shops doling out tagines, rugs, bags, and shoes. Our flight from Rome landed early (around 9AM) but many international flights will bring you to Marrakech around noon. If you're on the early arrival side, request an early check-in or take some time to luxuriate in your arrival. We started our stay on the rooftop of Riad Kherridine, where we stayed for our three days in Marrakech. There are a range of spectacular luxury hotel offerings in the city (more on this below) but I personally loved being in a smaller boutique-y riad. For those that prefer the larger 5* approach, that exists as well! Unlike Cairo, where the luxury hotels largely felt dated to us, Marrakech really does beautiful accommodations well so you're spoiled for choice here.
One of the beauties of Marrakech is that there aren't a heap of things to check off of your list; it's more about leaning into a casual relaxed approach, enjoying mint tea or lingering at the gardens vs. a Parisian-style hit list of to-dos. In the warmer months, you may opt to spend some time in the morning or afternoon in a pool lounger taking in the sun. If you're a 'doer', then there are museums to explore as well and plenty of photogenic corners to hone your photography skills.
Afternoon // Explore the Souqs in Marrakech
Oh goodness, if Marrakech does something incredibly well, it's the souq scene. I adored our time in the souqs in Jerusalem and had an amazing time exploring the Khan el-Khalili Market in Cairo but the souqs in Marrakech are next level. And honestly, I found them less harassing than the souqs in Egypt. People were attentive and committed but I found we could generally walk away when we were uninterested without it feeling like a mission. We visited the souqs daily but the first day was a bit of a recon mission. You can wander for hours taking in the beauty of these shops, but if time permits I'd make the first day a bit of an exploration day to take in the market and its offerings with a cup of fresh-pressed pomegranate juice. You'll find shops that are standouts and can always revisit them – ask for a card so you know the shop's name and can return! That said, if you're looking for anything custom done (e.g. those great bags with a custom phrase, for example), I'd find someone on the first day to give them some time to produce it for you.
Many of the souqs look like Jamal's (above) but there are some established stores, too with indoor shopping, A/C, and proper glassed-in windows. Most of the stores that are real storefronts aren't as amenable to negotiations and have fixed prices. Most shops in the market, by contrast, are expecting to negotiate. As Moroccans mentioned to us, there are Moroccan prices and tourist prices, so go in planning to negotiate.
👉🏼 TIPS ON THE SOUQS: First and foremost, have MAD on you. EUR may work as well and USD got us by in a pinch, but MAD will be a much more user-friendly currency. You can change money at the airport upon arrival and we found the exchange rate decent. There are also ATMs in Marrakech that you can use to take out MAD. When it comes to negotiating, we were told to not expect to pay more than 50% of the starting price. It sounds wild and if you're like me, you'll feel a bit uneasy talking people down on pricing, but my approach is this: I know what I'm comfortable paying for an item so if I've overpaid a bit but I still feel like I've gotten a good value then good for me AND good for them! We routinely found that agreeing to 50% or slightly less was doable and everyone seemed perfectly happy in the end. If you're negotiating in bulk, you should be able to get even better pricing. Credit cards are accepted at many souqs for larger purchases but cash is appreciated.
Day 2: YSL Moments + the Majorelle Gardens
Daytime // Leisurely Mornings + Garden Wanderings
We allowed ourselves to enjoy the pleasure of long mornings with breakfast on the rooftop with friends over coffee and Moroccan tea, hearing the call to prayer pop in mid-meal. For people that are pavement-pounding sightseers like me, that can take a moment to get used to (shouldn't I be seeing something?!) but it's really such a beautiful aspect of being in Marrakech and particularly with allowing yourself three days in Marrakech – or more – so you can enjoy at a leisurely pace.
When it comes to things to do in Marrakech, most people will tell you that some of the big draws in the city are the Majorelle Gardens and the YSL museum. These are in the same place essentially, along with a small but well-done Berber museum, so you can see them all in one go. The gardens are lovely and photogenic and you can spend an hour just meandering and photographing little touches throughout.
The YSL museum is a major draw and represents one of two YSL museum outposts in the world: one in Marrakech and one in Paris. Yves was inspired by Marrakech and lived there in part, and the museum captures his inspiration, his life, and a lot of his art including actual artwork not limited to fashion. The store is a treasure trove of beautiful books, postcards, posters, and more. There's another gift shop in teh gardens near the Berber museum that's also beautifully done with so many great coffee table books to take home if you're inclined!
Also worth noting, the street you'll walk down, Rue Yves St Laurent is home to some great upmarket shops. They're a contrast to the souqs in their feel and pricing, but if you're looking for more established outposts with luxury goods it's worth stopping in to explore places like 33 Rue Majorelle which has a gorgeous collection of curated goods.
Afternoon // Tea + Souqs or Maison de la Photographie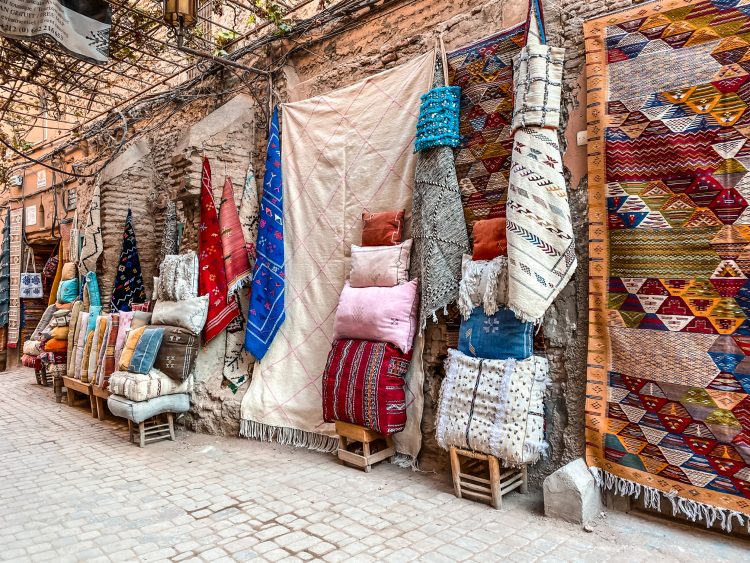 We opted to return to the souqs to explore and shop again, this time with a bit more intention. We visited the markets daily and discovered new enclaves each time that were so fun to uncover. In terms of great take-homes from the market, take a peek at hand-crafted bags, tea sets, spices and tea, and oils like argan and prickly pear which are typically very pricey in the US. Some argan distributors seem more reputable than others so find an established place that feels professionally run (the one we found felt like a pharmacy of sorts) so you can purchase what's right for you.
If you'd rather add in another dose of museums, you can head to the Maison de la Photographie. The world's largest free-standing collection of photography, the museum documents Marrakech from the 1870s to 1950 with 8000 photographs to see and is one of the top places to visit in Marrakech for those wanting actionable to-dos in the city.
.
For an afternoon aperitivo, do like the Moroccans do and opt for a cup of tea — with a view. In Jamaa el-Fna Square, the main square in Marrakech, it's sensory overload (snakes, food stalls, monkeys on leashes, henna artists). Instead, we opted to find a perch to take it in during sunset. Moroccan tea typically is done with a hefty dose of sugar so if you'd prefer to control your destiny, get it on the side.
7PM – 10PM Dinner in Marrakech
Your nightly meals in Marrakech may very well be your introduction to Moroccan cuisine in Morocco. There are some vegetarian-friendly options but the cuisine tends to be rather meat-heavy with lamb and chicken tagines as a common go-to. You'll be spoiled for choice with dining during your three days in Marrakech. We loved the beauty and vibe of Azar Restaurant, the traditional feel at Dar Zliij, and the Lebanese-Moroccan fusion of Naranj, which was a bit more casual (and doesn't serve alcohol). It's worth noting that not all restaurants serve alcohol in the city though many major tourist restaurants do have a license for this.
Day 3: Visit the Hammam + Explore Luxury Hotels
Morning // Hammam Life
If there's one thing that's quintessentially Moroccan, it's the hammam. The hammam experience involves being washed and scrubbed by a pro (opt for the gelee-like black soap for the traditional method). We chose to do ours at Riad Kherridine with a combination package of hammam + massage which was perfect for us. It's worth mentioning that if you're familiar with hammams we often think of these experiences being male and female (separated), but the hammam in a hotel setting can definitely be a couple's experience as well. If you're going with friends like we did, and decide to do males and females separately, know that it will involve stripping down to very, very little (a disposable thong for women) so be aware of the attire if that makes you a bit uneasy! There are a number of hammams in the city, both stand-alone places and spas in hotels, so find a place that works for you or strategically plan your spa day in a luxury hotel to get an inside look at one of Marrakech's finest properties.
Afternoon // Luxury Hotel Exploration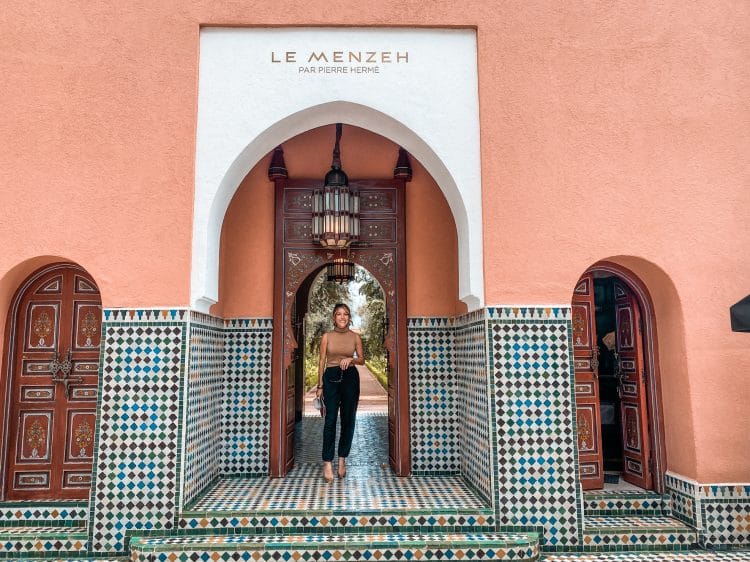 The other thing that Marrakech does beautifully is luxury hotels, which range from riads to larger five-star estates. Some of Marrakech's finest hotels get ranked as the best in the world, so there's something to be said for the quality, the touches, and experience. We chose to visit La Mamounia, a tried-and-true favorite for luxury lovers. Go for a cocktail or explore the grounds and shop at the luxury outposts inside (thing Dior, YSL, and more). If luxury hotels are your thing, also check out the Royal Mansour for a visit or for afternoon tea.
Evening // Dinner or a Food Tour
As mentioned during Day 2 above, there are ample restaurants to enjoy in Marrakech but if you're keen on food tours, check out some small group food tours inside the Medina to learn more about the history and culture of Marrakech through food.  Alternatively, look at doing a cooking class in a local home to enjoy dinner in a very authentic way.
For those that have been to Marrakech, I'd be curious to hear your thoughts and highlights! How would you spend three days in Marrakech?