Situated in Jacó, a relatively short drive from the Costa Rican capital of San Jose, Villa Caletas is a dreamy escape that's arguably more of a destination than the area itself. With a range of rooms and suites, an infinity pool that will make any traveler's jaw drop, and unparalleled views, it's one of Central America's most romantic escapes. 
DESTINATION: Jacó + Herradura, Costa Rica ??
A visit to the Jacó and Herradura region of Costa Rica places you beachfront in the laid back surfer hotspot, and a short drive from acclaimed Manuel Antonio National Park. Herradura is home to a big boating and fishing community, and the Jacó area is a bit of an expat haven. It's a touch on the gritty side and has become rather touristy. For a more complete experience, a stay would best be combined with areas further afield for a more typical (and outdoorsy) Costa Rican experience.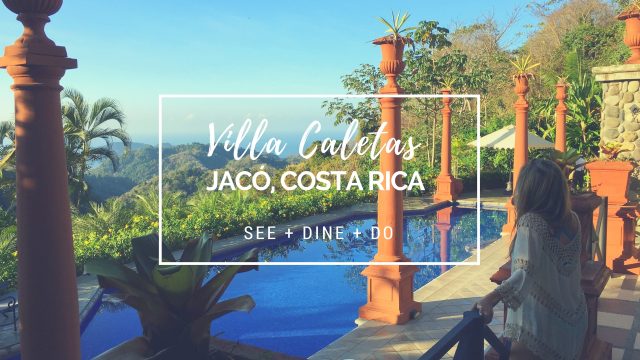 To me, Jacó isn't really much of a draw if I'm being honest, but Villa Caletas might just be dreamy enough to draw me back for a return visit. The property is beautiful, perched on a clifftop that provides incredible views from every angle. The infinity pool is something out of a postcard, overlooking the sea and surrounded by lush vegetation. Dining is equal jaw-dropping, with views from the amphitheatre that will have you lingering after a morning meal. We stayed in a Superior Junior Suite, a gorgeous and spacious room with a private pool shared with a couple of neighboring suites. The morning views + the sounds of nature will have you feel like you've been transported to a place of unparalleled R&R. Spa services are available on site (though our deep tissue massage had me a bit bruised!), and a shuttle is provided for guests to reach Villa Caletas' private beach.

THE VIEWS. We had breakfast each morning in the amphitheatre, where views were the scene stealer. Food was wonderful, including a wide range of Costa Rican classics like plantains smothered in cheese (#vacaymode) or the healthier option of fresh fruit plus a morning cup of regionally sourced coffee. For sunset, El Anfiteatro Bar is a must. Grab a cocktail and watch the sun dip into the horizon for the area's best view. There's also El Pelicano Beach Restaurant, which is the dining spot at Villa Caletas' private beach. For a refreshing afternoon bite, grab a frozen cocktail and an order of zesty ceviche.
Planning your getaway to Costa Rica? Here's some inspiration for your trip:
?? Book a Stay at Hotel Villa Caletas in Costa Rica

Number of Rooms: 45 including a range of rooms and suites
Cost Per Night: $160 – $350
Must-Try Eats & Drinks: Grab a sunset cocktail at El Anfiteatro, the perfect place to watch the sunset
Hotel Highlights: Views. Whether you're taking in the views from the infinity pool or from your breakfast in the amphitheater, you're spoiled with vistas at every angle.
Worth the Investment? Villa Caletas is a stunner, but the Jacó area leaves a bit to be desired.