A How-To for a Girls Getaway in St. Barths
When it comes to epic bachelorette party destinations, St. Barths is undoubtedly amongst the world's chicest, bringing the perfect medley of glam exclusivity, great dining, lazy days, and energized evenings. For millennial brides-to-be, a weekend bachelorette party has become de rigueur, a different experience than our parents' generation of a single evening out to celebrate. As ladies living in Anguilla, St. Barths was a natural choice for our bride-to-be's pre-wedding escape. Whether you're living on a neighboring island or looking for a girls getaway that feels a world away, here's a run down on creating a memorable bachelorette party in St. Barths.
Getting to St. Barths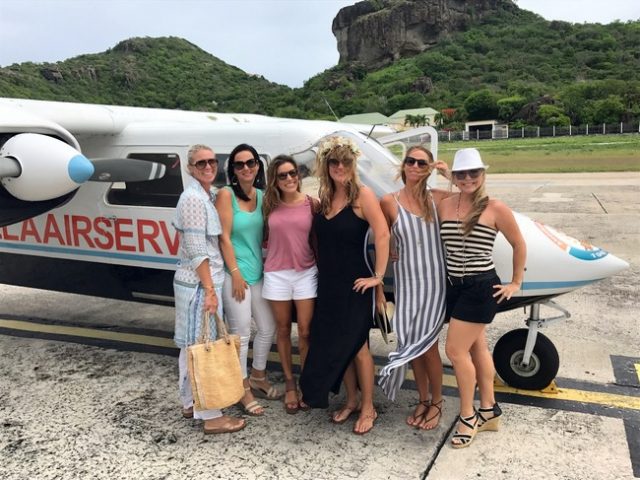 To get to St. Barths, you'll likely fly from St. Maarten's Princess Juliana Airport, St. Martin's Grand Case airport, or from another neighboring Caribbean island if you're regionally based (e.g. we flew direct from Anguilla with Anguilla Air Services). St. Barths has a tiny landing strip, which means you'll likely be heading over in a 5 – 9 passenger plane. Depending on the number of people going, don't discount the idea of chartering the plane (sounds like a glitzy St. Barths move but actually can be relatively cost-effective). For example, round trip charters from Anguilla come in at around $1700, and can be shared amongst up to 9 people.
If you have fewer than 6 people, booking individual flights may prove more cost-effective, though you will be tied to a scheduled flight vs. dictating your own timing. Carriers into St. Barths include St. Barths Commuter, Anguilla Air Services, TransAnguilla Airways, Winair and Air Caraibes.
If you're going through St. Maarten, the Voyager ferry is an option as well, but it's worth noting that the passage from St. Maarten to St. Barths is notoriously rough so weaker stomachs should opt for the flight. At about 12 – 15 minutes for flight time, it's a breeze.
Where to Stay // Villas vs. Hotels in St. Barths
St. Barths has a reputation for being less than budget friendly, and while there are plenty of opportunities to break the bank, there are also gems that are reasonably priced to cater to different groups and needs. Your group size and group travel style will dictate whether a hotel or a villa is a better option. With six ladies, we opted for a villa set in Grand Cul de Sac, steps away from Le Sereno. With three equitable bedrooms, a pool perched with views of the beach below, plus a kitchen, it was the perfect fit for our dynamic. We stocked up with spirits, wine + champagne (mandatory for a bachelorette party, of course), plus items for breakfasts and the requisite afternoon cheese plate. We chose a villa in St. Barths through Airbnb, but there are a great range also available through Luxury Retreats, WIMCO, Eden Rock, and other villa agents. Keep in mind that during high season, most villas require a weeklong rental, which can make it more a challenge for shorter lengths of stay.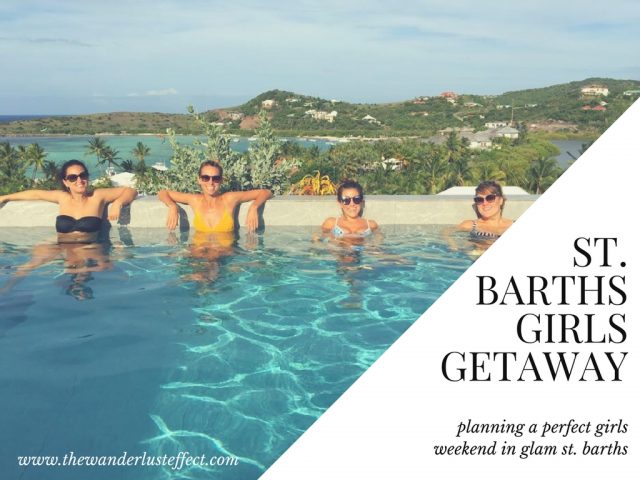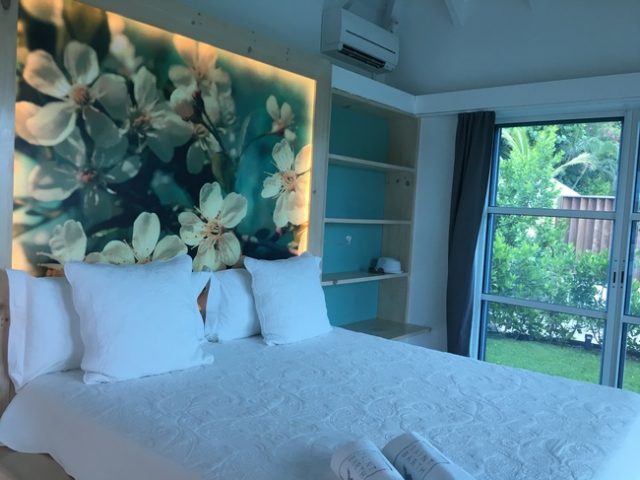 The other option is, of course, the traditional hotel route, which is a great option for those that 1) want extra hotel amenities, 2) don't want the communal space of a villa, 3) don't think they're going to be eating in at all for breakfast or snacks, 4) don't meet the minimum length of stay required by villas in some instances, or perhaps resonate with all of those points above. Hotel rates in St. Barths will vary hugely by season but if you're opting for sometime in the later spring or summer months, pricing can be competitive, often in the same range as splitting the cost of a villa. There are a couple of great options that prove to be a great value on the island while not compromising on location. First there's Le Village, a family owned 25-room boutique hotel set just a 5-minute walk up the hill from St. Jean beach. Friends that have stayed there rave about the breakfast and views, and rooms start at just €177/night during the summer months. Another relatively great value is Tom Beach Hotel, situated right on St. Jean Beach, steps away from the many of St. Barths' hot spots. Rates begin at around €320/night, including breakfast. Plus,  – in case you missed it! – their dining spot, La Plage, is one of my top places for lunch in St. Barths.
Money no object? Check out the tony Eden Rock or uber-chic Cheval Blanc.
Daytime in St. Barths
St. Barths brings the typical Caribbean mélange of sun, sand, and sea, with the magical
fourth 'S': shopping. 
Daytime in St. Barths is about reveling in all of these things.
SUN, SAND AND SEA. If you missed my previous post, check out these 5 places for a perfect lunch in St. Barths for some inspo on how to spend a day of rosé sipping, people watching, and dining al fresco. If you choose wisely, your seaside lunch will morph seamlessly into a sun-drenched afternoon on one of St. Barths' iconic stretches. Give yourself ample time to soak up the sun and enjoy a leisurely lunch – it's the hallmark of a day in SBH!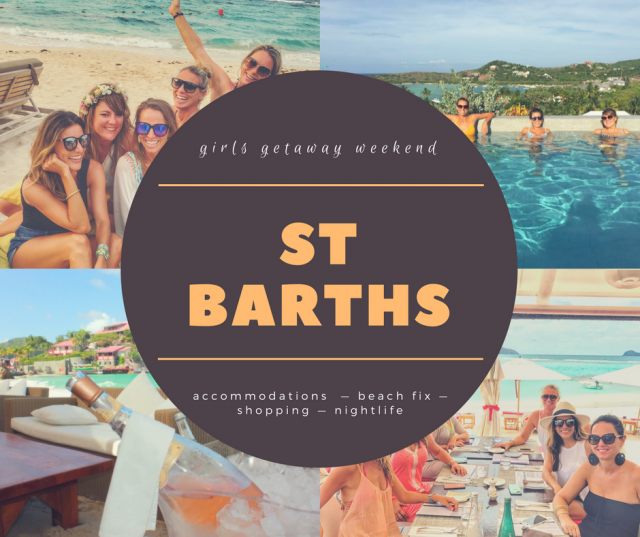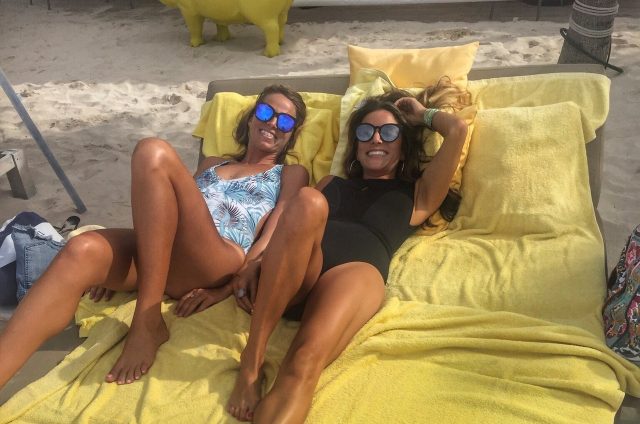 SHOPPING. But first, before lunch and before sunshine, there's shopping. Is any bachelorette party in St. Barths complete without it?  St. Barths has a reputation for being a spendy destination but that's only partly accurate. Yes, you can shop at Bulgari, Hermes and Louis Vuitton, but there are plenty of other options with boutiquey finds that are more approachable, especially if the euro/dollar exchange rate is working in your favor. In winter during the island's high season, pricing is at its peak; you'll be hard pressed to find a sale in sight. By summer, that changes. Many great boutiques are moving their inventory from June through August to make room for next season's stock, so you'll find 30 – 50% off pretty regularly, with up to 70% in some instances. Gustavia has a range of shopping available if you want to stroll through the island's capital, but I actually prefer the shops near St. Jean Beach (right near Nikki Beach and beyond) with a range of wonderful boutiques carrying a healthy selection of beachy clothing and accessories.
It's worth noting that many shops do close in the afternoon (often beginning at around 1PM, and reopening around 3PM, depending on the store). To be safe, get in your shopping pre-beach when most stores are open… and before you've had a few glasses of wine if you're monitoring your spending!
 Evening + Nighttime in St. Barths
St. Barths is a later dining scene, which is a perfect complement to the lazy daytime lounging. Take in the sunset, enjoy a pre-dinner cocktail with your gals, and take your time getting glam for dinner. While dressed up shorts + tops or a breezy sundress will work perfectly fine, St. Barths is one of the destinations in the Caribbean where you can get dolled up and not feel like you're overdressed. Opt for a later dinner reservation, somewhere around 9PM is pretty spot-on, so you can enjoy a drawn out dinner that flows seamlessly into an evening out.
The dining scene in St. Barths provides plenty of options, with a high concentration of famed dining in Gustavia. I've raved about the food at Bonito and Orega in a previous post about how to spend a perfect day in St. Barths but the options go beyond that for all palates and a range of price points: L'Isola for Italian, Baz Bar for music and sushi, Bagatelle for French fare or 25 Quarter for a cool twist on 'street food'. The one thing worth keeping in mind is that the nightlife post-dinner is not really in Gustavia so depending on how often you'll want to hop in a cab to get around, you may prefer dining closer to your post-dinner hangout spots.
Le Ti, for example, is an eclectic bar/night club/costume party located in Point Milou that's a must for most groups exploring the island. When we arrived around 11:30PM, it was fairly quiet but continued to pick up over the next hour or so until it felt as though the entire island descended upon the scene. And it is a scene unlike many places you've been to. There's an outdoor bar and lounge space to congregate before you enter the world of Le Ti: DJ spinning, patrons dancing on tables in costumes, hourly indoor sparkler shows; it's all kinds of eclectic and unique and captivating. In the depths of the club, there's a costume room where willing visitors can swap their clothing for a more suitable outfit (think Snow White, a nun or a fire woman to name a few), plus wigs and accessories. It's an experience, and for a girls getaway or bachelorette party in St. Barths it's an absolute blast being in costumed company.
And what about when it's time to move on from Le Ti to keep the party rolling?
Enter Modjo, the extra late night spot that doesn't really get going until sometime after 1:00AM (maybe 2AM). St. Barths is a tiny island so we watched as folks from our earlier encounters at Le Ti trickled into Modjo as the night wore on (you'll see familiar faces during your time on island). If you're there with a group, opt for bottle service to have your own little lounge area for the night. Costs vary, but are more reasonable than you may imagine (think around $200 and up). It's the perfect final stop for your big night out.
While there some relatively good values to be had in St. Barths at the right time of year, it's worth keeping in mind that the long lunches, evening cocktails, and nights out do add up. As with any group getaway, it's important to be realistic about your costs up front so everyone feels comfortable with what they're getting into for the weekend away (or can gracefully bow out beforehand). Part of enjoying St. Barths is letting yourself enjoy the scene so budget accordingly and savor the moments!
Have you done a girls getaway to St. Barths? Would you?