Delving into Costa Rica's Jungle Scene
After a full day of relaxation at Villa Caletas, we decided to head further afield to explore Costa Rica's diverse Pacific Coast. Costa Rica famously boasts 5% of the world's biodiversity within its tiny borders. Add to that the country's indisputable eco-friendly mentality, and it's a haven for nature lovers, wildlife enthusiasts and adventure seekers. While Manuel Antonio National Park is the smallest of the country's parks, it offers the greatest diversity within it's 3 square mile space. During our day exploring, we ventured from jungle to white sand beaches in just a few steps, taking us from one visually arresting landscape to the next.
Entering + Exploring Manuel Antonio National Park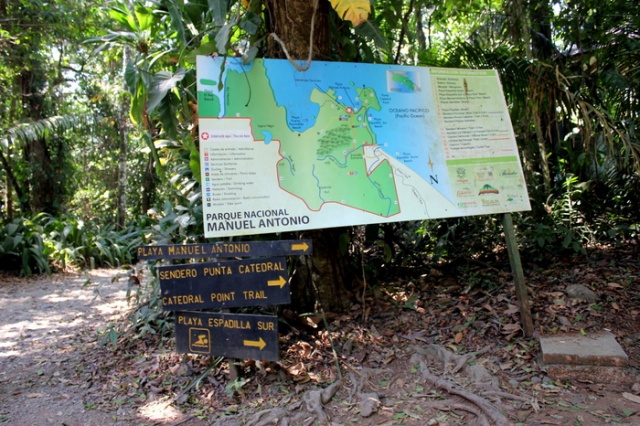 I was particularly excited to explore the park after our time at Punta Sal in Honduras last year. We'd heard incredible things from visitors to Costa Rica noting the immense biodiversity and incredible jungle scene, and I couldn't let us be this-close without visiting. We made the drive from Herradura, about 1 1/2 hours by car, passing Jaco's main drag, Playa Hermosa, and a few other sleepy beach towns along the way. For most of our drive, there was land as far as the eye could see: lush palm trees, expanses of grass, and unrecognizable plants blooming with the odd house here and there. We departed our hotel around 6:45AM, landing us at Manuel Antonio around 8:15AM, a little over an hour after the opening of the park.
Visitors to the park are required to purchase tickets ($16 each for adults) before passing through the park's wrought iron gates. At 8:15 there was a line around the ticket building of eager backpackers and families waiting to get in. When we arrived at the front of the line, we watched as an attendant put a sign on the ticketing window. The park was closed to entrants until further notice; likely for the next hour or so, until visitors began exiting and making room for new guests.
Nooooooo.
We had driven an hour and a half to get to the park so we patiently waited in the sizzling sun until further notice. Quite honestly, I was amazed by the scene. After having explored other jungles and deserted beaches in Central and South America we weren't expecting to feel like we were going to Disneyland this time around. To be honest, that's precisely what it felt like. We were waiting in line for an attraction and hoping that we could push our way forward to get through the entrance when the next batch was let in.
Fortunately, our wait was less than thirty minutes before they reopened the gates for a portion of the group.
We were in.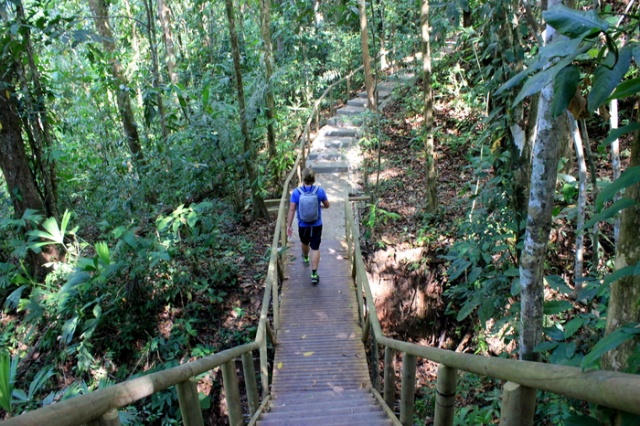 Part one accomplished. We had made it inside of the gates, and while I hadn't anticipated that being a feat, getting this far felt like an achievement. Hordes of people entered at once, looking around for sloths and monkeys that call the park home. Within a few minutes, we hit an offshoot that would allow us to leave the overrun main stretch, taking us a half mile to a waterfall. Whether the waterfall was worth seeing we weren't sure, but we figured it would be a good opportunity to break away from the pack and explore independently.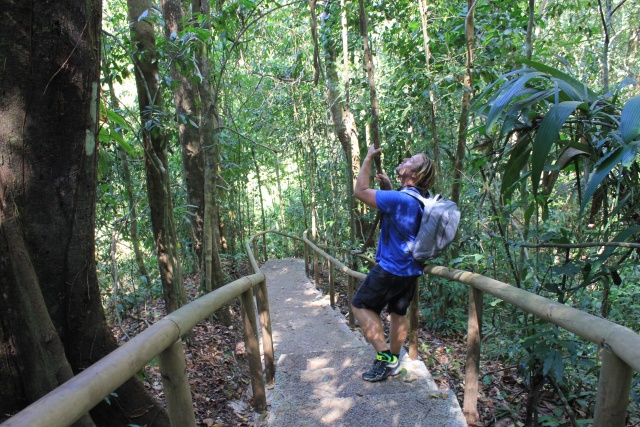 It was the right move if we were looking for something less trafficked. It was the wrong move if we wanted to actually see a waterfall, but that only felt like half the reward anyway. We saw a lone sloth in a tree during the hike, and swung on Tarzan branches with no one in sight. The half mile jaunt took us through series of stairs – up and down, up and down – until we reached the terminal point: the seasonal waterfall. Did I mention that February is dry season in Costa Rica? This was generally a good thing in my mind, but when a waterfall is seasonal, a dry season generally doesn't bode well for the 'water' part of a waterfall.
We looked around with a few other onlookers, laughing at the outcome and staring at a dry rock face. At least it was only a mile round trip, and on the bright side we had found solace in the lesser trafficked parts of the forest. That had to count for something, right?
We continued on the main path once again before diverting onto the Sloth Trail, a detour that's about a third of a mile which terminates at a road that runs perpendicular to the beach. In hopes that I would be in an outdoor sloth den with their smiling faces all around, I quickly began questioning the validity of the Sloth Trail's moniker. About two-thirds of the way through I saw the shadow of a sloth sitting in a tree stories above me. Without my glasses, I had to use my imagination a bit, but I could see the evidence of where a sloth would be marinating and decided that yes, in fact I'd seen the little guy.
Playa Manuel Antonio
After completing the trail, we took a final road that abuts Playa Manuel Antonio, ranked one of TripAdvisor's top 25 beaches in the world. I was excited to see what was in store, prepped with a bathing suit under my clothes so I could take a quick dip. No doubt about it: the beach is a lovely stretch of white sand with waters that are reminiscent of the Caribbean. After having seen some other beaches on Costa Rica's Pacific Coast, I can see why Manuel Antonio's stand out from the crowd. I'm not sure it's one of the world's greatest, but set next to the jungles in the scorching sun, I can see how it's a gorgeous and welcome respite after a hike.
My biggest issue was the number of people around, and the fact that we had backpacks and our wallets with us. There was nowhere to put our things down if we both wanted to get in the water, and after weighing our options we decided to just admire the views. In my mind, a perfect way to enjoy this would be with a bowl of ceviche on the beach, but when it comes to food and drink you'll be hard-pressed to find options on the beach. Alcohol is expressly prohibited and there aren't vendors doling out food. From what we saw, the common route was to bring your own picnic lunch – sandwiches and fruit were the popular choice (no chips allowed in the park).
The best part about the beachy jungle scene? Much like we had experienced in Honduras, this was where the monkeys were hanging. We saw them scurrying across the beach, and perched in branches near the park's pathways. There had to be a dozen monkeys in total: some snacking on fruit, three monkeys fighting over a piece of bread, and two nestled in a branch grooming each other. I am endlessly fascinated with watching monkeys interact – the way they use their hands, their expressions, the ways in which they play together are so humanlike that it's hard to not be absolutely captivated.
After our monkey encounter, we felt content with the park. We'd glimpsed some gorgeous views and finally seen the famous national park so we continued on to make our way out the way we came. The reward? Ice cold coconut waters from street vendors to cool off and rehydrate. Perfection.
The Verdict on Manuel Antonio?
Honestly, I think I went into the park with elevated expectations which was part of the problem. I'd heard so much about how fabulous it was, I had imagined being surrounded by monkeys, looking up at sloths, seeing birds and butterflies, and – dare I say? – not being absolutely surrounded by other visitors. As I said earlier, our comment was that it felt a bit like Disneyland; an 'attraction' more than an authentic brush with nature. We've been fortunate to have some really cool rainforest experiences, but I would have never compared something like our experience in the Amazon to a national park in Costa Rica; that would be an unfair comparison.
In actuality, it was our time at Jeanette Kawas National Park in Honduras that jaded us. In that teensy 'park' (it's not gated and there are no fees to enter), we were alone with our guide. We fed monkeys as they followed us around, and came face-to-face with wildlife in a setting that was so authentic it was indisputable. We were warned to be calm in case jaguars approached and traversed paths that worn but imperfect. Then we stumbled into the beach, much like in Costa Rica, where we saw the same bright white and Caribbean waters with no one around. The only people nearby were local families that cooked up a meal to accompany our Salvavidas in the afternoon. On nearly every level – beach, wildlife, authenticity –  Jeanette Kawas was the clear winner over Manuel Antonio National Park. And it wasn't a comparison – it shouldn't be – but it always is a comparison in your mind. You know what you've seen and experienced in the past and for better or worse that shapes your ideas and conceptions about what is 'great' and what experiences can be.
That being said, I think Manuel Antonio offers gorgeous beaches and a great experience for someone who wants a destination that's safe and provides an organized, well traversed path. No doubt that it's a beautiful place, and if you haven't seen monkeys bouncing around along a beach before, you'll be absolutely enchanted watching them here. To me, one of Costa Rica's biggest draws on the tourism front is the safety and well established tourist infrastructure. You may not feel like an explorer or adventurer being surrounded by other people, but for many travelers there's a sense of safety in going places that you know many have visited.
Practical Information + Tips for Exploring
We went in not knowing entirely what to expect, so hopefully some of these tips will prove useful if you're planning on heading to the park for a visit:
GO EARLY ··· The park opens at 7AM and people get there early to be granted entrance to the park. They've fairly recently put regulations into place to manage the number of visitors entering the park on any given day (I personally believe this is a good thing despite having to wait), so go early if you don't want to risk being shut out! We went on a Thursday, and a there was a sizable queue by 8:15AM.
STOCK A BACKPACK/RUCKSACK ··· Take a backpack or small sack with water, sunscreen and lunch. While you're somewhat protected from the sun when you're in the jungle area, it can get very hot when you're exposed to the sun so you'll want to stay hydrated. As I mentioned, you won't really find much in a way of food within the park so bring lunch to enjoy on the beach! Also, wear or bring a hat to protect from the sun – it really is a lifesaver.
BRING A BATHING SUIT ··· Wear or bring a bathing suit so you can take a dip in the water. You can easily wear your bathing suit under your outfit like I did. The hikes aren't strenuous so you don't need to be outfitted in real hiking gear. We saw people in all states of dress: some in bathing suits, cover ups and flip-flops, and some in Northface zip off pants and hiking shoes. Wear what you feel comfortable in!
KNOW THE LAY OF THE LAND ··· When we were there, we were surprised that there were no trail maps provided or general maps of the park, which makes it a bit difficult to know where you're hoping to go (e.g. is there some site that we want to head to first? last?). Some of the trails are signed (for example, the waterfall trail and 'Sloth Trail'), but you don't really know where these trails are until you run into them.
BRING CASH ··· Bring cash for the entry fee and for exploring the surrounding area afterwards. The Manuel Antonio area comprises more than the park itself. Once you exit, you'll see an array of street vendors doling out ice-cold coconuts, and selling jewelry and handicrafts. You can also head to the beach in town for parasailing, surfing and other water sports! We found that US dollars were widely accepted but colones seemed to be the easiest and most considerate way of paying street vendors.
Have you been to Manuel Antonio National Park? How did you think it stacked up?
Any tips for first timers to the area? 
xo,