Mastering a stay on St. Martin's French side
If ever we have a night to stay in St. Martin on a quickie trip over from Anguilla, we hightail it towards the French side for a night in Grand Case, the gourmet capital of the island with an undeniably French feel. To me, it's the island's gem, and provides a bit of a calm oasis on an otherwise bustling island.
Thinking about how to spend a perfect day in Grand Case? I've got you covered. From a dose of shopping, lunch time lazing and a fabulous foodie evening, you'll take in the area's highlights in 24 hours or less.
Morning 〰️ Coffee, Croissants and Ocean Views
I'm not a huge breakfast person so mornings in Grand Case usually consist of a cup of coffee and fruit, but for breakfast lovers, the French side has some fuel to start your day. Hotel restaurants including Les Temps des Cerises and the Sunset Cafe at Grand Case Beach Club serve up breakfast for visitors to the area and many hotels, including our go-to Hotel L'Esplanade, offer complimentary coffee and breakfast bites for pre-order.
There's something serene about the morning in Grand Case; taking in the views and beach scene before the world's fully awaken. Enjoy a few moments of serenity before continuing on to the beach for your daytime dose of Vitamin D.
Daytime 〰️ Beach Lazing + Boulevard Browsing
There are a number of great lunch spots in Grand Case so you'll have you're choice of establishments for your fill of rosé, ti punch, and charcuterie (when in the French Caribbean, right?). For a comfortable spot with lounge chairs along a smooth stretch of sand, check out LOVE Hotel, which serves up great small bites on the beach (though you wouldn't necessarily know it by looking at their website). The setup is the perfect chilled out vibe for a day of R&R on the beach.
Those who want something active to break up the afternoon can test their stand up paddle boarding skills and try their hand at wakeboarding with LOVE Watersports' stand up paddle rentals and wake school. Paddlers can opt for a serene paddle along the beach and mountainside or head further afield to Creole Rock to explore and snorkel.
For those that want to break up the day with a spa treatment (I mean, isn't that everyone?), head to Ti Spa at Hotel L'Esplanade for a bit of mid-day pampering or a detox massage to help counterbalance those rum and rosé filled days.
Grand Case is super compact; essentially one main thoroughfare that's lined with restaurants, bars and shops for the ultimate in accessibility. For a quick break from the beach, check out the cute boutiques doling out chic coverups, hats, and accessories. Voila SXM is a favorite of mine, and Sexy Fruits has great coverups at reasonable prices.
Pre-Dinner 〰️ Beachfront Bar Crawl
You've gotten your fill of sun and sand, and now it's time to enjoy Grand Case as day turns into night.  Calmos Café is the most multi-purpose place in Grand Case. It seamlessly transforms from family friendly daytime beach scene to a cool nightspot for those wanting a pre-dinner drink or a post-dinner hangout. No doubt, it's a great place to watch the sun set but if you'd rather soak up all of the daylight hours imaginable on the beach, head to Calmos for a post-dinner cocktail with lively music right on the sand.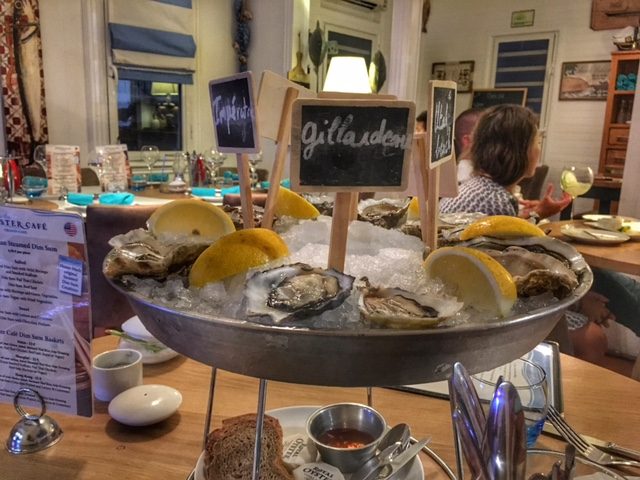 For a cozy little spot serving up oysters and innovate craft cocktails (or champagne, if you prefer), head to Oyster Cafe, one of the newer spots at the head of the strip Grand Case that's quickly become a must on my list. Mosey on up to the bar to watch the mixologists at work carefully muddling specialty drinks. Not sure what to order? Let the bartender help craft something that'll fit your tastes.
Dinner 〰️ Gourmet Dining Along Grand Case Boulevard
Now, for the main event. The hardest part of going to dinner in Grand Case is choosing where to go. I'm a huge fan of the appetizer crawl but Grand Case isn't really the best place for that style of dining (that's why the pre-dinner cocktail + oyster medley is in my repertoire). You'll want to commit, and a quick glance online will give you no less than 60 alleged restaurants in Grand Case. Of those, there are probably upwards of a dozen that would be contenders for a must-try dinner. It probably comes as no surprise but the cuisine is primarily French with many restaurants serving up fabulous cheese boards, foie gras, and escargot. We've had wonderful meals at Ocean 82, Bistrot Caraibes and La Villa in the past, and L'Auberge Gourmand and Le Pressoir come highly recommended by other Grand Case lovers. For those wanting to skip the French fare, head to Spiga for fabulous Italian food on the main thoroughfare.
If you're anything like me, you're about zonked at this point after a heady mix of salt, sun, and a sneaky cocktail crawl. For boutique luxury, overnight at Hotel L'Esplanade to wake up to gorgeous views of boats bobbing at sea.
Now, you're turn to share. How would you spend a perfect day in Grand Case?