A Guide to a 'Progressive Dinner' on Anguilla
I never consider myself a foodie, but I've begun to appreciate a nice evening out much more as I've gotten older. It's not solely the food, though that's clearly an integral part. A large part of dining out is the experience, the ambiance, the vibe. When I'm presented with loads of great options, I like to see what's out there. My husband and I have developed a bit of a ritual in many destinations we visit; a tour de food that we dub a 'progressive dinner'.
This works particularly great for me as I'm a lover of small plates. I find that I'm easily bored with the same flavor for an entire meal so I particularly like the concept of being able to delve into a range of flavors over the course of a meal without absolutely gorging myself. Usually the evening involves three or four stops over the course of as many hours with an appetizer or two, plus a cocktail at each. It allows us to check out a range of places, usually moseying up to the bar in lieu of a table, with a signature drink and a few bites to share.
If you're heading to the island, here are a few places that I find work beautifully into a progressive dinner/appetizer crawl in Anguilla.
Sunset Lounge at Four Seasons
We often recommend the Sunset Lounge as a first stop in a progressive dinner series. It's really a fabulous place to watch the sunset and a good reason to get dressed up. While you'll need to mentally prepare to fork over upwards of $20 for a cocktail, it's worth it for one round plus a bite. While some will disagree with me on this, I actually do think they have very good sushi, at least as far as the island goes, so I enjoy getting a bit of an Asian food fix there.
FIND IT: Four Seasons is located on Anguilla's West End and sits on a point between Meads Bay and Barnes Bay. Look for their grand entrance off the main road – let the fire guide your way!
O·R·D·E·R: Order a sushi roll or two to share. If you're mixed on sushi, sub in their wasabi prawns – a new menu item! – to share. If you like a cocktail with a kick, try their jalapeno margarita.
Straw Hat Restaurant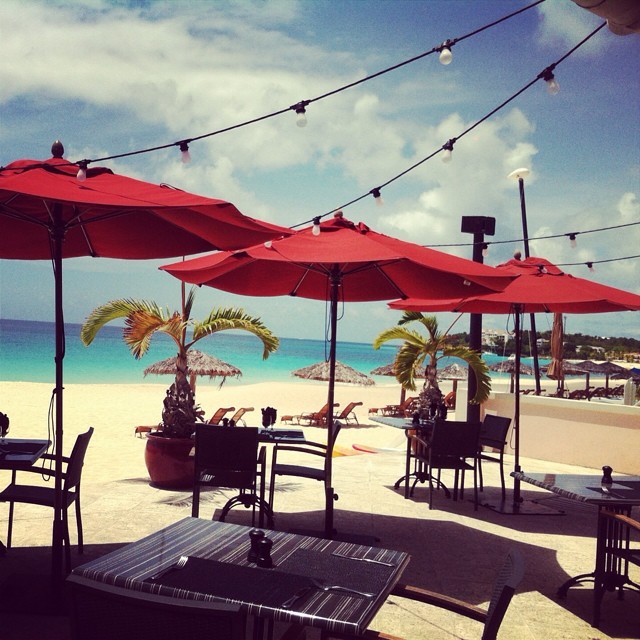 In my opinion Straw Hat has one of the best bars – and bartenders – on the island. Cary knows how to mix a mean cocktail and you'd be hard pressed to not find a cocktail that doesn't pique your interest. If you're starting at Viceroy, this is the second stop on your eastbound journey with a slew of appetizers to whet your palate.
FIND IT: Straw Hat is located on Anguilla's western end and sits beachfront at the Frangipani Beach Resort in the middle of Meads Bay.
O·R·D·E·R: Plain and simple, their tuna flatbread can't be beat. The tuna, the crème fraîche, the wasabi powder, the truffle oil… it's all kinds of perfection in a single bite, and it's a must! My favorite new cocktail? The Coco Light Martini – with a hearty pour of coconut water, it's practically healthy.
Sandbar
Sandbar is the easiest restaurant in Anguilla to wrap into an appetizer crawl. Whether you're a vegetarian or a voracious carnivore, their tapas menu caters to all tastes and dietary restrictions and is the ultimate destination for splittable meals. Their waterfront locale manages to bring a romantic element into a fun, unpretentious atmosphere making it perfect for couples, friends or families.
FIND IT: Sandbar is located on the beach in Sandy Ground, next to Dolce Vita Restaurant.
O·R·D·E·R: My two musts (non-negotiable) are the tuna poke and the zucchini carpaccio. I know what you're thinking: zucchini?! 
Yes. Zucchini.  I don't even really like zucchini but it's that good. It tastes like popcorn. Just trust me on this.
If you like frozen cocktails and are okay with something on the sweeter side, their signature Sandbar cocktail is fabulous and fruity, like a frozen rum punch with a floater of Mt. Gay rum. For something less sweet and utterly perfect, try their jalapeno-pineapple mojito for the ideal blend of spicy and sweet.
Tasty's
Locally owned and operated by Chef Dale Carty, the food at Tasty's is best described as moderately upscale local fare. The setting brings in Caribbean brights to complement Chef Dale's local menu with offerings like curried goat (Scott's favorite), coconut crusted fish and conch fritters. Tasty's also has a tapas menu for folks wanting to grab a drink and a bite at the bar, a great option if you're embarking on an appetizer crawl.
FIND IT: Tasty's is located on the Main Road in an area called South Hill. You'll see the brightly colored purple and turquoise building from the main road, located on the left side if you're driving east.
O·R·D·E·R: While there are loads of great options in the small plate realm, I would argue that their seafood salad (appetizer sized) is a must. It's loaded with hearty chunks of seafood, fresh from the sea. While you're delving into the local food scene, wash the seafood salad down with a rum punch, the de facto national drink of Anguilla, or opt for one of my refreshing favorites, vodka + Ting, a local grapefruit soda.
da 'Vida
Another locally owned and operated establishment, da 'Vida's dinner restaurant (not to be confused with the Bayside Grill, their lunch locale), boasts one of the most romantic locales on the island. The setting is all kinds of elegant and their lounge/bar area provides the perfect backdrop for a swanky cocktail in a setting that melds old world-class and Caribbean chic.
FIND IT: da 'Vida can be tricky to find for the first time visitor, especially at night! Go through the Valley before turning left at the first roundabout. Look for signs to Crocus Bay and/or da 'Vida and follow the signage past Ce Blue on the hilltop until you make your way down to da 'Vida, right on the water in Crocus Bay.
O·R·D·E·R: da 'Vida is most famous for their frozen mojitos, so if you're looking for something cool and frozen, you can't go wrong with their famous concoction. For something more traditional, check out their wine list and cocktail menu. TIP: Omalie360 plays on Thursday evenings – if you want great food accompanied by world-class vocals, make a point of popping in on Thursday for the perfect experience.
Blanchard's
Okay, if you've made it this far and you want to end the night on a sweet note, you can pop into the bar at Blanchard's and simply order dessert. Blanchard's is a veritable institution on the island with their decades-old restaurant still touted as one of the finest establishments in Anguilla. Their Caribbean fare is very good, but their cracked coconut dessert is simply a standout. It's definitely a splittable dessert, and could probably be split it up to four ways comfortably. You can fight over who gets more of the dark chocolate shell vs. the housemade coconut ice cream doused with a hearty pour of Bailey's.
FIND IT: Blanchard's is located on the beach on Meads Bay, between Jacala Restaurant and Carimar Beach Club.
O·R·D·E·R: There are a few items on their dessert menu that sound enticing, but don't stray. You'll be talking about the cracked coconut – the flavor and the artistry – for a long time.
Getting through all of these places would be an absolute feat and nearly impossible to do in a single evening. We usually end up with three places before I declare that I'm far too full to go on. The biggest key: don't get too aggressive with ordering early on (that goes for food and drinks). Pace yourself and enjoy a fabulous evening of dining!
Share your favorites in the comments below! Where would you go on an appetizer crawl in Anguilla?