A day of sightseeing with the Salzburg Card
I'm finally checking in now after a few days of heartbreak and radio silence dealing with Hurricane Irma. As you can imagine, we've been utterly overwhelmed by everything happening at home and are working to help restore the lives of the people and place that we love. With a few days behind us, we're optimistically moving forward and trying to find solutions to the challenges that lie ahead for us. I want to flash back to our time in Austria and share our experience exploring Salzburg, where we kickstarted our journey through Europe.
After a few delays getting to our final destination, we made it to Salzburg by train from Munich (a breeze for those interested in doing the same). We arrived in Salzburg around mid-afternoon on a particularly gray and drizzly early September morning. Armed with the Salzburg Card, we hit the ground running with just 36 hours to explore the charming Austrian city. For those with a short time in Salzburg, here's how we maximized our two days in the city with the Salzburg Card, a key to the city's main sights that makes sightseeing a cinch. Be prepared for some serious walking; we tallied up about 18,000 steps per day during our two days in the city.
Dom Quartier
Dom Quartier is a compound that comprises a range of significant cultural sites that were historically the center of the archbishops' power. They're grand, they're well-preserved, and they're a must for anyone visiting Salzburg. We started here right when we landed in Austria and it was an awesome primer on Salzburg.
The State Rooms of the Residenz are part of the walking tour, where you'll see opulent rooms on the ground floor dripping with chandeliers and adorned with frescoes. An audio tour is available with your entry ticket (€12, included in the Salzburg Card) to give you some insight into what you're seeing.
The other primary draw is Benedectine St. Peter's Abbey, the oldest abbey in the German-speaking world, plus the accompanying museum which houses a pretty spectacular range of items from centuries past. The other great bonus here? You'll score a wonderful view of the square below from a walkway on the second story. It will give you a great vantage point for photographs of the city below.
Give yourself an hour or two to wander and explore. If meet the same fate as us an visit on a particularly drizzly day, it's the perfect stop since it's inside but for a few walkways.
Cost of Entry: €12
St. Peter's Monastery, Cemetery + the Catacombs
St. Peter's monastery, catacombs and cemetery were possibly my favorite part of Salzburg. The area is gorgeous, green and lush with a perfect stone church situated in the center. The church and abbey have been the spiritual heart of the city for over a millennium, dating back to the 7th century. The cemetery is one of the world's oldest – and arguably one of the most beautiful –  and begs you to wander around to take it all in with gilded headstones and lush foliage. Sound of Music lovers will also remember the cemetery being featured in the movie. The catacombs are worth entering not just for the history, but even more for the views that you'll get from the upper floors. How gorgeous is this?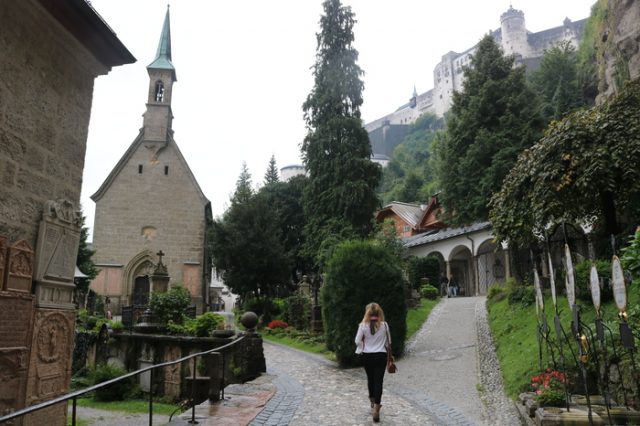 Cost of Entry: Free to wander the area, but €2 to enter the catacombs
Mozart's Birthplace
A fun fact about me that I've probably never mentioned: I began taking piano lessons at five years old, and by ten or twelve was focused on playing classical music: Beethoven, Hayden, Mozart, Bach. I appreciate classical music because it brings back some fond memories of being a kid trying to master a new art. All of that being said, I don't know that I love it enough to really appreciate a visit to Mozart's Birthplace. For music lovers, it's an impressive space, with a museum showcasing works and his personal possessions growing up. The house focuses not just on Mozart, but has a strong focus on his family and upbringing as well. His father was a composer and conductor and was integral in cultivating Mozart's talents and bringing him into the spotlight at a young age. For those particularly interested in the musical master, plan on spending an hour or more walking through the home. We spent about thirty minutes exploring – no photos allowed inside.
Cost of Entry: €11 
Salzburg Fortress
As I mentioned, our weather wasn't ideal in Salzburg and we were hoping that our second day brought better than the first. We were fortunate that it did – less rain and less of the foggy low-lying cloud coverage so we could better see the landscape. We headed to the Hohensalzburg Fortress on our second morning (after our stop at the catacombs) to take in the views from the hilltop and explore the old fortress. A funicular leaves from right outside of the catacombs and the courtyard, and takes you up to the top where the fortress stands. As far as sightseeing goes, the fortress is probably one of the most prominent sites to see in Salzburg. Pop in to do an audio tour – it's included in your ticket or Salzburg card access – to get a better grasp on the history of the city. Dining and drinks are available at the top if you're interested in staying a bit longer (we may have done this if it was a bit warmer).
Cost of Entry: €12 which includes the funicular and access to the museums 
Hellbrunn Palace & the Trick Fountains
If Austrians do one thing really well, it's opulence. The palaces we saw in Salzburg and Vienna brought a serious dose of splendor with frescoes covering the ceilings, gilded frames, glittering chandeliers, and velvet and silk tapestries. Hellbrunn Palace and its famous Trick Fountains are a draw for most visitors to Salzburg, and it's worth the jaunt. It sits a fair way out of town – it took us about 15 minutes by cab, about €15 – but it's a famous stop, and entry includes a guided tour of the fountains.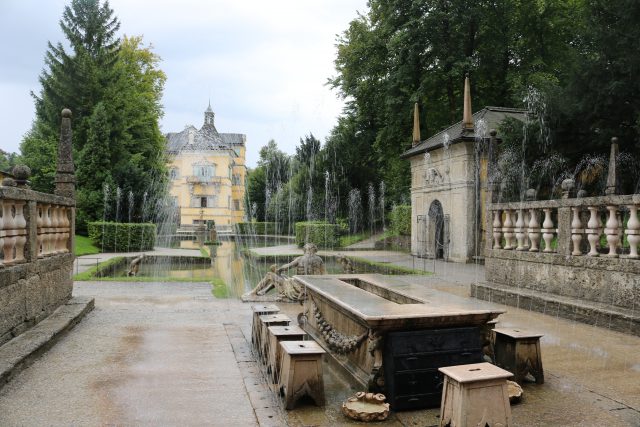 The palace is stunning inside (would you expect anything less?), and again has an audio tour available. For those that aren't up on their Austrian history (we really weren't, to be honest), audio tours are widely available at main sites and are incredibly valuable to bring to life some of the history and significance of the places you're seeing.
The tour of the Trick Fountains lasts about 45 minutes and starts at regular intervals throughout the day. You can tour the palace before or after your fountain tour so arrival time won't matter hugely.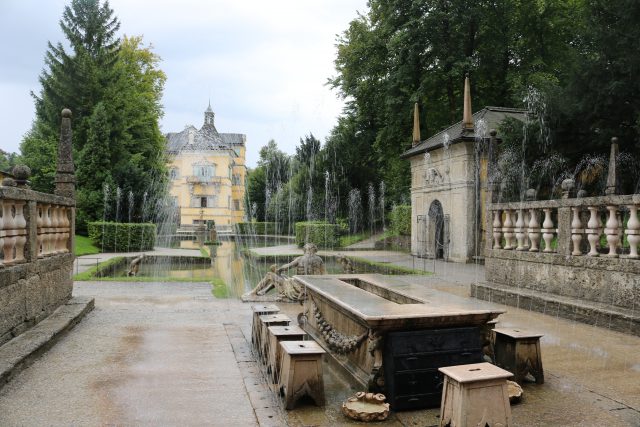 For Sound of Music lovers, this is the site of the famous gazebo so you can snap a pic before you leave.
Cost of Entry: €12.50 
Mirabell Gardens
The first glimpse of sunlight we caught was during our time at the Mirabell Gardens, a gorgeous expanse adjacent to Schloß Mirabell (Mirabell Palace). Mirabell Palace and Gardens are one of Salzburg's top sights, and those looking for a dip into a vibrant outdoor scene will love a brush with this vivid park. Admission is free, and on a sunny day it's the perfect place to wander, soak up the sun, and take in the beauty of Salzburg all around you.
Even with overcast skies, it was a beauty. I mean, who doesn't love a garden?
Cost of Entry: €0
What We Missed
If weather was slightly better, we could have probably snuck a few more things into our trip that are included when using the Salzburg Card. First and foremost, we missed out on the Salzach River Cruise. On a sunny day, I'd argue that this should be your first use of the card to get your bearings and see some gorgeous architecture by water (normally €15 per person). Many other museums are included and there are public transport perks for zipping around further afield.
One free admission per ticket is granted to all of the sites mentioned above, plus many more, and ticket pricing is based on the time frame selected:
24 Hours: €24
48 Hours: €32
72 Hours: €37
Have you been to Salzburg? Which sites were your favorite?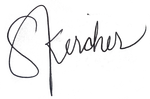 A big thank you to the Salzburg Tourism Board for sharing Salzburg with us through the Salzburg card. As always, all thoughts and photos – and video! – are my own and are genuine.