On Sunday, for our last day in Rome, we (fittingly) decided to spend the day exploring the Vatican, seeing St. Peter's Basilica and the Sistine Chapel, and trekking up to Castel Sant' Angelo. We took the Metro to the Vatican since it was a bit too far to walk and arrived at the world's smallest country at around 10:00AM. For anyone that's unaware, the Vatican is its own sovereign entity, separate from Rome. They can print their own money, they have their own post offices and the Swiss Guard patrols instead of the Roman police.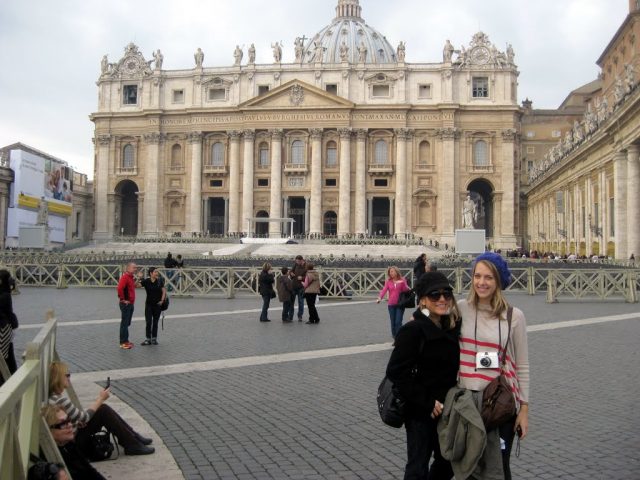 Fortunately for us, the line to get into the Vatican was incredibly minimal. We waited for about 10 minutes (as compared with stories of waiting in lines of 2+ hours!) before we made it inside.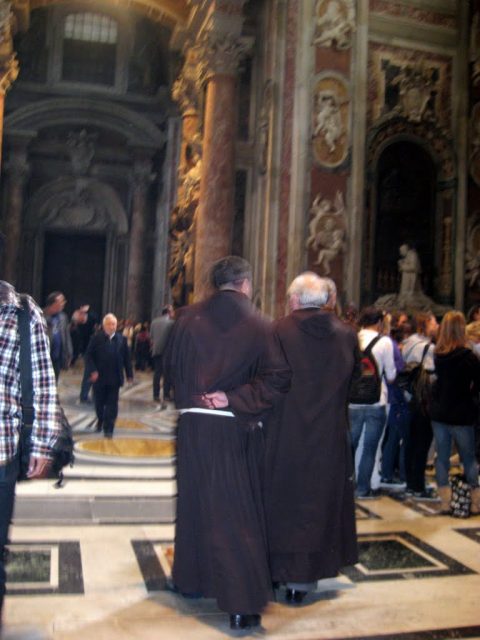 Pictures can't really capture how astounding the cathedral is. Not only is it huge, it's incredibly ornate: amazing statues, gold fixtures... plus being that I was raised Catholic it carries such an amazing history that it was pretty breathtaking to actually be inside. Regardless of religion, the architecture and history will wow anyone visiting. Legend, and some historical evidence, holds that St. Peter is actually buried under the altar of the basilica. For this reason, a number of popes have been interred at St. Peter's since early days. Lest I leave empty handed, I grabbed a couple of small gifts for my grandmother from the Vatican shop once we were done gazing. I only wish she could have been there to see it first hand!
After visiting St. Peter's Basilica, we decided to head to the Musei Vaticani to check out the Vatican Museums and the Sistine Chapel.
Unfortunately, the Sistine Chapel and the museums are closed on Sundays. If you're planning on visiting the Vatican and its important for you to see the Sistine Chapel (it was high on my list), make sure you go any other day! Slightly disappointed in the situation and in ourselves for not having planned properly, we grabbed a bite to eat and headed up to Castel Sant' Angelo.
[Another tip for those visiting on a budget: Do not eat in Vatican City. It is incredibly overpriced. Head to the outskirts to grab lunch. We paid 10 euros for a mini pizza that we shared… in any other world it would have cost about 3 euros.]
We made it to Castel Sant'Angelo in about ten minutes and the view from the Castle was absolutely breathtaking.
Castel Sant'Angelo (below) was built as Hadrian's tomb around AD 170 but has been reconstructed a number of times. It's absolutely gorgeous and it sits right on the bank of the Tiber. The bridge in front is lined with a number of Bernini's statues:
Afterwards, we crossed the bridge and spent some time in the city, finishing our day off with some gelato at the famed Giolitti. After a delicious break in the day, we began our trek home. After a ride on the Metro, a quick jaunt on the bus, a walk down to the station, a two-and-a-half hour plane ride, and a 60 minute Tube ride, we were back in our flats in London.
Arrivederci, Roma! It's been lovely. While we only had a quick weekend break to explore, it was a great foray into Rome and only left me wanting more. I know the city can be a bit polarizing – I've met people that love it and some that think its far too dirty and chaotic – but I'm definitely a fan. I can't wait to return one day!